Top 9 Picks for Online Video Editing Software
Even though the industry is trending towards shorter-form video content, there are still occasions when you have something more to say or a longer piece of content that requires a higher production value. In fact, according to one survey, 74% of marketers create web videos for their brands at least once a week, and 99% plan on investing in creating digital video content.
Although the number of video platforms is growing, the most popular ones are still YouTube, Vimeo, Facebook, TikTok, and more. It's tough to break into this space without them unless you have something truly unique to offer. TikTok is a popular source for entertainment, especially short videos.
To upload your videos to TikTok, you must want to refine them with a versatile video editor.
What is the best online video editor?
We've got you covered. Let's get started with our list of the top 9 online video editors.

1. VEED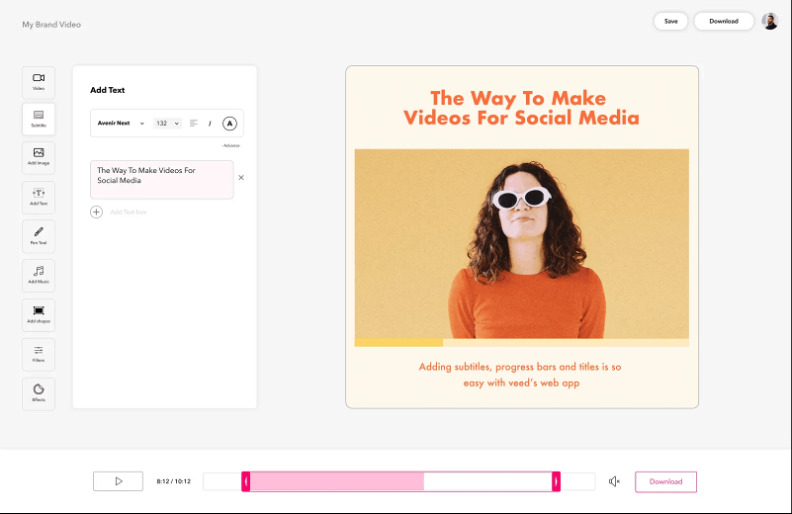 VEED is a powerful online video editing tool that allows you to collaborate with others on projects. It compresses videos for easier uploading and reduces file sizes as well as translating any subtitles or transcripts. Editors can also use this product in order to create engaging content while grabbing people's attention which will make them come back again!
However, the free version is pretty basic, with no subtitle feature or other premium features available.
2. Clipchamp

This tool is browser-based, so you don't need to download software and wait for installation before using it. It also means that the most powerful computer in your house isn't required, and you can do all of this from anywhere with an internet connection! Plus if one week does happen to be too busy when trying out different video ideas (who hasn't been there?), then just use their pre-made templates. The templates are easy enough, even without any prior experience making videos yourself, because they include everything needed, including custom text overlays where desired.
The maximum export resolution is 1080p, so it's not the best for more severe filmmakers or those who want to shoot in high definition. Some advanced editing features common among professionals, like reverse video and stabilization, aren't included with this software package.
3. Renderforest

The vast media library and easy-to-use interface make this tool a favorite among professionals. It also offers tons of video templates that can be edited offline, making it perfect for those who work on projects without constant internet access or prefer not to share files online.
The disadvantages list includes such things as there being no built-in team features (you'll need another app) and only allowing one person per computer license key at a time which could become limiting should someone else want to join your session from across town.
4. Animoto

Fewer videos are uploaded to YouTube every day than are created on Animoto. That says something about how easy it is to use this editor. Make your very own videos with the click of one button. Choose from text, voiceovers, and music to create professional-quality content in seconds! You can also select from thousands of stock photos or upload your own image library for the video backgrounds. It takes only minutes to put together a well-polished video that will grab your audience's attention in no time.
Although Animoto has a free version, you will have to pay to remove the branding watermarks.
5. Wideo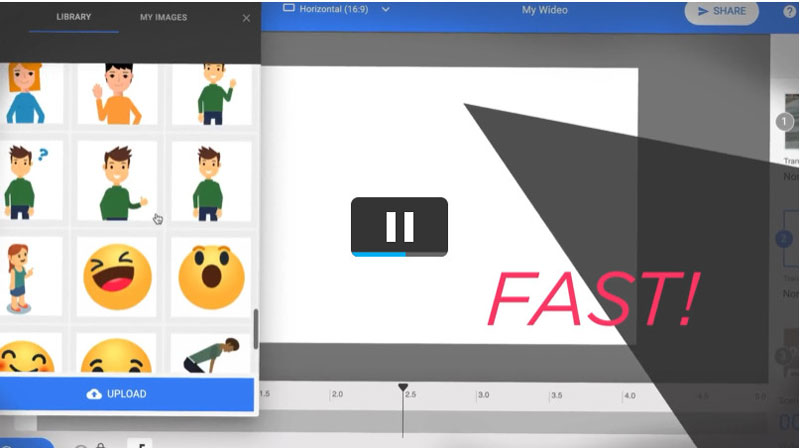 This is one of the most user-friendly video editors out there. It offers templates for all kinds of videos, from presentations to explainers and animated infographics. The way the editor is set up makes it easy to take something from the drawing board to the final cut in just a few clicks.
But the free version offers limited features, and you have to upgrade if you want access to HD videos or custom branding.
6. Adobe Premiere Elements

Adobe Premiere Elements is ideal for beginners who want to create polished videos without the hassle of learning video editing software from scratch. Premiere Elements takes care of all the technicalities for you, allowing you to focus solely on crafting your content. It comes with many templates and tools that'll help take your digital storytelling up a notch. You can also easily export your final product into a social media-friendly format for easy sharing.
It's not free and may seem overwhelming to beginners. The more advanced features are designed with creative professionals in mind.
7. Camtasia
Camtasia is a great tool for adding voice overs and screen capture videos to your presentations, business demos, or product reviews. Moving through the interface is easy, with drag-and-drop features for beginners.
If you're not tech-savvy, this might be too advanced for you. The learning curve may be steep, and the interface is similar to that of professional video editors for PC.
8. FlexClip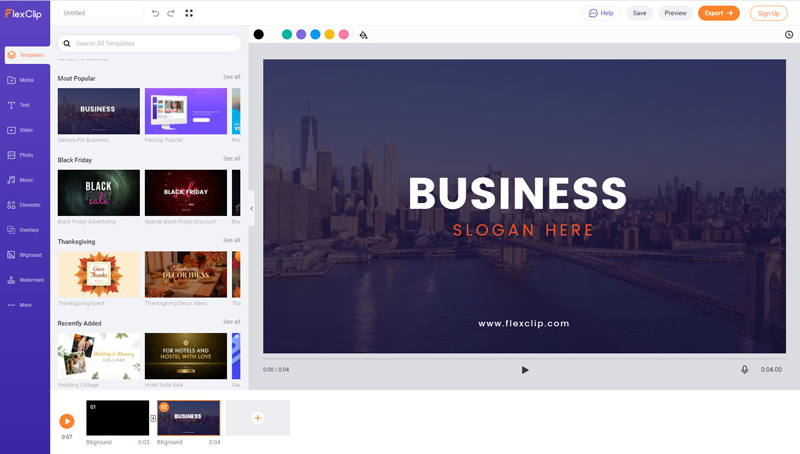 When talking about the best video editors online, FlexClip cannot be ignored. Although it is an online tool, it is multifunctional and professional. To meet users' basic video editing needs, FlexClip supports commonly-used file formats, offers various and interesting materials for video making, and other practical functions like rotating videos.
However, the free version of FlexClip limits on the number of projects and the resolution of video outputting. So, you have to log in to it and purchase a plan to use its all functions. You can learn more about this online tool from FlexClip Review.
9. InVideo
InVideo is an easy online video editor that has seamless inventive video creation services. It helps marketers, entrepreneurs, agencies, alternative tiny businesses to make professional-looking videos with ease. InVideo works with associate intention to form video creation in a simple and frictionless method. It is the world's easiest video creation platform that'll enable you to turn your ideas into gold-standard videos in mins, even if you've never edited a video before for less than $15/month. It has 5000+ fully customizable templates covering every major use-case or industry + pre-built elements in our asset library such as CTAs, stickers, and overlays + an in-built library of 8M+ stock images, video clips, and music to make sure your videos look out of this world. It also offers an associate automatic text-to-video feature that you will use to make videos for your articles and diary posts or tell a story through your content.
Conclusion
If you're looking for a high-quality, easy-to-use video editor that fits into your budget and needs, the best online video editors are here. Whether you want basic features or complex ones like voiceovers and screen capture videos, these tools have something for everyone. Go and check it out to see which one is right for you!
Did you find this helpful?
375 Votes
YES

Thanks for letting us know!
No

Thanks for letting us know!