VSDC Free Video Editor Review: Features, Cons, Pros, and Alternatives
Speaking of free editing tools, you must be familiar with VSDC Free Video Editor. As a free but versatile tool, not only can it edit videos for uploading on social media, but also it can create slideshows, and capture screens and videos.
VSDC Free Video Editor is a professional non-linear video editor, which makes you cut, modify, change the order of every part freely. However, the hacker attacks make most people dare not download VSDC. Is it safe? Should you download it and have a try? This article will tell you all about its features, pros, and cons, which will help you make the decision.
Part 1: 3 Key Functions and Main Editing Features of VSDC Free Video Editor
1. Editing Videos, Audios, Images, and Animation
It is the main function of VSDC Free Video Editor and the editing tools are very powerful. It includes clipping videos, making video collages, adding transitions between video segments, adding music in segments, add effects, adjusting the video hue, and so on. Since it is a non-linear editor, you can cut, transfer, modify the video and audio segments freely. And you can even overlay the videos to make a video collage.
There are 2 ways to start editing video or audio files. You can create a blank project with the desired video resolution and frame rate, or you can simply import a video/audio file with the original parameters. Moreover, there are also many special editing features, like 3D editing, chroma-key, and so on.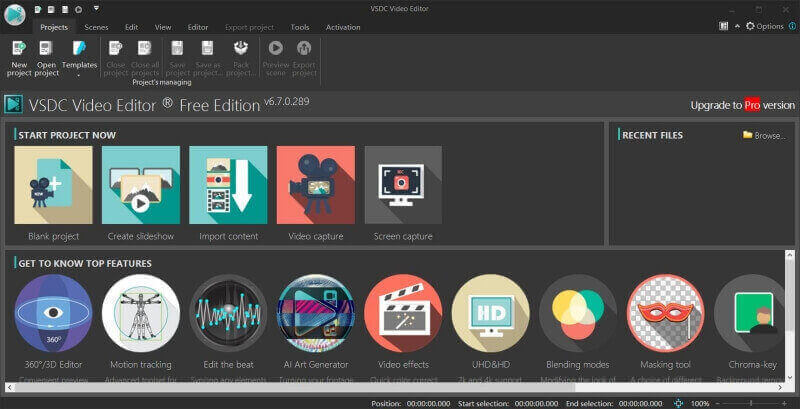 2. Create Slideshows by Pictures
You can also use VSDC Free Video Editor to collage pictures to create a slideshow. There are multiple transition effects to choose from. And you can resize the pictures, and change the duration and color separately. Moreover, you can add the desired music for different parts.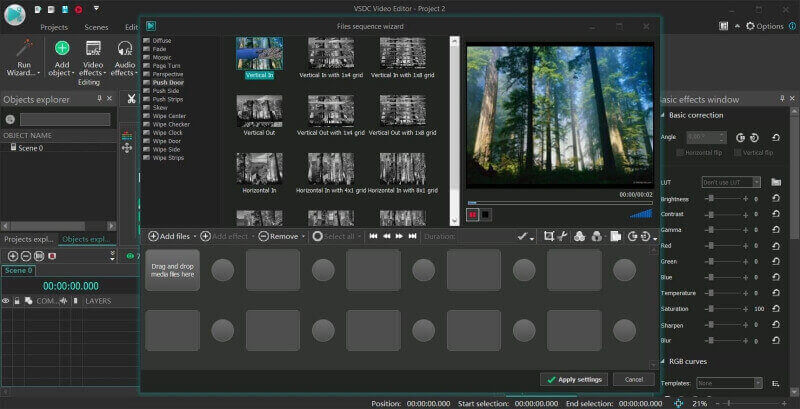 3. Screen Capture on Computer and Video Capture with Webcam
It can also be regarded as a recorder. The screen capture function enables you to record any videos on your computer. Like other professional screen recorders, it can adjust the screen region and audio import. And it provides recommended settings and hotkeys for easy recording. Moreover, you can edit the videos after the recording.
Part 2: Overall Reviews of VSDC: Pros and Cons
Pros

Free trial with all the basic features.
Excellent editing effects for a certain part.
1080P, and 4K high quality.
Support 120fps frame rate.
Easy to upload on social platforms.
Cons

Not user-friendly interface.
Large CPU occupation.
No tutorial to complex operation.
Only available for Windows.
Not enough creativity and style.
Ease of Use7.6
Editing Effects8.7
Video Quality8.4
Design8.2
Part 3: VSDC Free Video Editor Virus? Is It Safe?
In 2018 and 2019, there were two hacking incidents of VSDC Free Video Editor, which make your computer download other software automatically at the first hacker attack. And in 2019, the hackers hijacked the source code and made those computers that downloaded VSDC potentially infected with a multicomponent polymorphic banking Trojan.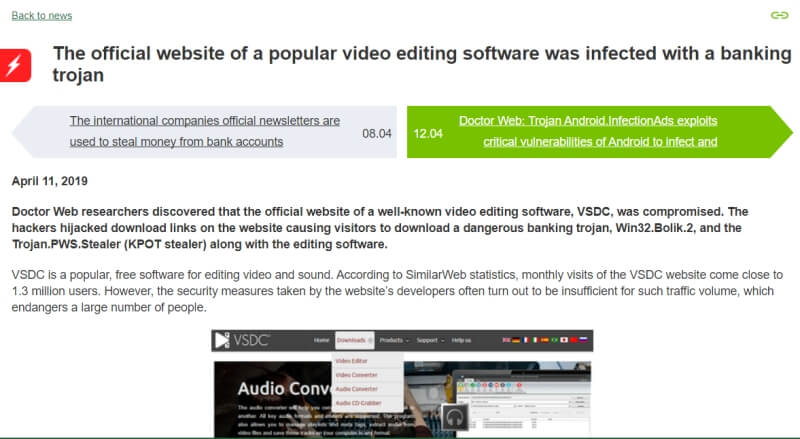 After knowing these two incidents, you must be curious about is VSDC Free Video Editor safe to download and install now?
Actually, these two hacker attacks only invade a Cnet site that is related to VSDC but the hackers never got to the official site. So VSDC Free Video Editor will brings no virus if you download it from the official site, rather than the third-party sites.
Part 4: 3 Alternatives to VSDC Free Video Editor
1. OpenShot
If you are finding a video editor with an intuitive interface and simple operation, OpenShot should be your best choice. It has a tutorial to help beginners start editing quickly. Moreover, it is meant for Windows, Mac, and Linux.
2. ShotCut Video Editor
To edit GIF and other uncommon files, you should try ShotCut Video Editor. It is also a professional video editor with multiple features. But its concise UI is more friendly to those who are new to video editing.
3. Lightworks Video Editor
If you are a professional video maker, Lightworks may be more suitable for you. It has more editing features to create different and unique effects on your own. And it provides keyboard shortcuts, which is more convenient for video makers.
Part 5: FAQs of VSDC Free Video Editor
1. What's the difference between the free version and the pro version of VSDC?
Actually, the free version of VSDC has not too many limitations. As a free user, you can use almost all the important features in VSDC Free Video Editor. But if you want to have a faster processing speed, you can choose the pro version with hardware acceleration.
2. How to add subtitles on videos through VSDC Free Video Editor?
After adding video or audio files, you can find the Subtitles tool in the Editor menu, and you can directly choose the SRT files from your computer to add subtitles. Or you can click the Text tool to type the subtitles in real time.
3. Dose VSDC compress videos or pictures a lot after the editing?
No, not too much. With increasing hard disc space, most non-linear editors are generally reducing the compression ratio, and the same goes for VSDC. If you keep the resolution and export the videos in the highest quality, then the compression is very low.
Conclusion
This article has introduced the features, pros, cons, and safety problems of VSDC Free Video Editor. All in all, VSDC is a very powerful video and picture editing tool with an extra screen capturing function. And the free version with all the basic features can meet most of your requirements.
Did you find this helpful?
169 Votes
YES

Thanks for letting us know!
No

Thanks for letting us know!