Best 5 Alternatives to AnyDVD HD to Watch DVDs Without Limitations
RedFox, formerly SlySoft, is a software development firm known for its AnyDVD HD software. The software has become popular because of its ability to bypass the copy protection of optical media. That includes DVD and Blu-ray discs, as well as CloneCD, used to back up the contents of optical discs.
In 2016, SlySoft shut down for some reasons. Many got frustrated because of what happened, mainly those who usually turn to AnyDVD HD to rip DVDs. Yet, SlySoft returned and replaced the brand with RedFox. They released a new version of AnyDVD, meaning you can continue using it up to this day.

Part 1. Overview of AnyDVD HD
AnyDVD HD is a Windows-based software that decrypts the restrictions on DVD and Blu-ray discs in the background. The program can mainly remove restrictions and region codes from DVD and Blu-ray. As a result, you can freely and conveniently enjoy watching the movie on any DVD or Blu-ray player.
Moreover, AnyDVD HD can also disable undesirable movie features such as forced delays, subtitles, and no-skip marks, giving you control over your movie experience. Also, it enables you to launch an external application every time you insert or remove a disc and controls disfavored software from launching when inserting a DVD.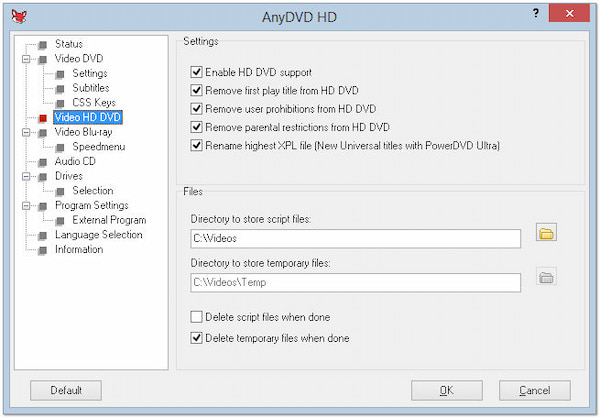 Here are some of the fantastic features of AnyDVD.
◆ It operates automatically in the background.
◆ It deletes region codes and restrictions from DVDs and Blu-rays.
◆ Forced subtitles, forced delays, and other restrictions can be disabled.
◆ It allows external program execution upon disc insertion and removal.
◆ It removes parental restrictions.
Pros

It works transparently and automatically in the background.
It converts disc content to an image file or HDD
It disables region codes and restrictions on DVDs and Blu-rays.
Cons

Limited days for the trial version.
Indeed, AnyDVD HD has a lot to offer. Yet, we must be aware of its limitations, such as that it only works with Windows and cannot bypass all region-code restrictions. In that case, you must consider an AnyDVD HD alternative.
Part 2. Top 5 AnyDVD HD Alternatives
When searching for AnyDVD HD alternatives, it will give you a lot of options. Most likely, you're confused and keen to check out the best option. To save time looking for the ideal one, AnyMP4 DVD Ripper is highly recommended.
AnyMP4 DVD Ripper
The First AnyDVD HD alternative is AnyMP4 DVD Ripper. It is a must-have for ripping DVDs. By then, you can watch your favorite DVD movies on any device. This DVD-ripping program enables you to rip and convert DVDs with ease. Also, you can back up your DVDs as a DVD ISO image file and folder for playback.
Moreover, it can rip DVDs in over 500 digital video and audio file formats such as MKV, AVI, FLV, MP4, etc. On top of that, AnyMP4 DVD Ripper has built-in video editing tools enabling you to edit your DVDs. Trim, crop, rotate, merge, add subtitles, add audio, add watermark, and many others are included.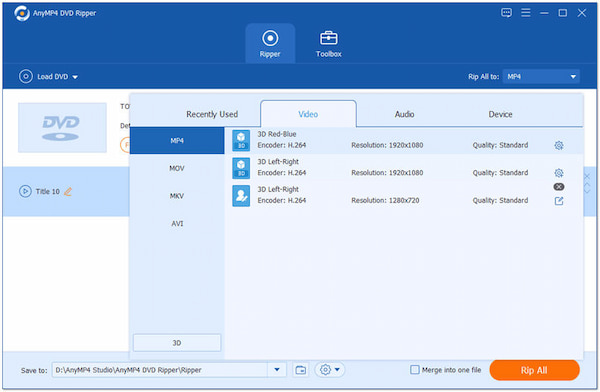 Pros

It has a high-speed conversion.
It can convert digital video and audio files without compromising the quality.
It offers a lot of digital formats.
Cons

Limited access if you are a free user.
WinX DVD Ripper
Another AnyDVD free alternative available on Windows and macOS is WinX DVD Ripper. The program can rip DVDs to AVI, H.264, M2TS, MOV, MP4, MPEG, and WMV.
With the four DVD copy modes of WinX DVD Ripper, it can clone DVDs to ISO images, to folders at 1:1 ratios, backup DVD primary title material for PC, PlayStation, Xbox, etc., and fully copy a DVD title to a multi-track MPEG2 file with all of the movies, audios, and subtitles. In other words, you may experience excellent DVD ripping with our free DVD ripper.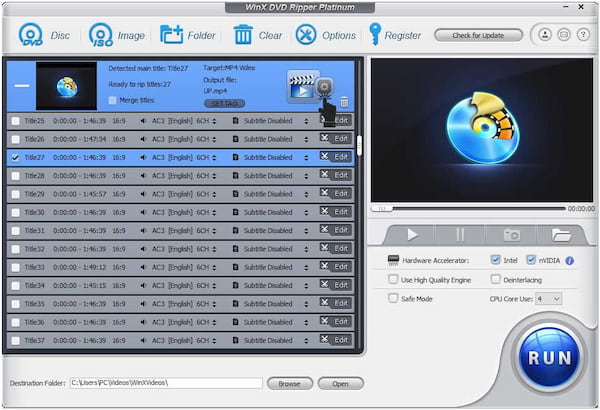 Pros

It has many output formats.
It has adjustable video quality.
Cons

It has no 2FA.
For folder backup only.
DVD Shrink
The following AnyDVD alternative is DVD Shrink. With the help of this well-known DVD copy tool, you can back up DVDs and save them as ISO image files or DVD folders on your hard drive. Combining decryption techniques enables you to rip copy-protected commercial DVDs. Yet, DVD Shrink is not a DVD-to-video ripper. It will require an additional converter to convert the DVD into a digital video file. It only works in Windows, which is another thing you should know.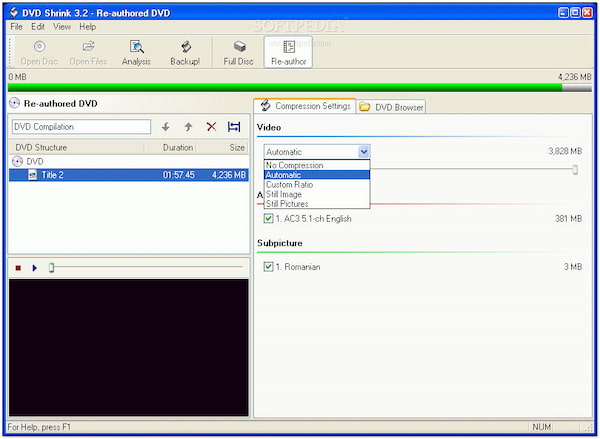 Pros

Free to use.
It has a straightforward interface.
It has fast conversion.
Cons

Nero is required as the standard burning program.
It cannot simultaneously decrypt modern DVD copy protections.
WonderFox DVD Ripper Pro
WonderFox DVD Ripper Pro is another tool we have. Another well-known software for Windows PC users to rip DVDs into videos is this one. It can rip any DVD, folder, or ISO file to standard video formats, including 3GP, 3GP2, ASF, AVI, DVC, F4V, FLV, M2TS, M4V, MKV, MOV, MP4, MPG, MTS, SWF, VOB, WEBM, and WMV to meet your various needs. It can also rip DVDs to HD video formats for improved playback on a larger screen.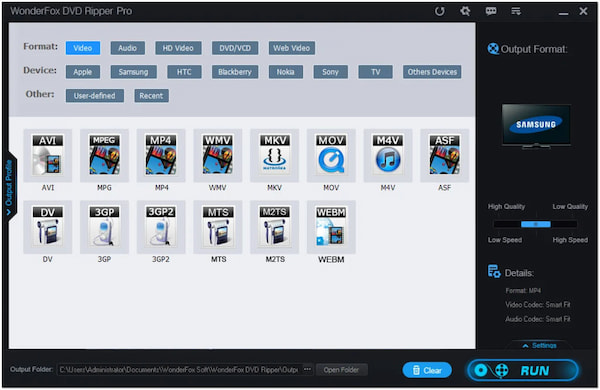 Pros

It removes region code protections.
It supports multiple video formats.
It has a fast conversion speed.
Cons

It is only available on Windows PC.
HandBrake DVD Ripper
The last item on our list is HandBrake. It is a well-known free AnyDVD alternative and an open-source DVD ripper. Besides, it is a cross-platform transcoder that works with Linux, macOS, and Windows. HandBrake isn't truly a DVD ripper. The removal of copy protection is not supported. Yet, it is still favored for supporting any input DVD source that is not copy-protected.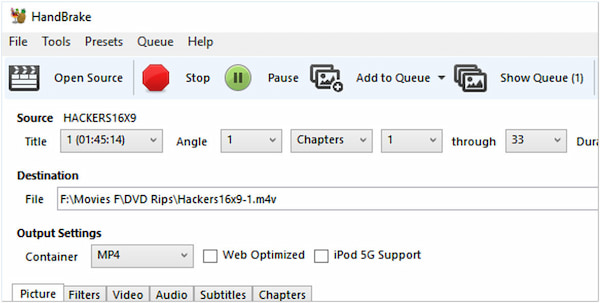 Pros

It converts any video to MKV, MP4, or WebM.
It can restore old and low-quality videos.
It can resize videos and crop.
Cons

It cannot mix multiple video clips in one video.
It creates AVCHD, DVD, or Blu-ray discs.
Part 3. FAQs about AnyDVD HD
Why is AnyDVD HD not working?
There are several causes for AnyDVD's malfunction, some of them are listed below:
If the surface of your physical disc has dirt, dust, or fingerprints, clean the DVD.
If there are cracks or scratches, replace the DVD.
Try a different DVD drive if you believe your DVD driver has failed.
In Device Manager, set the region code for your drive. Reinstall AnyDVD HD.
How to use AnyDVD HD?
Install AnyDVD by downloading it. A fox-head icon will be seen in the system tray, meaning AnyDVD is active. Load the DVD you like to rip into your DVD drive. Hold off till the program picks up the DVD. The process should be at most ten seconds. Afterward, right-click the fox-head system tray icon. Once you are ready to rip the movie, click Copy DVD and choose Rip Video DVD to Hard Disk. Choose a destination directory for the ripped video files. You will need 7GB of space for ripping a feature film. In that case, make sure your hard drive has enough storage.
Can AnyDVD play UHD media?
Here's where Blu-ray drives that support UHD are useful. Only Blu-ray drives with unpatched firmware will be able to rip UHD Blu-rays.
Will Blu-ray play on AnyDVD?
AnyDVD is a free player for videos, DVDs, and audio. It allows you to watch DVDs, movies, TV shows, and other media. You may convert videos, record your screen, and compress videos without additional software. It can play any media format, including DVD and Blu-ray.
Is there a player that can play both DVD and Blu-ray?
You can play commercial Blu-ray discs and standard DVDs on all Blu-ray players. However, to play 4K Ultra HD Blu-ray discs, you'll need an Ultra HD Blu-ray player.
CONCLUSION
To flip DVDs, choose the AnyDVD option that best suits you from the five listed above. All the provided AnyDVD HD alternatives are reliable when it comes to ripping. Yet, there is still one DVD-ripping software that stands out among the rest: the AnyMP4 DVD Ripper. Please let us know if we need to include any excellent AnyDVD alternatives.
Did you find this helpful?
364 Votes
YES

Thanks for letting us know!
No

Thanks for letting us know!
AnyMP4 Video Converter Ultimate
All-in-one video converter, editor, enhancer upscaled with AI.