AnyMP4 DVD Copy Review: The Most Famous and Fast DVD Copy Software for Windows and Mac
You are here considering that you are looking for fast-speed DVD Copy software. For that reason, it is not an accident why you are reading this article. To start, we would like to present to you AnyMP4 DVD Copy, it is one of the famous DVD Copy software over the internet. In addition to this, we ensure every user that using this software will not disappoint them! Why? Because it offers many features that we will be going to talk about upon continuing reading this article. So, do not miss out on this review article. It might help you, big time!

1. Our Verdict
Pros

It offers a free trial version for 15 days.
It has an excellent interface.
It is 100% safe to use.
It is perfect for beginner users and professional users.
It offers 24/7 customer support.
Cons

It can only copy three DVDs for the free version.
Overall Ratings
Interface:9.0
Safety:9.0
Features:9.0
2. What is AnyMP4 DVD Copy
Best for: Copying and backing up your DVDs on your computer. In addition, it is also best for burning DVD and ISO image files.
Price: 1-month License: $26.25 and Lifetime License: $44.25
Platform: Windows and Mac
Main Features
AnyMP4 DVD Copy is a tool that can copy and back up a DVD on your computer. Again, it is best to burn your DVD folder or an ISO image file into a blank DVD, and the result will be unique because it can produce a high-quality disc. The significant part of AnyMP4 DVD Copy is it works with Windows and Mac. Moreover, let us all tackle the features of AnyMP4 DVD Copy in a bulleted form below:
◆ It can copy and compress DVD-5, DVD-9 to DVD-5 DVD-9.
◆ It has three available DVD Copy modes: Full Copy, Main, Movie, and Customize.
◆ It can copy a DVD to DVD Folder and ISO Image file on a local disc.
◆ It can also copy a local DVD Folder and ISO Image files to a DVD.
◆ It lets you copy homemade DVDs as an ISO file or folder into a hard drive.
◆ It can clone an ISO image file or DVD folder into a DVD.
◆ It has multiple settings and editing functions.
3. AnyMP4 DVD Copy Review
Interface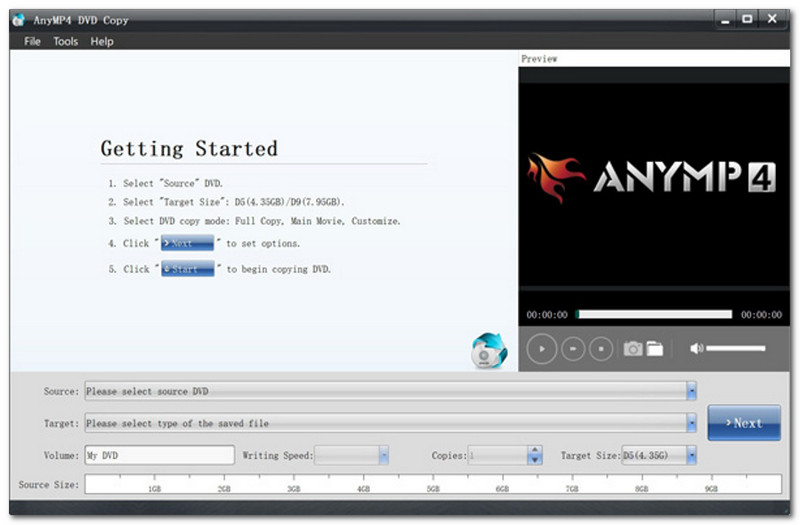 AnyMP4 DVD Copy has a friendly interface. It has a color of dark gray and light gray. As you can see on the top are the options like File, Tool, and Help. In addition, On the right corner of the interface, you will see Preview and its playback tools. Then, in the lower corner, you will see the Source, Target, Volume, Writing Speed, Copies, Target Size, and Source Size. Overall, AnyMP4 DVD Copy has a simple interface and is easy to use.
Copying a DVD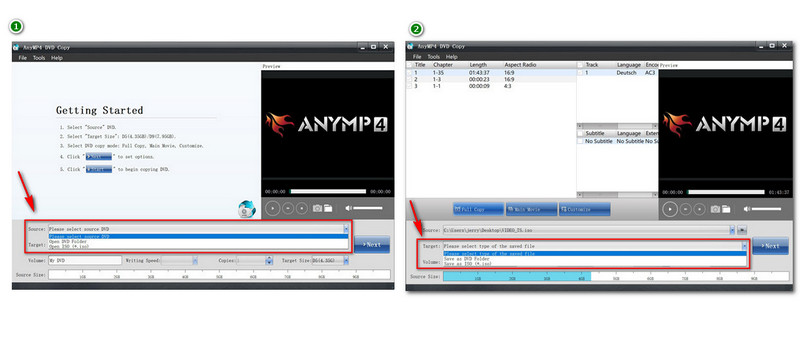 It is very simple to copy a DVD using AnyMP4 DVD Copy. You need to select the Source and choose the Open DVD Folder to do that. Since AnyMP4 DVD Copy is user-friendly, it will not be difficult for every user to use it and look for every option. After that, click the Target below the Source and look for the Save as ISO. Following that, you will see your DVD playing in the Preview. Then, you will also see the three available copy modes on the middle part of the interface. When you choose Full Copy, AnyMP4 DVD Copy will include the whole DVD video and its credits, advertising, etc. When you choose Main Movie, it will clone the main movie with no extra clips. And, if you choose Customize, it will allow you to distinguish for yourself every video clip that is burned. So, when you have already decided, tap the Start button and wait for the result.
Preferences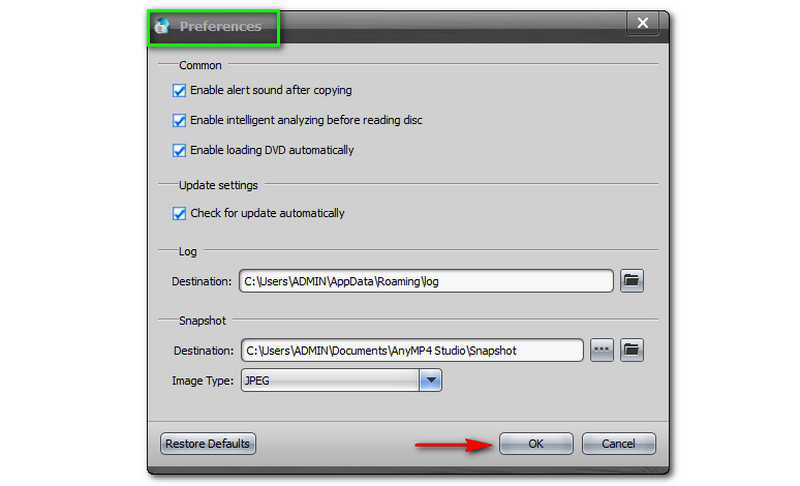 To have access to Preferences, click the Tools on the upper part. Then, you will see the Preferences as the last option. In this extra feature, AnyMP4 DVD Copy allows you to enable alert sound after copying, enable intelligent analyzing before reading a disc, and enable loading DVD automatically. In addition, you can get a device where you want to save your Log and Snapshot. Plus, you can choose the Image Type available such as JPEG, PNG, and BMP. After the changes, if any, click the OK button.
4. FAQs of AnyMP4 DVD Copy Review
Is AnyMP4 DVD Copy safe?
AnyMP4 DVD Copy is 100% clean and safe. According to them, all the privacy of the users and valued and protected with SSL security. That is why there is nothing to lament about this software.
Does AnyMP4 DVD Copy offer a 30-day money-back guarantee?
We doubt that AnyMP4 DVD Copy did not meet your needs. However, if there is any reason that you want to use AnyMP4 DVD Copy anymore, it offers a 30-day money-back guarantee. Go to their official page and look for the Refund Policy to refund.
What do I need to register on AnyMP4 DVD Copy?
After you purchase the product, use the email that you use on purchasing the product to register. Then, input the Registration Code that AnyMP4 DVD Copy sent to you. If you need more support, go to the official page of AnyMP4 DVD Copy and click the Support.
5. Alternative - Tipard DVD Copy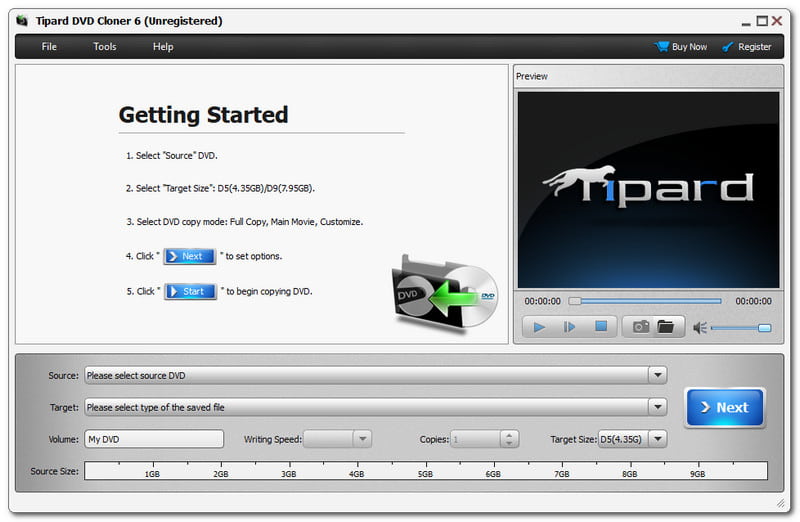 One of the reasons Tipard DVD Cloner became the alternative to AnyMP4 DVD Copy is because of some features of Tipard DVD Cloner. In addition, Tipard DVD Cloner also offers a 90-day money-back guarantee. But overall, both software is efficient and easy to use. Also, they both have an excellent interface. Nonetheless, the advantage of AnyMP4 DVD Copy is that it is more affordable than the Tipard DVD Clone. Now, it is up to you what software you want to try and purchase, but if you are going to ask us, we will recommend the affordable one, which is AnyMP4 DVD Copy. For more DVD copy software, you can check them here.
Conclusion:
In this review, we have learned so much about AnyMP4 DVD Copy. We understand that it has an excellent interface that anyone can use. When it comes to copying a DVD, it is convenient and powerful. Also, it offers many features, especially when copying DVDs to DVD Folder, ISO Image File, and DVD disc. We also discover that it has three available copy modes. In addition, we hope that you appreciate the questions and answers that we have prepared for you. To end, we are expecting your positive comment. See you in our next article!
Did you find this helpful?
219 Votes
YES

Thanks for letting us know!
No

Thanks for letting us know!
AnyMP4 DVD Copy
Copy DVD in 1:1 ratio to backup DVD to DVD disc, ISO and ISO file.