7 Siri Voice Generator Review for Incredible Voice Synthesis
Voice synthesis has become a crucial tool for companies, content producers, and developers looking for appealing auditory experiences in the dynamic world of technology and creative material. The idea of Siri AI voice generators stands out among the major companies in this space as a fascinating and creative method to use artificial intelligence to create lifelike voices reminiscent of the well-known Siri virtual assistant. Imagine having access to a tool that enables you to produce natural speech and allows you to modify the voice qualities to suit your particular requirements.
Siri, a virtual assistant, is becoming surprisingly helpful in creating content. You may have noticed that TikTok editing offers a fantastic voiceover created from the text. The text-to-speech Siri voice generator may make your movie appear 10 times more engaging. Let us now see the seven incredible SIri voice generators to help us with our voice-to-text process of creating documents.

1. Top 7 Siri AI Voice Generator
Voicegenerator.io
Visit Voicegenerator.io if you're looking for a delicious Siri voice simulator. It supports Siri's voice and lets you create voice overs using Siri's voice in them. In addition to providing a variety of settings, this online Siri voice generator text-to-speech lets you alter the tempo and pitch of the audio to suit your preferences.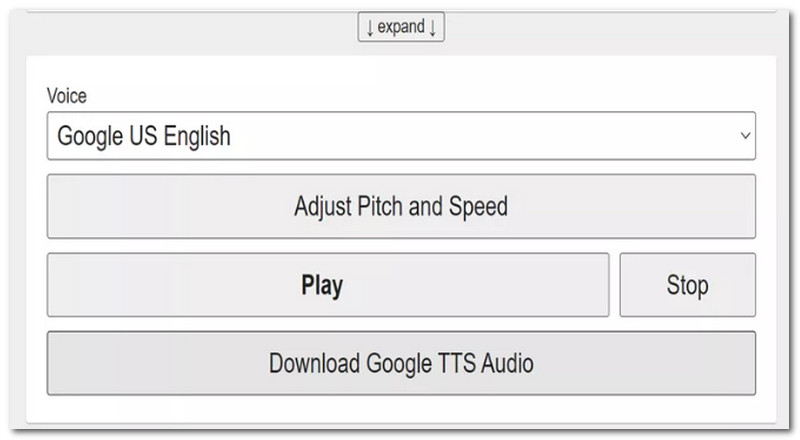 Best Features:
◆ It offers a variety of Google voices to choose from.
◆ Siri's pitch and tempo may be changed.
◆ Provides a simple user interface
◆ It allows you to hear the nuances in your speech.
Pros

It has a built-in browser synthesis.
Provides a free trial
Offers the multiple voice options
Cons

It asks you for registration.
The tool can be laggy depending on the internet.
Voicebooking
Voicebooking is another simple, efficient Siri voice generator that may assist you in creating breath-taking voice overs. Voicebooking asks you to choose from various voices and provides an easy-to-use user interface that supports many languages. You may quickly start turning text into speech by visiting the official website, creating an account, and entering the prompt text.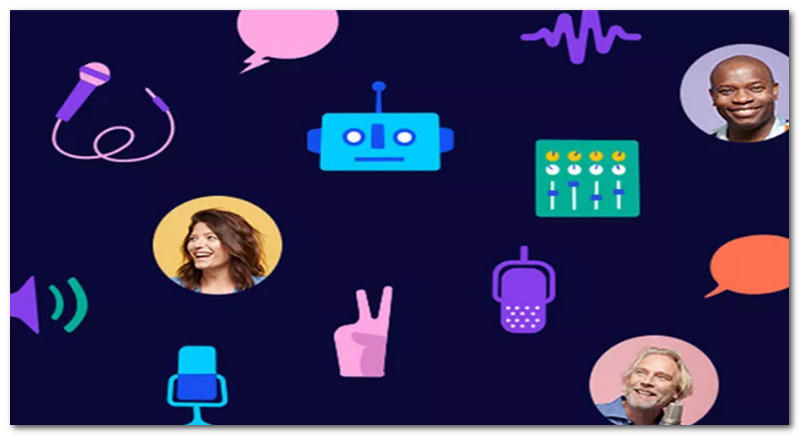 Best Features:
◆ The tool supports a variety of languages.
◆ This generator is simple to use.
◆ It provides a variety of speech options.
◆ Wonderfully personalize the voiceover that is created.
Pros

The authentic voice offered.
The parameter setting is friendly to users
Effortless for generating Siri's voice.
Cons

The voices might need to be created for a little longer.
It is limited to modification features.
It is not available for free.
Woord
Despite having some obvious limitations, Woord is a decent option to consider when seeking an adequate Siri voice generator. Woord is a paid tool. Thus, you must pay to get the premium version. To explore some fantastic features, you may download the free version. You can rapidly convert the text into superb voiceovers thanks to the exceptional UI of our Siri robot voice generator. In the end, Woord is still a great generator for Siri's voice.
Best Features:
◆ The tool creates convincing voices.
◆ It accommodates 50 voices.
◆ The tool is available in 28 different languages
◆ It allows free users to produce two audio voiceovers each month.
Pros

This tool assists you in downloading the MP3 audio file.
It is less complicated to use.
100% safe for the voice generating process.
Cons

There are restrictions on the free version.
Its premium version is a bit costly.
Murf
Murf is undoubtedly one of the most fascinating Siri voice generators. It provides a feature-rich AI voiceover studio, including a built-in video editing tool that allows you to create realistic voices for various applications, such as games and corporate presentations. Without your effort, this Siri voice generator can also create video voice overs in addition to the audio version.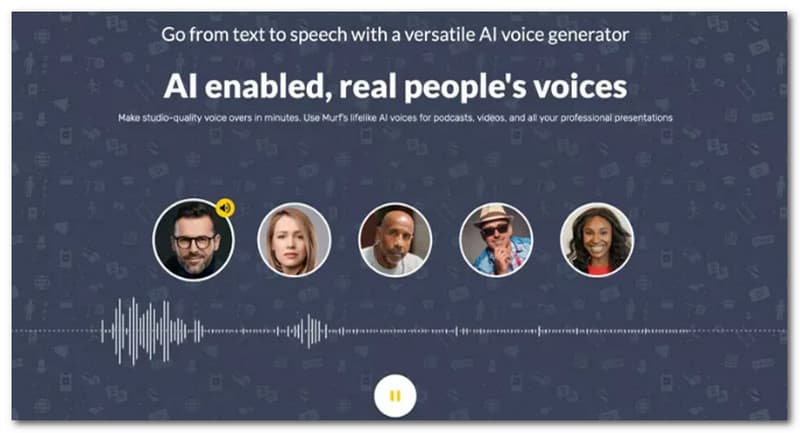 Best Features:
◆ It provides an easy-to-use user interface
◆ The tool supports a variety of languages
◆ It provides you with a wonderful free trial version.
◆ Allows you to explore a variety of voice possibilities easily
◆ There is no installation needed.
◆ Create a male or female voice for the voiceover.
Pros

This tool enables you to add voice overs to videos and texts rapidly.
The tools provide realistic voices.
It offers a fantastic trial version.
Cons

Limitations now exist for backing music choices.
This Siri voice is not working sometimes.
VoiceMaker.in
VoiceMaker.in is the final text-to-speech Siri voice generator to make it into our list of excellent online Siri voice generators. There are aspects of this free Siri voice generator that you'd like to see in a Siri generator, making it intriguing. VoiceMaker.in could be the ideal text-to-speech generator, supporting different languages and providing various voice options. Additionally, it doesn't require downloading any software to organize things.
Instead, all that is needed to enjoy the entertaining voiceover is to go to the VoiceMaker.in the official website, input the prompt text, hit the play icon, and choose the voice choice. It allows you to paste the prompt copied from anywhere in addition to inputting the content.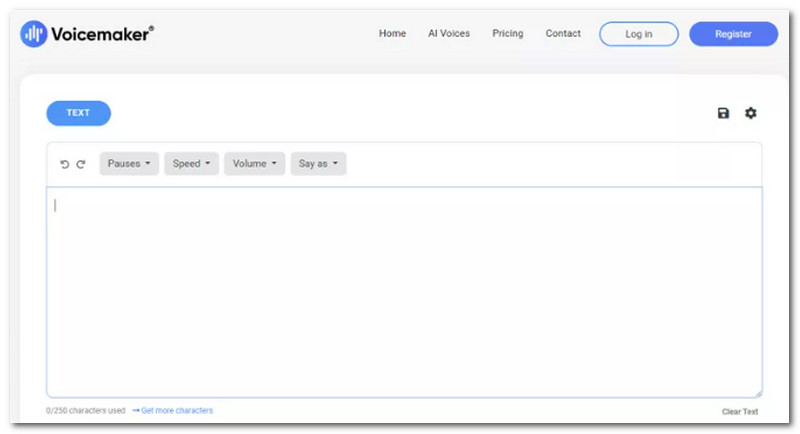 Best Features:
◆ It develops technologies driven by AI
◆ It provides an easy-to-use user interface
◆ The tool develops a reasonable price
◆ 140+ languages are supported, including Chinese, Arabic, English, etc.
Pros

The tool has a great 700+ voices it offers
This Voice Generator produces a variety of tones.
An AI Siri Voice that is simple to use.
It enables you to alter the product.
Cons

There are regular crashes in the system.
There are times that it is not comprehensive to use.
It is not worth it to purchase.
SynthSiri
SynthSiri is an advanced Siri AI voice generator allowing users to create lifelike voice content easily. This innovative tool harnesses the essence of the iconic Siri voice, delivering high-quality audio suitable for various applications. Whether you're a content creator, marketer, or developer, SynthSiri provides a seamless and user-friendly experience, allowing you to craft engaging audio content that captures attention and resonates with your audience.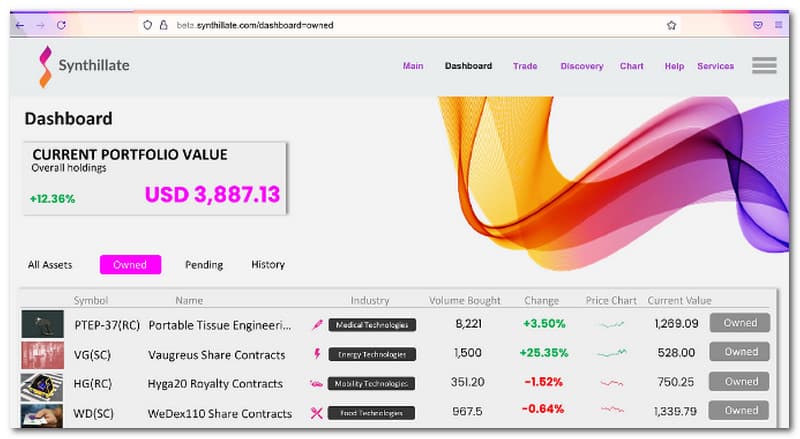 Best Features:
◆ Compatibility across platforms.
◆ Prompt-driven output.
◆ Wide Language support.
◆ Customization flexibility.
Pros

User-Friendly Interface
Good voice clarity
Compatible with different platforms
Cons

Limited voice options,
It may lack advanced customization.
SiriVoicePro
SiriVoicePro is a specialized Siri AI voice generator that exists to cater to the needs of professionals and businesses seeking high-quality voiceover solutions. This advanced tool leverages the familiarity of Siri's voice to provide users with a professional-grade audio experience suitable for an enormous range of applications. Whether you're working on branding, marketing, or content creation, SiriVoicePro offers a premium voice synthesis platform that sets your projects apart.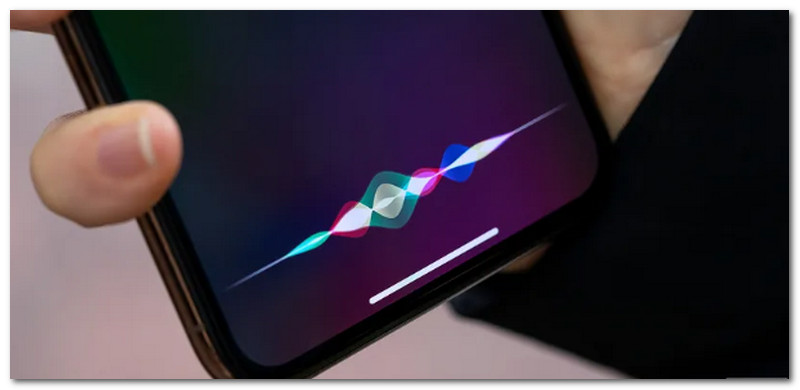 Best Features:
◆ Appropriate for voice generator branding.
◆ Easy adjustable Integration.
◆ Professional-Grade Work.
Pros

Familiar Siri Voice
Suitable for professional projects
It has a crystal clear voice.
Cons

Limited dialect and accent options
It may not be as customizable as other tools
2. How to Change Siri Voice
Want to alter Siri's voice? This section will describe how to do it on iOS and macOS. To ensure that your altering procedure goes well, choose the proper version.
On an iPhone
1.
Open the Settings app, then scroll down to Siri & Search.
2.
To see the range of voices you may select, including male and female voices with different regional accents and tongues, tap Siri Voice inside that menu option.
3.
Choose the voice you want, then hit the play button to hear how it will sound on your iPhone when you activate Siri.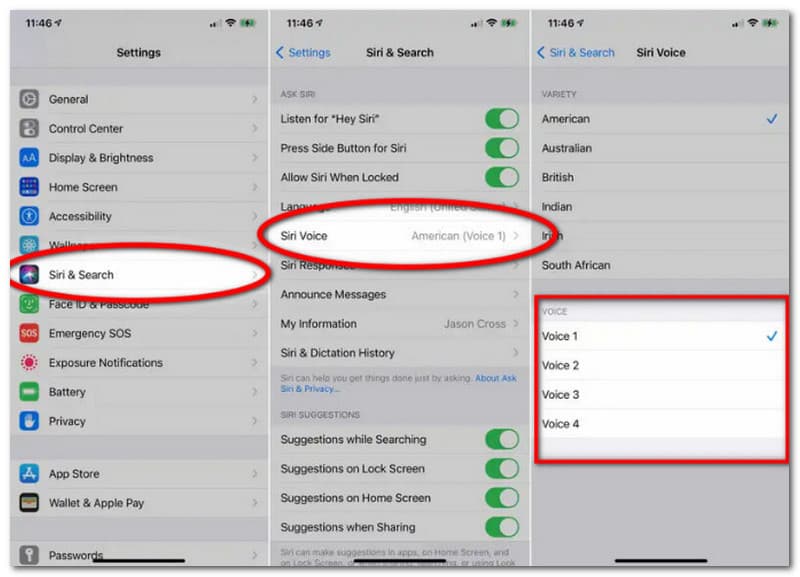 4.
Once everything has been resolved, leave the app and say Hey, Siri to call the assistant and check whether its voice has changed.
That is the right way to do the process. Regarding Siri's voice, the changes will depend on your preference. This process also applies to your iPad, not your Macbook. For that, please continue reading the part to see the steps for your macOS.
Using macOS
1.
Open the System Preferences by clicking the apple symbol at the top of your screen.
2.
Next, choose Siri, select the Siri Voice menu item, and then select a voice option from the drop-down menu that appears.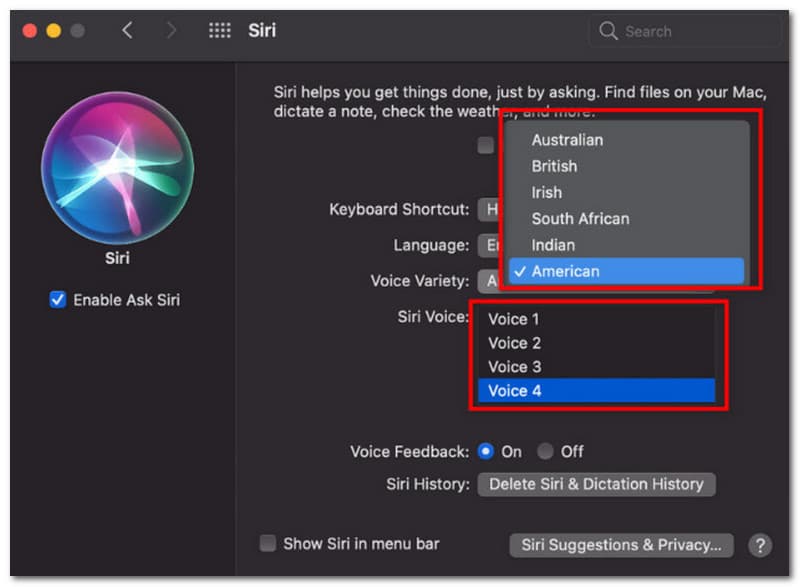 3.
Click the voice to hear a small preview before setting it in.
4.
Once the voice has been selected, quit System Preferences and activate Siri with the Hey Siri command to hear the new voice on your macOS device.
There you go, the steps in changing the voice of your Siri to your Macbook. Ensure you follow earache step to prevent any inconvenience with the process.
3. FAQs about Best Siri Voice Generator
Who is the voice of Siri?
The original voice of Siri, used in the United States, was provided by Susan Bennett, a talented voice actress. However, Apple has since used multiple voice actors for different languages and regions. Siri voice generators aim to replicate the essence of Siri's voice, allowing users to create synthetic audio that resembles the familiar Siri experience.
Is Siri an Artificial Intelligence?
Siri is an artificial intelligence (AI) virtual assistant developed by Apple. Siri utilizes natural language processing and machine learning to learn and respond to user commands, making it a prime example of AI technology. Siri AI voice generators leverage similar technology to create synthetic voice output, enhancing the scope of voice synthesis applications.
Does Siri only respond to my voice?
Answer: No, Siri is designed to respond to the voice of anyone who speaks to it. It does not have voice recognition capabilities to identify a particular user specifically. Siri can be activated by voice commands or manually through the device interface. On the other hand, Siri voice generators generate audio based on the input provided to the tool, creating versatile and customizable voice outputs for various purposes.
Can I use Siri AI voice generators for commercial purposes?
Reviewing the terms of use and licensing agreements, each Siri AI voice generator provides is essential. Some tools may offer commercial licensing options, while others may restrict commercial use. Check the specific terms before using the generated voice for commercial projects. Understanding the licensing terms is crucial to ensure compliance if you intend to use the AI-generated voice for business, marketing, or any other commercial endeavor.
Are different Siri AI voice generators suitable for enormous languages and accents?
The language and accent capabilities of Siri AI voice generators may vary based on the specific tool. Some generators offer a range of language options and regional accents, while others may be more limited in this aspect. It's essential to explore the language support and accent customization options of the particular Siri voice generator you're considering. If you require voice synthesis in a specific language or accent, ensure the tool can accommodate your needs.
Conclusion
As we've navigated through the top seven Siri AI voice generators, we've uncovered diverse features, advantages, and considerations. Each tool brings its unique flavor, catering to different needs and preferences. Whether you seek the familiar Siri voice, advanced customization options, or versatile language support, a Siri voice generator aligns with your goals.
Did you find this helpful?
455 Votes
YES

Thanks for letting us know!
No

Thanks for letting us know!
AnyMP4 Video Converter Ultimate
All-in-one video converter, editor, enhancer upscaled with AI.