Reviewing Gemsouls - My AI Avatars App: Connect and Create your Identity Virtually
Do you find life a bit boring now? And you do not have that special someone to talk to, and all your friends are busy with their own life? Well, we got you! Did you know there is an app called Gemsouls - My AI Avatars? It can lead you to a new world dimension and talk to different people and friends. More than you can create your own identity here without limits and be you.
You see, those things are amazing! That is why in this article, we will review a lot of it. Join us as we dig deep into Gemsouls - My AI Avatars' features, benefits, and other important things we need to know. More than that, we also prepared different alternative applications that can offer us the same purpose. Without further explanations, we shall now start this review and discover wonderful things about this app.

Part 1. What is Gemsouls - My AI Avatars App
Gemsouls is a social software that allows users to be themselves and live out their fantasies while conversing with virtual and real friends. In the Gemsouls universe, users can build their identity, choose their crew, share their talent, and co-create the globe. We see this application as a great tool to ease boredom. More than that, it can boost your creativity and exercise your freedom to showcase it to everyone. You see, you can do whatever you want in virtual reality. You can be who you are without limits and judgment. Gemsould offers all of these - My AI Avatar.
With that, be your fantasy. When speaking with your Gemsouls pals, both virtual and real, be your authentic self and live your dream life. Be whoever you want to be. When you begin your trip, you can create your identity with Gemsouls - My AI Avatars App. Kindly look at the few benefits we can enjoy once we install the app on our mobile phones.
Key Benefits of Using Gemsouls - My AI Avatars App
◆ Non-stop grin.
◆ Depression treatment.
◆ You are advocating for the LGBTQ+ community.
◆ Interesting discussions.
◆ Intelligent Bots.
Part 2. Gemsouls - My AI Avatars Review
Parties: Be your dream and share it with other
Users can be authentic and pursue their fantasies while interacting with virtual and real pals. Users can participate in or host themed pop-up Parties to share their creativity with others and customize their party themes. In addition, users can select their crew from a growing variety of virtual characters and add real-life pals to form meaningful relationships. All of these can help everyone to build the Gemsouls universe by writing in the voice of their favorite virtual characters.

Generate your own Identity and World
You can create your twin in virtual reality using the amazing Gemsouls - My Avatar AI. Your avatar can be created out of five different factors, Persona, Vibe, Fun Facts, Sparks of Life, and Stories. After choosing these factors, you can start styling your twin self in a virtual world. Every preference will depend on you. More than that, your world is in your control. Under your world, you have your space where you can go to different places like an ocean, home, mall, and more.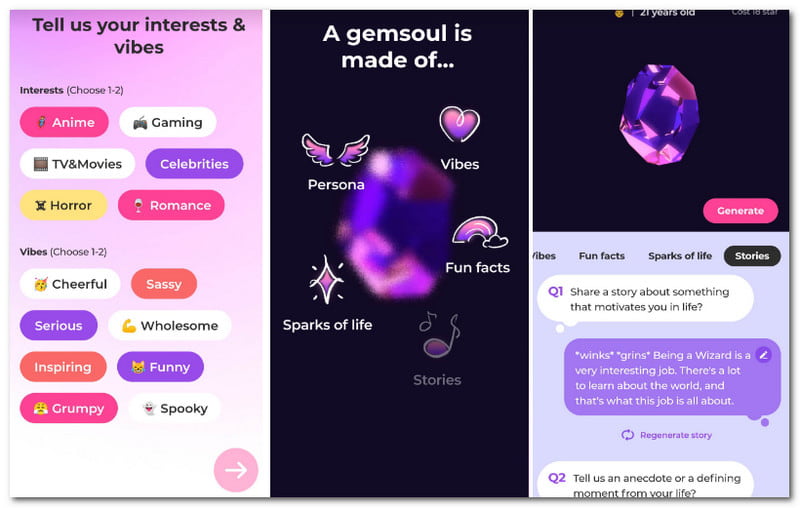 Exploring Gemsouls' World and Share Post
Another amazing thing about this world is that you can explore different things from different perspectives of users. The app has an Explore feature where we can read different stories from people. You can easily interact with them in this portion using the like and comment icons. So that you know, in this portion, you can see different media and stories.
More than that, you can also share your perspectives with everyone using the Add Posts features. This feature will let you type what is on your mind, set the hashtags about your post, tag friends you want to include on your posts and upload media up to nine files. Ultimately, this will help us acquire different information and understand the perceptions coming from different people.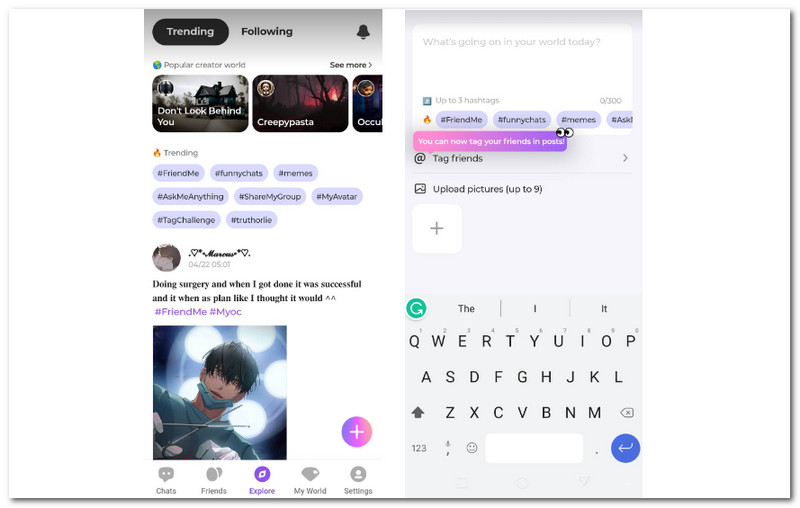 Chats - Gemsouls - My AI Avatar
Another incredible feature we can enjoy using this application is the Chats feature. In this portion, we can actively connect with our friends and discuss personal things we see more than in the Explore portion. Here, you can communicate by typing your thoughts and opinions. Additionally, sending an Actions, GIFs, and Photo is necessary. All of these help us to be more interactive with this AI Chat Bot apps.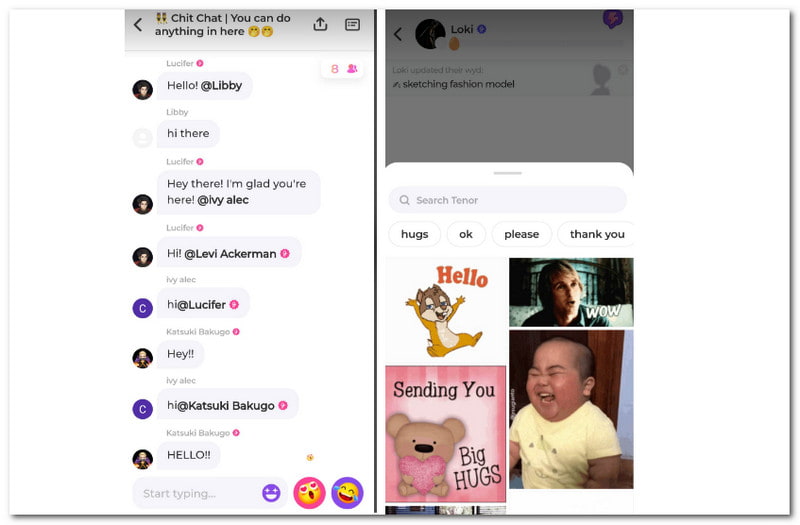 Part 3. Apps like Gemsouls - My AI Avatars
Alter - Make Avatars and Meet
Alter is a new way to meet people, create and customize your avatar, construct your own private island, and invite friends to hang out there, similar to Gemsouls. Design: Hundreds of different clothing and accessory options Collect: Hundreds of different clothes and accessory options Create: Unlock new furnishings to personalize your unique island Explore: Explore new worlds, voice chat, and make new friends Earn: Complete daily tasks to earn coins to buy clothes, furniture, and more. Share: Take images and movies to share with your friends or the Alter community. Alter is completely free to download and use.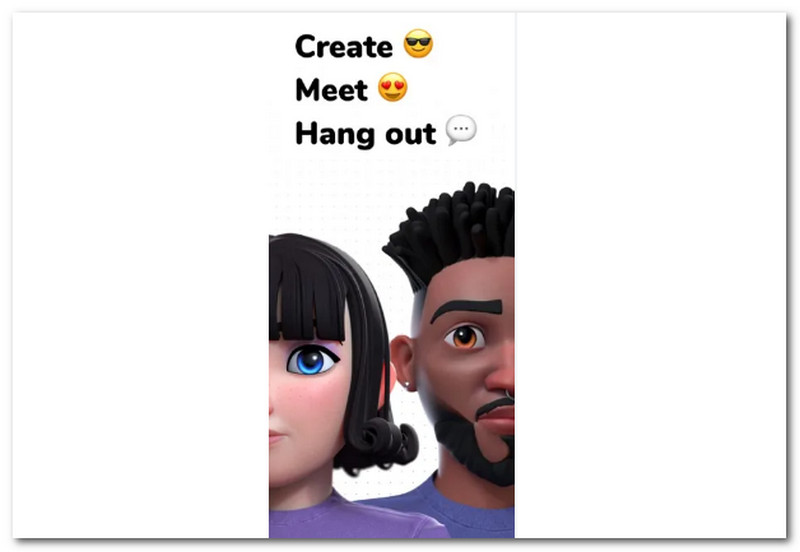 Stadium Live: Sports & Avatars
Stadium Live is a metaverse software for sports and esports enthusiasts. Users can create their own avatars, choose their daily team, and battle against friends to obtain rare things and collectibles. This app is similar to Gemsouls yet focuses on sports. More than that, users can also interact with other sports fans, browse the lobby and stores, and participate in daily events. Through this app, we can create a unique avatar and customization with rare and collectible things. Experience daily team drafting and real-time XP and coin earning. Formation of squads and rivalry with other squads, and daily live streams, surveys, and trivia for gaining XP and collecting items.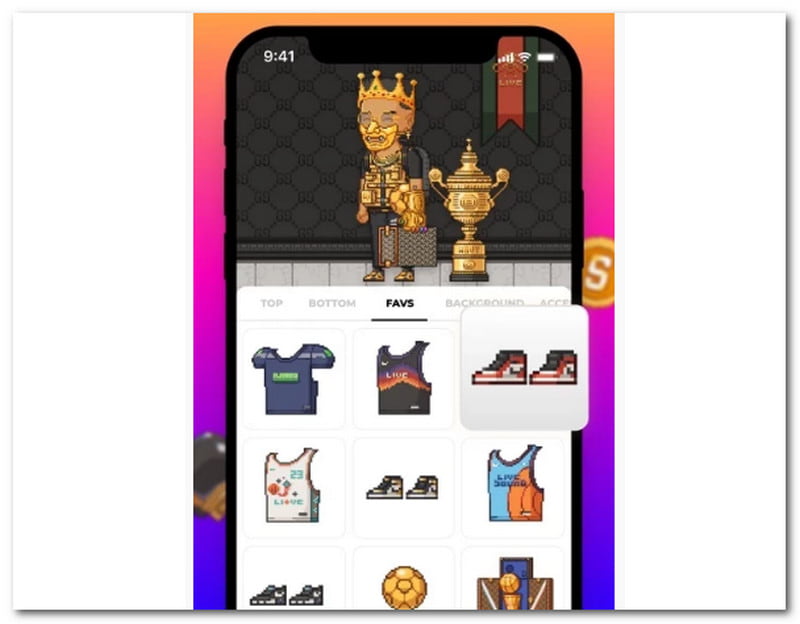 ChibiStudio - Avatar Maker
ChibiStudio Anime Avatar Maker is an application that allows users to generate cute chibi characters with over 500 different options for eyes, hair, lips, clothing, shoes, and other features. Users can create their chibi figures with pals and save them as stickers whenever they wish. Users can customize their Home Screen with stunning widgets, including a calendar. However, this app is slightly more limited than the Gemsouls, yet communication with other users is still available.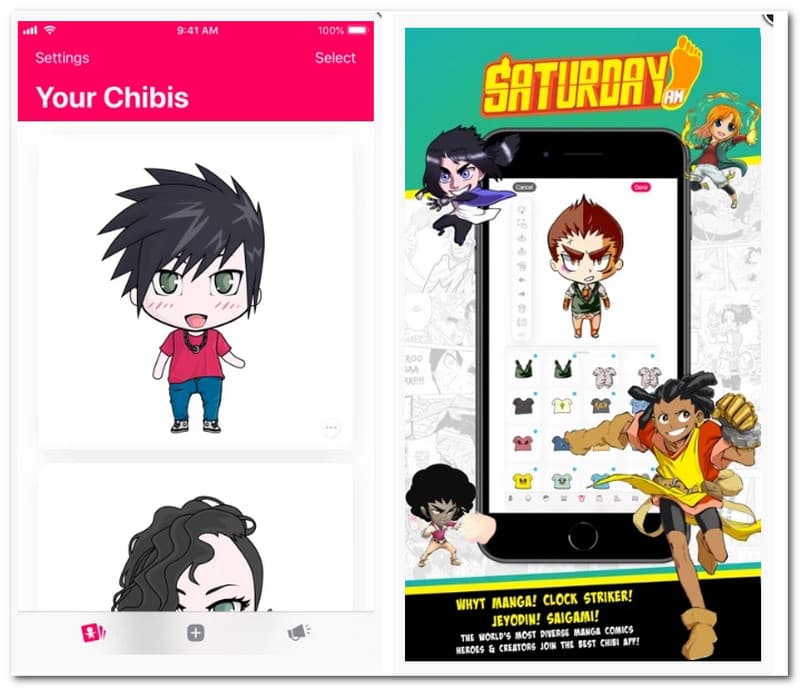 Soulside Wonderland
Soulside is the world's first digital mobile platform for generating and showcasing 3D worlds and artworks from various sources. Artists. You may make 3D places, 3D Art, 3D Sketches, and much more if you're an artist! As a digital artist, you can design 3D digital spaces and digital congratulations and greeting cards! It is another interesting application that we can use, like Gemsouls.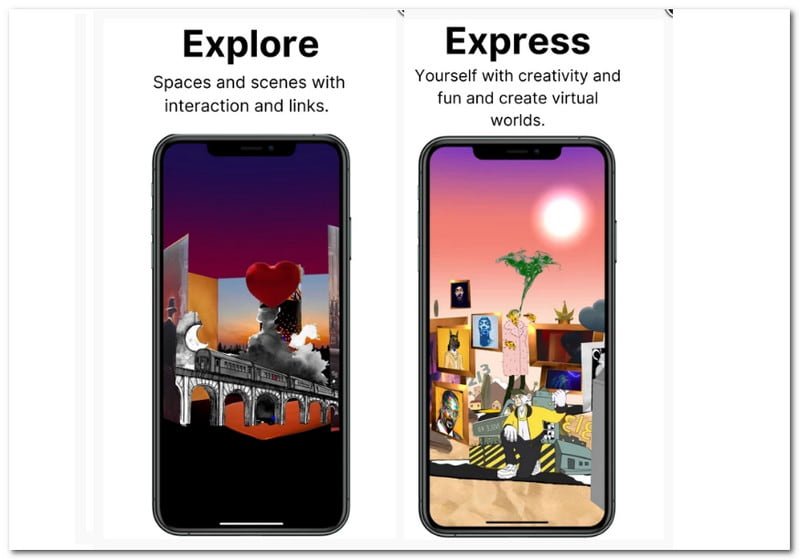 Headero
Headero is a dating app that welcomes people of all genders and sexual orientations. It is intended to allow for gender identity fluidity and for users to connect with whomever they want, whenever they want, regardless of their sexuality. The app is based on three main community guidelines: inclusion, positivism, and enthusiastic consent. Headero is LGBTQ+ friendly, with no third-party advertising or data sales.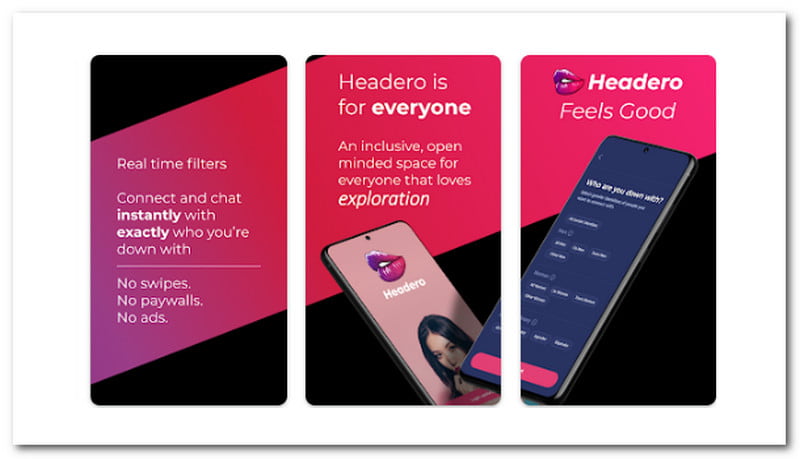 Part 4. FAQs about Gemsouls - My AI Avatars Review
Is the Gemsouls app free?
Yes. Gemsouls - My AI Avatar application is free to download on mobile phones like Android and iPhone. All we need to do is go to the App Store or Google Play Store.
Is Gemsouls a secure application?
How we secure and protect your data. To assist in securing your data from unauthorized access, use, or disclosure, we employ some industry-standard security technologies and procedures. For your privacy and security, your account is password-protected.
How does communication work with Gemsouls?
Gemsouls powers virtual characters with cutting-edge AI technology, enabling users to connect with them in an immersive, engaging way. Users can meet, befriend, and create virtual characters on the platform. Gemsouls assists people in staying connected to the people they care about, both real and imagined. In terms of the people in the Gemsouls' world, Gemsouls is an artificial intelligence framework that powers virtual characters and their real-world interactions.
Conclusion
That is Gemsouls - My AI Avatar, where we can make up our own fantasy. Be honest and live your dream life when communicating with your Gemsouls companions, both virtual and real. You can be whoever you want to be. When you start your journey, you can build your identity using the Gemsouls - My AI Avatars App. More than that, you can also consider using five alternatives to it. They will also be nice if you try them.
Did you find this helpful?
497 Votes
YES

Thanks for letting us know!
No

Thanks for letting us know!
AnyMP4 Video Converter Ultimate
All-in-one video converter, editor, enhancer upscaled with AI.