BeReal: Easy Guide To The Authentic Social Media App
As social media platforms evolve continuously, the BeReal app is one of the emerging social media applications that might bring back some authenticity to our social media posts. BeReal is a photo-sharing application with a twist. Do you wonder why? There are no editing and no filter options in this app. By making it impossible for users to edit or apply filters to their photos, BeReal provides a more authentic glimpse into people's daily lives than other social media apps where highly selected postings are the norm. Basically, the BeReal app gives you an option to authentically capture your daily life while simultaneously keeping up with what your friends are doing.
To help you understand how BeReal works and its features, we offer this post to guide you using this great social photo-sharing app. Let us now discover these things in this post.

Part 1. What is BeReal?
BeReal app is popular in letting users share snapshots of their lives that are unfiltered and unedited by only allowing one post per day. A notification is sent out to everyone in your time zone every day. To take your BeReal, you have two minutes to launch the app. A BeReal is not only a photo; back and front cameras are also used to record your surroundings.
Part 2. How Does BeReal Work?
Users receive a notification daily with the message Time to BeReal at a random moment. The app user gets two minutes to take a photo of what they are doing at the exact moment. Although users may post pictures after getting a notification, the BeReal newsfeed will indicate how long after, or how 'late,' this was done.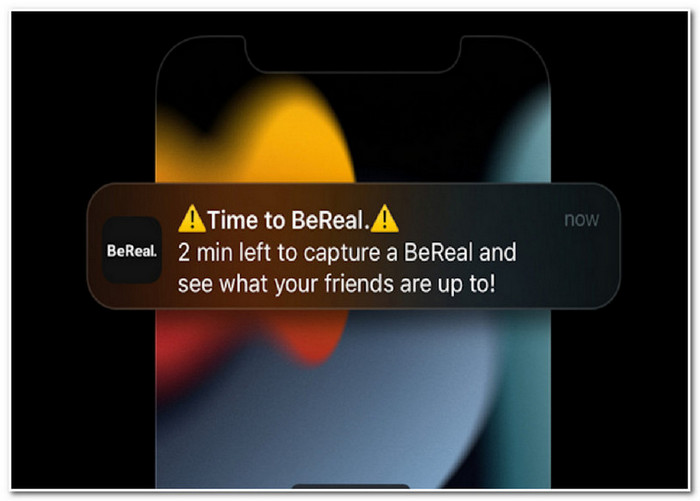 How to Block Someone on BeReal
Blocking gives you control over how other users interact with you. If you are friends with a user and block them, you will unfriend them. Here are a few steps for doing it.
1.
Go to the profile of the user you want to block.
2.
Tap the three-dot option in the top right corner.
3.
Choose the option to block.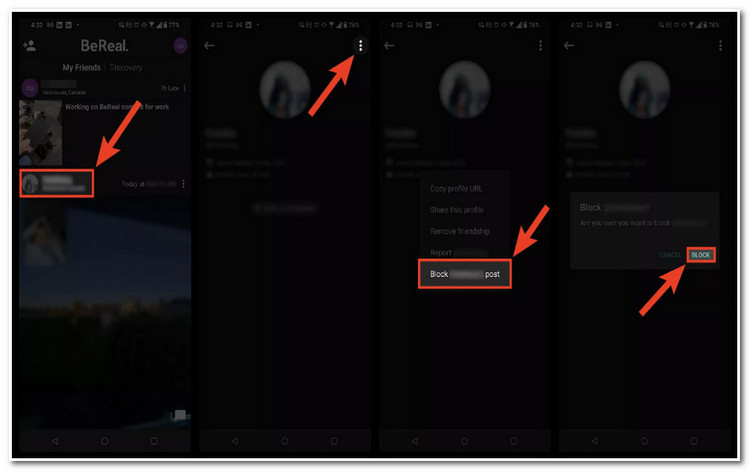 That's the quick way to block someone on BeReal. In that case, a blocked user is not notified that they have been blocked.
How to Take BeReal Pictures Separately
The BeReal app has neither an official technique nor a hack for taking two separate pictures. The only way to take a second picture on BeReal is to erase the original and then take another.
How to Make BeReal Private
To turn your BeReal account to private, ensure that you haven't indicated when posting or changing settings on your account. If you're unsure if your most recent post is set to be seen exclusively by friends, you may check by doing these easy steps:
1.
Tap the three-dots icon below the Add a Caption.
3.
If you unintentionally posted to the public Discovery page, you can take it down by choosing Remove from Discovery.
For your future posts, make sure to choose My Friends Only when posting on BeReal. This guarantees that nobody other than your friends may access your content.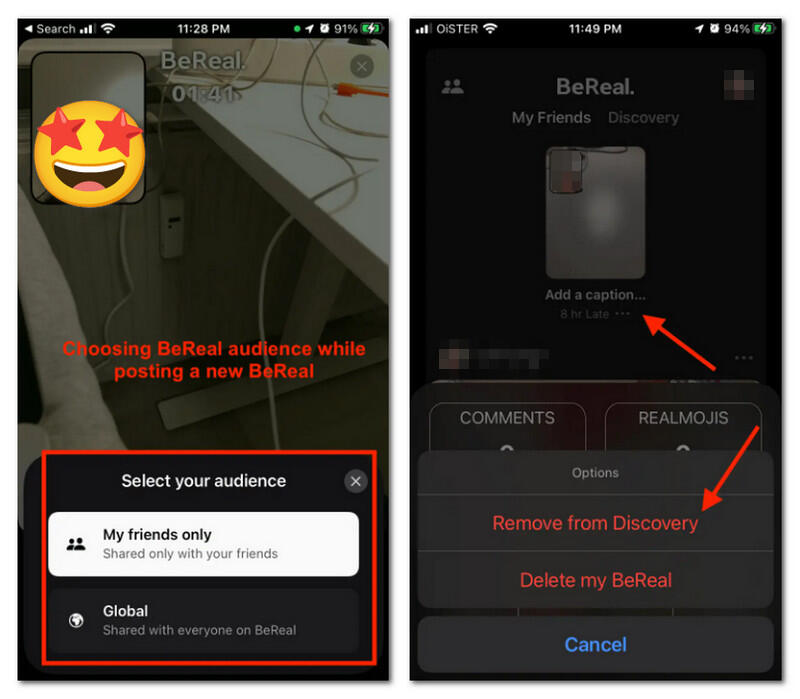 How to Hide Retakes on BeReal
Unfortunately, retakes cannot be hidden on BeReal. The goal of BeReal is to keep uploading as many authentic moments from your side as possible. However, if everyone started retaking their uploaded photos, then the point of the BeReal app would become unnecessary.
How to See BeReal Recap
To get your BeReal recap, you must first ensure the app is updated. Once you've done that, open the BeReal app and follow the steps below:
1.
Hit your profile picture in the upper right-hand corner.
2.
Click View all my Memories.
3.
Select the sparkly white rectangle icon, and you will be directed to the recap.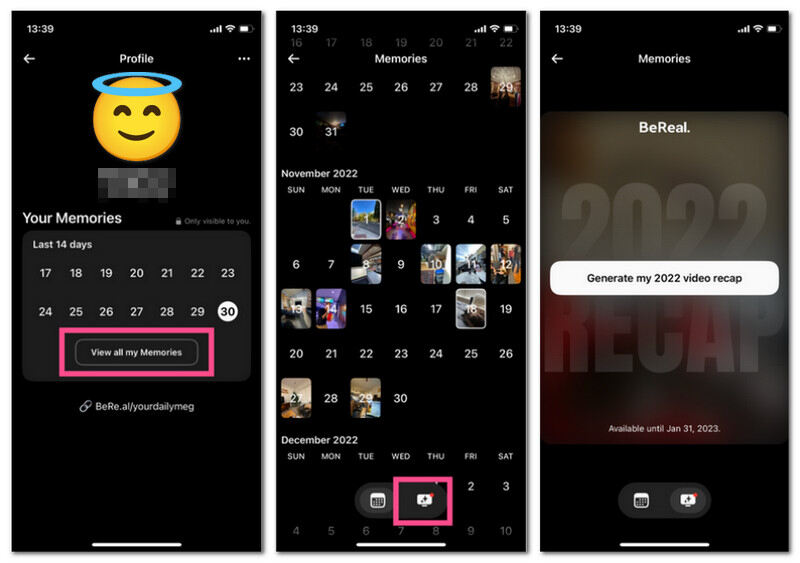 That's how easy it is to see your BeReal recap. You can now enjoy looking back on the best moments you've posted.
Part 3. How to Delete a BeReal?
After knowing how BeReal works, we will learn how to delete a BeReal post. If you change your mind about something you decided to post on BeReal, you can delete the post through these simple steps.
Delete BeReal on IOS
Here's s how to delete a BeReal post on IOS:
1.
Navigate to the post you want to delete and tap the 3-dot icon next to the timestamp or Add a Caption.
2.
Select Options and click Delete my BeReal.
3.
Now, choose why you want to delete your BeReal, then tap Yes, I'm sure.
4.
By hitting the Delete option, you may confirm your action.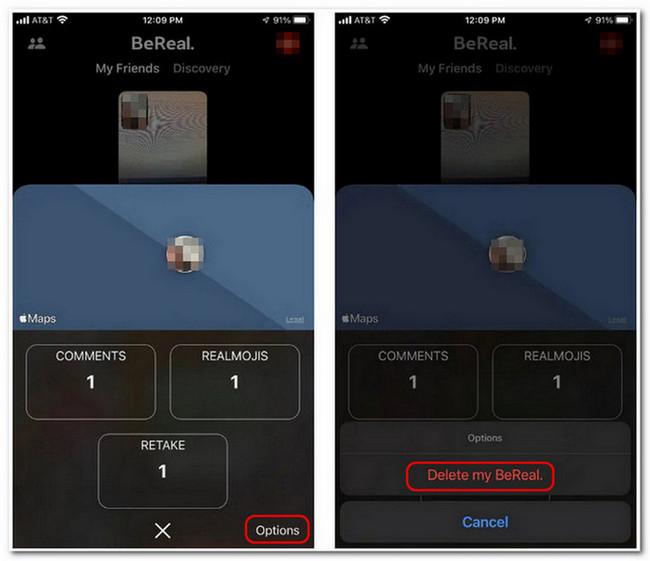 Delete BeReal on Android
Here's how to delete a BeReal post on Android:
1.
Tap the three-dot icon in the top-right of your post.
2.
Select Delete my BeReal.
3.
Now, choose why you want to delete your BeReal, then tap the Delete my BeReal button.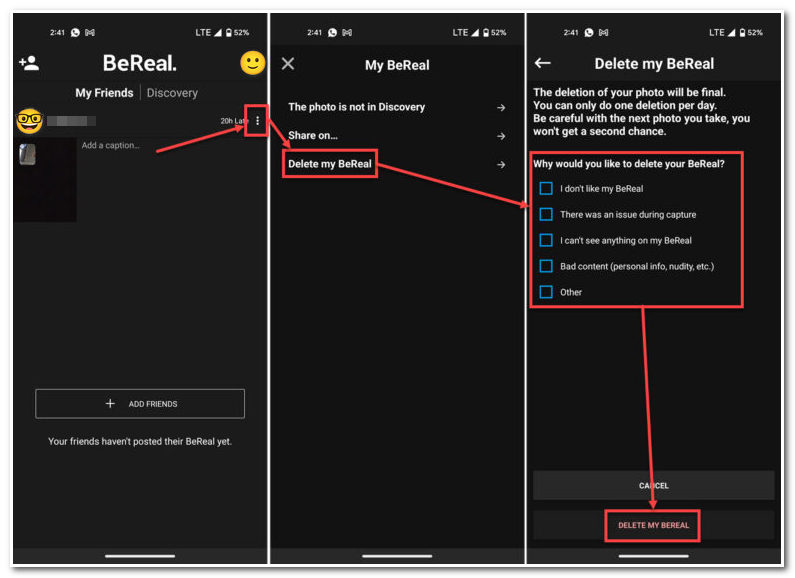 We hope this helps you delete your unwanted BeReal post, but remember you can only delete your BeReal once a day, so choose to do so carefully.
Part 4. How Does BeReal Make Money?
The core of BeReal's business strategy is to give users an organized, clutter-free social media experience. Users can browse the daily postings made by their friends without being interrupted by ads. BeReal relies on funding to run and doesn't make money. But like other social media platforms, it may generate money by selling premium memberships with more features, incorporating advertising on the home feed, or making money from user data by selling it to third parties.
Part 5. Why is BeReal Not Working?
BeReal might not be working for different reasons. Here are a few factors that might prevent your BeReal app from operating properly.
◆ Your internet connection may be giving you problems, such as slow speeds or service outages.
◆ The app may include bugs.
◆ Attempting to use an old version of the application.
The BeReal app is considerably newer. Since it is still being developed, issues and bugs are possible. As a result, you can experience such issues more frequently.
Part 6. FAQs about What is BeReal
Who owns BeReal?
BeReal was released in 2020. French entrepreneurs Alexis Barreyat and Kévin Perreau founded and launched the BeReal app with the idea that users would communicate with friends and family using the way social media applications were designed to be used without worrying about filters, likes, and followers. The simple idea of the founders is to snap a photo and be real.
Does BeReal show screenshots?
Yes, BeReal does notify for screenshots. Even though the app does not send out a push notification like Snapchat and Instagram, BeReal users may still browse their posts and check who took a screenshot. When you open the BeReal app, a little icon will appear next to your post to let you know whether anyone has screenshotted it. Therefore, you should consider before capturing a screenshot.
Is BeReal safe?
Yes, BeReal is safe for adults as well as kids. However, while BeReal appears safer than other applications, this doesn't mean that children should not be supervised.
How often does BeReal go off?
All BeReal users receive one daily notification at a different, random time. It doesn't run on a fixed schedule, and the timing of each day's notifications is unpredictable. Remember that because the notification appears at various times throughout the day, you cannot plan your BeReal post for that day. Therefore, follow the rules, be real, and share an unedited, unfiltered snap of yourself.
What does the lightning bolt mean on BeReal?
Your camera will open when you tap the lightning bolt symbol to take a BeReal or Realmoji. You may record your reactions to other people's photos with this BeReal feature. Consider doing it by using your real face as an emoji.
Why did my BeReal log me out?
If BeReal is logging you out, there may be a few reasons. BeReal may have a problem or a malfunction. Otherwise, you keep logging out due to some suspicious activity in your account. However, if you logged out of your BeReal account, you may quickly log in by entering your name, birth date, and cellphone number.
Is BeReal social media?
Yes, BeReal is a social media app. With the help of the photo-sharing app BeReal, users may share one picture daily to show their followers what they are up to in real time. Users are encouraged to be real by the BeReal app, which focuses on authenticity.
Conclusion
BeReal is a fun way to learn more about people without filters. Isn't it more awesome to just be you and be real? In the past-faced realm of social media, discovering a new app like BeReal that shows the authentic side of everyone makes an individual boost self-confidence without trying so hard. Furthermore, we have discussed what you need to know about the BeReal app. Thus, seize the moment and keep hitting that 'Time to BeReal' to continue to ramp up the authentic part of you. So, what are you waiting for? It's time to BeReal!
Did you find this helpful?
490 Votes
YES

Thanks for letting us know!
No

Thanks for letting us know!
AnyMP4 Video Converter Ultimate
All-in-one video converter, editor, enhancer upscaled with AI.