Does BeReal Show Screenshots? Let's Reveal the Truth!
Since BeReal is a relatively new app, the users need more knowledge about its features and how to use them. However, the app has gained popularity quickly due to its unique concept and simple interface. The app encourages users to express their most authentic and unfiltered moments of themselves. However, you might be tempted to screenshot those awkward photos your buddies post. But you must first determine if the app displays screenshots before taking one.
Knowing whether or not someone will be notified before screenshotting something from social media is helpful. Some social media applications, such as Snapchat, will inform you if a screenshot of one of your posts is captured, while others, such as Facebook, will not. But what happens if you take a screenshot on BeReal? For that, let's all know the answer to this post!

Part 1. Does BeReal Notify Screenshots?
The answer is yes.
BeReal does notify users about screenshots. BeReal actively tracks people who take screenshots. The app will alert you if someone takes a screenshot of your photo and also notify others when you take a screenshot of their photo. This is because BeReal wants to create a safe and authentic user environment. By notifying users about screenshots, BeReal hopes to discourage people from taking screenshots of others' photos without their permission.
However, users won't get notified in real-time, like Snapchat, since the notification is not sent as a push notification or message on BeReal. Nevertheless, you can see if someone screenshotted your BeReal post by viewing it. You can also see how many screenshots that specific post has accumulated and the list of people who took a screenshot.
◆ On iPhone, there will be an icon of a number in square brackets next to the timestamp of that post, showing you how many people have taken screenshots.
◆ On Android, you will see a yellow shutter icon to the right of your post.
Viewing the people who captured a screenshot in BeReal is quite distinct for iPhone and Android users. Please proceed to the next section for more details.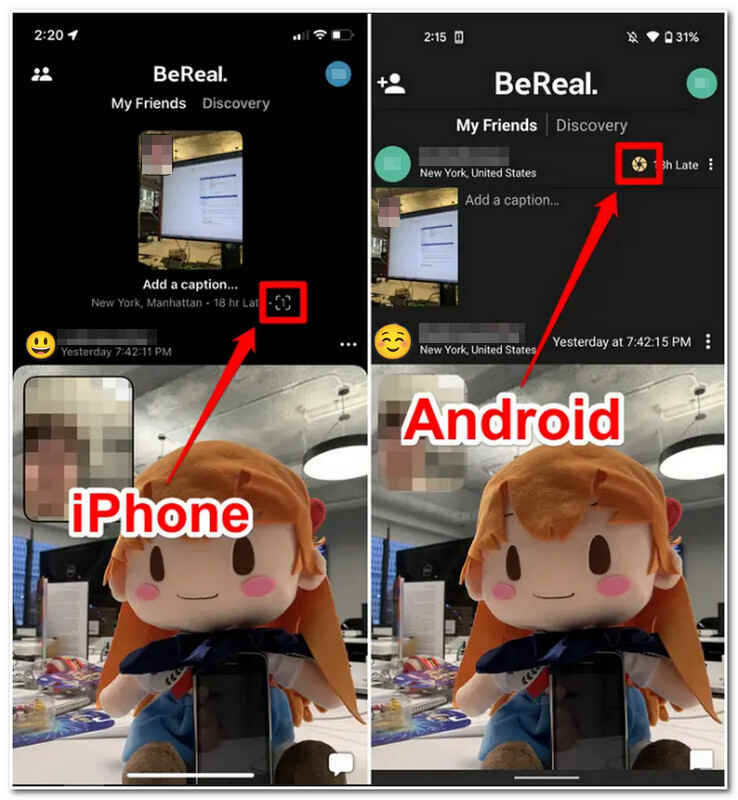 Part 2. How to See Who Screenshotted Your BeReal?
Depending on which device you use, whether iPhone or Android, as stated in the previous section, you'll need to go through different steps to see who took the screenshots. Kindly see the procedures below.
Here's how to see who screenshotted your BeReal on iPhone:
1.
Launch your BeReal app, then go to your post.
2.
Tap the Screenshot icon with a number in square brackets beside the timestamp of your post.
3.
Remember, the list of people who took screenshots will be blurred until you share your BeReal. In that case, Share your BeReal to any available platforms on the menu.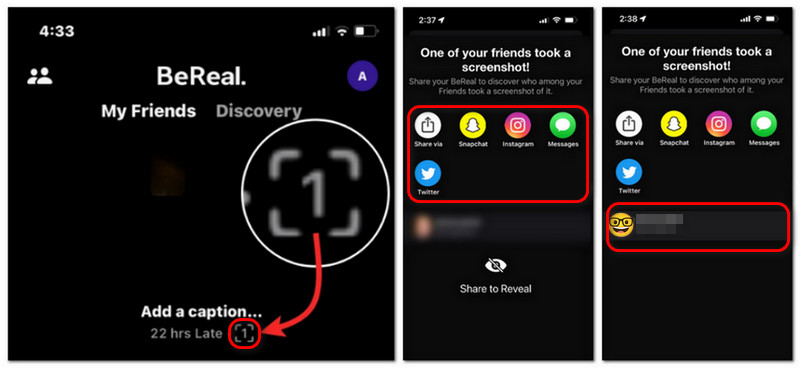 Here's how to see who screenshotted your BeReal on Android:
1.
Open your BeReal app on your device and navigate to your post.
2.
Simply tap on the Screenshot icon.
3.
After that, the list of the people will be easily revealed to you.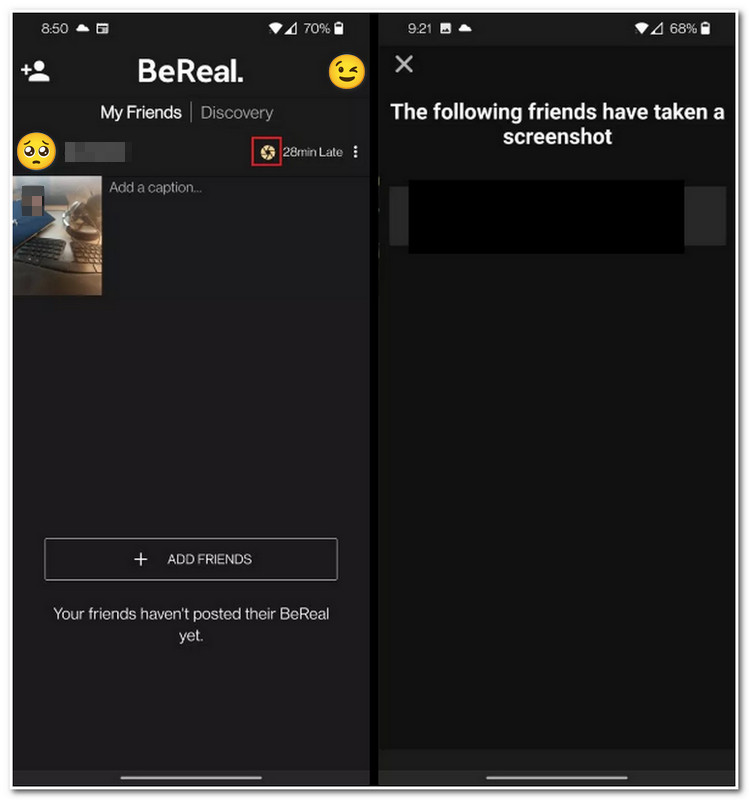 Part 3. How to Screenshot a BeReal Without Them Knowing?
Generally, screenshots will make a screenshot icon appear on your friend's post in BeReal, and they will know that you've screenshotted it; the same goes if they also screenshot yours. Now that you're aware that screenshots on BeReal can be detected and viewed, you may wonder how you can take screenshots without them knowing. In that case, we offer you a method in such a situation.
The best method you can do is to use a screen recording application and scroll through your feed to record the post you wish to screenshot. With that, AnyMP4 Screen Recorder is here to help. It is a 7-in-1 screen recorder and editor to capture any activity from video and audio with no lag. One of its amazing features is that you can use it to record your phone screen or other mobile device screen on your computer. So, let's get started.
1.
Get this awesome AnyMP4 Screen Recorder tool and install it on your computer.
2.
Then, click the Phone Recorder icon on the main interface.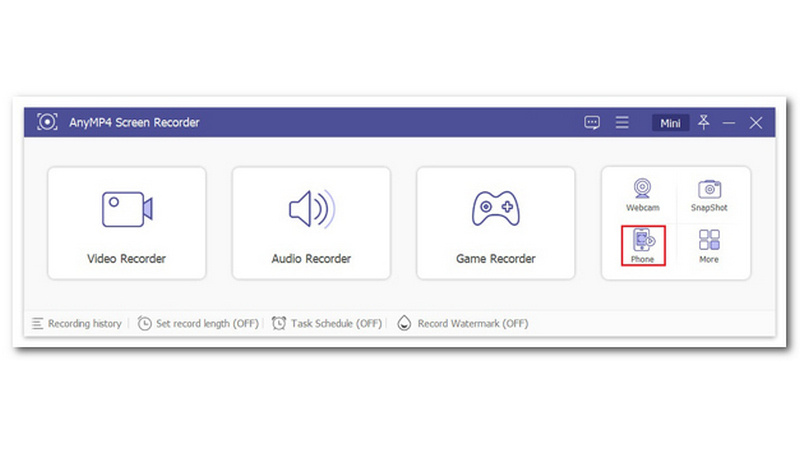 3.
On the Phone Recorder window, select the appropriate device type. You can only record the screen of an iPhone or iPad by selecting the iOS Recorder option because the app currently supports iOS devices.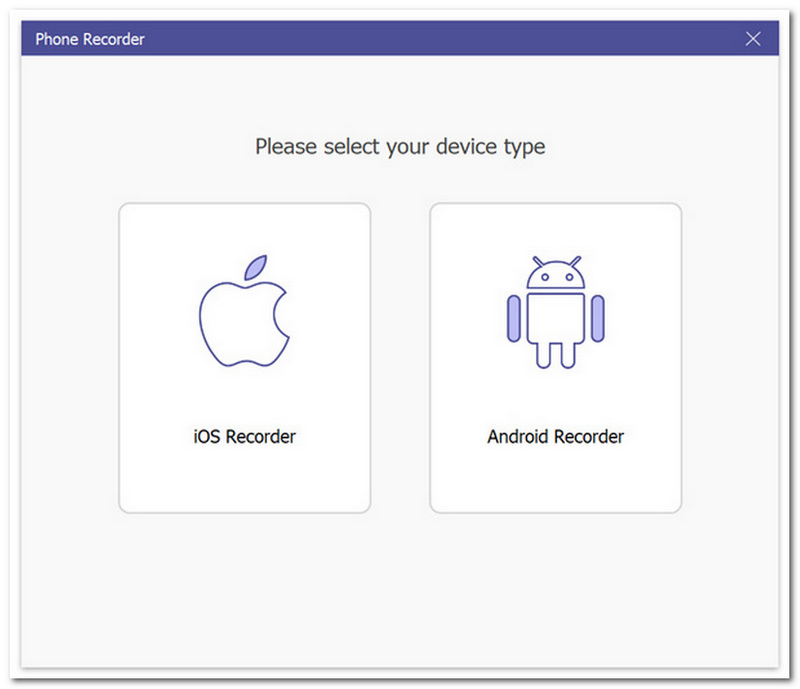 4.
Select Screen Mirroring from the menu. Next, connect your device to the computer by doing the on-screen directions on your iOS device. Before connecting, please ensure your computer and device are on the same WLAN.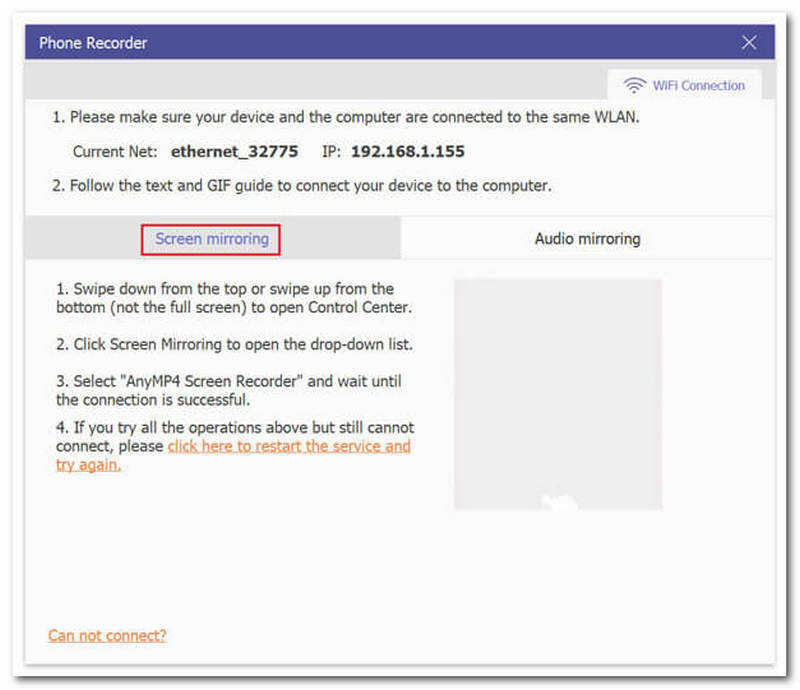 5.
You are free to set the settings of your preference.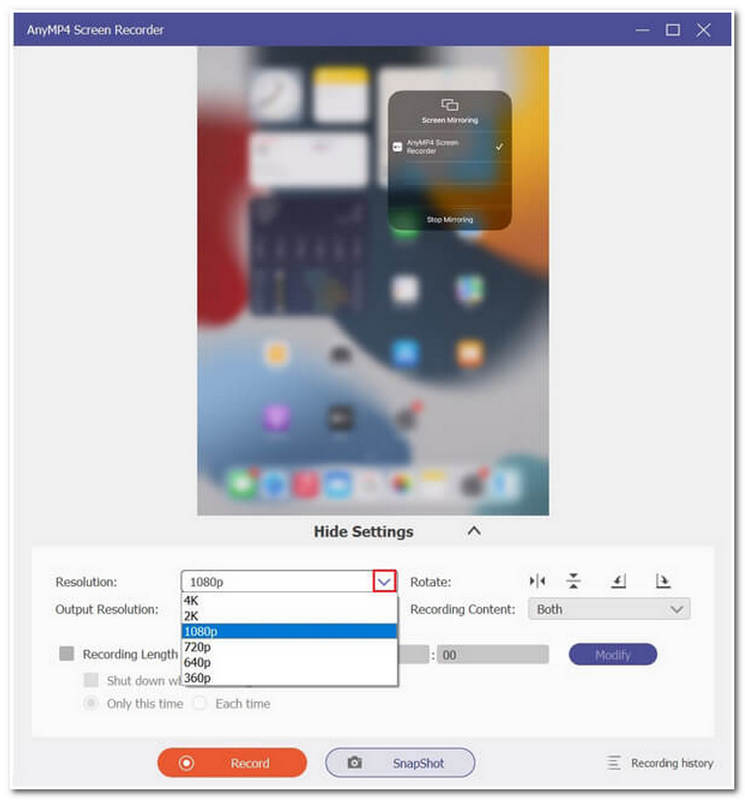 6.
Launch the BeReal app on your device.
7.
Finally, you can click the Record button and then record the device screen. Besides, you can click the Snapshot button to take screenshots while recording.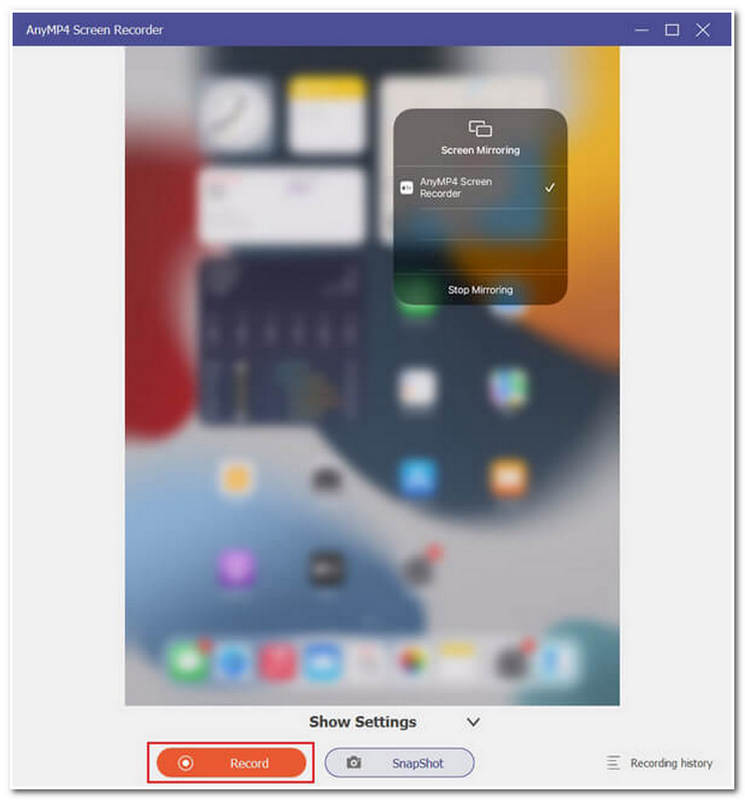 Want to flex what you're doing with your apps to your friends?
AnyMP4 Screen Recorder Tool gives you the bridge to fulfill your quest. It is a screen recording program that guarantees you capture and share your activities smoothly with better quality. The process is simple, and there are no limitations regarding the resolution and length of what you're trying to capture and record.
Moreover, you can swiftly upload your recording to any online platform and share it with your friends. With this handy tool, you are given the absolute solution to document any of your movements within your phone, desktop, browser, and more with amazing features. Just follow the steps provided above and get it done now. With these simple steps, we can now secretly take screenshots on BeReal. Thanks to this fantastic feature of AnyMP4 Screen Recorder.
Part 4. FAQs about Does BeReal Notify Screenshots
Why can't I see who screenshotted my BeReal?
You don't see who screenshotted you on BeReal for a few reasons. The most obvious reason BeReal isn't showing screenshots is that there aren't any yet. Another possibility is that your BeReal app is not updated.
Is BeReal social media?
Yes, BeReal is a social media app where users can share one photo daily with their followers to show them what they are doing now. BeReal encourages users to be themselves by not allowing them to use filters or edit their photos.
Is BeReal down?
If BeReal is down or you are currently experiencing problems with BeReal, you can just go to their Help Center. To do this, go to https://help.bereal.com/hc/en-us. Then, tap Troubleshooting. In that case, BeReal can help you solve your problem.
Who created BeReal?
The BeReal app was created by French entrepreneurs Alexis Barreyat and Kévin Perreau in 2020 to allow users to communicate with their family and friends more authentically than other social media platforms. The app does not allow for filters, likes, or followers and instead encourages users to share candid photos of their lives. The founders believe this allows users to be more genuine and connect deeper.
What apps notify screenshots?
Social media apps like BeReal and Snapchat notify users about screenshots. First, it helps to prevent users from taking screenshots of private or sensitive information. Second, it can help deter users from taking screenshots of content they are not supposed to see. Third, it can help to keep users accountable for their actions.
Conclusion
BeReal is a great social media app that encourages authentic expression and makes people more confident in sharing their stories. In the digital age, privacy is essential. As social media platforms evolve, so does users' curiosity about the safety of their shared content. One question that consistently arises is: Does BeReal notify screenshots? And in this article, we solved the curiosity about this question. So, BeReal does notify screenshots. For more articles like this, you may visit our page, as we offer you easy-follow guides to solve your curiosity and give solutions to your problems.
Did you find this helpful?
489 Votes
YES

Thanks for letting us know!
No

Thanks for letting us know!
AnyMP4 Screen Recorder
Capture every moment in desktop, browsers, programs and webcam.