Aiseesoft FoneTrans Review: Your Perfect Companion to Transfer Data
If you have an old iPhone and all of your memorable photos and videos are still there, do not delete them and do not lose hope because there is a solution! Have you heard of Aiseesoft FoneTrans? It is a tool that can backup all your photos and videos to another iPhone or your computer. It can back up your photos, videos, contacts, messages, calendars, and more! For that reason, you can now open your files directly using Aiseesoft FoneTrans. To expand your knowledge of this software, continue reading this article.

1. Our Verdict
Pros

It is safe and secure.
It is easy to use.
It offers a 30-day money-back guarantee.
It is fast transferring files.
It provides customer support.
It has a straightforward interface.
It is a one-click data movement.
Cons

You need to acquire it after the trial version.
Overall Ratings
Interface:9.0
Easy to use:9.5
Features:9.0
2. What is Aiseesoft FoneTrans
Best for: Users who need software to transfer data for iOS.
Price: Starts at $20.76
Platform: Windows and Mac
Main Features
Aiseesoft FoneTrans is a reliable data transfer software. It can transfer your files between iOS devices, iTunes, and computers. In addition to this, it is clean and safe to use. Moreover, it is compatible with iOS 15. Remember, before using Aiseesoft FoneTrans, you need to update it. So much for that. Let us do to details, and let us see the features below:
◆ It can transfer files among iOS devices, PCs, and iTunes.
◆ It has a Toolbox.
◆ It can de-duplicate functions.
◆ It lets you backup your iPhone SMS, MMS, and contacts.
◆ It has a Ringtone Maker, HEIC Converter, and iTunes Library.
◆ It can transfer from phone to phone and device to PC.
◆ It has the Contacts Backup and Contacts Restore features.
◆ It can sync a list of files safely.
◆ It provides Photo Organizer, Contact Assistant, and Music Editor.
3. Aiseesoft FoneTrans Review
Interface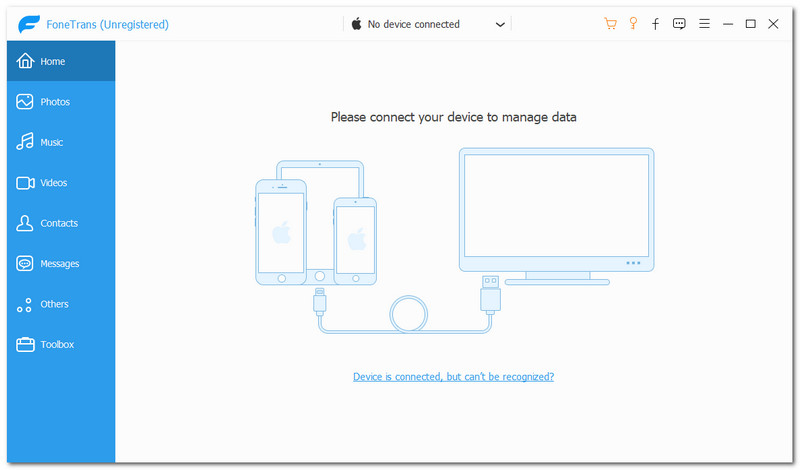 Aiseesoft FoneTrans has two colors, light blue, and white. It is the reason why it looks clean and straightforward. In addition, it is easy to use. The options are on the left corner of the interface, including Home, Photos, Music, Videos, Contacts, Messages, Others, and Toolbox. On the upper part, you will see if there is no device connected, and you can also see after the device is connected. Overall, Aiseesoft FoneTrans has a user-friendly interface, and you do not need to be techy to transfer data.
Home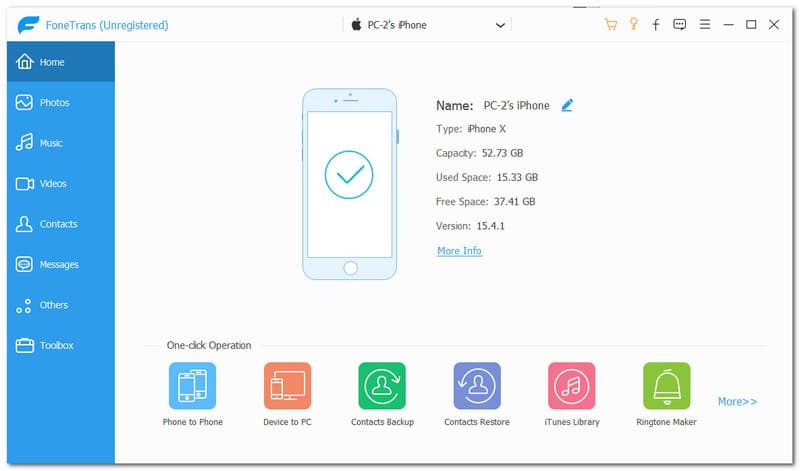 After your Apple device is connected to your computer, you will see the details of your apple device. One example is the image that we provide. As you notice, the Name is PC-2's iPhone. Then the Type of iPhone that we are using is iPhone X, and the Capacity is 52.73 GB. You will also notice the Used Space of the iPhone X is 15.33 GB, and we still have Free Space of 37.41 GB. Lastly, the Version of the iPhone X is 15.4.1. If you want to see more data, click the More Info, and you will proceed to a new window.
Manage Photos, Contacts, Messages, and Others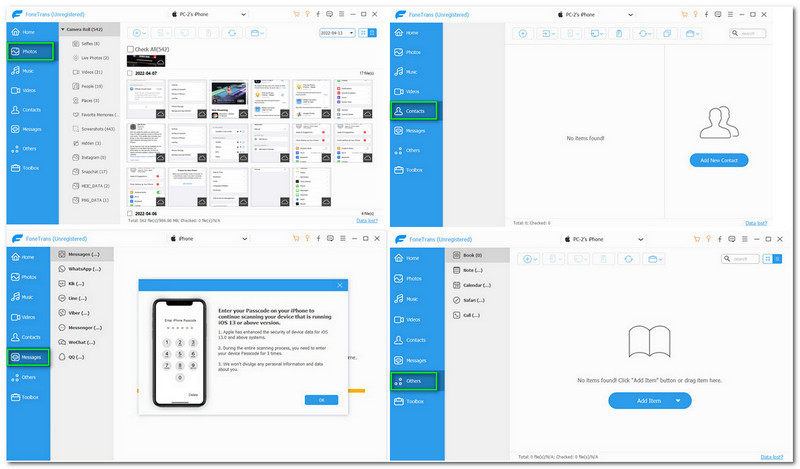 On the left corner of the window, click the Photos and Contacts, and you will see what all inside your Camera Roll and Contacts is. On the screenshot we provide, you will see the albums on our iPhone X. We have Selfies, Live Photos, Videos, Favorite Memories, Screenshots, and more. Then, going to the upper middle of the window, you can Add a File or Add a Folder. Next to that, you can select photos and contacts, export them to a device, and Export them to a PC. Or, you also have an option to Delete the chosen images and contacts.
Also, it allows you to find duplicate photos and contacts. Moreover, it also offers Other Tools such as Add to Album, New Album, Rename Album, Delete Album, Preview, Photo info, Check All, and Uncheck All. And the Other Tools of Contact are Backup, Restore, and Check All. To add, Aiseesoft FoneTrans lets you Import Contacts from CSV File, vCard File, Outlook, and Windows Address Book.
Then, upon tapping the Messages, you will see next to it the Messages, WhatsApp, KIK, Line, Viber, Messenger, WeChat, and QQ. To scan your messages on your Apple device, you need to enter the passcode of your iPhone to proceed with the scanning process. Remember that your iPhone is up to date. Then, after clicking the Others, you will see the Book, Note, Calendar, Safari, and Call. It also allows you to add Items, Export them to Device, iTunes, and PC.
Manage Music and Videos

When it comes to Music and Videos, you can see all the available music and videos on your Apple device. For example on the music, you will see Music, iTunes, Podcasts, Ringtones, Audiobooks, and Voice Memos. On Videos you will see Movies, Home Videos, TV Shows, Music Videos, Podcasts, and iTunes U. In addition, you can also Add Files or a Folder of music and videos. Plus, you can Export music and videos to your device, iTunes, and PC. What's more? You can also turn one of your favorite songs into ringtones and find duplicate songs. It also offers Other Tools, including Edit Info, Adds to Playlist, and New Playlist. And the Other Tools for Videos are Play, Video Info, and Uncheck All.
Toolbox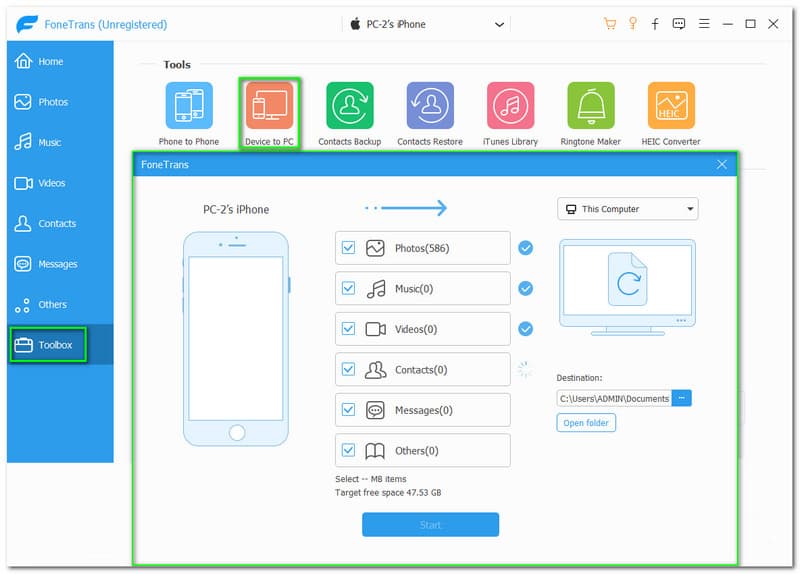 Aiseesoft FoneTrans offers a Toolbox. It allows you to choose from phone to phone, Device to PC, Contacts Backup, Contact Restore, iTunes Library, and Ringtone. However, we will focus on Device to PC. When you select this option, a new window will open up. Then, you will decide if you want to transfer your photos, music, etc., to your computer. YOu can also choose a folder on your computer where you want to share the data. After deciding, click the Start to begin the transferring process.
Preferences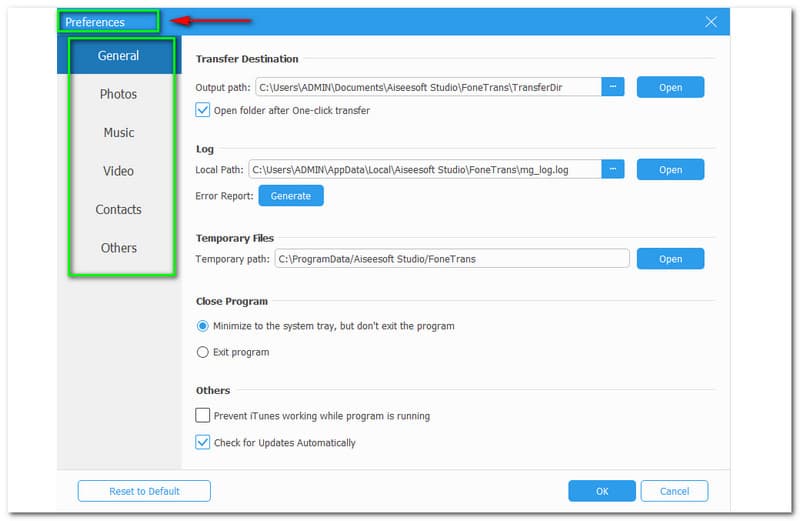 In the Preferences, Aiseesoft FoneTrans allows you to change the General, Photos, Music, Video, Contacts, and Others. In this part, we will go further into each one. Please see below:
On the General, you can choose the Transfer Destination. What does it mean? You can select an Output Path of your choice on your computer. You can also check the Open Folder after One-click Transfer. When it comes to the Log, you can select a folder for your Local Path. In addition, you can also change the folder of your Temporary Files. Then, when Closing the Program, you have an option to minimize to the system tray, but do not exit the program, or exit the program right away. Also, you can prevent iTunes from working while the program is running and check for updates automatically.
4. FAQs of Aiseesoft FoneTrans
How can I export videos and photos by my Apply device to my PC using Aiseesoft FoneTrans?
Exporting using this software is very easy. To do that, connect your Apple device to your PC using the USB connector. After that, choose the Photos on the left corner of the panel. Choose an image you want to export and click Export To. Next to that, tap Export to PC.
Can I register for Aiseesoft FoneTrans without buying it?
No. You will receive your code or license key after purchasing the product. Therefore, you need to buy the software first. After that, you can now register.
What can I do if the device is not detected on Aiseesoft FoneTrans?
It would help if you remembered that your iTunes on your Mac or PC is the latest version. If your device is still not recognized, unplug your device and reconnect your iOS device. Or, rerun the program or reboot your computer.
5. Alternative - Apeaksoft iPhone Transfer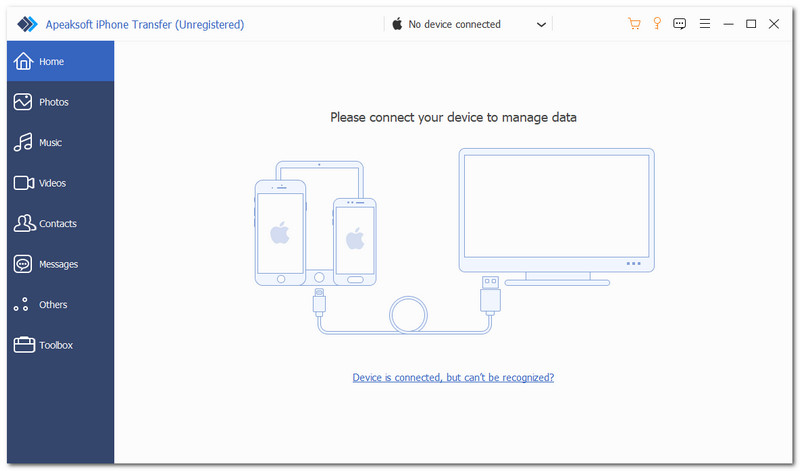 I think the only reason you will need an alternative for Aiseesoft FoneTrans is the price. And with that, we suggest you try Apeaksoft iPhone Transfer. But when it comes to the features, there is no doubt that both software is excellent and convenient. However, Aiseesoft FoneTrans still stands out because of the quality and speed it offers. What's more? It has more advanced features. Nonetheless, if you prefer affordable data transfer software, download and try Apeaksoft iPhone Transfer for free.
Conclusion:
To end, we discover that Aiseesoft FoneTrans is perfect for transferring your photos, videos, music, contacts, and more. This post review also shows you questions, answers, and alternatives. Moreover, if you like this article, do not forget to share it and leave it a thumbs up. We are expecting you again in our next post!
Did you find this helpful?
221 Votes
YES

Thanks for letting us know!
No

Thanks for letting us know!
Aiseesoft FoneTrans
Let iOS data sync be easier than before without iTunes.