1CLICK DVD COPY PRO Review: A Fast Speed DVD Ripper Only for Windows
A DVD Ripper is a computer program that helps copy every content of a DVD to a hard disk drive. They commonly use it to transfer video from DVDs to different formats, and users can edit and back up the DVD content. Also, it can convert a DVD video so users can playback it on the media players and mobile devices. Moreover, 1CLICK DVD COPY - PRO is here for you to do what was mentioned a while ago. It is a DVD Ripper software that can meet your needs. Let us continue reading to learn more.

1. Our Verdict
Pros

It has an intuitive interface.
It is equipped with many advanced features.
It can burn copies at a fast speed.
It provides a high-quality copy.
Cons

It has insufficient customer support.
It requires a third-party decrypter to copy movies.
It is expensive.
It only offers ten days and three copies for a free version.
Overall Ratings
Interface:8.5
Speed:8.5
Easy to use:8.5
2. What is 1CLICK DVD COPY - PRO
Best for: Users who are searching for a convenient DVD Ripper
Price: $79.00
Platform: Windows
Main Features
1CLICK DVD COPY PRO is a good tool for users looking for a DVD Ripper. It provides many tools and offers customization options that effectively copy every DVD movie. In addition, its speed in copying is superb, and it gives high-quality copies. To appreciate more, please see below the other features.
◆ It has CPRx technology for copying new DVDs movies.
◆ It can copy a DVD movie into one disc.
◆ It can also copy a movie to your hard drive.
◆ It supports NTSC and PAL DVD movies.
◆ It can preview movies, menus, and extras.
◆ It allows you to select individual audio, video, and subtitles.
◆ It also allows you to make an additional backup copy.
◆ It supports the copying of Multi-Channel Audio.
◆ It has Dual Layer media.
2. 1CLICK DVD COPY - PRO Review
Interface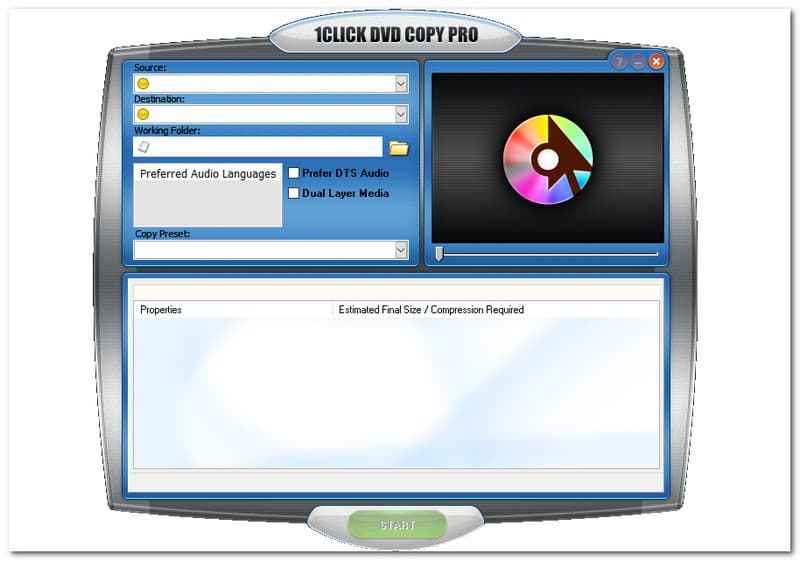 1CLICK DVD COPY - PRO has a radiant interface. It has a color of light gray, light blue, and white. On the left upper part of the interface, you will see the Source, Destination, b Working Folder. Below that, you can choose your Preferred Audio Languages. It is up to you if you Prefer DTS Audio or Dual Layer Media.
Moreover, you can also see the available Copy Preset. On the upper right side of the interface, you will see the Preview. On the bottom part, you will see the Properties and Estimated Final Size of your file.
Preset Copy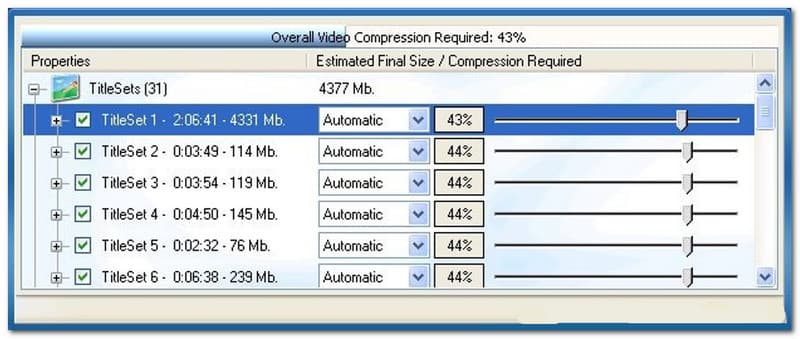 Launch 1CLICK DVD COPY - PRO, and the interface will appear. After that, the software will immediately select a DVD reader or a hard drive folder that contains a DVD. And it will also read your DVD Writer or your hard drive where you will copy your movie. Take note; your burned DVD movies will be temporarily saved on your Windows application data folder. Next, when your movie is loaded to the software, you can now review the contents of TitleSets by tapping the Properties Windows. To understand more, please take a look at the screenshot we provide.
Next to that, besides the Preferred Audio Languages, you can enable Prefer DTS Audio, Include Subtitles, Movie Only Menus, and Dual Layer Media. Then, below the panel, you will see the Copy Preset, which allows you to choose from the six copy options: Movie Only, Movie & Extras, Episode DVD, Full Disc, Exact Copy, and Custom Copy. Then, on the Properties, you can select the content of your DVD.
Review How the Six Copy Preset Works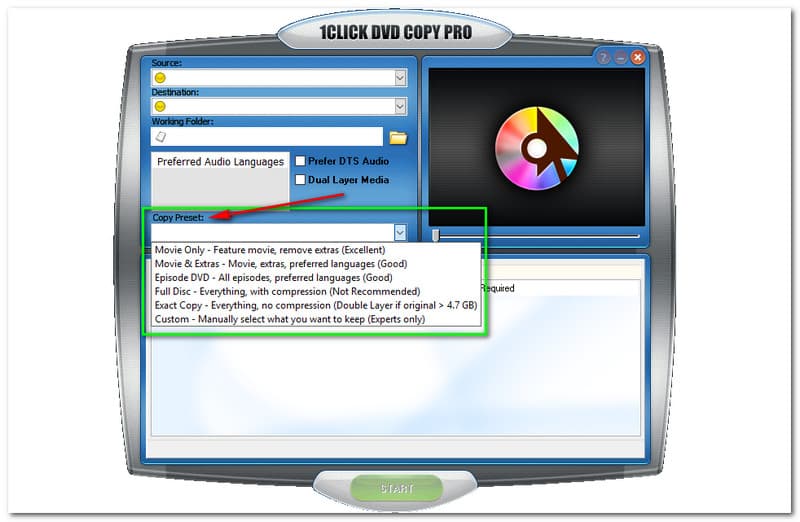 1. Movie Only - It is a preset that will copy the whole screen movie and remove the extras. It is also the default preset, so they suggest it for the best video quality.
2. Movie and Extras - It is preset to copy the whole screen movie, but the extras and menus are also included. Moreover, it will delete repetitive audio and aspect ratio.
3. Episode DVD - It is advisable to select this copy preset, supposing that you are copying an Episode DVD. So the software will attempt to identify Episode DVDs during the scanning process. However, the identification is not yet perfect.
4. Full Disc - It is preset to copy everything in the VIDEO_TS folder from the original DVD All audio. And video and subtitles will also be copied, as the extras, menus, repetitive audio, and aspect ratios.
5. Exact Copy - It is a preset that makes a precise duplicate of the original DVD. Otherwise, if your original DVD is lower than 4.7 GB, it is recommendable to use Dual Layer Media.
4. FAQs for 1CLICK DVD COPY - PRO
How long will it take me if I copy the DVD using 1CLICK DVD COPY- PRO?
Suppose that you will copy a 90 minutes movie. It will take about 12 minutes to 15 minutes. Then, another 8 minutes to 10 minutes to burn the DVD. It would help if you remembered that copying time would depend on the minutes of your movie and the speed of your computer.
Can I try 1CLICK DVD COPY - PRO before purchasing it?
Yes, 1CLICK DVD COPY - PRO is a free download, and it offers a free trial for ten days. It also allows you to copy three movies using the trial version. Then, if you want to copy more using this software, you can now purchase it.
Where can I find my registration ID at 1CLICK DVD COPY - PRO?
Your registration in this software is included in the listed registration window of the application. If you want to access the registration window, you need to start the application. After that, the screen will appear. Then, press F2.
5. Alternative - ANYMP4 DVD COPY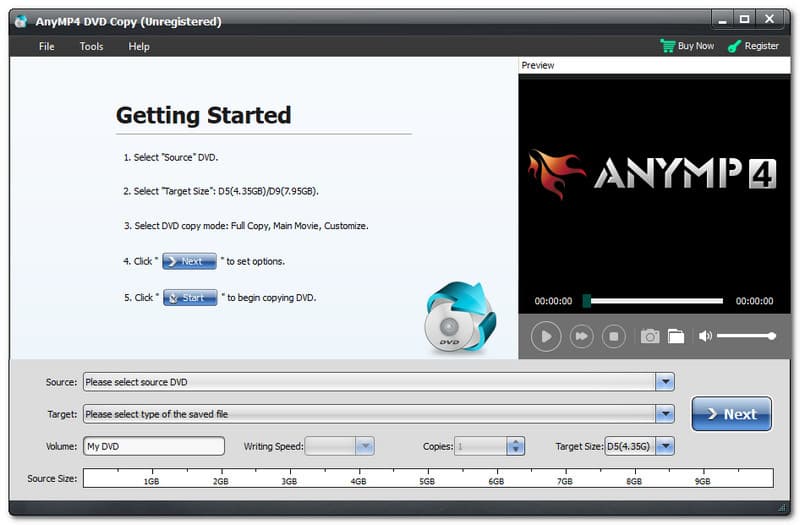 1CLICK DVD COPY - PRO has a simple interface. However, it is not enough to become a professional interface. Moreover, if you want software with a professional-like interface yet is still manageable to use, that is AnyMP4 DVD Copy. Unlike 1CLICK DVD COPY - PRO, AnyMP4 DVD Copy shows every option you need, and it will not waste your time looking for what you need. In addition to this, it can copy DVD discs to DVD Folder and ISO files to local files. Not just that, there's more! Please download AnyMP4 DVD Copy and try it for free!
Conclusion:
We have already tackled 1CLICK DVD COPY - PRO features, price, pros, and cons. Not just that, we also review with you the six-copy preset of this software. Moreover, we also hope that the questions and answers that we provide. We appreciate your time reading our review until our next article!
Did you find this helpful?
328 Votes
YES

Thanks for letting us know!
No

Thanks for letting us know!
AnyMP4 DVD Copy
Copy DVD in 1:1 ratio to backup DVD to DVD disc, ISO and ISO file.