MindOnMap Review: Is It Good for Creating Mind Map
Mind mapping is a highly effective tool for structured thinking, helping us to clear our minds and reshape a more organized body of knowledge. Mind mapping also increases creativity and productivity by capturing moments of inspiration and showing our insights in words and images. When you or your team want to use mind mapping to improve your work efficiency, you come to the right pace. In this article, you will learn the review of best software, MindOnMap, and how to use it. Meanwhile, you will get 3 MindOnMap alternatives here. Read and explore more.

Part 1. Our Verdict
Overall Ratings
Safety:9.8
Easy to use 9.6
Functionality9.6
Pros

It is 100% free.
With 8+ types of mind maps.
With 5+ recommended themes.
With unlimited cloud storage space.
Share mind maps safely with a password.
Support editing mind maps on webpage.
Cons

Not enough mind mapping templates.
Part 1. What Is MindOnMap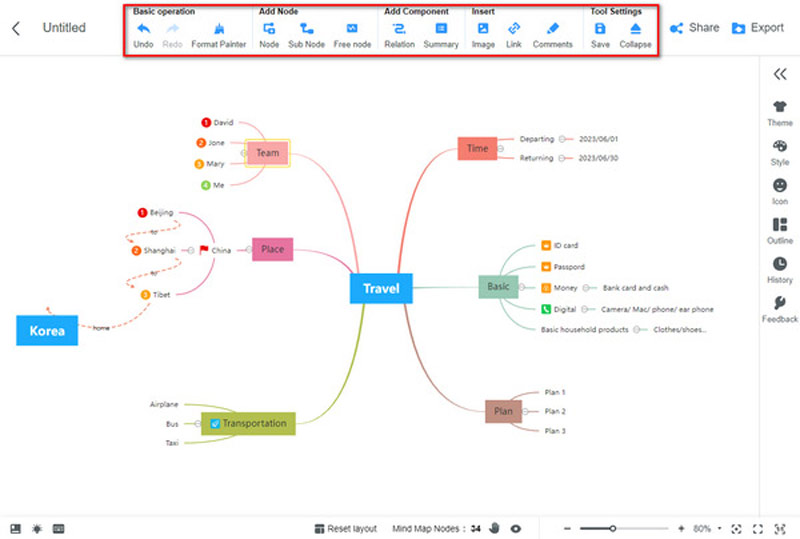 MindOnMap is an easy-to-use mind map maker to direct you to draw ideas online visually and inspire the greatest creativity. As an online mind mapping software, it does not require installation and setup, so you can quickly get started to record key ideas and inspiration. It also has some powerful features to solve your life or work needs, like making notes, plans, courses, tutorials, guides, speech outlines, etc. After creating a mind map, it automatically stores and allows you to easily share these ideas with friends or colleagues in a timely manner."
Price: It is free to use forever.
Platform: iOS, Android, Windows 11/10/8, macOS venture and before.
Part 2. MindOnMap Review
Various Output Formats
MindOnMap can support exporting various formats file with high quality. You can export the finished mind maps in JPG, PNG, SVG, Word, or PDF format as you need.
Friendly Interface
MindOnMap's interface is colored in blue and white tones and is visually comfortable to a great extent. The main and editing pages of the software are well laid out, simple, and easy to understand, allowing all users to start their brainstorming or record their inspiration quickly.
Unlimited Cloud Storage
MindOnMap is an online software that automatically kept all mind map files in the cloud and not take up any computer storage space. Also, there is no limit to the file size and number of files in the cloud space, so you can use the software to create and edit mind maps as many times as you want.
Drawing Functions
MindOnMap has 8 mind mapping modes and 5 themes that come with the system for you to choose and create a mind map at will. Also, the rich theme addition and element insertion functions can visually record important images, links, and text. All this allows you to switch between different study and work needs. And keeps your real-time thoughts in the mind map to help you think and explore better.
What is Best for You?
MindOnMap is a free but powerful online mind mapping maker with rich features. It allows you to create mind maps without limiting time and place. The best thing is all the mind maps you made can be stored on this free software without limitations like size, number, and cloud storage space. In addition, it supports sharing your mind maps safely with a password.
Part 3. How to Make a Mind Map
For new users, you can learn how to create your special mind map in advance. Find and log in the MindOnMap tool online, follow the steps below to start making.
1.
Create New Mind Map
Click Create Your Mind Map to enter the editing interface. On the left toolbar of the home page, click the NEW option and select a mind map template as you need. Or you can also choose the proper one from Recommended Theme.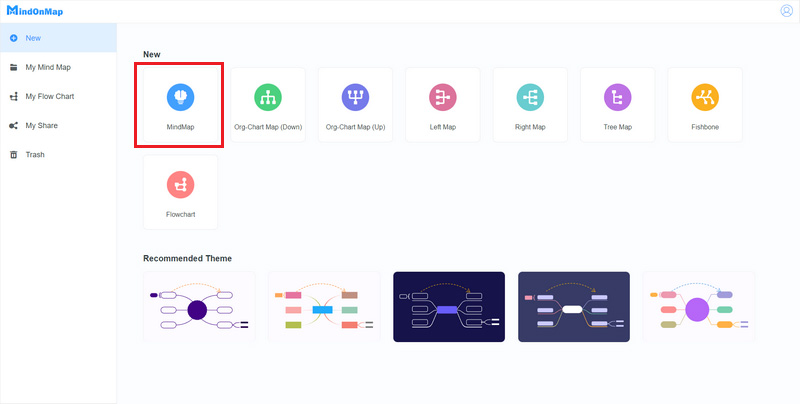 2.
Add Main Nodes
You can create a Main Node and some Sub or Free nodes. After determining a basic framework, you can delete and add to it later.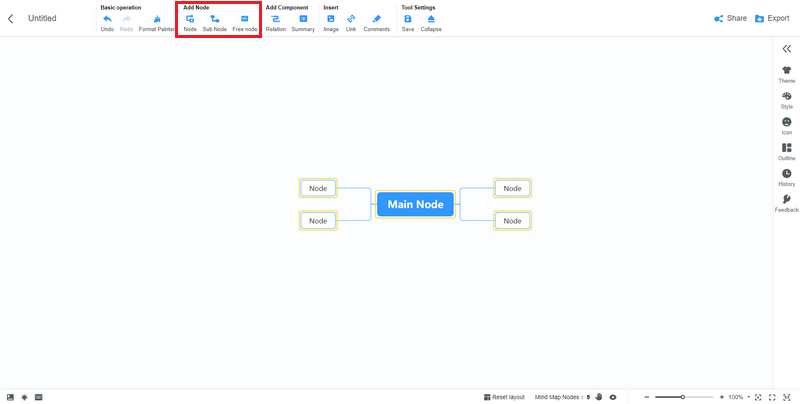 3.
Input Your Ideas
Enter your core theme into the Main Node in the center of the screen. Then you can draw some related ideas to other nodes. Of course, you can adjust every node by dragging it without limitation.
4.
Add Component
After you have recorded the basic mind map, you can show the correlation between these nodes by selecting Add Component option, including Relation and Summary.
5.
Refine the Mind Map
If you want to add some important information to specific node, you can choose Insert options and add Image, Link or Comments to it.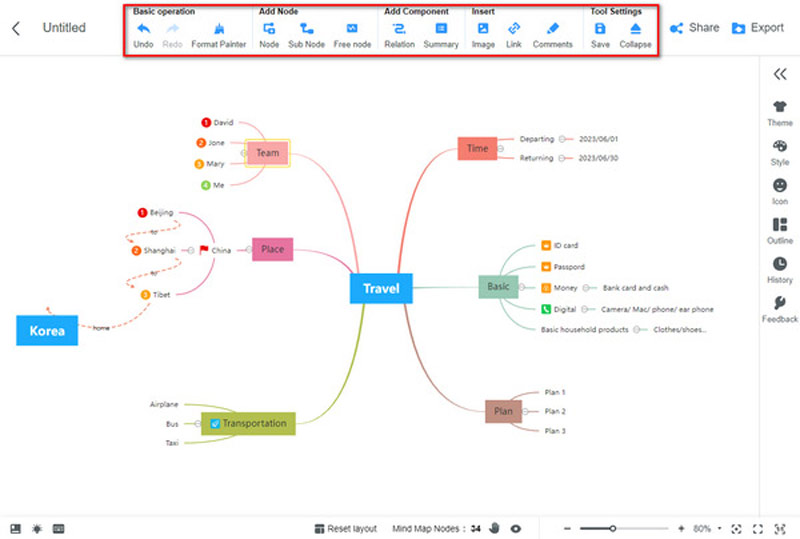 6.
Export or Share Mind Map
All the information you record in the mind map, the software will automatically store it for you. You can directly click the Share or Export button in the upper right corner to finish it.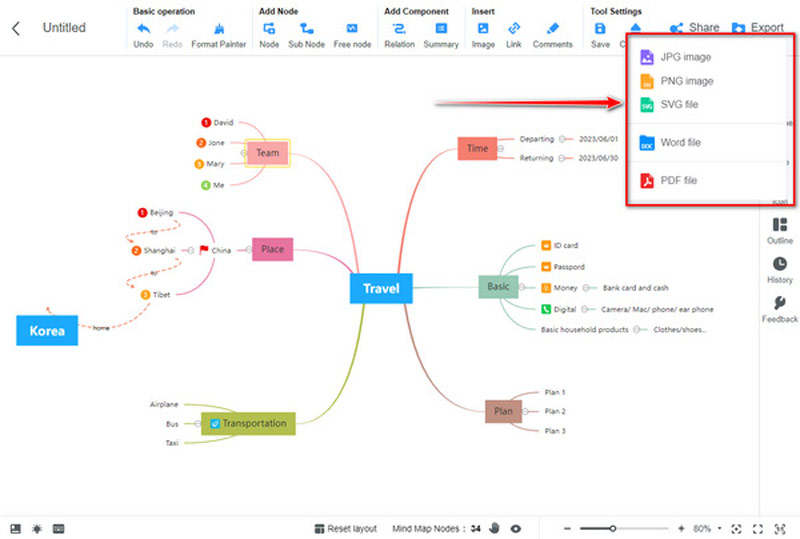 Now, you have finished the mind map creating, save or share it with your teams or friends. All your created mind maps will save online automatically. Then, you can view it at the next time.
Tips
To make a mind map quickly, you can find Hotkeys on the bottom left corner of the main interface. It includes over 20 kinds of hotkeys to create your mind maps.
Part 4. Best Alternatives to MindOnMap
If you want to try more mind map tools, you can try the MindOnMap alternatives below. These mind maps will give you more aspirations to create imaginative maps like art map.
1. Miro Mind Map
Miro Mind Map is a team's visual platform, which can connect and create a collaborative mind mapping for your team. This intuitive mind mapping tool will give you the quickest, easiest way for teams to capture, organize, and map out everyone's ideas from teams.
2. Coggle Mind Map
Coggle is a simple online tool for creating and sharing complex mind maps and flowcharts with friends or colleagues at any time. Whether you want to take notes, brainstorm, plan, or do something awesomely creative, this free mind map software can quickly solve your problems.
3. Xmind
Xmind is a full-featured mind mapping software that can help you to unleash creativity, capture inspiration, boost productivity, etc. And this brainstorming tool is compatible with mobile, computer, and the web, allowing you to switch freely between different devices.
Part 5. FAQs of MindOnMap
What is a mind map?
A mind map is a diagram that can organize information into a hierarchy, showing relationships among pieces of the whole. It has a central theme and many related ideas on this map. Using this visual thinking and brainstorming tool, you can better capture ideas and information to enhance creativity and productivity.
Is MindOnMap safe?
On the one hand, it will protect your personal information like your name, e-mail address, phone number, and password to log in MindOnMap. On the other hand, the mind map you create can be shared with a password to enhance the security of the file.
What is the purpose of mind mapping?
Mind mapping aims to help people to make, create, organize, visualize, make decisions, solve problems,take notes, and so on. All in all, a mind map is used to make a brainstorming topic to get better ideas.
Conclusion
To sum it up, we show you a comprehensive introduction to MindOnMap in this review. Knowing every detail of this mind map generator is a fantastic experience before using it to make mind map notes and examples. Furthermore, we explain to you the mind mapping definition, the process of making a mind map, and related mind map alternatives. Come to pick out your favorite one and have a try.
Did you find this helpful?
441 Votes
YES

Thanks for letting us know!
No

Thanks for letting us know!