PicCollage Review: An Application For Android and iOS Users
In a world of social media, you must have unique and excellent photos. Do you desire to have a designed photo? There is no more to worry about because you can do that! Using PicCollage, you can collage and add layouts and templates to your photos. Before doing that, read this article review first to understand what PicCollage is. Read now!

1. Overview of PicCollage
What is PicCollage?
PicCollage is a photo editor that you can use to make your photo extra beautiful. It allows you to create a unique and make changes to your photo. It is an application for mobile phones, and you can download it for free on Apple Store or Google Play.
The good thing about PicCollage is it has a new online web editor. What does it mean? You can use its online version to avoid using PicCollage App on your mobile device. You can create or make cards and add photos using the online web editor. PicCollage also lets you save and share your output.
But before sharing the features of PicCollage with you, we just want to share its advantages and disadvantages first. Please see them below:
Pros

It is an editor for mobile devices, but you can also use it online.
It provides numerous editing tools you can use for free.
It allows you to log in and have an account to upload your artwork or photos.
It has an excellent user interface on mobile devices and an online web editor.
Cons

Its features on its online web editor could be more extensive.
It only provides a seven-day trial version.
The free trial has a watermark once you save the photo.
Interface9
Editing Tools9
User Friendly 9
2. PicCollage Review
Interface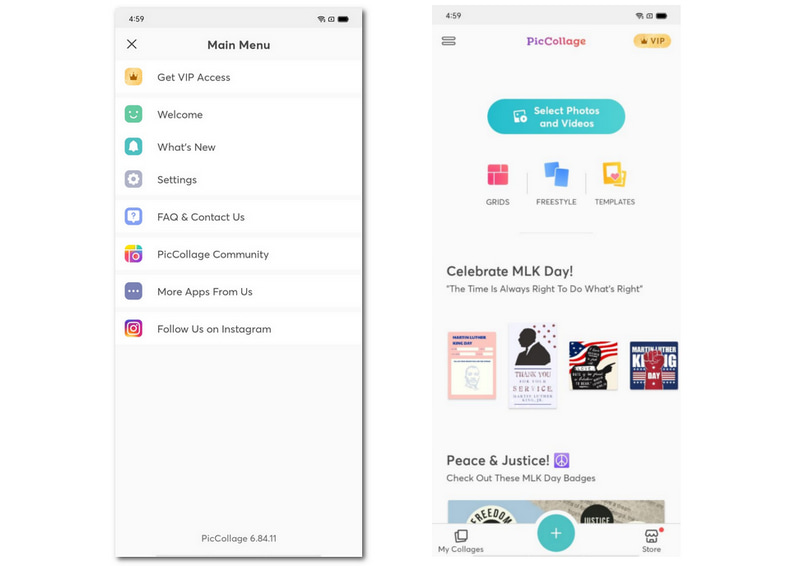 PicCollage has a straightforward user interface on mobile devices and an online web editor. In addition, it is user-friendly and perfect for those beginners who want to edit their photos. On the upper-left corner, you will see the Menu Tab that includes Get VIP Access, Welcome, What's New, Settings, FAQs and Contact Us, etc.
You will notice the Select Photos and Videos button in the middle corner, and PicCollage lets you drag or drop a photo or video into that area. In addition, you have the option to choose, Grids, Freestyle, and Templates.
Then, you can view your output by clicking the My Collages button in the bottom left corner. Overall, the simplicity of the PicCollage user interface is one of its advantages. Therefore, whether you are an amateur or professional user, PicCollage is perfect for you!
Surely, you can find more image collage makers like PicCollage to pinch the photos.
PicCollage Pricing and Customer Service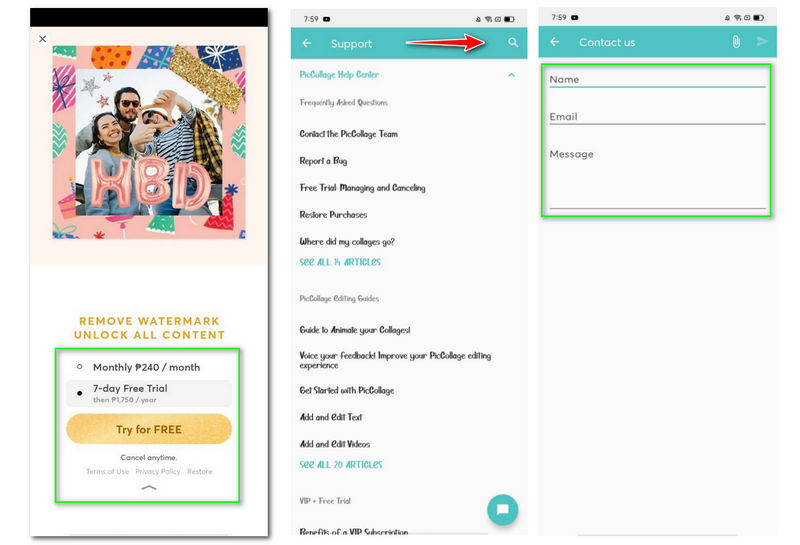 PicCollage has a free version where you can grid, freestyle, and add templates to your photos. Nonetheless, since you are using a trial version, you will not avoid the Ads and watermark. For this part, we will talk about the pricing and customer service of PicCollage.
If you purchase the VIP version of PicCollage, you can pay $4.08 per month and $35.00 per year. It is reasonable because the features of PicCollage are superb. Once you purchase the VIP, you will have a free seven days trial without a watermark and full access to all features.
Next is customer service; users always contact customer service, especially when they have concerns, questions, and problems encountered while using their tool. Do not worry; PicCollage can answer your concern and queries.
Just click the Menu Tab and find the FAQ and Contact Us; you can Contact the PicCollage Team, Report a Bug, Restore Purchases, and more. To contact them directly, tap the Chat Box and provide your Name, Email, and Message. Then, wait for them to respond.
PicCollage Grid Photos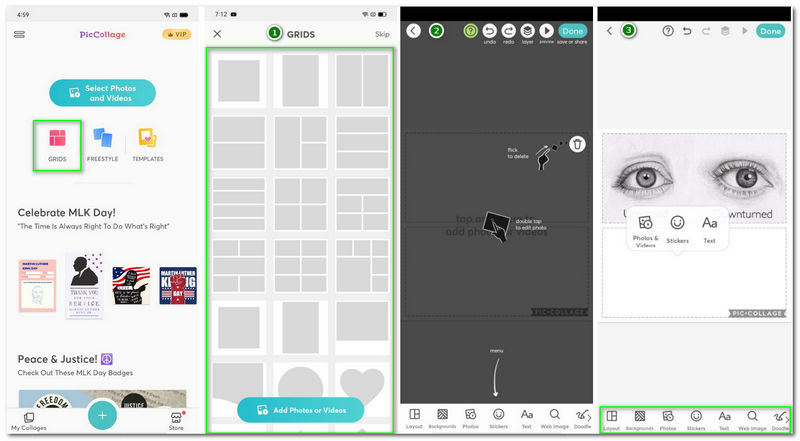 The prominent feature of PicCollage is the Grid, which allows you to put together all your pictures in one photo. You will see the GRIDS Icon on the main user interface, and when you click that, you will proceed to another panel.
In the other panel, you will see different kinds of Grid, like grid photos from two up to seven layouts. In addition, it offers a unique type of Grid, like circles, hearts, squares, star shapes, and more. Once you select a grid, PicCollages allows you to select photos you want to grid.
Once the photos are grid, you can change the Layout Size to 1:1, 2:3, Story, Portrait, Card, Wallpaper, and more. You can also add a Background, which could be Background Color or Theme. In addition, PicCollage offers free cute Stickers you can add to your photos. However, if you do not want to use the free stickers, you can unlock the VIP version.
There's more; you can also Add Text, Web Pages, Doodles, Animation, and Pages. These are all amazing, right? We told you this is one of the notable features of PicCollage. Now, you can start gridding your photos using PicCollage.
Freestyle and Template
The next part we want to discuss with you is Freestyle. This feature is almost the same as the Grid feature, but you can select whichever you like. In short, PicCollage gives you free will to make your images unique.
You can also add Layouts, Backgrounds, Photos, Stickers, Text, Webpage, Doodles, Animation, and Pages. Moving on, let us take a look at the Template Feature. PicCollage allows you to choose built-in templates, and PicCollage offers many categories.
Such as Trending, Birthday, Artistic, 2023 Calendar, Lunar New Year, Pages, Planner, New Year's Resolution, Animated, Anniversary, and much more. Therefore, PicCollage offers almost every occasion you make memorable photos using their templates.
After choosing a Template, you can start editing it by tapping the Edit button. Of course, add your photos, text, and many more you like. If you are satisfied with the outcome, PicCollage lets you save your output to your Gallery. You can also share it on your social media accounts.
3. PicCollage Alternatives for Mac and Windows
AnyMP4 Video Converter Ultimate
Price: 1 Month License: $29.96, Lifetime License: $59.96, and Business License: $119.96.
Platform: Windows, Mac
AnyMP4 Video Converter Ultimate is originally a converter software, but why is it the best alternative to PicCollage? AnyMP4 Video Converter Ultimate can make your photos amazingly unique aside from converting them to other file formats.
You can see the College button in the middle interface to edit your photos and make collages. AnyMP4 Video Converter Ultimate lets you choose Templates and pictures on it. In addition, you can apply Filters and Audio. After finishing, you can tap the Export button to save it on your computer.
Apple Preview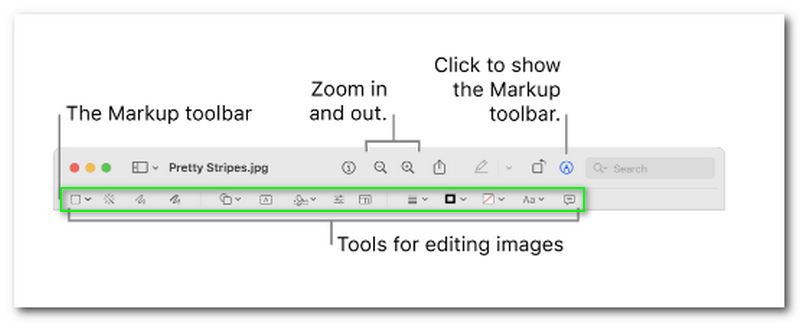 Price:Free
Platform: Mac
Apple offers a tool which is called Apple Preview. Unfortunately, this tool is only for Mac users. So, this is a perfect alternative tool for you if you are a Mac user. If you take a look at the tool, you will see how simple it is.
It lets you upload photos and edit them to make an extra highlight. It has a Markup Toolbar that includes every editing tool, such as Draw, Add Text, Signature, and more. In addition, to fully see the photo, you can Zoom In and Zoom Out it. Try it now!
CollageIt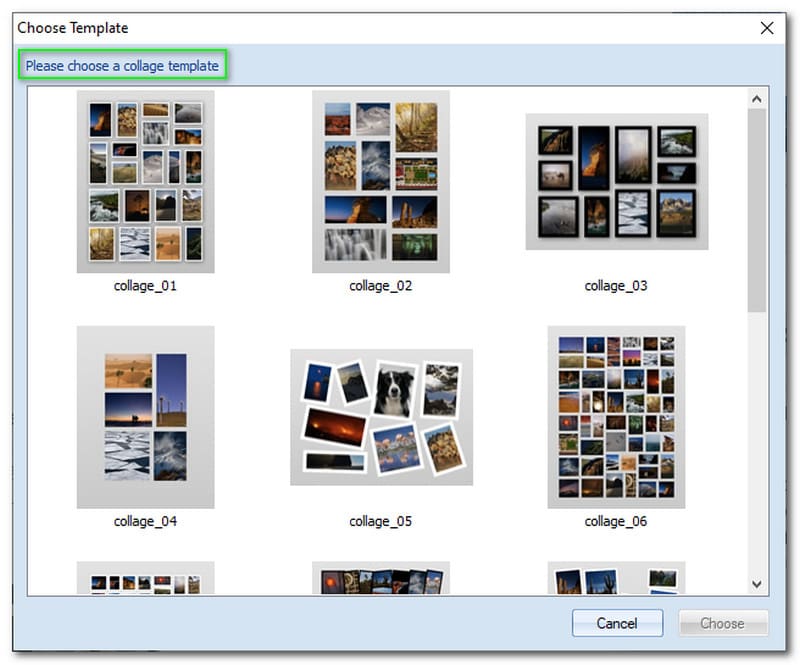 Price:$29.90
Platform: Mac, Windows
CollageIt is another alternative tool to PicCollage. It is software, and you can download and use it for free. In addition, it is compatible with Windows and Mac. Once you open CollageIt, you will notice its user interface needs to be more basic.
Furthermore, it allows you to choose a college. It offers various colleges, such as Collage 01, Collage 02, Collage 03, Collage 04, and so on. After choosing a template, you can now drop your images. Then, you can Adjust the Space and Margin. You can also Rotate and Sparse the Layout.
4. PicCollage VS CollageIt
After reviewing PicCollage, let us now compare it to another tool. We provide a comparison table; you can use this to compare PicCollage and CollageIt. This comparison table aims to conclude which is the better tool. Look at the table below now:
PicCollage
CollageIt
Overall Ratings
Interface
Support Service
Platform
Windows, Mac, and Mobile Devices
Windows, Mac
Pricing
Monthly: $4.08, Yearly: $35.00
$29.90
Supported Formats
JPEG, GIF, PNG, BMP, TIFF, and more
JPEG, PNG, BMP, and more.
Add Photos
Fast
Fast
Editing Tools
Change Layout, Add Background, Text, Stickers, Doodles, Animates, etc.
Photo Count, Add Background, Adjust Space and Margin, etc.
Best For
It is best for creating a unique photo and sharing it with your loved ones. It is also best for both beginners and professional users.
It is best for creating simple photos and collages. It is more advisable for amateur users.
Free Trial
Seven days
Seven days
Features

Grid or Collage Photos
Edit Photos
Freestyle Photos
Use a template for Photos

Add and Edit Photos
Collage Photos
Shuffle Photos

Pros or Advantages

It can be used for mobile devices and has an online Web editor.
It provides several editing tools.
It has an excellent user interface.

It is a free download and offers a free version.
It provides many kinds of built-in collages.
It has editing tools.

Cons or Disadvantages

Its user interface is not manageable.
You must sign up and log in to them.

It only has a seven day trial version.
Its free version has a watermark
It is safe to conclude that PicCollage stands out more than CollageIt. Nonetheless, like we always say, it is up to you what tool you want to use.
5. FAQs of PicCollage
Is PicCollage available on a desktop?
PicCollage does not have an application that is suitable for a desktop. It only has an application for mobile devices. However, the good news from PicCollage is it has a new online web editor. You do not need to download the software, but you can use PicCollage on the Web on your desktop.
Is PicCollage available for iPads?
Since PicCollage for Mac is available, it is also available for iPads. You can download PicCollage on your iPad for free.
Is PicCollage free?
PicCollage has a free version, but unfortunately, it is not 100% free. Using the free version of PicCollage has a limitation. To use the full features of PicCollage, purchase the Pro version.
Conclusion:
To summarize this article review, we hope you appreciate every feature of PicCollage, such as Grid Photos, Freestyle, Templates, and more. We also discuss the above PicCollage pricing and customer service. There's more, and you can use the comparison table for each tool. To end, we will see you again in our following article review!
Did you find this helpful?
271 Votes
YES

Thanks for letting us know!
No

Thanks for letting us know!
AnyMP4 Video Converter Ultimate
All-in-one video converter, editor, enhancer upscaled with AI.