iLovePDF Review: The Best Quality Online Tool for PDFs
Problems with PDF files are frustrating, primarily because you have known the mistake after saving the PDF file. But frustrated no more because we have prepared a solution and a review for you! We are presenting iLovePDF review, a free and excellent PDF converter and editor tool. Let us know more by reading until the last part.

1. Overview of iLovePDF
What is iLovePDF?
iLovePDF is an online tool that is 100% free to use. If you take a look at iLovePDF, you will notice that almost all you need is what they provide. It can convert your photo and PDF file into numerous formats, and you can use this tool using your desktop, iPads, Tablet, and mobile Devices. In other words, iLovePDF is a comprehensive tool for all.
To completely use iLovePDF, you must sign up to them if you still need an account. But if you already have an account, you can immediately log in to them. Upon logging in, provide your email and password. But when signing up, provide your Name, Email, and Password. You can also use your Facebook and Gmail accounts.
Below, let us see the advantages and disadvantages to know the details about it entirely. With that, you will become aware if you want to use the tool.
Pros

It is accessible to all because it is an online tool.
It allows you to use all the features for free.
It has numerous features for all your needs.
It is compatible with any device, including mobile devices.
Cons

Since it is free, you will experience Ads while using it.
You can only use other features if you are signed up and logged in.
It requires you to download iLovePDF to access the iLovePDF editor.
It only allows you to convert simultaneously if you are logged in.
Features 9
Editing Tools9
Safety8.5
2. iLovePDF Review
Interface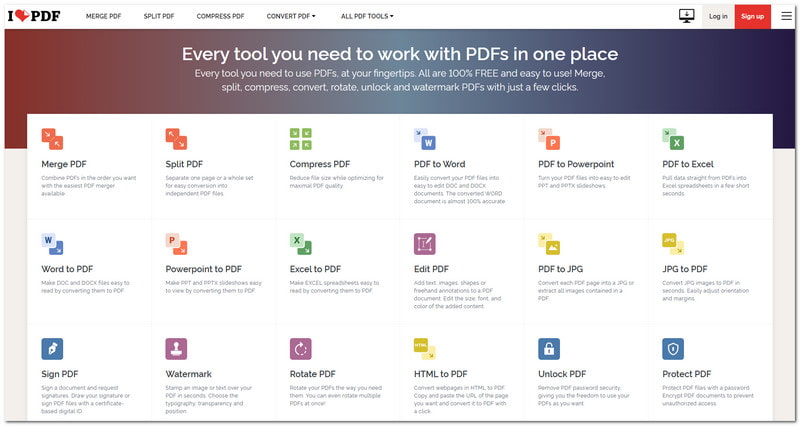 The user interface of iLovePDF is useful and excellent. It is very significant to consider the tool's user interface as a user, especially since most users are looking for a user-friendly user interface.
Like iLovePDF, all the options and features are visible. For that reason, there is no need to find the features. You will see the iLovePDF Merge PDF, Split PDF, Compress PDF, Convert PDF, and All PDF Tools in the upper part.
Following that are the login, Sign up, and Menu Tab buttons. Now, upon scrolling down, the features are accessible. All you need to do is click one of the features, and you can start to use it freely. Overall, one of the advantages of iLovePDF you will love is its user interface.
PDF Converter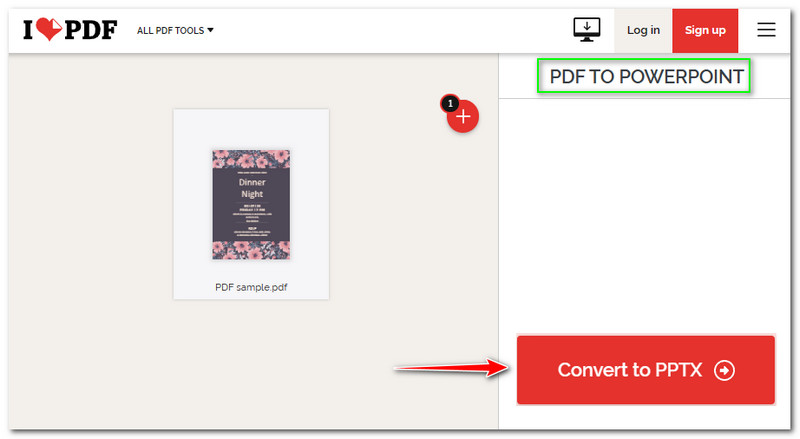 PDF Converter is included in iLovePDF features. You will see the Convert From PDF area when you click the All PDF Tools button. With that, you will see other converter tools, such as iLovePDF PDF to Word, PDF to JPG, PDF to PowerPoint, PDF to Excel, and PDF to PDF/A.
After choosing the converter you like, you can start converting your PDF into another format. For example, upload your PDF if you choose to convert PDF to PowerPoint. You can drop or drag a file and add another PDF file.
Nonetheless, you can only add another PDF file if you purchased iLovePDF Premium and log in. Moreover, you will also see Ads while using iLovePDF for free. To convert the PDF file successfully, just click the Convert to PPTX button, wait for the process to finish, and that is it!
You can also download the converted PDF file to your computer or mobile device. Furthermore, iLovePDF provides not only PDF Converter but also iLovePDF JPG to PDF Converter.
Edit PDF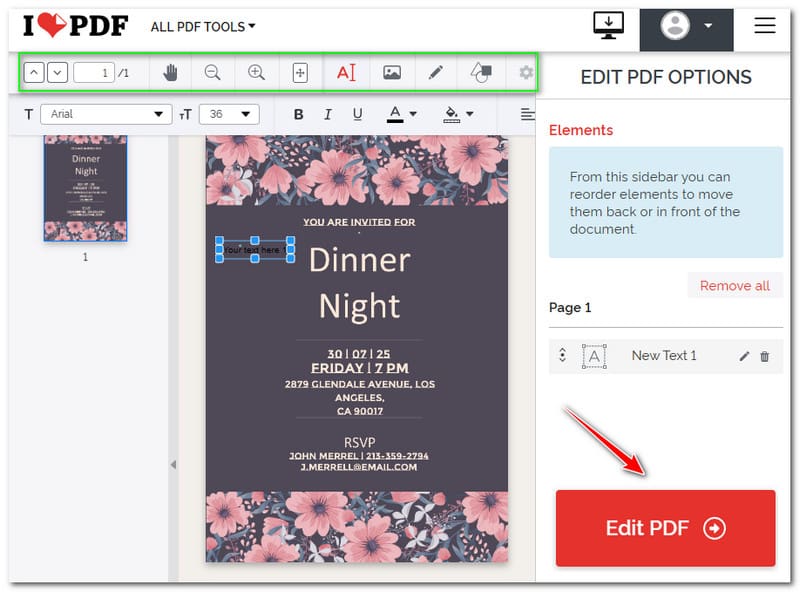 Another feature of iLovePDF is Edit PDF. You can see that feature in the All PDF Tools, in the Edit PDF area. It includes Rotate PDF, Add Page Numbers, Add Watermark, and Edit PDF. Once you add your PDF, you can start the editing process.
Here are the options available for editing PDF files; Zoom In, Zoom Out, Fit Page, Add Text, Add Image, Draw, Add Shape, Change Font, Change Font Size, and more. It also allows you to Change the Text Color, Change the Color Background, and Align the Text. After editing, simply click the Edit PDF and save it to your computer.
So much with that, we can advise you to use the Edit PDF feature to revise or add elements to your PDF file. Again, you can use it for free!
For more PDF editors like iLovePDF, you can check them here.
Price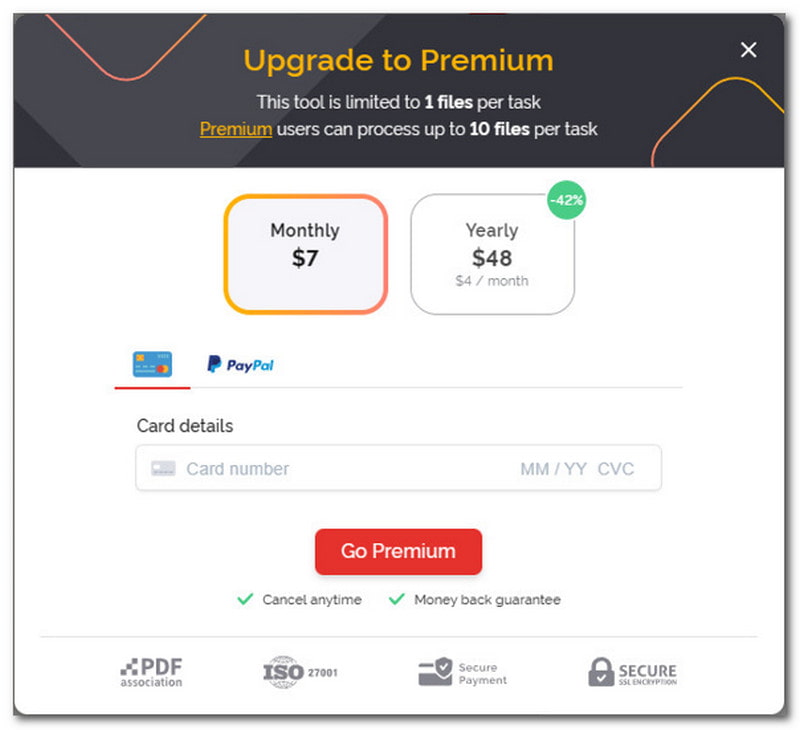 iLovePDF is 100% free. You can use this online tool without paying for anything. Using the accessible version of iLovePDF, you will have access to these features; All PDF Tools, Limited Document Processing, and will work on the Web.
Furthermore, if you want to access all the features, you can purchase the iLovePDF Premium. It has a monthly and yearly subscription. The monthly subscription costs $7.00, and the Yearly subscription costs $4.00. If you are wondering why the Yearly subscription costs a lot more than the monthly plan because iLovePDF discounts the yearly plan.
In addition, when you purchase iLovePDF Premium, you will have access to all of these features; Complete Access to iLovePDF Tools, Unlimited Document Processing, and Works on the Web, Desktop, and Mobile, No Ads, and Customer Support.
Moreover, if you want to use iLovePDF for your business, it lets you customize the pricing, or you can contact Contact Sales. With that plan, you can enjoy Flexible Payment Options, Custom Contracts, Dedicated Customer Success, and Dedicated Hardware.
Customer Service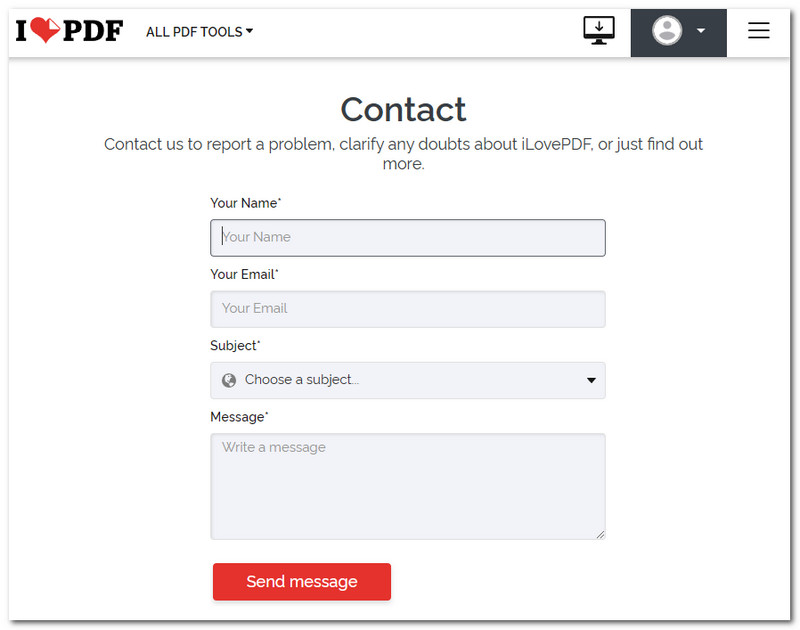 Supposing that you have concerns about iLovePDF, you can contact them. Nevertheless, the free version's disadvantage is that it needs more customer support and customer service. But when you buy iLovePDF Premium, you will have access to its customer support.
If you decide to contact customer service because there are some problems you want to fix, you need to provide your Name, Email, Choose a Subject, Write a Message and tell them your concern about the tool. Then, click the Send Message button and wait for them to respond.
3. Alternatives to iLovePDF
AnyMP4 PDF JPG Converter Online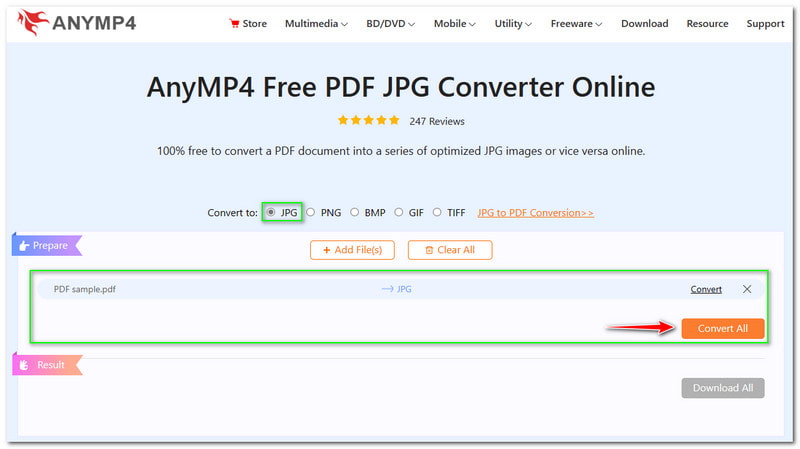 Price: Free
Platform: Online
There is no doubt that the iLovePDF alternative is AnyMP4 PDF JPG Converter Online. This online tool can satisfy you by converting PDF files into JPG or converting JPG files into PDF file formats. AnyMP4 Free PDF JPG Converter Online allows you to drop and drag files and convert files to JPG, PNG, BMP, GIF, and TIFF.
In addition, you can add more PDF files if you want and click the Convert All button to convert the files simultaneously. After that, wait for your file to be in the Result corner. Once the conversion process is done, you can download the file by selecting the Download All button.
Aiseesoft PDF Converter Ultimate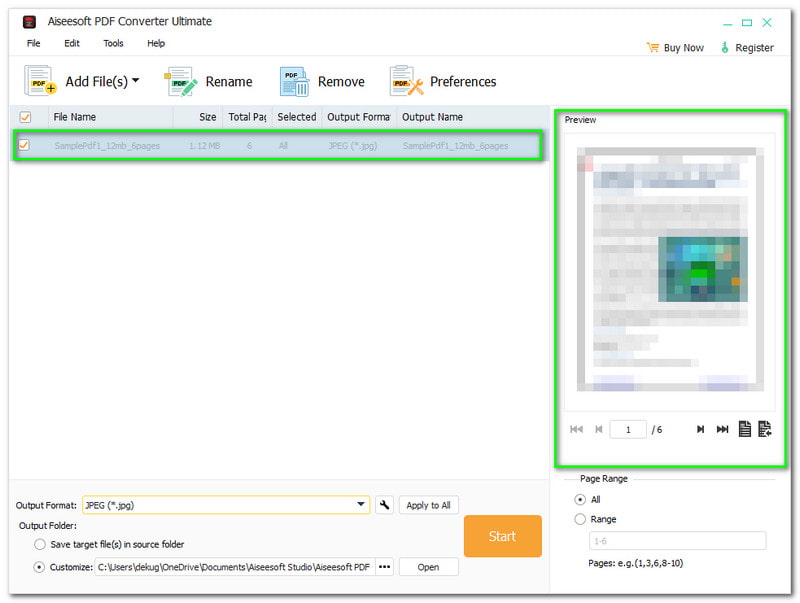 Price: $19.96
Platform: Window, Mac
Another alternative tool to iLovePDF is Aiseesoft PDF Converter Ultimate. Even though it is not an online tool and it is not free, you can still use it because it offers a trial version. If you want to continue on using it, you can purchase the plan.
Moreover, Aiseesoft PDF Converter Ultimate is advisable for your PDF, especially if you want to convert your PDF to other formats. In addition, this converter PDF tool shows the preview of your PDF. Therefore, you can easily see your PDF file and edit the file immediately. We are suggesting you Aiseesoft PDF Converter Ultimate because of its excellency.
Smallpdf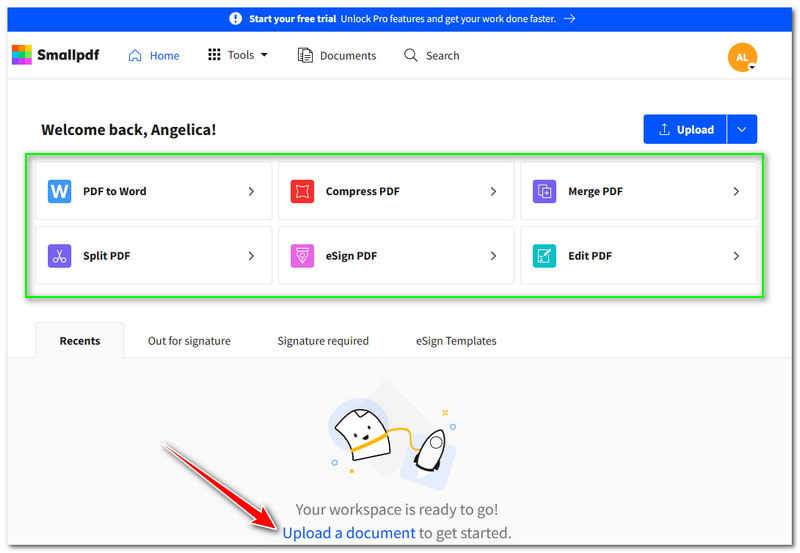 Price: $6. 33 a Year
Platform: Online
Use Smallpdf as an alternative online tool, using its seven days trial version. Again, it is an online tool and lets you convert PDF to Word, Merge PDF, Compress PDF, Split PDF, Edit PDF, and eSign PDF. However, you cannot fully use all the features of Smallpdf if you use the trial version.
There's more, SmallPDF offers more features, and you can see them all on its official site. Also, if you will use this online tool, remember to sign up or log in to them. So much with that, convert and edit your PDF files now!
4. iLovePDF VS Smallpdf
This part will show you the differences between iLovePDF and Smallpdf. If you look at both online tools, you will conclude they are the same. However, they are not. How can we say that? Yes, the features of iLovePDF and Smallpdf indeed are almost the same, but iLovePDF still stands out.
When it comes to the price between iLovePDF and Smallpdf, you will notice that iLovePDF is much more affordable than Smallpdf. If you want to use an affordable online tool, iLovePDF is much advisable. Overall, both online tools are excellent, and it is up to you what tool you want to use.
5. FAQs of iLovePDF
Is iLovePDF safe to use?
iLovePDF itself is safe to use, especially since it has SSL encryption. You will appreciate its neat user interface. However, the Ads that keep popping up on its user interface are not guaranteed. The good thing you can do about it avoids the Ads. Or, you can purchase the iLovePDF Premium to get rid of the Ads.
How to Edit PDF in iLovePDF?
It is simple to edit PDFs using iLovePDF. On the official site of iLovePDF, click the All PDF Tools button and find the Edit PDF. Or, scroll down and find Edit PDF. After that, tap the Select PDF File button and choose a PDF file you want to edit from your computer. Then, choose the tools you want to use to edit your PDF. If you are done, select the Edit PDF button and save it to your computer.
Does iLovePDF password remover exist?
The good news is it is workable to remove the password of PDFs using iLovePDF. It provides a quick way to remove the password that blocks PDF from opening. Therefore, after removing the password of the PDF file, you can now print, revise, and edit the PDF file and save it.
Conclusion:
After reading this article review, we hope you learned from it about iLovePDF, including its features and alternative. We learned that iLovePDF is safe and accessible and can remove the password that blocks the PDF from opening. Moreover, if you want a review and content like this, let us know by commenting below. Also, remember to give us a thumbs up. See you again in our next upload!
PDF Converter Ultimate
An ultimate PDF converter to Word, Excel, Image, and more.