Detailed Review of ChatGPT for an AI Assistance of Work and Academic Task
OpenAI's ChatGPT has completely revolutionized the AI industry. ChatGPT, or Chat Generative Pre-Trained Transformer, developed by Microsoft-backed OpenAI, may assist users with anything from making the perfect omelet to assisting them with academic work. Free access to ChatGPT is available, but a premium version called ChatGPT Plus offers priority access and quicker response times in some regions.
With that information, here's the full details about the incredible ChatGPT and a guideline on how to use ChatGPT on your Android and iPhone devices for free, as smartphones are the main computer devices for most people. You may start reading now for more information to explore.

1. What is ChatGPT?
What is ChatGPT, then? It is a text-generating AI tool made by OpenAI. It facilitates the creation of material such as blog entries, social media updates, birthday party suggestions, and even speech plans. Many users' experience with ChatGPT has been positive, and they give it a 9.4 out of 10 rating.
It's important to remember that you don't necessarily own the copyright to any of the content produced by the platform, so you shouldn't plagiarize all of it. Furthermore, utilizing this AI chatbot tool as a search engine for relevant topics is not recommended; such topics are better suited for other platforms like Google.
Despite these drawbacks, ChatGPT continues to be one of my favorite tools because it is so helpful in making laborious chores like brainstorming or simple copywriting jobs more enjoyable. Go to chat.openai.com right away if you haven't already done so to check out ChatGPT! No matter what kind of material needs to be generated, this potent tool will be able to give impactful results fast & effectively every time, so we promise you won't regret giving it a try!
2. How to Use ChatGPT?
How to Use ChatGPT without a Phone Number
Many users are asking if it is possible to utilize ChatGPT without providing a phone number. The answer is yes. Some websites assert that VoIP and landline phones can be used for verification even though OpenAI forbids their use for registration. Moreover, using your Email account is a great choice to use ChatGPT without a phone number If you wish to test this out, adhere to these steps:
1.
Visit chat.openai.com or the official Open AI website. To open the Sign-Up page, click the Get started button.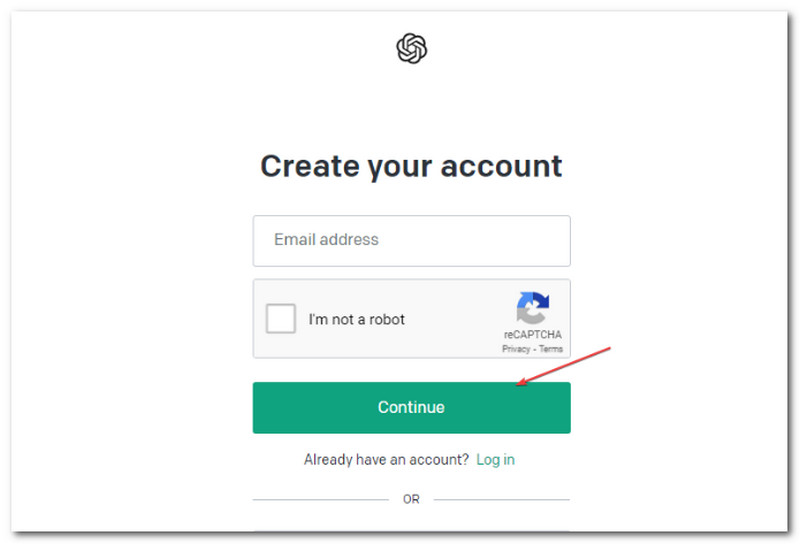 2.
Sign up using your email address and any generated phone number, then fill out the necessary information. Enter the OTP if you get one, then select your account type. After that, please click Playground after navigating to Generation under the Text Completion tab.
3.
When you see a message asking for ChatGPT, click on Try it out. to launch the chat window in a new tab. After inputting your selected material or search terms, click the Submit button.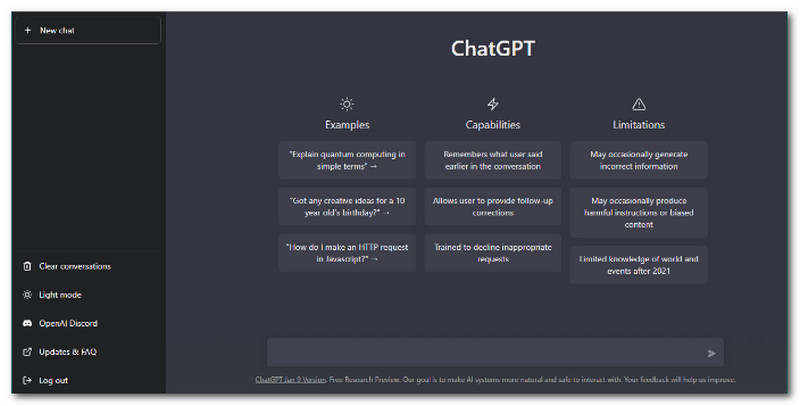 How to Save ChatGPT Conversation
Use the SaveGP" browser extension tool to preserve chats on ChatGPT. Conversations from ChatGPT can be saved in HTML, print, or PNG forms. Make sure you look up this tool on your computer because this extension needs to be installed on your desktop browser to function properly. As long as it is turned on, the SaveGPT utility automatically remembers every conversation you have using ChatGPT, so you can always go back and review them. For that, here are the steps you need to take to save your conversation on ChatGPT.
1.
We need to enter the link using any browser on our computer devices. This process applies to Windows, Mac, and others.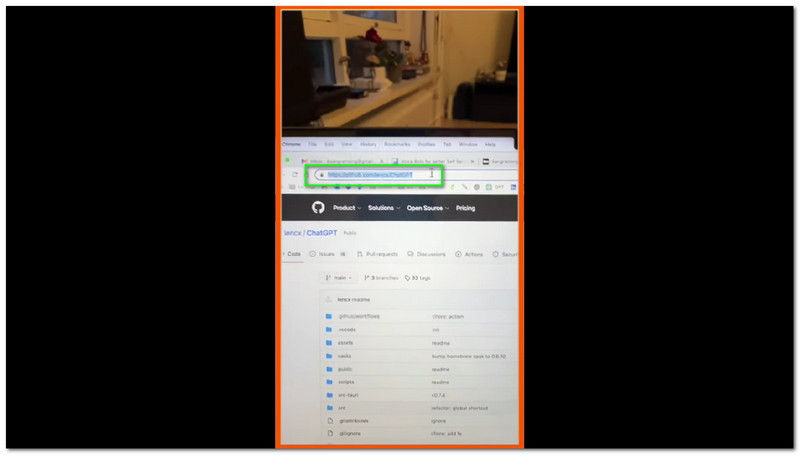 2.
From the main website, we need to scroll down until we see the Download portion.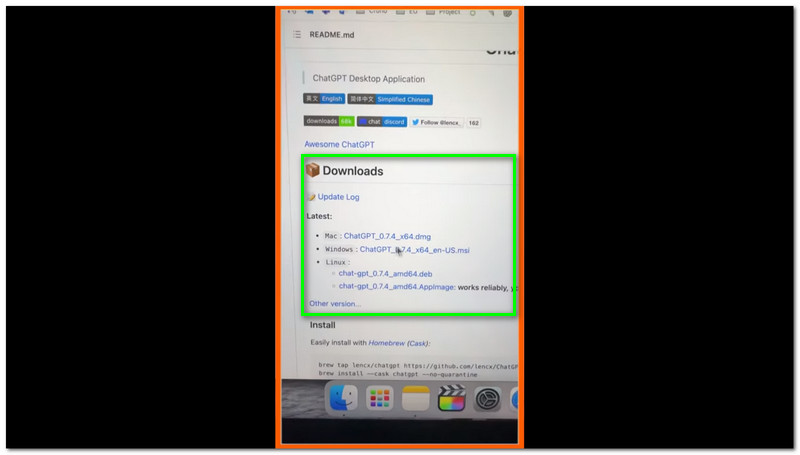 3.
After the download process, we will install it on our computer. From there, please open the ChatGPT, then open the kinds of chats you want to save. After presenting the chats on the screen, notice the icon below and choose the kinds of files you want your chats to be saved. You can save it as JPG, PNG, and Link.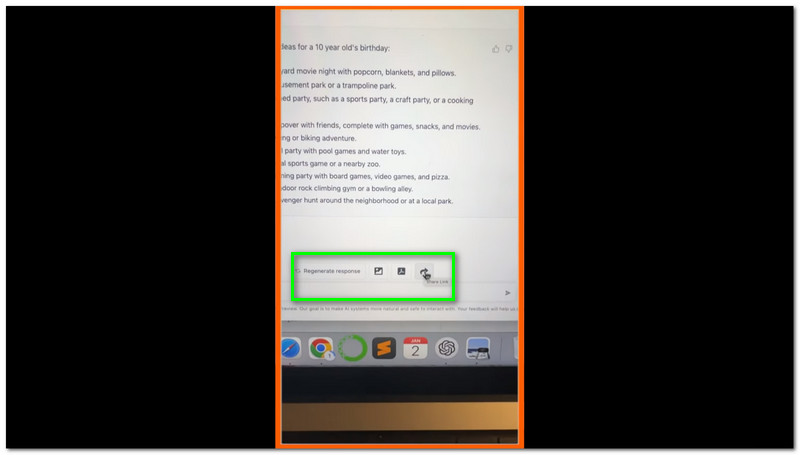 3. ChatGPT Internal Server Error
On ChatGPT, an internal server error frequently appears when a server-side problem prevents the website from processing a request. As a result, the service can become unresponsive or produce incorrect results. Here are the solutions you can apply to ease the error on the server of ChatGPT.
Fix 1: Verify the ChatGPT servers.
Checking the servers should always come first when experiencing ChatGPT issues. The service occasionally shuts down if it receives too many requests since it draws so many users. Fortunately, OpenAI includes a specific ChatGPT status page where you may view the most recent information. It isn't much you can do if the servers are down other than wait. Sadly, they are the only ones who can fix server-related issues.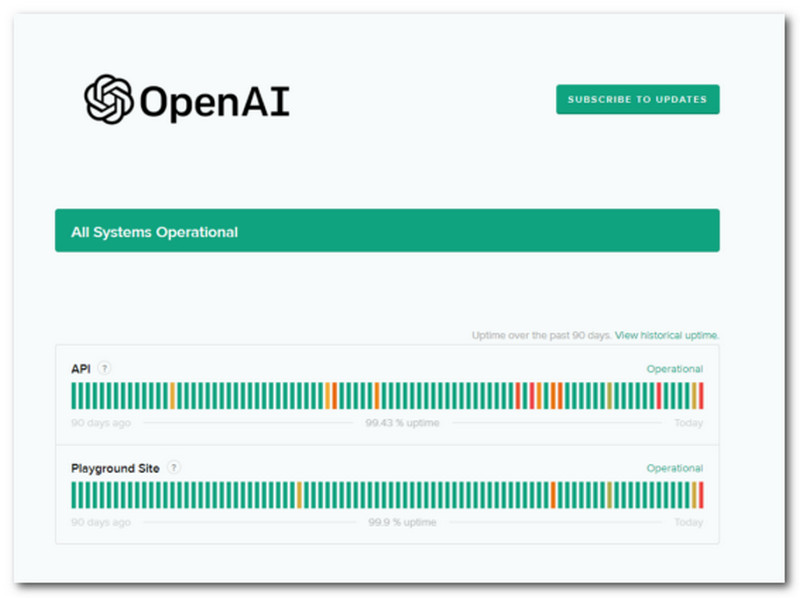 Fix 2: Restarting Your Computer
If you have an internal server error on ChatGPT, try restarting your computer. This should reload your resources and fix any transient issues that may have arisen while using them. What you must do is as follows:
1.
Your keyboard's Windows key can be used to launch the Start Menu.
2.
Click the Power Options tab after that.
3.
Finally, select Restart and watch as your computer reboots. Once finished, use ChatGPT once more to see if the issue has been resolved.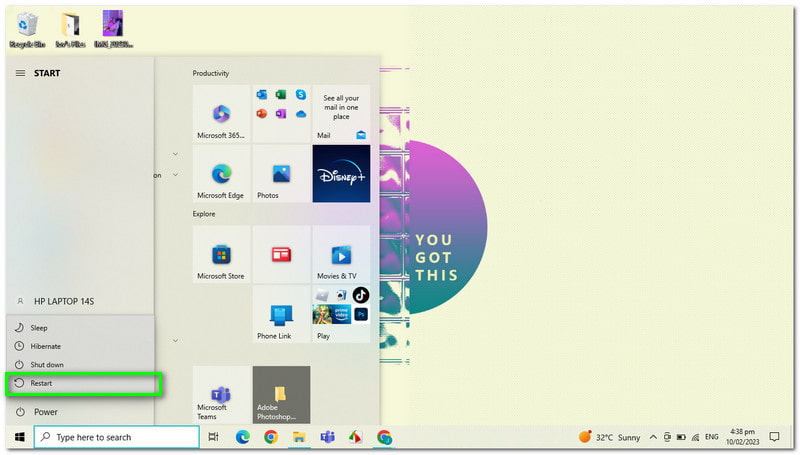 4. ChatGPT Login Error
The ChatGPT website being unavailable is the most likely cause of this. Although their server went down, this does not necessarily imply that the entire website is unavailable. Numerous factors, including an excessive number of people trying to utilize the service at once, can cause this. The possibility of a network card issue, a power failure, or a server fault is also possible. A server may experience any of these downtimes, which will be fixed and returned online.
Fix 1: Verify the Internet connection
It would help if you now double-checked the internet connection on your phone. Because it frequently occurs that technical faults must also be dealt with when there is a poor internet connection. You must, therefore once, try a different internet connection. In this process, you can use different speed tests on your web to see your internet speed. If the internet is slow, then we need to restart the internet connection and try to log in again.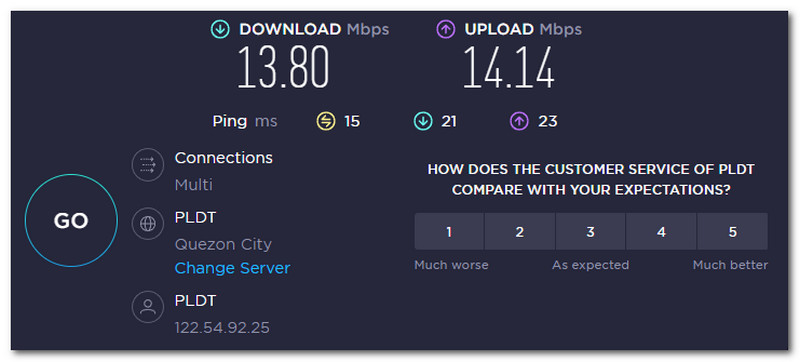 Fix 2: Delete Browsing History
Corrupted browsing data could also hamper websites like ChatGPT. If the service is unavailable, we advise deleting your internet history.
To remove your browsing history, follow the instructions below:
1.
Open your browser and go to Settings first.
2.
Scroll down to Privacy and Security after that. Then select Clear Browsing Data.
3.
Change the Time Range to All Time and tick all the boxes on the following page.
4.
After that, click Clear Data, and then wait for the procedure to finish.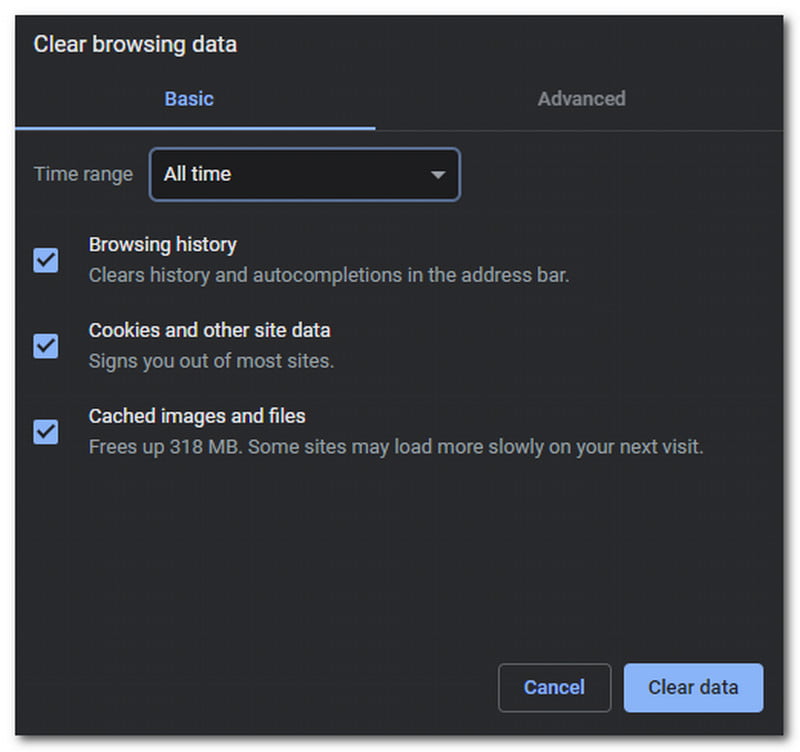 5. ChatGPT Alternatives
Meena
Meena is a chatbot with human-like conversational capabilities that Google unveiled in January 2020. Simple talks with amusing puns and quips, like Meena's suggestion that cows study Bovine sciences at Harvard, are examples of its functions. Meena could analyze 8.5 times as much data as its rival at the time, OpenAI's GPT-2, and was a direct competitor. Its neural network has 2.6 parameters and was trained using social media talks from the public domain.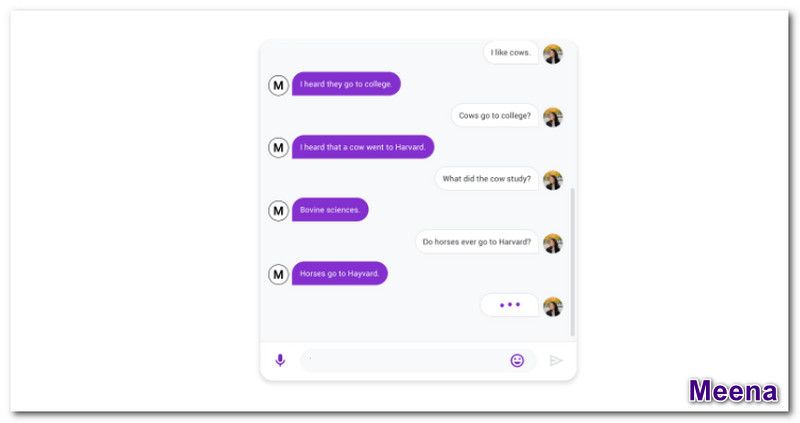 YouChat
Another conversational AI model called YouChat was introduced by the search engine You[dot]com. It functions similarly to ChatGPT and essentially performs what other generic chatbots do. YouChat's AI utilizes artificial intelligence and natural language processing to mimic human speech. It can create emails, write code, translate, summarize, and react to general inquiries. It offers average responses because it is still in the development phase..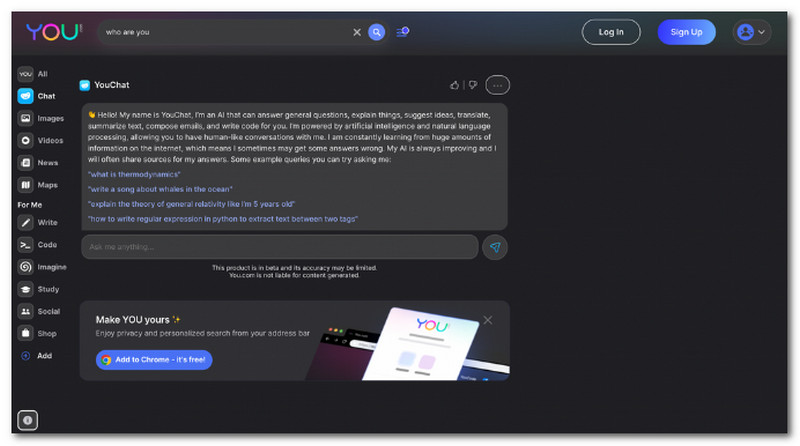 Openai Playground
OpenAI created a platform called Playground to let users engage with and try out the capabilities of different OpenAI models. Users can input their cues into Playground to see how the model responds, providing them with an understanding of its potential and constraints. Developers interested in using OpenAI models in their apps can experiment with the models in Playground to acquire a feel for them before incorporating them into their projects. Several pre-made games are also included in Playground, where users can play with the models to explore and learn more about their operations. All these abilities made it known as a great alternative for ChatGPT. .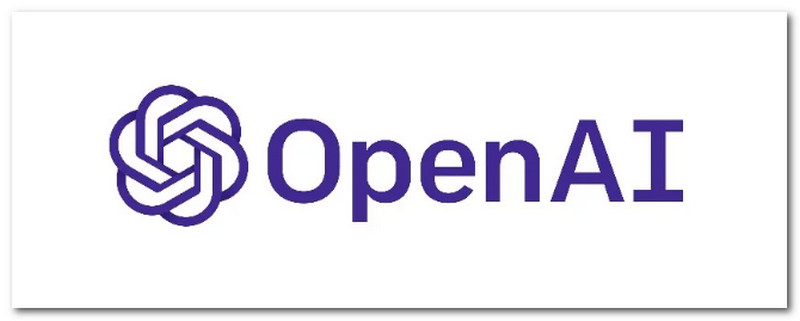 6. FAQs about ChatGPT Review
Does ChatGPT save data?
Yes. Initially, a warning or instructions appear in a dialog box when you sign up for an account or log in. You are advised by these instructions that OpenAI trainers may examine your talks to enhance their software. Their goal is to improve their service by gathering external input that considers your interaction with ChatGPT.
Does Microsoft own ChatGPT?
Yes. OpenAI's ChatGPT is an AI chatbot developed in San Francisco. Elon Musk and Sam Altman co-founded OpenAI in 2015, backed by well-known investors, most notably Microsoft.
Does ChatGPT have an API?
Not yet. However, businesses can use the API to integrate the ChatGPT to perform tasks such as answering customer queries. The chatbot was launched for testing in November 2022 and has gained much attention since then, with many people arguing that they use the chatbot instead of search engines like Google.
Is ChatGPT free?
Anyone with an account on OpenAI's website can use ChatGPT for free. You can sign up for free using your email address, Google account, or Microsoft account. There are no usage limits on the free version of ChatGPT at the time of writing in February 2023.
What dangers come with utilizing a personal phone number for ChatGPT?
While creating a ChatGPT account with a secret number can be advantageous, there are undeniably some hazards.
A few are:
◆ Your ChatGPT account may be compromised and accessed by the invader if the private number you used to register is leaked or compromised.
◆ Due to the possibility of the private number being withdrawn or disabled, it may be hard to restore your ChatGPT account. Therefore, verifying your identity and claiming the account will be challenging.
◆ Using a private number can make it challenging for ChatGPT to verify the account's owner.
Conclusion
Those are the complete details we need to bear in mind about ChatGPT. We can see above the main purposes of this tool and how we can use it differently. In addition, we also gave you some solutions that you need when an issue occurs. I hope this post helps you.
Did you find this helpful?
279 Votes
YES

Thanks for letting us know!
No

Thanks for letting us know!
AnyMP4 Video Converter Ultimate
All-in-one video converter, editor, enhancer upscaled with AI.