Movavi Video Converter Review: A Powerful Media Converter Perfect For Beginners
Did you also think that using a media converter, you must be tech-savvy? We are always scared of using media converters because we believe we are not experts in using them. But do you want to read good news? Yes, I have good news for you! Using media converts is not complicated as you think, especially if you have a media converter that is manageable to use. This article review will introduce the Movavi Video Converter to you. Let us see how this media software is easy to use, and let us know if this software is user-friendly. I can't wait to share this article, so allow us to begin reading!
1. Our Verdict
Pros

It has built-in editing.
It provides speed conversion.
It supports various file formats.
It can compress your large files.
It is manageable to use.
It has a straightforward interface.
Cons

It has a watermark on a free version.
It does not have enough editing features.
It has a seven days trial only.
Overall Ratings
Easy to use:9.0
Fast conversion:8.5
User friendly:9.0
2. What is Movavi Video Converter
Price: $39.95/year
Platform: Windows, Mac
Movavi Video Converter is an all-in-one media converter, and it is an excellent media converter for Windows and Mac. In addition to this, this software is easy to use, and this is good for converting your media files since Movavi Video Converter supports more than 180 media file formats. Furthermore, Movavi Video Converter produces excellent output results that is why it is one of the most famous media converters.
Main Features
Movavi Video Converter has an attractive feature that beginner users will appreciate. This software can be considered one of the best media converters that have many tools to convert your videos speedily. Moreover, Movavi Video Converter is beneficial for everyone and has features that satisfy your needs.
Take a look at its features below:
It supports a broad range of popular audio and video formats.
◆ It is compatible with almost all famous devices.
◆ It offers you a fast conversion.
◆ It has batch conversion.
◆ It allows you pre-conversion video editing.
◆ It has recording, editing videos, and audio clips.
◆ It has split and joined slideshows.
3. Movavi Video Converter Review
Interface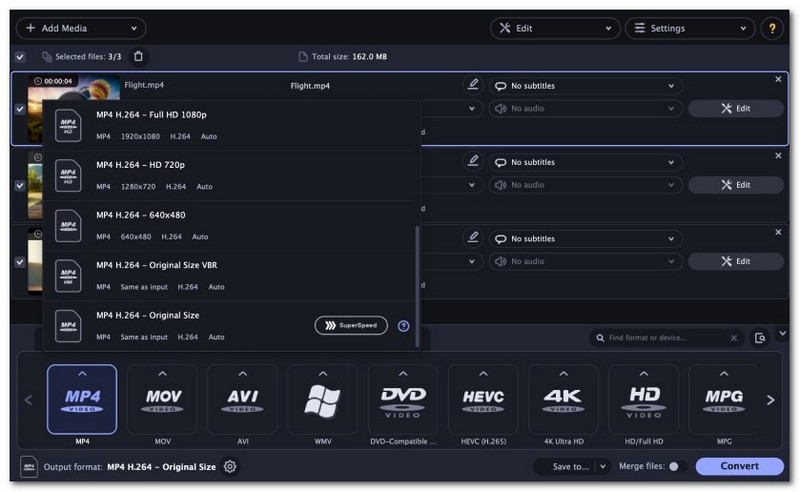 Upon launching Movavi Video Converter, you can see the various panels on the le in its main interface. On the other hand, the video preview plus the main project timeline at the bottom is on the right side of the main interface. What is good about its interface is you can see all the available file formats and convert your file right away.
Supported Input and Output Formats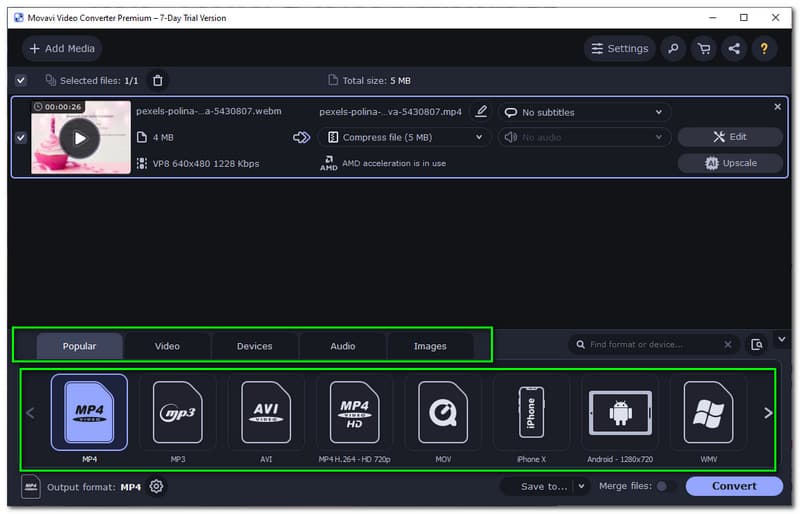 Movavi Video Converter supports many input and output formats such as MP4, GIF, AVI, MOV, WMV, MKV, DVD, MP3, and more.
Edit Videos
When it comes to editing videos, you can do so if you want to edit your video clip and turn it into an animated GIF. You can choose a different kind of GIF and select a size from small to large. In addition to this, you can also edit your whole video. Suppose you have a shaky video; you can go to the Video Stabilization, see the Shaking, adjust, and then apply. Furthermore, you can also add audio to your video, and if you want your audio to sound clear, you can go to the Audio Adjustment and normalize the volume. Plus, it enables you to remove the noises and adjust that too, and it depends on what you want. What's more? You can also adjust your video's brightness, contrast, hue, and saturation. To add, you can also add effects, subtitles, watermarks, and a lot more.
DVD Disc Support
Movavi Video Converter also supports DVD Disc. This software lets you burn your video into DVD, and you can play your converted file on your TV and DVD players. While burning your video, you can experience fast speed conversion since Movavi Video Converter has the power to speed up to 10X faster because of its CUDA acceleration.
Extended Features
Compress large videos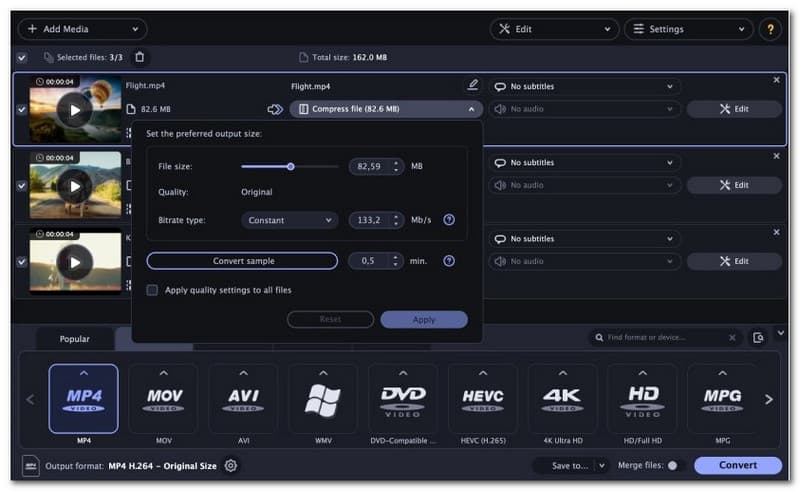 Did you know that you can compress your large files with no quality loss? Yup! You just have to add your media. The good thing about this is you can add many files you want to compress. In addition to this, you can set your preferred output size. For example, the file size of your video, quality, and the bitrate type. After that, apply them all, as simple as that.
Find and add subtitles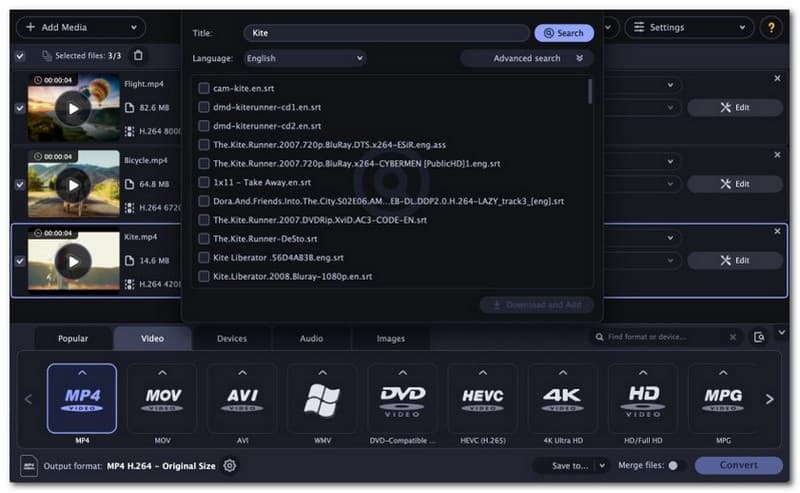 Suppose you want to add a subtitle to your vid. In that case, you just need to find a perfect one over the internet using Movavi Video Converter and add the subtitles to your videos afterward. To show you, add your video, search for a subtitle, and choose what is available. After that, apply it and enjoy watching!
Discovering AI quality upscaling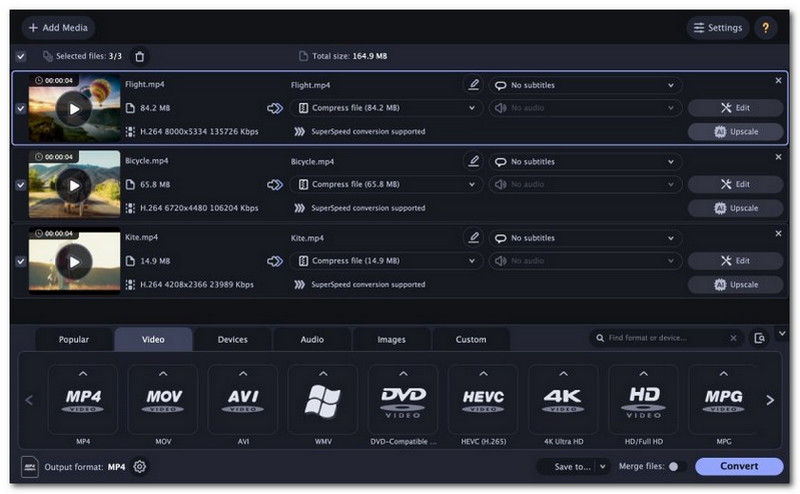 What's more? You can try a new offer by Movavi Video Converter, where you can try an AI-powered feature to upscale the quality of your videos.
4. FAQ
Why is Movavi Video Converter not working and lagging?
If you have this kind of problem, maybe it is too high for the Internet speed of your hardware. Choose a lower resolution and then update the video drivers to fix that.
Is Movavi Video Converter safe?
Of course, Movavi Video Converter is safe to use, and this software is considered one of the trusted media converters. In addition to this, it does have no malware, which means that it cannot harm your computer, device, and even your privacy.
I want to remove my video's watermark in Movavi Video Converter; how can I do it?
A watermark will appear on your output file if you use the free trial version. If you do not want a watermark in your output file, you just need to purchase a license from Movavi Video Converter. After that, activate the program. Movavi Video Converter will send a key, and you will receive it in your email.
5. Best Alternative - Aiseesoft Video Converter Ultimate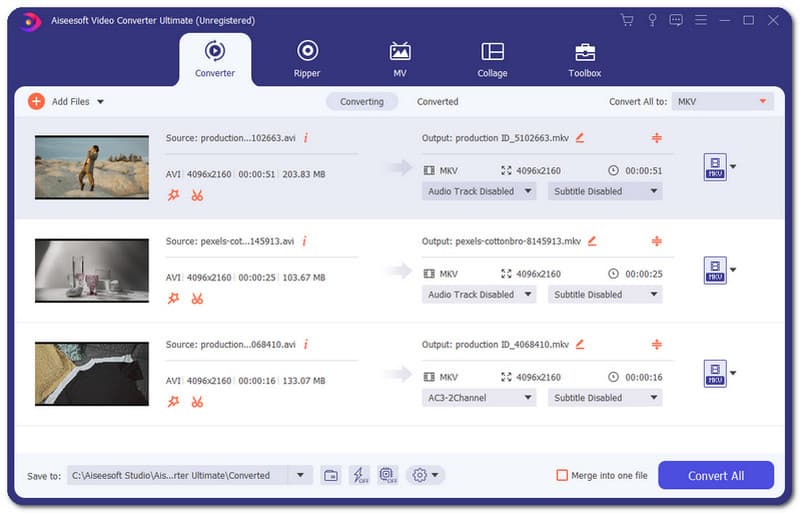 Are you still looking for the best alternative to Movavi Video Converter? Perfect! There is Aiseesoft Video Converter Ultimate. This media converter will meet your expectations more than other converters. To begin with, Aiseesoft Video Converter has a clear and straightforward interface, unlike Movavi Video Converter. Free Download Free Download
In addition to this, Aiseesoft Video Converter is a complete package of media software. In short, this software provides almost everything you need to satisfy your need for conversion. It is faster to convert than Movavi Video Converter since it supports hardware accelerating technology and converts up to 30X faster. Furthermore, both are perfect for beginners. All in all, you can choose what you think is the best for you.
Conclusion
To conclude, we hope that this article review helps you a lot. We discover Movavi Video Converter features, prices, and platforms. In addition to this, we also talked about its pros, cons, and other extended features. Nonetheless, thank you for reading, and see you in our next article!
Did you find this helpful?
268 Votes
YES

Thanks for letting us know!
No

Thanks for letting us know!
Popular Video Audio Converter Review
Aiseesoft Video Converter Ultimate
All-in-one video converter, editor, enhancer upscaled with AI.