Find Out AVAide Video Converter Review: Informations You Cannot Afford to Miss
Modifying your media files, such as video and audio files, can be tricky work sometimes. However, using fantastic software alleviates these complications as you work on your files. Thus, checking and making sure the software before using it is an important thing we need to do. Through a review, we will get to know deeper about what software can do. For instance, if you are looking for great converting software, you are in the proper phase. Because in this post, we will review one of the fantastic converters that offer more than a converter. Without further ado, here is the AVAide Video Converter Review. Join us as we discover the bewildering features of this converter.

1. Our Verdict
Pros

Fast converting speed.
Batch conversion is available.
It is a user-friendly tool.
This software converter supports 8K and 4K videos.
It provides a ripping tool.
MV and collage maker is available.
MV and collage maker is available.
Merge, Trim, enhance your video.
Cons

The free version is limited with functions.
Overall Rating
AVAide Video Converter is a media converting software that is easy to use. It possesses flexible features and functions purpose to help you grind with your media files. Thus, these features and functions are less complicated to use because of their advanced technology that enables a fast process.
Easy to use:9.5
Features:9.4
Speed: 9.5
2. What is an AVAide Video Converter?
AVAide Video Converter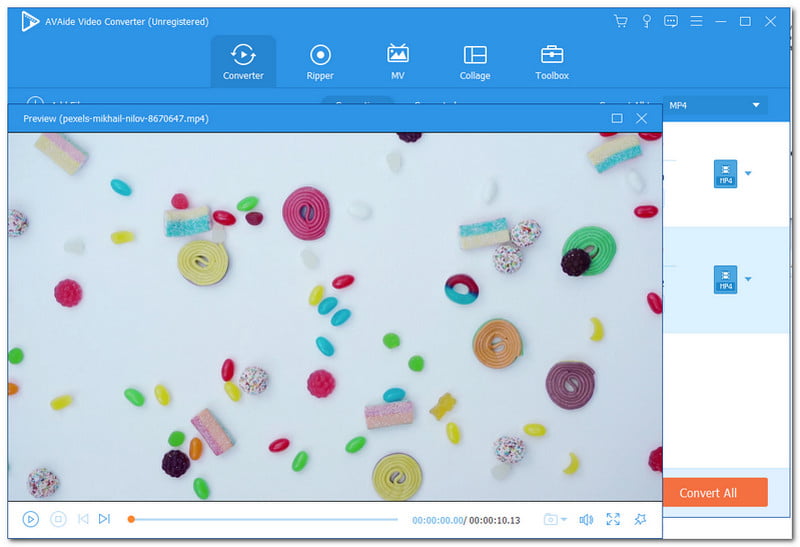 AVAide Video Converter is one of the excellent and comprehensive software that can convert different media files such as video, audio, and even DVD without degrading its quality. This fantastic media software is compatible with Windows and macOS operating systems. However, it is not just a converter but also a super flexible tool that offers various functions. Through the use of this converter, you may also RIP DVD to numerous file formats to play with any device. Creating pretty movies within a minute is also possible with this software. There is more to offer. Buckle up and continue to explore more.
Price: $18 one-month license and $ 36-lifetime free license with free upgrades.
Platform: Windows 7, Windows 8, Windows 10, Windows 11, Windows XP, Windows Vista, and macOS X 10.
Main Features
We all know AVAide Video Converter as one of the most flexible tools that offer many features. Therefore, we should not miss these features. That is why in portions, we will see what an AVAide Video Converter can offer. Below are the features that you can enjoy with this converter.
◆ It can convert more than 350 media file formats.
◆ It allows you to import HD, 4K, and 8K files.
◆ Advanced technology for a smooth process.
◆ Ripping DVDs are available.
◆ You can create fantastic Music Videos through MV maker.
◆ Add media metadata easily.
◆ Compress your video hassle-free.
◆ Reversing video is also possible.
◆ Audio syncing is smooth.
◆ Boost the volume of your file for immense listening comprehension.
3. AVAide Video Converter Review
Interface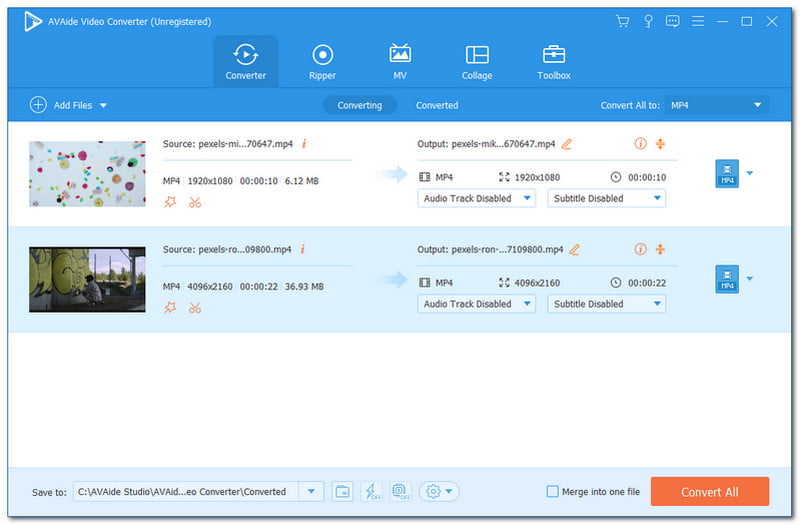 Talking about its interface, we will see a straightforward interface with a rich color blue. All of the icons and function keys are appropriately placed. Besides, it has an appealing design that is not overwhelming to the eyes of the users. Thus, it contributes to a less complicated converting, modifying, and more with AVAide Video Converter.
Supported Input and Output Formats
This converter can support over 350 media files such as audio, video, and DVDs media formats. Therefore, through AVAide Video Converter, you do not need to worry about its compatibility with your media files. Because it can support almost every media file existing nowadays. To elaborate, here is the list of input and output formats that it supports.
Input Formats: MP4, MKV, H.265/HEVC, AVI, FLV, WebM, TS, MOV, MXF, DVD Disc, DVD Folder, ISO Files, AVCHD Disc, AVCHD Folder, 3GP, DV, DIF, MOD, MJPEG, SWF. MPEG, QT, RM, RMVB, TOD, WMV, ASF, AIF, AIFF, CUE, FLAC, M4A, MP3, MP2, APE, OGG, AC3, RA, RAM, AU, WAV, WMA, and more.
Output Formats: MPG, MPEG-1, MPEG-2, MPEG-4, H.264, H.264/MPEG-4 AVC, DivX, XviD, AVI, FLV, MP4, M4V, MKV, MOV, 3GP, 3G2, MTV, SWF, WMV, ASF, DPG, TS, MTS, M2TS, DV, VOB, AMV, WebM, MXF, MPEG, OGV, TRP, F4V, AAC, AC3, AIFF, AMR, AU, FLAC, M4A, M4B, M4R, MKA, MP2, MP3, OGG, WAV, WMA, DTS, APE, ALAC, GIF, and more.
Conversion Speed
Low-class and cheap software can bring a prolonged processing speed for us. That is why having super speed software is a massive help in making your grind more effective and efficient. Luckily, AVAide Video Converter possesses advanced technology that enables users to experience a smooth conversion speed or even a rendering or saving process. As a result, professional users will always choose software that brings effectiveness to their grind.
Editing Features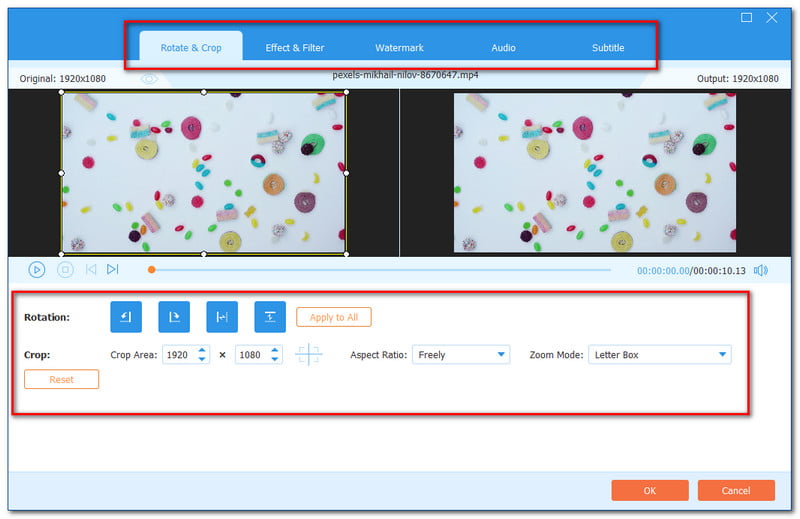 AVAide Video Converter is more than just a converter because it can offer more than a converting tool for your different files. This converter is also capable of editing your media files without complications. To mention specific editing tools- rotating and cropping your files is possible to set the correct arrangement of your video or image. It also allows you to add effects and filters in your files to have the right mood. In addition, you have the choice to add a watermark on your files for ownership purposes. There are many to mention, yet one thing for sure is that AVAide Video Converter is one of the leading editing software tools. Overall, AVAide Video Converter is a great software that can make your files stand out and look professional.
Other Cool Features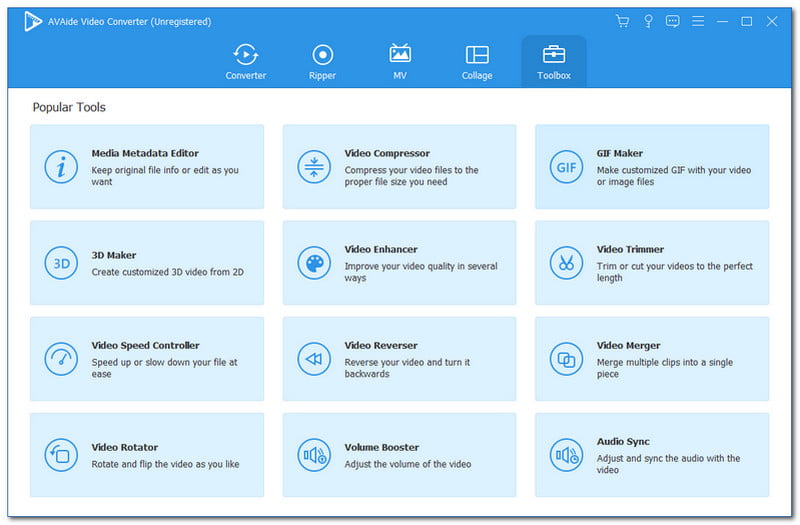 We are still proving how flexible and adaptable AVAide Video Converter is. However, in this part, we are going to discuss more other cool features it possesses. This software also provides a majestic Toolbox where you can add or edit the media metadata editor of your media files. Adjusting the size of your files is also possible with the built-in video compressor it offers. In addition, improving your files, especially your video, can quickly be done with the Video Enhancer it possesses. There are more features that this converter includes. In addition, video trimming, merger, reversers, and rotator are also available here for finalizing your file.
What is Best For?
AVAide Video Converter is best for many things. We cannot deny its ability to offer a fantastic process, not just in converting but also for editing your files. With its advanced technology, AVAide Video Converter is unstoppable for giving the best features for its users. In addition, this software is also best for beginners. For it allows you to utilize all of its features and functions efficiently. It is a professionally simple software for every type of media we have. Overall, these data prove how excellent AVAide Video Converter is the best in functionality and efficiency for its users.
4. FAQ
May I boost the volume of my video using AVAide Video Converter?
Using the Toolbox it offers, you can quickly boost the volume of your videos for a great experience of listening.
What is more, recommended between AVAide Video Converter and AVAide Free Video Converter?
These two converting software is a great tool that we can utilize with our files with fewer complications. However, in terms of the suggested tool, this may depend on your needs. For instance, if you are a new user who only needs to convert. Users recommend AVAide Free Video Converter for a more accessible process. On the other hand, other users suggest AVAide Video Converter for those users who need extra features for modifying their media files.
Is the Media Metadata Editor of AVAide Video Converter complicated to use?
The Media metadata editor of AVAide Video Converter is easy to use. It is as easy as a few clicks. You need to click the Media metadata editor from the Toolbox, then select the files you want to edit. After that, you may now set the data following your preference. Then click the Save button to finish the process.
5. Best Alternative- Tipard Video Converter Ultimate
An excellent media software is nowadays. Tipard Video Converter Ultimate offers tons of beneficial tools that are suitable for our media files. This software is best for providing an immense process. It provides professional tools yet is simple to use. Overall, media enthusiasts suggest this software for both new users and professionals. For that, users consider Tipard Video Converter as one of the best alternatives to AVAide Video Converter.

Tipard Video Converter Ultimate
It is a software that offers lossless and smooth processing media software for every user.
Convert high-definition files.
Fast conversion speed.
Rip DVD files.
Edit media files.
It offers a free trial.
It is clean and safe.
Conclusion
All of this data is proof that AVAide Video Converter is flexible and adaptable for every user. In addition, reviewing features and functions is a blast and a wonderful thing to do. Therefore, if this post helps you, do not forget to share it with others to help them too.
Did you find this helpful?
321 Votes
YES

Thanks for letting us know!
No

Thanks for letting us know!
Popular Video Audio Converter Review
AVAide Video Converter
Convert, edit and enhance video, audio and DVD effortlessly.