How to Play DVD on Windows 10 & 11
If you have a DVD collection and have lately attempted to play one of your favorite movies or TV series on your Windows PC, you may have encountered a problem. Not all versions of Windows provide a native DVD player. Windows, including Windows 10 and 11, elected not to pay license fees for DVD functionality in their operating systems and media players. So, if you bought a PC with DVD-playing software pre-installed, you probably need to figure out how to play DVDs on later Windows versions.
In connection with that, please continue reading to learn about various PC DVD playback techniques, including how to use the world's best DVD player for Windows. Kindly proceed and discover everything about how to play DVD on Windows without complications.

1. Can I Play DVDs on Windows?
Playing DVDs on your Windows is possible if you have an outstanding Windows Media Player. This process is suitable, especially for Windows 7 and 10. Generally speaking, even CDs or DVDs can be used for an immersive watching experience. Audio CDs, data CDs, and data DVDs containing music or video files can be played in Windows Media Player also popular as media CDs). You can also play video CDs or VCDs, which are comparable to DVDs but have lower video quality.
However, the newest update for Windows 11 does not support this process. Nowadays, playing DVDs on Windows 11 is already forbidden. In line with that, there is also an issue that their Windows Media Player is not correctly playing DVDs. For that, let us know what we can do to it by learning the proper steps to follow to make the process successful.
2. How Do I get Windows Media Player to Play a DVD?
Playing a DVD on your Windows computer can be very easy as the following steps. Kindly read them carefully and follow them correctly.
1.
Insert the desired DVD into the drive of your computer device.
2.
Usually, the disc will begin to play automatically. If it doesn't play, or if you wish to play a disc already inserted, launch Windows Media Player and navigate to the Player Library, where you may pick the Disc Name in the navigation pane.
3.
Select a DVD title or chapter name if you inserted one.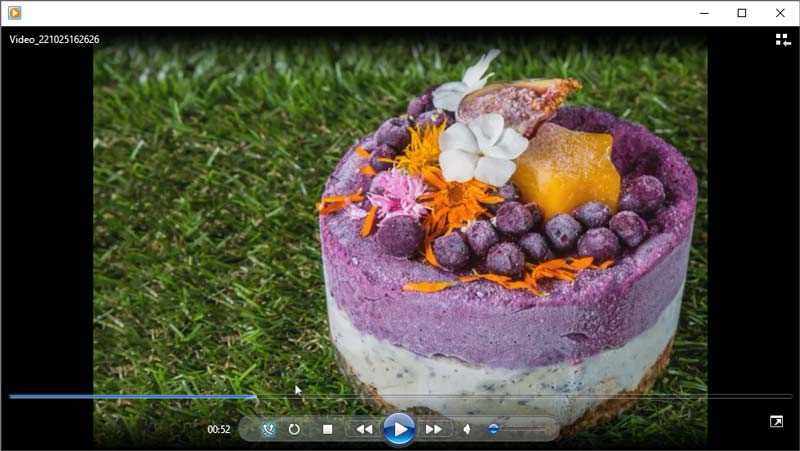 That is proof that playing DVDs using Windows Media Player is very easy. Ensure you follow each step above to prevent any disturbance within the process. On the other hand, if you receive a message stating that your computer lacks a codec. Also, since a DVD decoder is required, you are most likely attempting to play, burn, or sync a compressed file using a codec that Windows or the Player does not include by default.
3. How to Play DVD on Windows 11/10 with AnyMP4 Blu-ray Player
If you have a computer that contains Windows 11 and you want to play your DVD collection on it, then you do not have to worry about its incompatibility. That is because we have great software that can allow us to play DVDs on Windows 10 and 11 with the highest quality and precise playback of our movies or videos. The software we are talking about is the outstanding AnyMP4 Blu-ray Player. It is a player that many users trust. For that, let us use the reason behind it and see what it can give its users. Also, let us see how we can use it with ease.
◆ It plays different Blu-rays, DVDs, and ISO image files.
◆ Playing 4K and 1080p HD video with smooth playback.
◆ H.265 video codecs are available.
◆ Smooth and compatible with Windows 7, 8, 10, and 11.
1.
It is a must to download and install AnyMP4 Blu-ray on your PC. You can download it using the links below. After that, you can directly install it on your device as we proceed.
2.
Connect the external Blu-ray or DVD drive to your laptop and put the Blu-ray/DVD into the drive. Then, click Open Disc to insert the Blu-ray/DVD into the software. You can also load the Disc by clicking File and then Open Disc.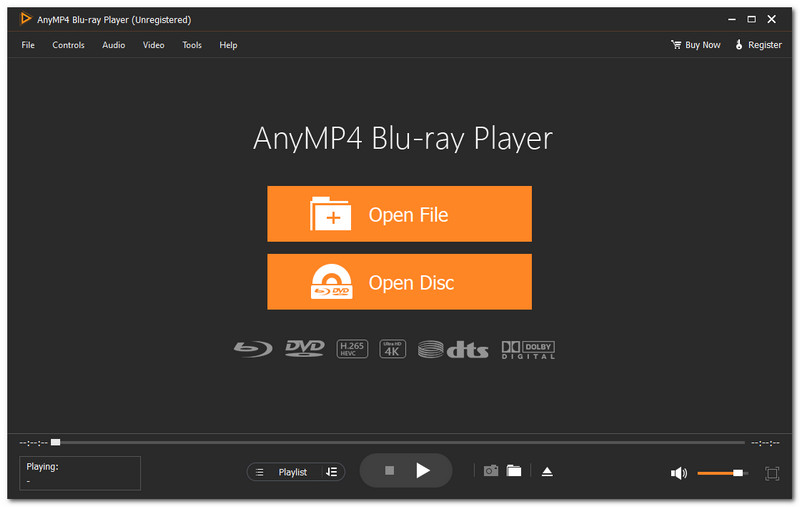 3.
In the next step, the menu interface will be displayed after loading. Select your preferred audio track and subtitle, then click Play to begin watching the movie.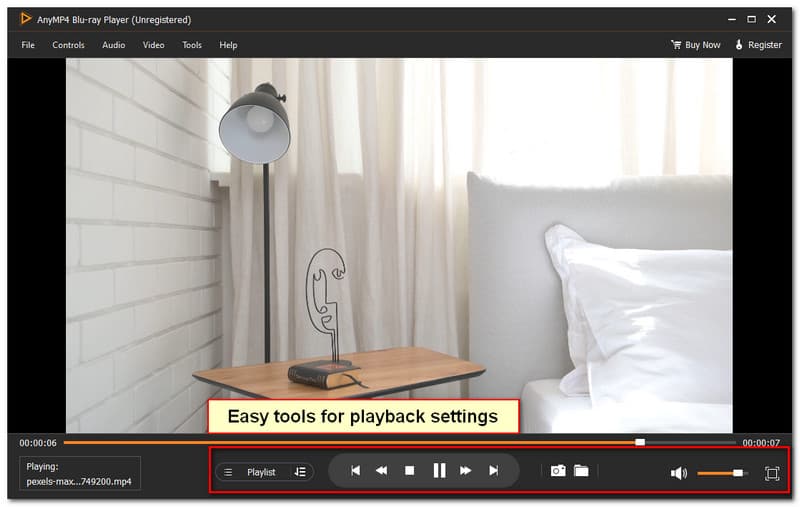 With these simple steps in utilizing AnyMP4 Blu-ray Player, we can now watch our favorite movies on DVD on our Windows devices. From there, we can also notice incredible playback by AnyMP4 Blu-ray Player. Ensure to follow each detail above for a more incredible experience of playing and watching your DVDs on Windows 11.
4. FAQs about How to Play DVD on Windows
Why can Windows Media Player not play this DVD because there is a problem with digital copy protection?
Many users report that their Windows Media Player cannot play this DVD due to a digital copy protection issue between their DVD drive, decoder, and video card. This issue is common to experience and can give us tremendous hassle in terms of playing DVDs and watching our favorite movies. In line with that, here are the simple things you should do to ease the problem. First, we need to install the most recent driver for your video card. It gives us outstanding performance in terms of our DVD playback in Windows. From there, you can play the DVD again after updating the drivers for your video card as it should and DVD.
Does VLC play DVD, and how can I import my DVD into it?
VLC Media Player is a powerful multimedia player that can play music and movies from your computer or home network, as well as DVDs, CDs, and Blu-ray discs. VLC Media Player is free, but you can always contribute to its development. In terms of importing, follow these steps to make it. First, load and launch VLC. Then, under Media, select Convert/Save. Now, please select your DVD drive by clicking the Disc tab. Allow it to load. In addition, to convert DVDs to MP4, choose Video - H. Under Profile, select 264 + MP3 or MP4. You must select the destination by clicking the Browse button, then click Start.
Can you distinguish between DVD and Blu-ray?
The distinction between such a DVD and a Blu-ray is not one of quality but rather one of data capacity. If the film is short enough to fit on a DVD (4.7 GB limit) in good quality, it will be identical to a Blu-ray. Regarding the storage capacity of both discs, Blu-ray discs have a significantly larger storage capacity. A standard DVD has 4.7 gigabytes of storage space. This is sufficient for one film. If the film is longer than two hours, you'll need two DVDs or a double-layer DVD with a storage capacity of roughly 9GB. On the other hand, a double-layer Blu-ray disc can carry up to 50 GB of data.
Why do we need external software to play DVDs?
While Windows Media Player is easy, it cannot play all discs, including DVD-video and Blu-ray discs. It is also not as straightforward or user-friendly as other players. For the records, many users are experiencing some failure within the process. As a result, it is advised to get a more flexible free DVD player for Windows. That is why you can use AnyMP4 Blu-ray Player for an unforgettable experience.
Conclusion
With all of these details, we hope you understand the process of playing DVDs using the infamous Windows Media Player of Windows. Also, we hope you solved the problem of playing DVDs on your computer with the Windows 11 operating system. In addition, this article is evidence that AnyMP4 Blu-ray Player possesses remarkable features that we can enjoy in watching our movies on DVDs. Ensure that you will utilize every feature it offers by downloading the software now.
Did you find this helpful?
413 Votes
YES

Thanks for letting us know!
No

Thanks for letting us know!
AnyMP4 Blu-ray Player
Make Blu-ray, DVD, and video playback easier on computer.