Comprehensive Review of AnyMP4 Blu-ray Player: Everything You Should Know About It.
Media enthusiasts found different media files fascinating, like video clips and audio files. Therefore, a Media player is an essential tool for them in playing the files. However, in choosing a media player you should choose a media player that can offer the best features for you. Just like the AnyMP4 Blu-ray Player. Having a great player will really help you in making your grind effectively and instantly. For that being said, let us review AnyMP4 Blu-ray Player. Let us see why it is labeled as one of the best videos and audio players compared to other software in the market. Without further ado, let us get started.

1. Our verdict
Pros

Play different media files with smooth playback.
You get more than what you have paid.
Functional and beneficial tools.
It was trusted and loved by a lot of users.
A professional media player with user-friendly tools.
It is great, especially for playing videos.
Recommended player for everyone.
Cons

You need to purchase the full version.
Overall Rating
As an overall rating, AnyMP4 Blu-ray Player is one of the most amazing media players in the market nowadays. This player offers numerous features and functions which we will talk about in the latter part of this part. Overall, this media player is a cost-effective and effective software for everyone.
Easy to use9.5
Smooth Playback9.3
Advanced Settings 9.4
2. What is an AnyMP4 Blu-ray Player?
AnyMP4 Blu-ray Player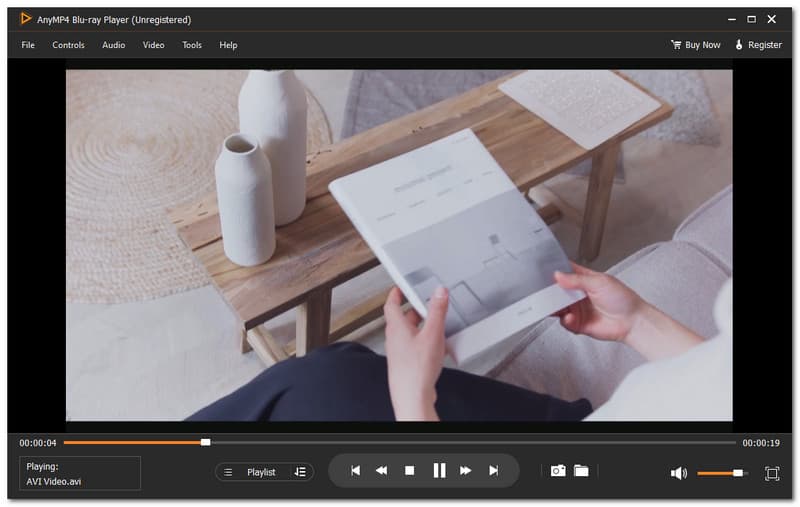 AnyMP4 Blu-ray Player is one of the most amazing and the best media player in offering a function in playing your various media files. In fact, this is an all-in-one media player that you can utilize in playing various file formats such as video files, audio files, even DVD and Blu-ray discs. AnyMP4 Blu-ray Player as a video player is capable of playing 4K and 1080p HD video files using your Windows computer. It is also compatible with playing 4K Ultra HD videos with a codec of H.265. Therefore, for that being said your immense experience of watching a real high-solution video can be brought to you by this player.
In regards to its ability in playing audio, it is also doing great and performing well. Through this software, you may now enjoy a clear and sharp playback of your favorite music anytime, anywhere.
System Requirement and Compatibility of AnyMP4 Blu-ray Player
AnyMP4 Blu-ray Player is compatible with your Windows and Mac computers. For all Windows PC users, bear in mind that it is important your Operating System is Windows 11, Windows 10, Windows 8, Windows 7, Windows Vista, or Windows XP. While for the Mac users, make sure you have Mac OS X 10.7 or above even MacOS Monterey. In addition, both platforms require at least 1GHz Intel/AMD CPU or above Central Processing Unit (CPU), plus at least 1 GB RAM or higher.
Key Features
● It is capable of playing a subtitle with your video files.
● Instant taking control of the Playback. Few clicks will allow you to swift from video to audio or vice versa.
● Enable you to play 4K UHD videos and 1080p HD movies.
● It has amazing audiovisual effects that come with advanced technology, perfect for modifying your videos while watching.
● It possesses a smooth playback in playing your audio so that you can hear it clearly.
3. AnyMP4 Blu-ray Player Review
Interface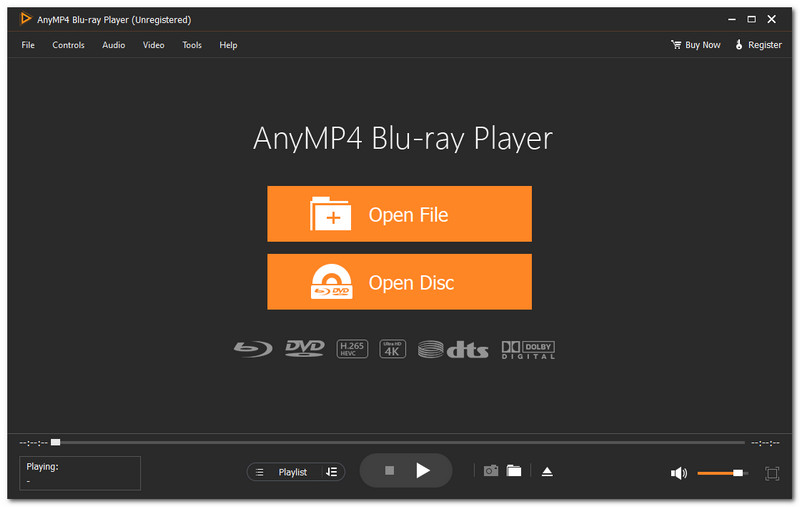 An elegant interface and simple yet powerful can be one of the factors why it can be the best media player. That is exactly what AnyMP4 Blu-ray Player poses. It has a very simple interface yet is rich in powerful tools that may be essential in playing your media files such as audio or videos. The interface has a perfect combination of the colors orange and black. The fonts used are a bit similar to another software player, however, it is not bad to see for it appealing to the eye.
Price List
This amazing multimedia player offers numerous price plans, you may purchase some depending on your needs. The cheapest price plan on the list is $18.75 for one month license for one PC only. This also offers a lifetime plan for one computer that costs only $44.25. This is a one-time fee and you can enjoy a free upgrade anytime. Furthermore, the price list also includes a Multi-User License for $66.75 that can be used for 5 PCs for 1 year that you can renew if you are satisfied.
If you are planning to purchase any license, all the payment transactions can be done via VISA, MasterCard, American Express, Maestro, JCB, and more online banking sites.
Playback Settings
In terms of playback settings, as we reviewed the AnyMP4 Blu-ray Player we found out that it is a bit similar to Aiseesoft Blu-ray Player. It does not also require too complicated configuring your settings. As long as you installed it properly, and you meet the system requirements the playback will surely be smooth.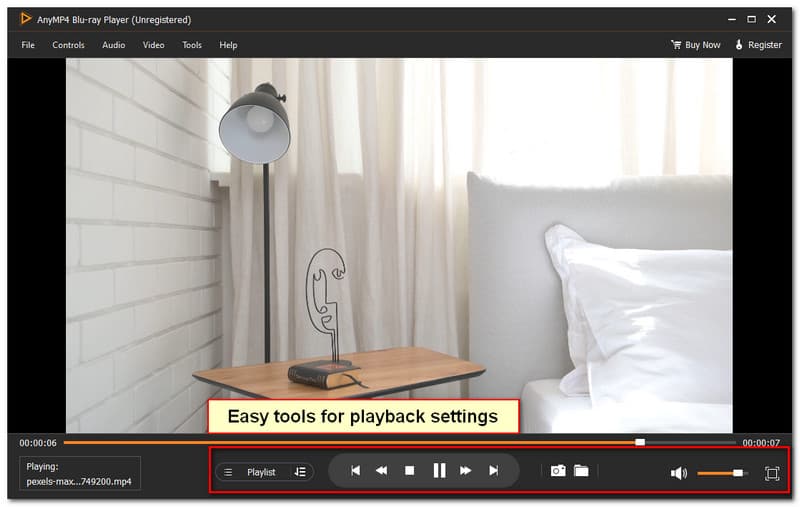 Support Media Formats
Now, let us talk about its supported media file formats. As we know, this supports playing videos and audio files including TS, MTS, MPG, MOV, FLV FLAC, WAV, MP3, ACC, and more. To see more here is a chart that shows all the supported media formats.
| | |
| --- | --- |
| Video Files | TS, MTS, M2TS, MXF, TRP, TP, MP4, M4V, QT, MOV, MPG, MPEG, MPEG2, MPEG4, MJPG, MJPEG, AVI, 3GP, 3G2, FLV, MOD, TOD, RM, RMVB, WMV, ASF, MKV, SWF, F4V, VOB, DAT, DV, DIF, WebM, MTS, TS, M2TS, TP, TRP, HD MPG, HD MPEG, HD MPEG2, HD MPEG4, HD MP4, HD WMV, and QuickTime HD. |
| Audio Files | FLAC, WAV, WMA, MP3, MP2, AAC, AC3, AIFF, APE, CAF, MPC, QCP, OGG, M4A, M4B, AUD, MKA, AIFC, RA, RAM, AU, AIF, CUE. |
Blu-ray and DVD Support
Other than the ability of AnyMP4 Blu-ray Player in playing video and audio file formats, it is also capable of playing Blu-ray and DVD discs with super incredible playback. As an overview of AnyMP4 Blue-ray Player, it can offer you the best and high-quality sound and picture quality. In addition, you will see below the support formats in playing Blu-ray and DVD discs.
| | |
| --- | --- |
| Blu-ray | BD-5, BD-9, BD-25, BD-50, BD-XL, BD-R, BD-RE, and more. |
| DVD | DVD-ROM, DVD-R, DVD+R, DVD-RW, DVD+RW, DVD-RAM, DVD-DL, and more. |
4. FAQ about AnyMP4 Blu-ray Player
Does AnyMP4 Blu-ray Player have great playback?
There are tons of reviews that state the AnyMP4 Blu-ray Player is proven to be a great multimedia player that can offer an amazing playback in playing your music or movies. Therefore, AnyMP4 Blu-ray Player is really a great choice in choosing a media player.
Am I allowed to play 4K Blu-ray on a media player?
Playing 4K Blu-ray disc allowed in AnyMP4 Blu-ray Player. In fact, this software possesses the latest Blu-ray technology that makes it possible to play your Blu-ray disc smoothly. However, you should remember that you just need a Blu-ray drive to put your Blu-ray disc on it.
How to fix file loading failed AnyMP4 Blu-ray Player?
First, you should bear in mind that you have installed the latest version of the AnyMP4 Blu-ray Player to avoid unnecessary issues. You may download the latest version through their website. If the issue still occurs, the next thing you need to check is if you are connected to a Blu-ray disc and if your computer reads the Blu-ray Drive. In addition, ensure that your disc has no damage. Overall, if the issue is not solved, go to customer service now to fix the trouble instantly.
5. Best Alternative- Vidmore Player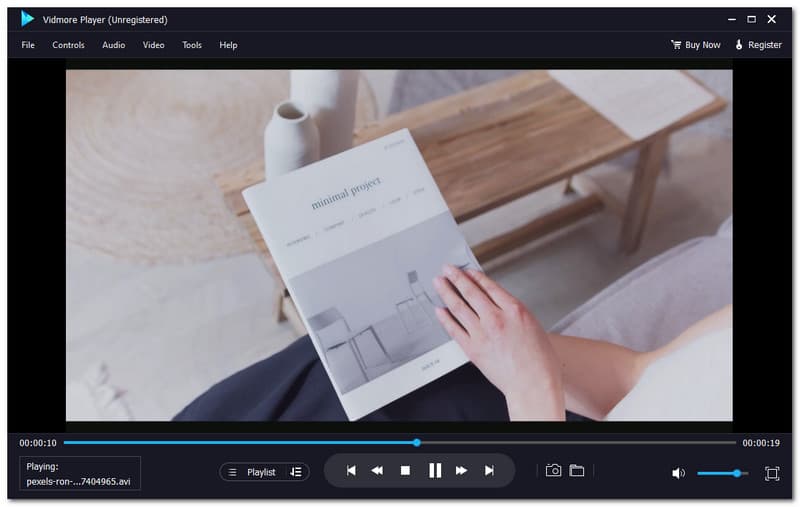 Vidmore Player is one of the interesting media players that is trusted and most loved by the users. As an overview, this all-in-one media player has the ability to provide the best solution in playing any file format you have with super high-quality videos, DVD, Blu-ray, and even audios. It is compatible with Windows and Mac computers. Furthermore, in accordance with the loyal users of it the player is capable of playing your media files with their full original quality. Therefore, Vidmore Player got your back for giving an immense quality experience whether in watching videos or listening to your music.
Just so you know, it is also one of the most fascinating players among the national media, for it attracts great reviews with different known media at the national level. This includes Softonic, TechRadar, Macworld, Chip, and more.
Conclusion
For that being presented, we knew how AnyMP$ Blu-ray Player is doing great things in offering the best features and functions for its users. Everything about it became a great factor in why it is continuously creating its name on the market. Therefore, at the end of all the things we have talked about, we can now say that AnyMP4 Blu-ray Player is a great choice in playing different file formats and also the incredible Vidmore Player. For media enthusiasts, we recommend you to try it or the Vidmore Player as an alternative. Do not hesitate to comment with your thoughts.
Did you find this helpful?
250 Votes
YES

Thanks for letting us know!
No

Thanks for letting us know!
AnyMP4 Blu-ray Playerr
All-on-one media player for Blu-ray, DVD disc, video and audio.