Review of Aiseesoft Blu-ray Player: The Most Excellent Media Player
Media players are important in many aspects of our lives. This kind of software can be a tool to entertain you or even for your work. There are tons of media players existing in the market nowadays that can offer you varied features and functions. These players are different from each other, however, possess one purpose- to help you in playing your audio and video files in any format. Among all of these media players, there is a player that we can consider as one of the best of the rest – Aiseesoft Blu-ray Player. That is why, in this article, we are going to review why it is considered an amazing media player this time. We will review its main features, descriptions, pros, cons, price, platforms, supported formats, and more. Therefore, for that being said let's start digging deep in reviewing Aiseesoft Blu-ray Player.

1. Our Verdict about Aiseesoft Blu-ray Player Review
Pros

Smooth playback for all media files.
Offers necessary features such as creating a playlist.
It plays even the highest resolution of your video files.
Responsive customer support.
Customizable templates.
Organized function in the interface.
Cons

Subscription-based.
The free version is limited in features.
Overall Rating
Prior to reviewing the Aiseesoft Blu-ray Player, the player is known to be great from the looks of its interface even to the smallest version of it about the features and functions of its. Therefore we can say that Aiseesoft Blu-ray Player deserves to be known and to be rated high. In fact, it is already happening now, because as you can see in their websites and reviews, a lot of users provide well said comments about the software player.
Easy to use:9.5
Smooth Playback:9.5
Formats Support:9.5
2. What is Aiseesoft Blu-ray Player?
Price:
$25.00 for One Month license and $36.00 for a Lifetime License Aiseesoft Blu-ray Player offers different kinds of price lists.
Platform:
Windows and Mac
Aiseesoft Blu-ray Player
Aiseesoft Blu-ray Player possesses incredible features and functions and plays your multimedia files. This media player can play almost every media file format nowadays. Through Aiseesoft Blu-ray Player, playing your video in any format, DVD, Blu-ray disc, and audio is made possible. To know more about this fantastic video and audio player, here are some of the important details that we need to know about. Let us know how much it cost you to get this and where it is compatible by knowing its system requirements.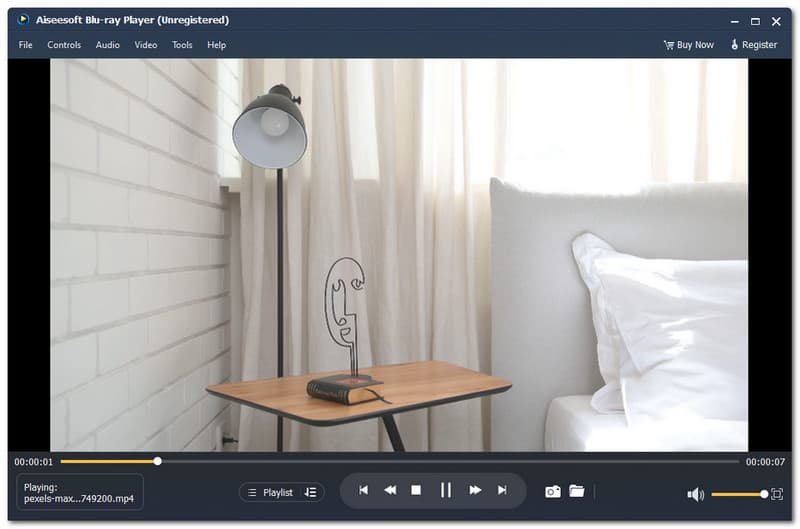 Price List
Aiseesoft Blu-ray Player offers numerous price lists that are affordable for you. The cheapest price that this player offers is only $25.00 one license a month. You may also avail yourself of a lifetime license for one PC for just $36.00. In addition, the most expensive one is for the multi-user license which is $85.00, this plan comes.
In terms of its payment, the transaction can be done via different online banking apps like PayPal VISA, MasterCard, JCB, Discover, American Express, Wire Transfer Alipay.
System Requirements and Compatibility of Aiseesoft Blu-ray Player
Aiseesoft Blu-ray Player supports Windows computers that have an operating system of Windows 11, Windows 10, Windows 8.1, Windows 8, Windows 7, Windows Vista, Windows XP (SP2 or later). Your Central Processing Unit (CPU) is 1GHz Intel/AMD CPU or above. It is also important that you should have 2G RAM or more with an Optical drive or Blu-ray drive. It is also compatible with Mac OS X 10.7 or above (including macOS Big Sur and macOS Monterey). With 1GHz Intel® processor and Apple M1 chip. 1G RAM or more, and also a Blu-ray drive.
Key Features
● Play various audio and video file formats including the most popular or even the underrated one.
● Has the capability to create a playlist of your media files to organize your library.
● It can play your audio tracks with subtitles support with the player.
● Easy customization of multiple parameter settings under your preferred effects.
● It possesses a super-fast loading speed that can play your files smoothly even when you have connected to the internet.
● It supports a drag and drop process of playing your audio and video files.
● It has shortcut functions with the use of your keyboards with your playing process.
3. Aiseesoft Blu-ray Player Review
Interface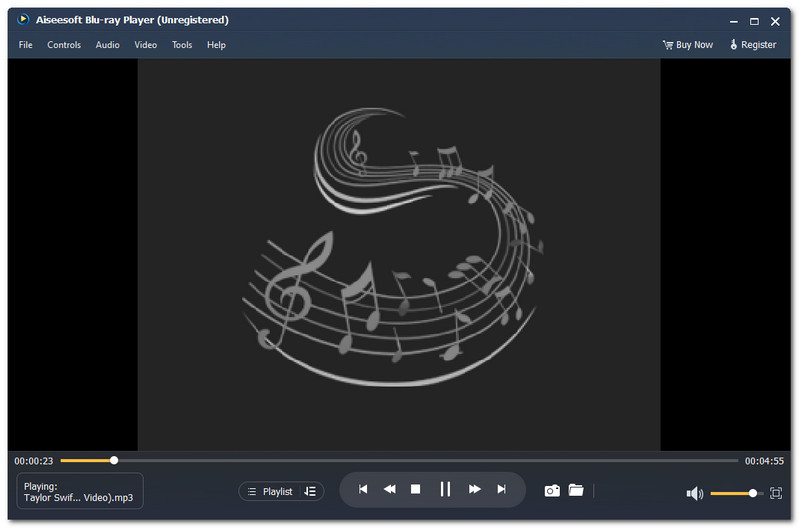 Aiseesoft Blu-ray Player possesses an elegant interface. The software has a very minimal color- a combination of black, blue, and yellow. The fonts used are very pleasing to the eyes of the user. In terms of its key functions, all the symbols are organized properly and placed rightly. To sum it all up. Aiseesoft Blu-ray Player interface is just simple and yet can offer the most amazing tool that a multimedia player can offer.
Support Formats
This media player is capable of playing almost every file format hassle-free. To present to you what is the audio and video file format it was supported, here is the chart to show you.
Supported Audio Formats
Audio File Formats
MP3 FLAC WMA AAC OGG and more
MP4 MP4 AVC HEVC MPG M4V TS, and more
Playback Settings
One of the amazing things about the Aiseesoft Blu-ray Player is that it does not require a lot of playback settings. Few of these are, the speed adjustments, volume modifications, or the pause and play button only. Also, this player is automatically playing your files with a smooth playback after you have opened or dragged your files. However, it is important to bear in mind that you meet the system requirements so that you will not encounter any issue with playing your files.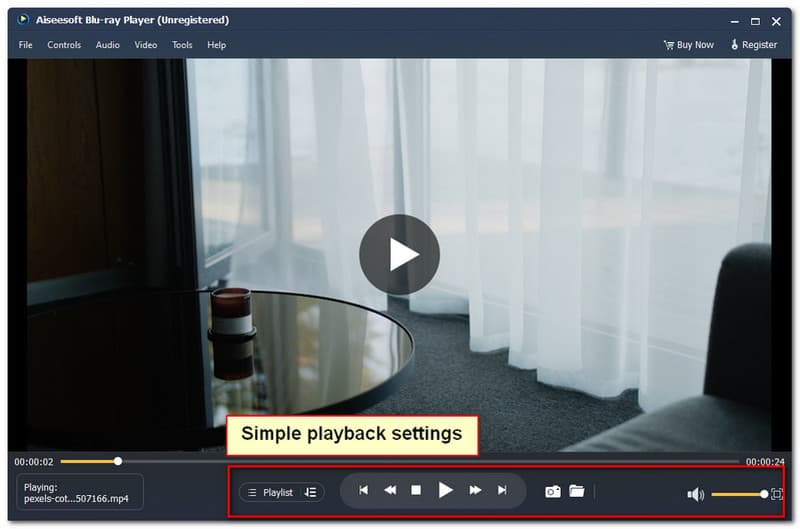 Blu-ray and DVD Support
Other than playing your different audio and video file formats, Aiseesoft Blu-ray Player also has the ability to play your Blu-ray and DVD disc. In fact, this is also defined as a professional DVD player. It is perfect for your movie marathon that can bring an immensely watching experience. Also, it can play vivid visuals for it supports playing your disc with full high definition 1080p resolution. Therefore, we can say, it is also a great player for your Blu-ray and DVD disc.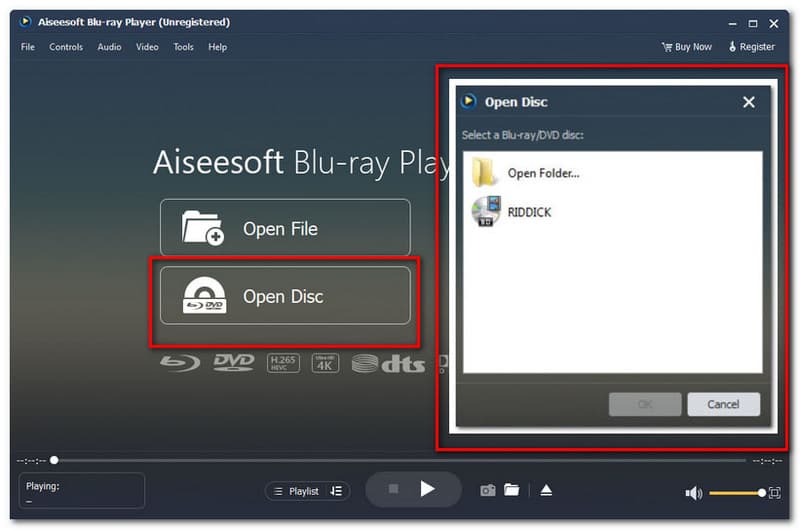 4. FAQs about Aiseesoft Blu-ray Player Review
Is Aiseesoft Blu-ray Player cost-efficient?
A multimedia player that you can enjoy for as low as $25.00 to enjoy its full features, it is surely a cost-efficient player. You get what you have to pay for with Aiseesoftware Blu-ray Player. As we know, it offers a lot of incredible features offered by this player and that is the reason why it is a cost-efficient software.
How can I play my files using Aiseesoft Blu-ray Player instantly?
Playing your audio or video files using Aiseesoft Blu-ray player can be done with just a few steps. To play our files using this player, you must open the software on your device. Then you will now see the Open File button, click it and it will lead you to a tab where you can see your files. Select the files you want to play and click the Open tab. In a simple way, the drag-and-drop process is also allowed here. Just drag your files going to the player interface and drop it to play.
How may I create my playlist with Aiseesoft Blu-ray Player?
Aiseesoft Blu-ray Player enables you to create your playlist so that all your files will be organized and can be easy to manage. To guide you. Here are the simple steps on how to create your playlist on Aiseesoft Blu-ray player. Form the interface of the player, go to the Playlist portion then click the Add symbol. After that, insert the name of your playlist and start adding the files you want to be included.
5. Best Alternative - Vidmore Player
Vidmore Player
Price: $19.95/month
Platforms: Windows and Mac
Overall Rating: 4.5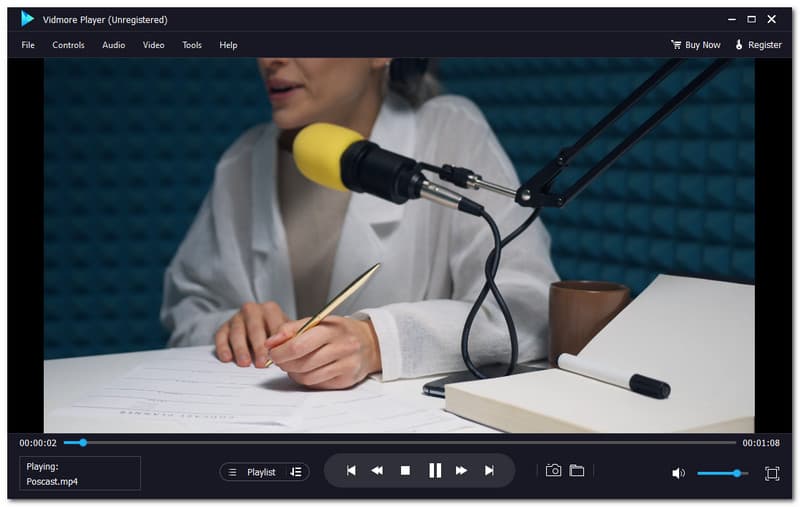 One of the best alternatives for Aiseesoft Blu-ray Player is the Vidmore Player. This can play a wide range of files in various media file formats that also supports playback of DVD and Blu-ray discs, videos, and audio with super smooth playback. In regards to playing your DVD movies using your computers. That can be easily done with Vidmore Player. For it offers a Navigation Menu with a customizable control for the title and chapter of your media files. For that being said, Vidmore Player is the best alternative to Aiseesoft Blu-ray Player.
Vidmore Player is kind of similar to Aiseesoft Blu-ray Player. These players offer both amazing and necessary features and functions for their users. However, if instances prevent you from utilizing the Aiseesoft Blu-ray Player. We highly recommend using Vidmore Player instead. We guarantee you that it will not be a regret if you choose it over any other multimedia player.
Conclusion
Through this review, we have seen the incredible features and functions that Aiseesoft Blu-ray Player can offer for its users. From its key features, pros, and cons. We can now conclude that this software is a cost-efficient media player. Furthermore, if you will go to ask the question if it is a great choice? We can say, definitely yes. While we are reviewing it, we found out that this player is one of the most recommended by the users. Download and try it now for an immense experience of playing your media files. You may also introduce Aiseesoft Blu-ray Player to anyone by sharing this post.
Did you find this helpful?
345 Votes
YES

Thanks for letting us know!
No

Thanks for letting us know!
Aiseesoft Blu-ray Player
A universal media player for Blu-ray, DVD, video and audio.