Full Guide to See Saved Passwords on iPhone in 2 Methods
We are now existing in an era where different websites and social media exist. Thus, other accounts also existed for all of us. These social media accounts include Facebook, Instagram, iCloud, Apple ID, Twitter, and more. Due to our extensive account, there is a huge chance of getting confused and losing what password we use for a specific account. These occurrences can lead us to a huge problem.
However, there will be good news for you. Saving your password on iOS can save us even though we forgot our password. It stores a secure password and can view it instantly. In line with that, this article's purpose is to help you to find saved passwords on your iPhone quickly. Check out these fantastic methods as we ease your problem.

Part 1. What is Saved Passwords iPhone
If you use your iPhone to manage every aspect of your online identity, you probably have multiple accounts, including Facebook, Gmail, MSN, Twitter, and Yahoo. Configure your iPhone to save passwords and automatically fill password fields to avoid having to type them in each time you log in. As a benefit, since we have so many logins to various apps and websites these days, it is now hard to track them all. Instead of remembering passwords, you can now view them in your iPhone Settings, which becomes possible because of Keychain. The Keychain feature secures your login information and allows you to access it from other devices. We'll show you two different ways to access the password manager on your iPhone so you can always see your login credentials when you need them.
Furthermore, Keychain securely saves your app and Safari passwords to the iCloud directly from your iPhone. This feature simplifies logins because the iPhone password manager retrieves and auto-fills them whenever required. For even more convenience, the iCloud Keychain syncs login information across all your devices, so you don't have to update passwords on your other Apple devices manually.
Part 2. How to See Saved Passwords iPhone
Since we already knew our saved iPhone password's definition, we shall now see the best methods to ease your problem. We are about to present two of the most effective ways for the process. Kindly visit the guidelines below and see what suits you the most.
Method 1. Using Aiseesoft iPhone Password Manager
Accounts and passwords are now required for everything: devices, websites, apps, emails, credit cards, and so on. Furthermore, for security reasons, most people will use different passwords for different accounts. And passwords are becoming longer and more secure than ever, which is excellent for our privacy. However, remembering all of those passwords may be more difficult. Don't be concerned! Aiseesoft iPhone Password Manager is here to help. It can scan and find your iPhone, important iPad's passwords, such as your Apple ID, iCloud Keychain, screen-time passcode, credit card information, WiFi accounts, email accounts, Google passwords, apps, and so on.
1.
Please download and install Aiseesoft iPhone Password Manager on your computer. Then, please run it immediately as we are about to start the process.
2.
To view the accounts and passwords saved on your iPhone, connect your device to the computer using a USB cable.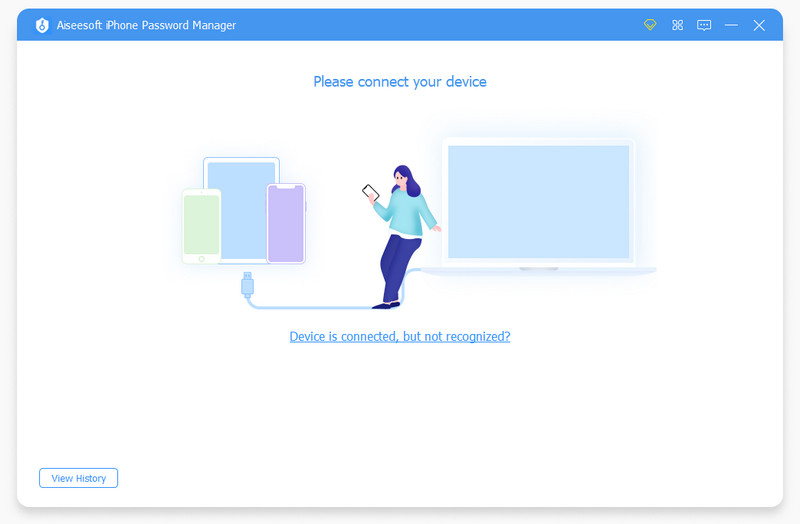 3.
Once connected, you can begin scanning your iPhone by clicking the Start button in the upper right corner.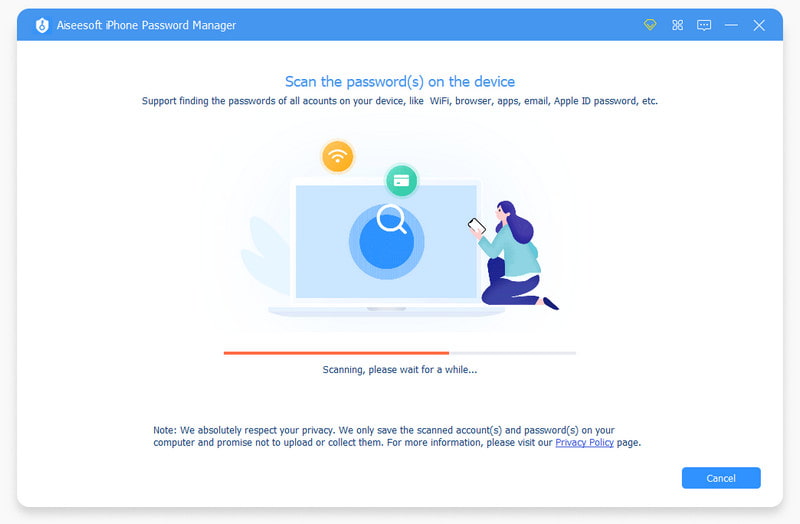 4.
In order to protect your backup, you need to create an iTunes backup password.
5.
Following the scan, you should see a list of all your account information and passwords. And they will be automatically sorted by type: WiFi Account, Web & APP, Email Account, Apple ID, Screen Time, and Credit Card. Any password can be found in this manner.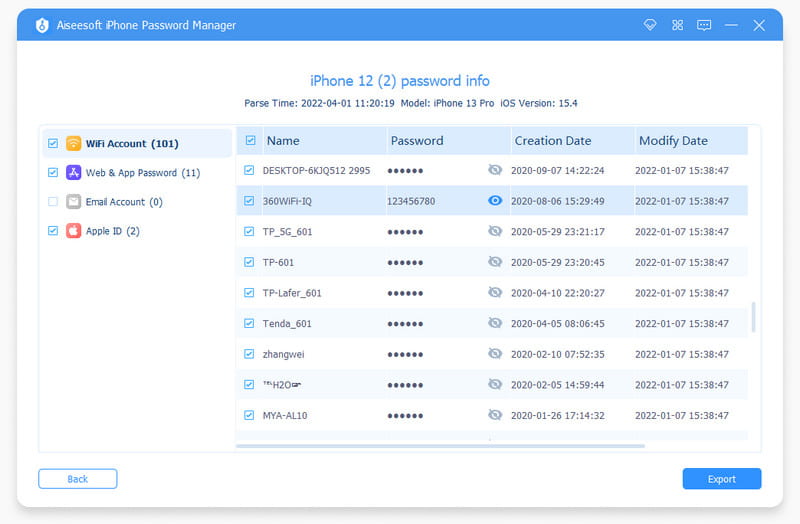 6.
As an additional step, you can choose and export any password based on your requirements. You can export the password file for backup purposes.
Those are the few simple steps we need to take as we see how Aiseesoft iPhone Password Manager performs. We can view how easy it is to look at your iOS password on iPhone with ease. In the end, we only need to ensure that you follow each step so that you will not have a problem in doing the process.
Method 2. Utilize iOS Keychain Feature
All of your Apple devices can access the iCloud Keychain. You can see the same Keychain stored details across your phones and computers as long as you are logged-in to the same iCloud account on your iPhone and Mac devices. Viewing the Keychain on an iPhone is relatively simple, as there is a setting in the Settings app to assist you. You can access all the information you've ever saved from your Apple devices with Keychain.
This information may also include logins saved from your Mac machine. This feature also provides information from your other iPhone and iPad if you have more than one of these devices. The steps below show you how to view Keychain passwords on an iPhone.
1.
As we begin, go to Settings, scroll down, and select Passwords & Accounts. This step gives you access to the passwords saved on your iPhone.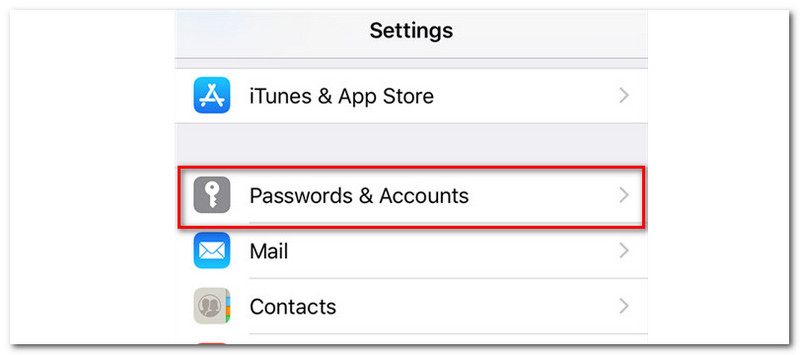 2.
The accounts associated with your device will be displayed on the following screen. To view your Keychain passwords, go to the top and select Website & App Passwords.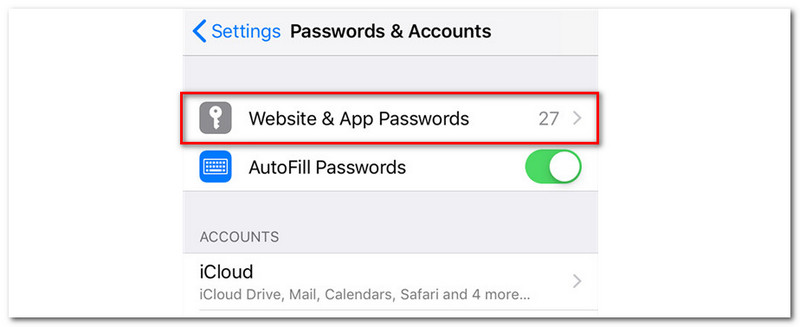 3.
You will now be required to verify your information using either Face ID or Touch ID; authenticate yourself and you will be allowed to enter.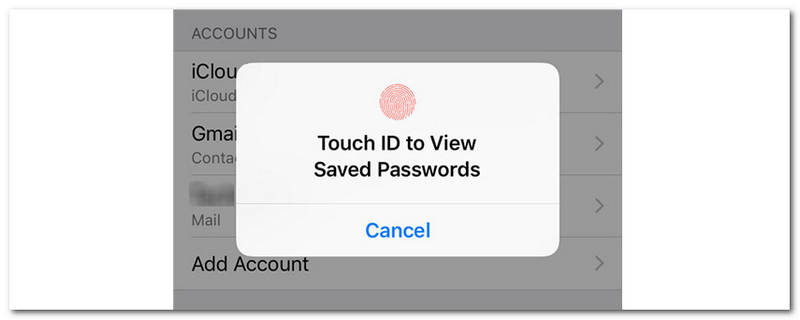 4.
You can now see all of your Keychain passwords. You can scroll down to find the log in that you require. You can also use the top search bar to look for logins for a specific account.
5.
To find the password for a specific site, select it from the list, and a new screen will appear. The password will be listed next to the Password label on this screen. That's how you view the Keychain passwords on an iPhone.

That is the feature we can utilize in our iOS devices, especially in saving and viewing the passwords for our different accounts. Incredibly, viewing our passwords can be done easily whenever we forget them. For that, we can now say that this keychain feature is beneficial.
Part 3. FAQs about How to See Saved Passwords on iPhone
Can I edit or update the saved password on my iPhone?
Yes. As we make it possible, you only need to launch the Settings and go to Password and Accounts. Then, go over the Website and App Password among the options. From that, the device will show you the different passwords saved on your iPhone. Thus, we need to click the Edit now. That step will allow you to modify or update the password on your iPhone.
How can I use Siri to view my saved password on my iPhone?
First, you need to tell Hey Siri to trigger the feature. After that, ask the virtual assistant to Show all my passwords using a command. Then, you can also ask Siri for specific passwords. Say something like, show my Gmail password or Twitter password. After authenticating with Touch ID or Face ID, you will be sent to Settings, where you may view, copy, or AirDrop your credentials. Those simple steps are why to command Siri to show your saved password on your iPhone device.
Does iCloud have the ability to save my password credential?
Yes. iCloud is one of the most trusted storage for IOS devices that can back up our data or files. IN line with that, it can also save our passwords immediately. We have an iCloud Keychain feature, which stores your password for an immediate log-in process on your iPhone. In addition, it can also be a great way to view your password whenever an issue occurs, like forgetting it.
Conclusion:
At the end of the guidelines, we can say that these few methods are very effective in easing and answering our question about viewing saved passwords on an iPhone. For that, forgetting and retrieving your account will not be a problem anymore. We should be thankful for the future of our iOS, which stores all of our essential information. In addition, it is also proven how Aiseesoft iPhone Password Manager is practical and very helpful in managing the situation. Therefore, if you think this article is valuable and beneficial, you can now share it with someone who might need it. You can also visit our website for a lot of tips and tricks about your devices.
Did you find this helpful?
341 Votes
YES

Thanks for letting us know!
No

Thanks for letting us know!
Aiseesoft iPhone Password Manager
Find, view, and export various types of passcodes saved on your iOS devices.