Finding Apple ID Password with Ease using the Best Recovering Software
Our Apple ID password possesses a significant role in making our iPhone or any Apple product productive. It is also crucial to keep it secure and safe to prevent harmful endeavours. We also know that this password possesses different elements and characters, and sometimes due to the complicated combination of our passwords, we barely forget it. That occurrence can lead us to severe complications, especially with accessing the Apple services within our iPhone. In line with that, this article proposes to help you find an Apple ID password with ease and more minor complications. Kindly read the method and details below to understand the problem and the solutions we can follow to alleviate the issue. Please be mindful of every fact to make the process successful. Without further discourse, here is the best solution we need to find an Apple ID password with ease.

1. What is my Apple ID Password
An Apple ID Password is a piece of information that possesses a considerable role in our Apple account. Your Apple ID password is significant because it is the doorway for accessing different Apple services such as iTunes, Apple Music, iCloud, and more. In line with that, many Apple users are asking, what are Apple ID password requirements?
As we answer that, your password must contain eighty characters and more, a digit, an uppercase letter, and a lowercase letter. These elements help make your password more robust and hard to guess by other users. However, it is also important not to forget your Apple ID password. This event can bring us complications, especially in accessing services we need for our Apple services.
Without this account, there will also be no productivity on our phones. In most short words, your Apple ID password is a key to utilizing your iPhone productively and maximizing it essential.
2. What to Do If We Forgot Your Apple ID Password
Solution 1: Go to iForgot.apple.com
The Apple company offers tremendous support to its users. One of these is the website of iforgot.apple, a web page that we can easily use to reset our Apple ID password if we forget it. This method is easy to follow as long as you know your Apple ID username. Please proceed with reading the article as we try to fix it using web page support.
1.
Go to the ifogot.apple.com web page as we begin the process of resetting.
2.
From its main interface, you will see a typebar where you need to enter your Apple ID.
3.
Below the bar, you will see a piece of information that says If you forgot your Apple ID, you could look it up. Select it, then tap on the Continue button.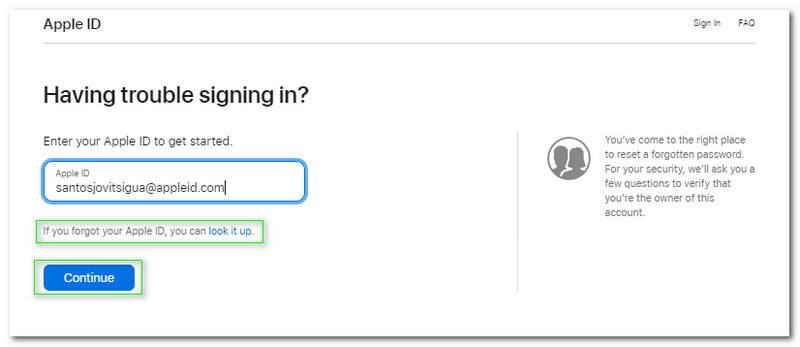 4.
The next step we need to take is to provide the information on the screen. To be specific, you need to enter your name, last name, and email address. After providing this information, click the continue button to proceed with the next step.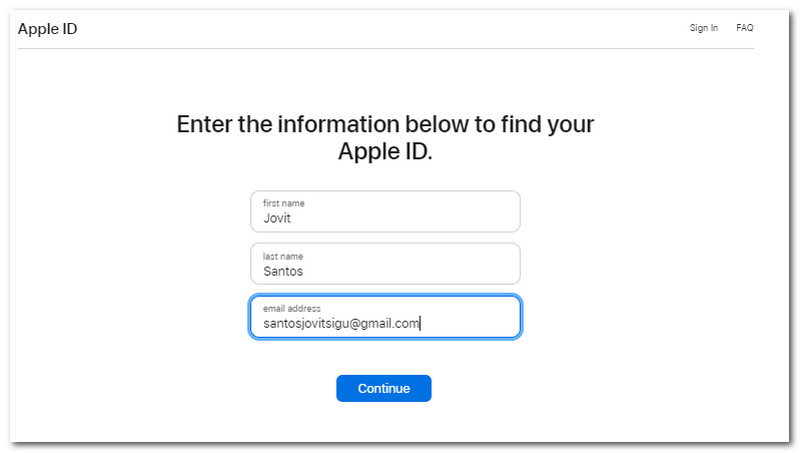 5.
The website will now confirm that your Apple ID is Found as verification that your account exists. From there, please click the button to Go to Your Account.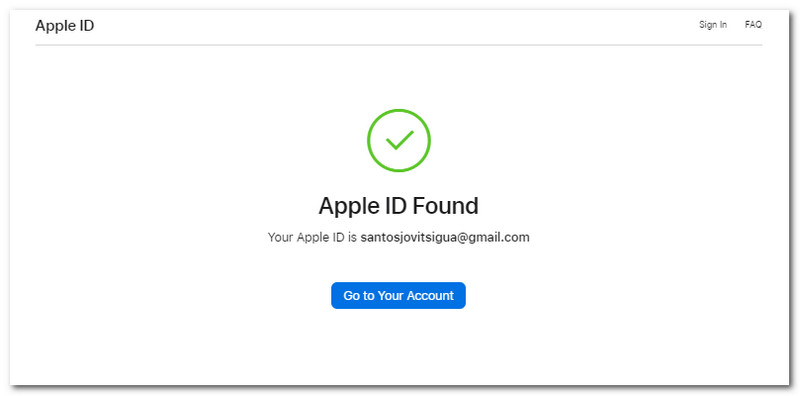 6.
If you confirm that your Apple ID exists, it is time to select the option to fix the trouble with your Apple ID by entering your Phone Number. After it, please select the Continue button.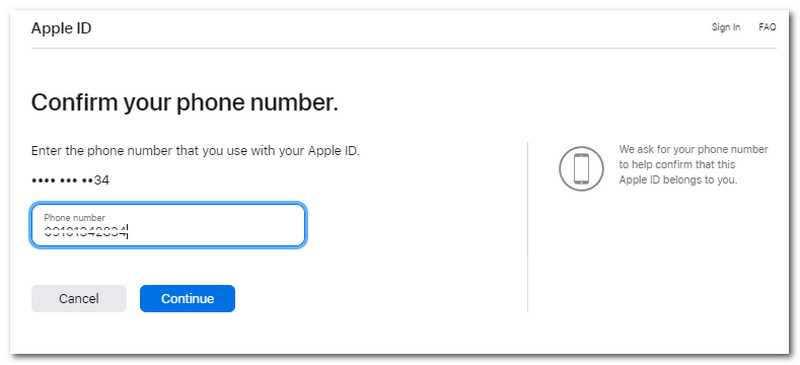 7.
It will now direct you to a new tab to see different options. You can choose the Reset your password while signing in on a new device, Use someone else's IOS Device, or Use an iOS device at an Apple Store. Then click the Continue button below the option.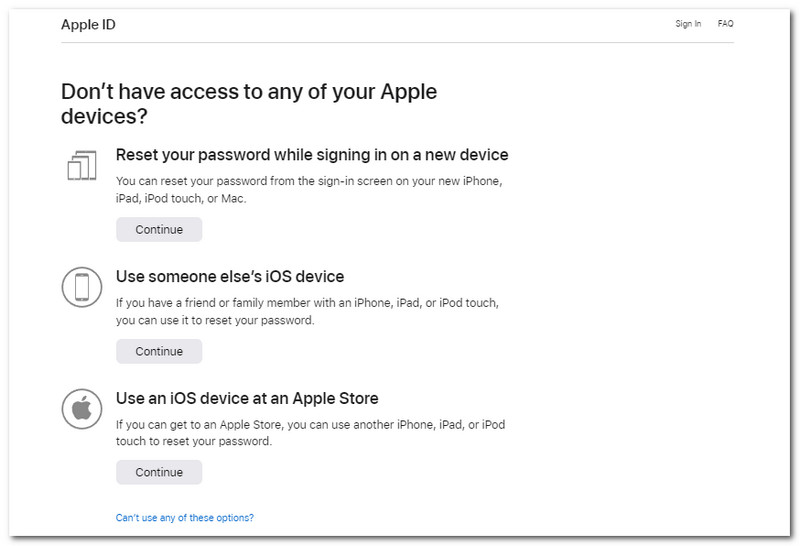 8.
After following the on-screen steps for resetting your password, it is now the time to sign your Apple ID once again and update the password using the Settings of your devices.
What are the steps in using the iForgot.apple.com website. The process is only easy to follow as long as you provide all of the information needed. We can experience problems if only we cannot produce this information. In the end, this solution is a great way to follow.
Solution 2: Find Apple ID Password using Aiseesoft iPhone Password Manager
On the other hand, we also have great software that we can use to find your Apple ID password with ease. Without complication, it is now possible to find and see your Apple ID password. In line with that, Aiseesoft iPhone Password Manager is a great help in making the process possible. This tool possesses a remarkable feature that aims to solve any issue with our password. Indeed, this tool is a powerful manager for our passwords that can export any passcodes. That is why, in this solution, we will see its ability to alleviate your trouble. Kindly visit the steps we need to take for our Apple ID password.
1.
Install the Aiseesoft iPhone Password Manager to your computer and see its main interface.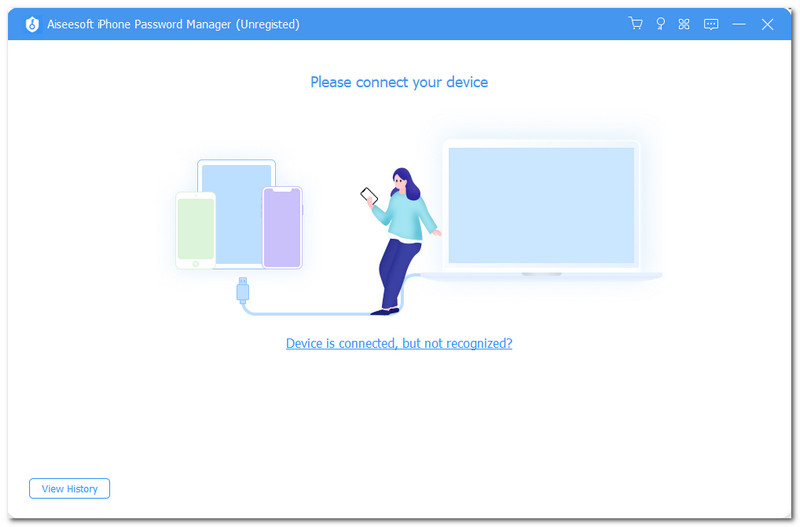 2.
We need to connect our iPhone device to our computer using the USB cable in the second step. This action will allow the software to quickly read and access your iPhone to fix the Apple ID password problem. You will see that your iPhone is correctly connected to the computer when the manager is about to scan your iPhone. Please click the Start button to proceed with the process.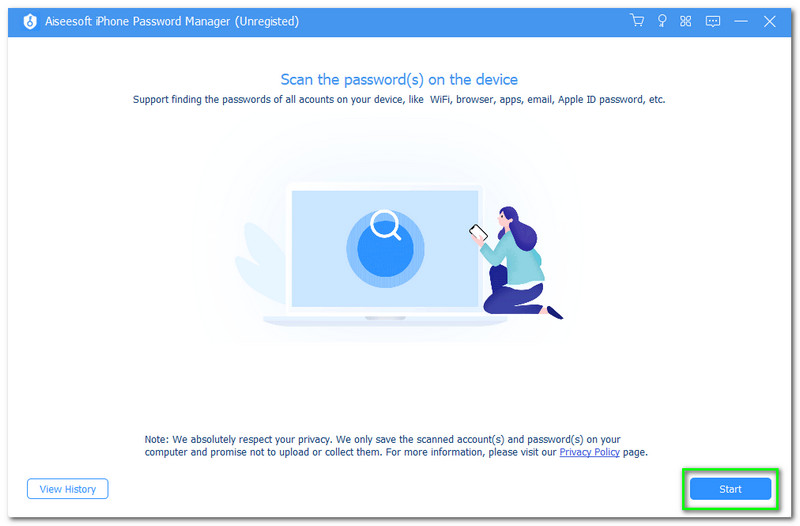 3.
After that, it is now the time when we need to enter our iTunes backup password. It will serve as your backup for your file within your iPhone. Type the password and wait for the verification. Please click the Enter Password to continue the process if you are good to go.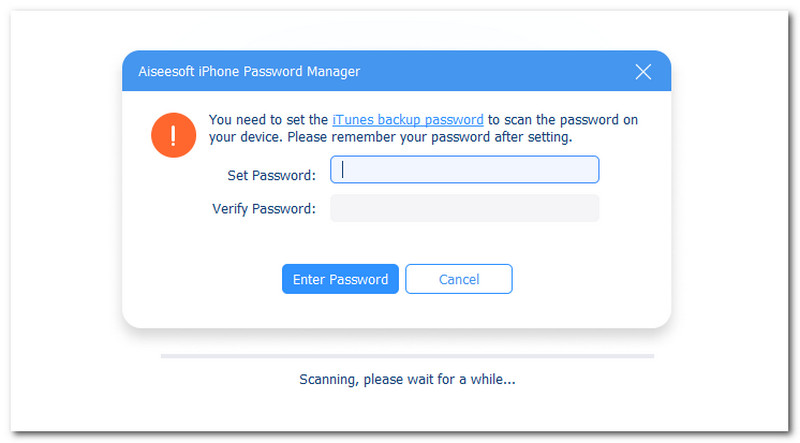 4.
The act of entering your iTunes will result in the scanning process. We only need to wait for a few moments, and then the process will be good to go.
5.
Then, if the scanning process is now complete, you will now see the different passwords of your various accounts, including WiFi Accounts, Email Accounts, Web & App, Apple ID, and Screen Time. Since We would like to find an Apple ID password, please click the Apple ID among the options.
The excellent Aiseesoft iPhone Password Manager brings that effective solution to you. We can see how effective the software is in quickly resolving and finding your password. That means we can now sign in our Apple ID to utilize the Apple services with ease. This process is much easier and more practical; we only need to insert our iTunes password for backups. As in the overall outcome, it is a great solution that can help us with our problem.
3. FAQs about How to Find Apple ID Password
Can I use my email account to reset my Apple ID password?
Yes. Using your email account and your phone number is a great way to use if we are planning to reset our Apple ID password. All we need to do is enter the information through iforgot.apple.com, and a verification key or security key will be sent to you through your email or text messages.
What is the standard solution I can do using my iPhone if I forget my Apple ID password?
The most common thing you can do to solve the problem of forgetting your Apple ID password is by going to your Settings. You may use your device to reset it. Tap your Apple ID account, which is most commonly at the top portion of the settings. Then, locate the Password & Security and see the Change Password. Follow the onscreen instructions and update your password.
Does the Find My iPhone feature can be used for fixing forgotten Apple ID passwords?
Using Find My iPhone feature is also a great solution if you forgot your Apple ID password. Open the feature, and select the Forgot Apple ID or Password. After that, you may now provide the steps needed on the screen to update your Apple ID. However, once you cannot fix it by using Find My iPhone, you have to remove the Apple ID and reset with a new one.
Conclusion
There you go. It is a blast knowing the best solution with the best recovering software we can use. We can see the outstanding performance of Aiseesoft iPhone Password Manager for fixing our problem with our Apple ID password. Indeed, the software is the most suitable medium for easing the situation. Therefore, we hope this post helps you make the finding process possible. Please, do not forget to help friends who are experiencing the same problem by sharing this post. Furthermore, you may also visit our website for more helpful solutions and tips for your devices.
Did you find this helpful?
214 Votes
YES

Thanks for letting us know!
No

Thanks for letting us know!
Aiseesoft iPhone Password Manager
Find, view, and export various types of passcodes saved on your iOS devices.