3 Different Ways to Remove Boot Camp from Mac
Apple allows you to install a Windows system on your Mac for working, gaming, or other purposes through the Boot Camp Assistant. Boot Camp is a free multi-boot utility mainly designed to run two different operating systems on a Mac. You can use it to operate Windows and macOS on one Intel-based Mac. However, for different reasons, you need to remove Boot Camp from Mac.

This post tells three effective methods to delete Boot Camp from a Mac. When you don't need the Windows partition and Boot Camp anymore, you can select your preferred way to uninstall it.
Part 1. How to Delete a Partition with Boot Camp Assistant
Boot Camp Assistant is used to create and manage partitions. It allows you to download a Windows system and install it on the partition. Also, you can use it to delete a Boot Camp partition on your Mac with ease. If you have any valuable data in the Windows partition, you should back up your Mac using Time Machine and then follow the steps below to delete Boot Camp from Mac.
1.
Open a Finder window on your Mac and go to the Applications folder. Please scroll down to locate the Utilities and open it.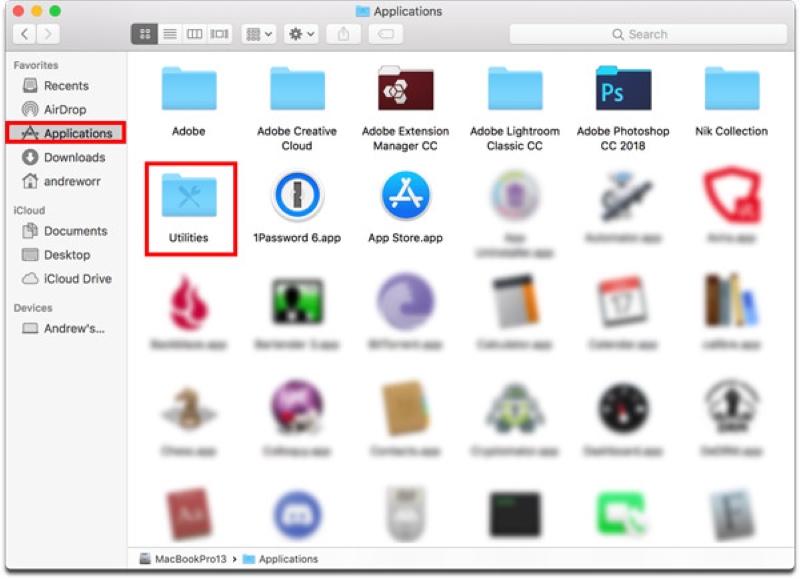 2.
When you enter the Utilities folder, find and open the Boot Camp Assistant. Click on the Continue button to move on.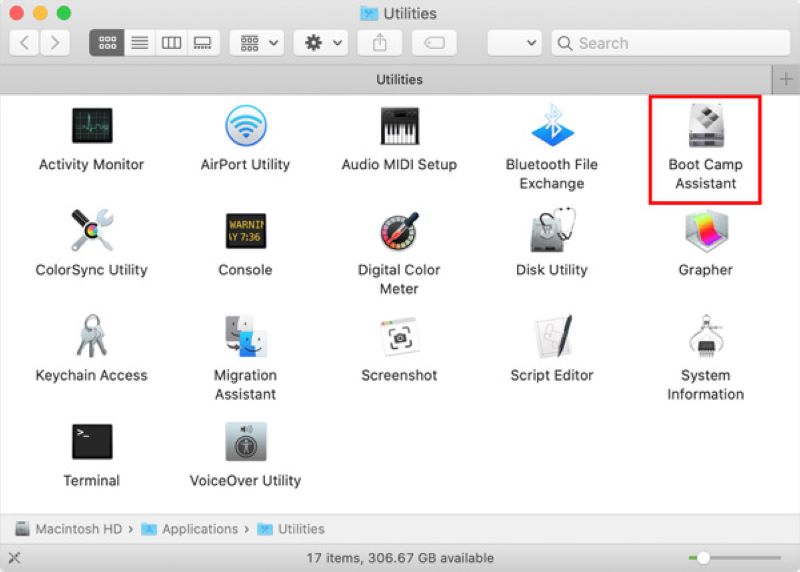 3.
If your Mac has one internal disk, you can directly click the Restore button to delete the Windows partition. If there are multiple internal disks on your Mac, you need to choose the Windows disk, select Restore Disk to a Single Volume, and then click the Continue button.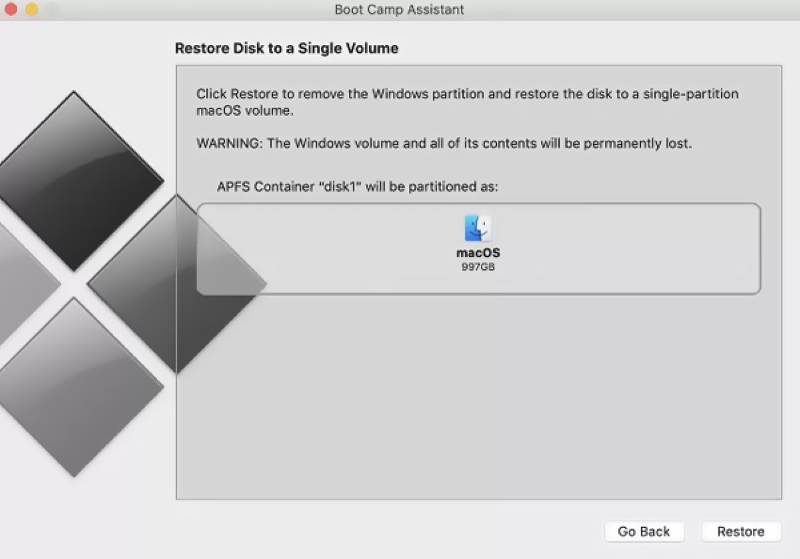 4.
You are required to enter the admin password to confirm the partition removal. After that, you will see the status of the partitioning disk. When the whole process is finished, Partition Removed message shows. Click the Quit button to close the window.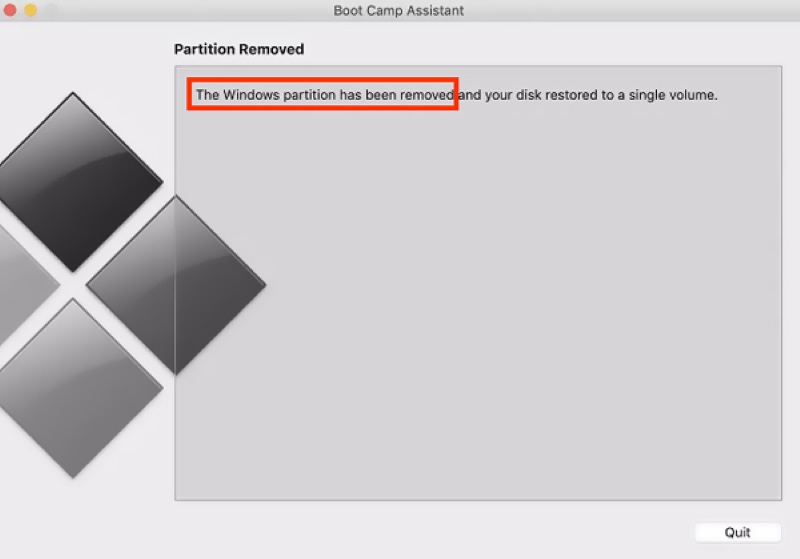 Part 2. How to Remove Boot Camp from Your Mac Using Disk Utility
You can also use the Disk Utility to uninstall Boot Camp on your Mac. Mac's disk manager can add or delete partition disks and volumes and restore and erase internal disks and external storage devices. You can take the following guide to remove Boot Camp from a Mac using Disk Utility.
1.
Navigate to the Applications folder and then enter Utilities. Locate Disk Utility and double-click to open it. Also, you can press Command + Spacebar to arise the Spotlight search and then use it to open Disk Utility quickly.
2.
Select the Windows Partition on the left sidebar. Click the Erase button to delete this Boot Camp partition from your Mac.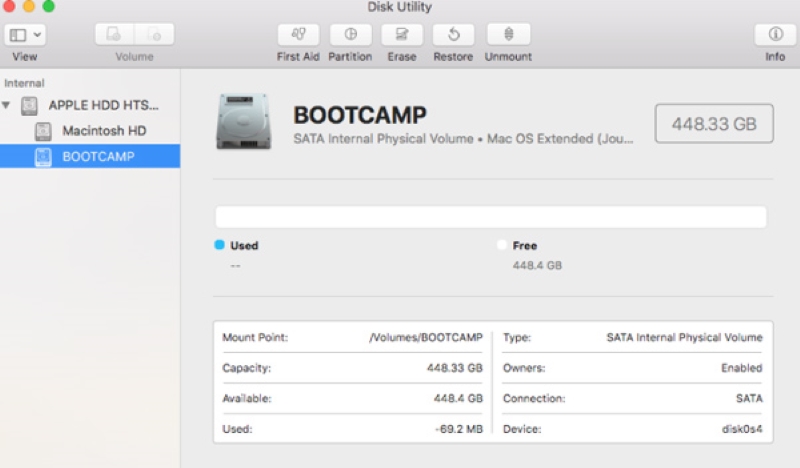 Part 3. Professional Way to Uninstall Boot Camp on Mac
When you want to quickly delete Boot Camp from a Mac, you can also use the powerful Aiseesoft Mac Cleaner. It is specially designed to clear all types of files and applications on Mac. It can help you uninstall Boot Camp on Mac, manage Mac storage space, optimize performance, protect Mac, and more.
1.
This recommended Mac Cleaner is compatible with all macOS versions. You can free install and open it on your Mac. It gathers all its features in 3 categories, Status, Cleaner, and ToolKit. If you want to know the current status of your Mac, you can choose Status.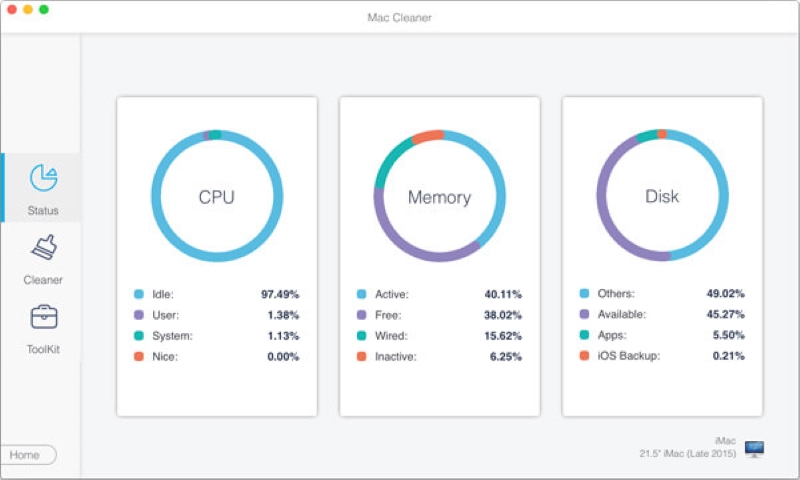 2.
You can go to the Cleaner feature to completely remove the Windows partition, system junk, duplicates, caches, and other unwanted files from your Mac.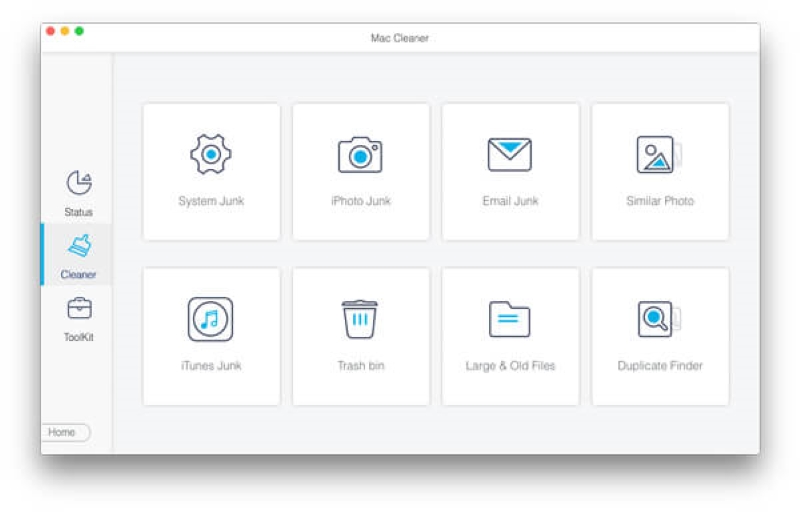 3.
You can enter its ToolKit and access more valuable tools, such as Uninstall, Optimize, File Manager, Hide, Privacy, and more.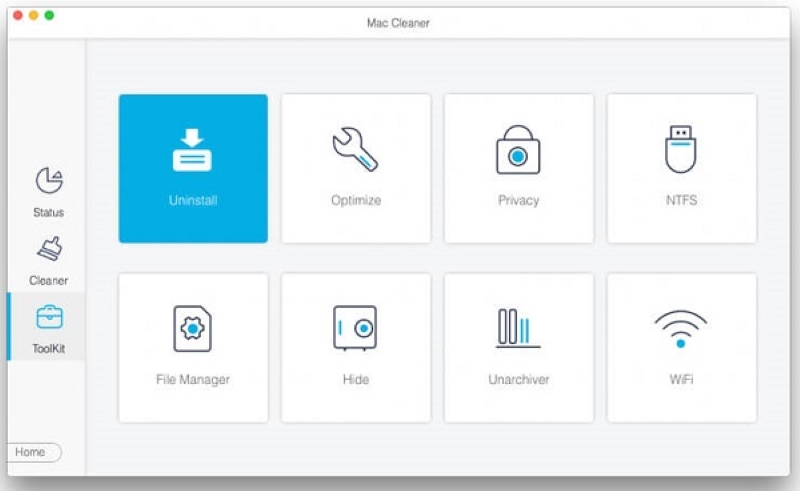 Part 4. FAQs of How to Delete BootCamp from Mac
Can I create a Windows system on my M1-based Mac with Boot Camp?
Boot Camp can only create and install a Windows system on an Intel-based Mac. It needs the Intel architecture to create Windows partitions. So, you can't use Boot Camp to install a Windows system on an M1 Mac.
Is there any good Bootcamp alternative to run Windows on Mac?
If you are using an Intel-based Mac, you'd better use the official Boot Camp Assistant to run Windows. Indeed, many Boot Camp alternatives are offered on the market, such as VirtualBox, Wine, Parallel Desktop, and more. You can rely on them to run Windows on your Mac.
How to delete Windows 10 partition from my Mac?
When you need to delete a created Windows 10 partition from your Mac, you should use Boot Camp. Open Finder on your Mac, search for and open Boot Camp. When you enter the Boot Camp Assistant window, click the Continue button to find the different partitions you have created on this Mac. Under the Select Tasks, you can select the Install or Remove Windows 10/8/7 option and then click on the Restore button to confirm your operation.
Conclusion
This post has mainly talked about how to remove Boot Camp from Mac. You can learn three different solutions to delete Boot Camp partitions from a Mac. If you still have questions about Boot Camp, you can leave us a message in the comment.
Did you find this helpful?
521 Votes
YES

Thanks for letting us know!
No

Thanks for letting us know!