10 Best Sites and Apps to Play Free Spider Solitaire and Other Card Games
Classic games are your go-to when you want a low-stress way to pass the time. This includes free spider solitaire, which you can download or play online easily. Fortunately, Windows and other operating systems have these games with various options to play. Windows 10 and 11 include the classic games as default on the system, including Klondike, FreeCell, Spider, and Pyramid. The game starts easy for most players, but you can choose a difficult level to challenge your mind. If you are a huge fan of spider solitaire, you can find more games in this article.

1. 5 Free Online Spider Solitaire
Spider solitaire was first released in 1949, originating from the phrase a spider's eight legs which referred to the eight foundation piles that needed to be filled. The rules are simple: assemble 54 cards in order before removing them from the table. But given its popularity, the game has existing variants like Simple Spider, Will o' the Wisp, and Spiderette. Microsoft included the standard software versions of Spider in many versions, such as Windows 7, Vista, and even old versions like Windows 98. On the other hand, you can play Spider Solitaire online for free with no registration.
Solitr.com
Price: Free
Platforms: Windows/Mac
Developer: Sinopia Olive Limited
Release Year: 2011
A simple webpage that provides free games of cards. Aside from the normal games of cards, Solitr.com also offers Mahjong and Sudoku. Each game has difficulty options, which you can change from easy to hard. If you are starting to play, click the Help button to reveal the how-to instructions. Unlike other popular gameplay sites, Solitr.com does not show how much time you spend playing the games. Instead, it allows you to enjoy playing without being bothered by the time limit or duration.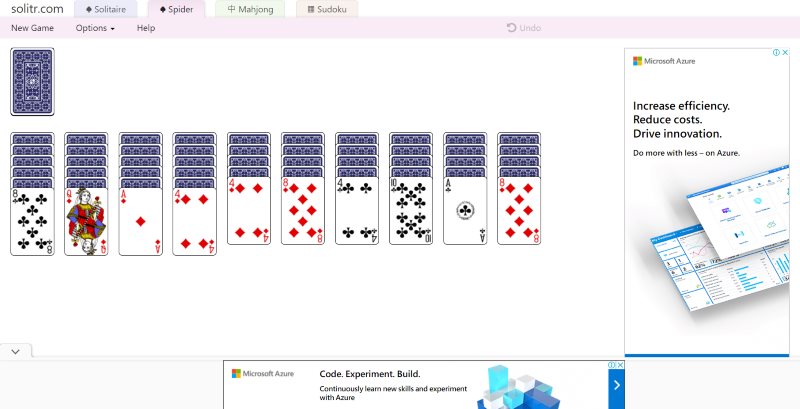 Pros

No registration to play online.
Offer alternative games.
Cons

Advertisements are bigger than the game.
Limited game options.
Spider Solitaire - Play Online
Price: Free
Platforms: Windows/Mac
Developer: TreeCardGames
Release Year: 2011
This website has four main games for Spider Solitaire: Scorpion, Spider Four Suits, Spider One Suit, and Spider Two Suits. The website has a spider background with a few controls at the bottom to choose games, restart a new game, undo moves, and hint. It also lets you keep track of the playtime with the timer in the upper-right corner. The games do not have difficulty options, but winning is challenging and an excellent brain teaser.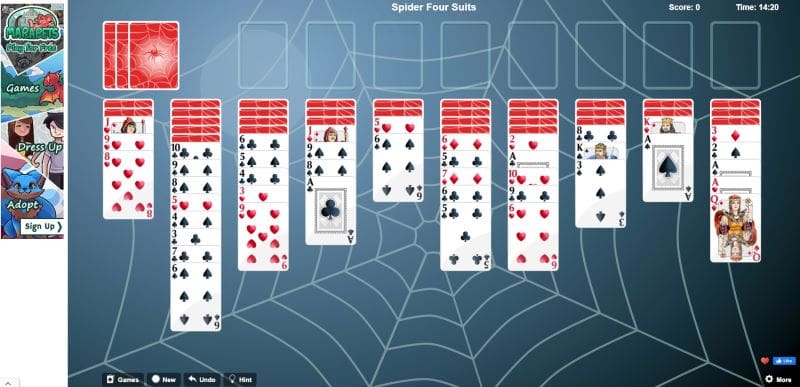 Pros

Customizable appearance with many design options.
Offer about 700 free games from various websites.
Notify users when there is no move left.
Cons

Almost impossible to win one game.
3Solitaired
Price: Free
Platforms: Windows/Mac/Android/iOS
Developer: Neal Taparia, Darshan Somashekar
Release Year: 2020
A newly-released website with a unique look of green background to give you the feeling of playing in a casino. Solitaired was created in 2020 by two developers, aiming to provide card games to card fans. The online site consists of various games, including cards, mahjong, and word games. You can play all your favorites without having to log in or pay. Since it has more than 500 online games and you can try them anytime, scroll down to see the complete guideline.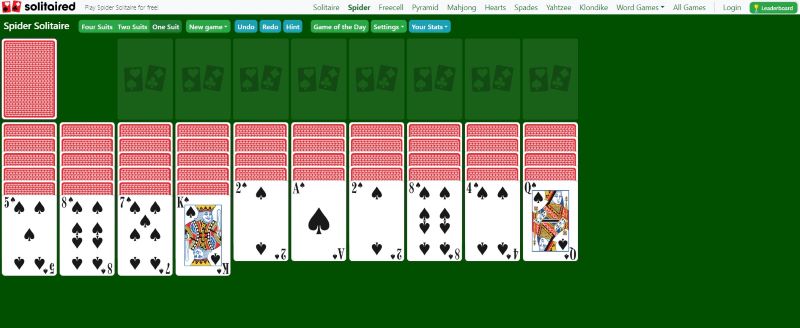 Pros

Feature Game of the Day for the most played game.
Leaderboard to climb up the ranking.
Let the player create their card design.
Cons

Game progress is not saved.
Spider Solitaire: Free Online Card Game
Price: Free
Platforms: Windows/Mac
Developer: spider-solitaire-game.com
Release Year: 2009
Pass the time with this card game website. It is a free game with three options: 1 suit, 2 suits, and 4 suits. The interface is designed with a wood background and a perfectly aligned tableau. The game starts by choosing difficulty, and the timer will start when you move a card. It also records the recent score so that you can beat your record. Additionally, you can turn on or mute the music to your liking.

Pros

Controls are provided below the main game.
Offer complete instructions on the website.
Cons

Only allow players to undo one move per game.
Interrupting advertisements.
World of Solitaire
Price: Free
Platforms: Windows/Mac/Gopher
Developer: robert@telparia
Release Year: 2007
One man created a world of Solitaire to get 30 players daily. Within a few years, the website gained over 200 000 players per day and continues to grow. No wonder, because you can enjoy the game with various designs for the deck of cards and background. It also has advanced settings to change the autoplay, suit order, layout, and game information. World of Solitaire is downloadable for PC, but you can only download it from the About menu.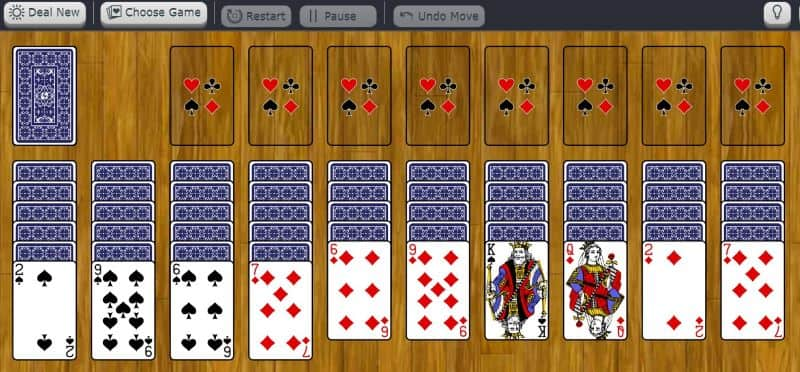 Pros

Beautiful decks and background.
Support a wide range of languages.
Cons

The overall look is a bit outdated.
Part 2. 5 Free Spider Solitaire Download
As a fanatic, playing your favorite games is enjoyable in your free time. So instead of opening your browser and looking for free solitaire, you can download one and play it offline. Here are the recommended apps to install on Android, iOS, PC, or Mac.
Spider Solitaire: Card Game
Price: In-app purchase
Platforms: Android, iOS, iPad
Developer: MobilityWare
Release Year: 2019
With the classic Spider Solitaire, the app is recognized as one of the best for many players. It can be downloaded for free with unlimited play to weave the player's way through new challenges. As a player, you can practice the game by starting at the beginner level, and you can continue stacking suits until you reach 4 suits and hard levels. Once you finish a round, a playful animation will celebrate your victory!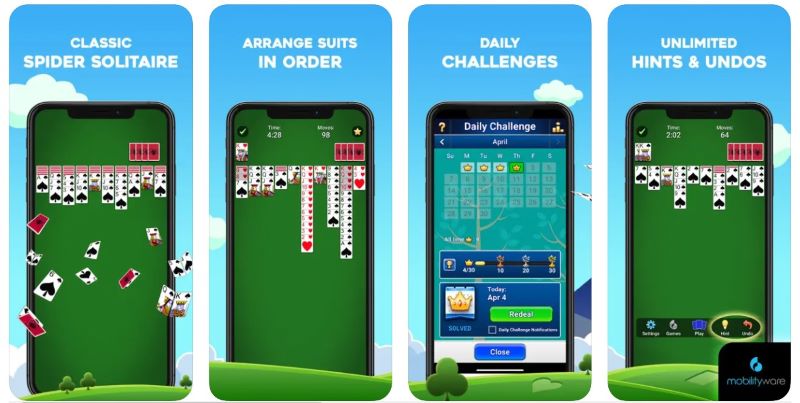 Pros

Easily stack cards with smooth tap movement.
Receive regular updates with new challenges.
Cons

Too many ads and expensive subscriptions.
Solitaire Spider - 2023
Price: Free
Platforms: iOS, iPad
Developer: Gamebastic
Release Year: 2023
Enjoy classic games on your iPhone or iPad, like Solitaire, pyramid, and more. You can easily learn the games with the provided simple instructions. You might love to have this app on your device because of its improved card sizes, variety of levels, and offline play. The best part of Solitaire Spider-2023 is that it has daily challenges and goals to get trophies per day. This is a newly released game, but it has also gained popularity among fans.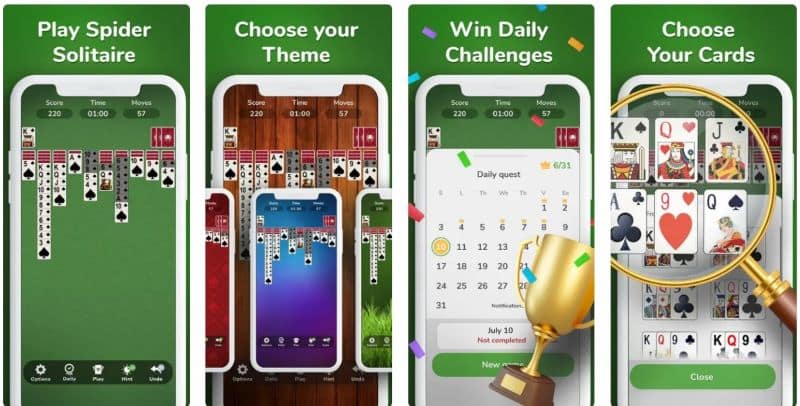 Pros

Free without in-app purchase.
New games update monthly.
Cons

Not supported by other platforms like Android.
Solitaire Ocean - Offline Game
Price: In-app purchase
Platforms: Android, iOS
Developer: Shanghai Zhenglang Technology Co., Ltd.
Release Year: 2021
This app is a must-try on your mobile device for a new look and an exciting solitaire game. Solitaire Ocean takes the classic card game to another level, allowing players to build their dream aquarium. It is a good alternative to online games because you can play it without connecting to an internet network. Moreover, players can discover unique aquariums by beating a level. A great brain teaser awaits you.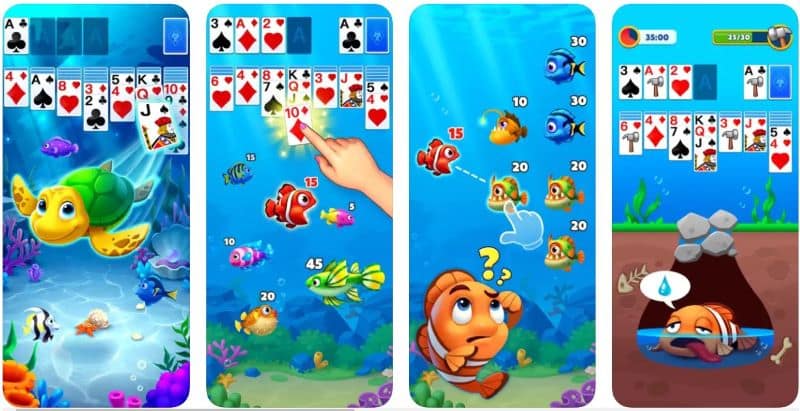 Pros

Beautiful animation after a goal.
An enjoyable game without a time limit.
Everyday rewards like free coins to buy decorations.
Cons

Glitches occur after every ad.
Presumed to be a scam and is not paying the players.
Spider Solitaire - 1bsyl
Price: Free
Platforms: Android, Windows
Developer: 1bsyl
Release Year: 2013
Unlike other apps, Spider Solitaire by 1bsyl has no forced ads to keep the app running. It is one of the oldest card games for Android since 2013, with about 117,000 reviews from Google Play alone. Of course, the app runs because of ads, but many players are happy to play because there are no ads to interrupt. Instead, you can only see a small advertisement in one of the corners. truly a simple app to pass the time.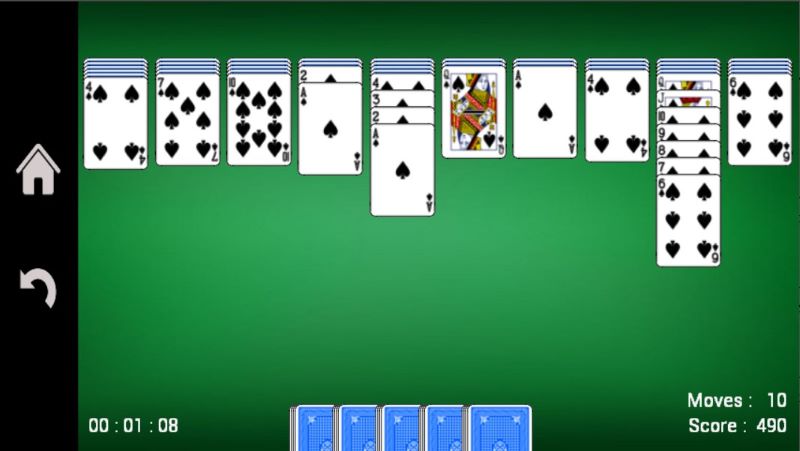 Pros

Classic Spider Solitaire game with great graphic designs.
The app does not sell data from players.
Cons

Frequent problems in controls and navigation.
Spider Solitaire - Brainium Studio
Price: Free, In-app purchase
Platforms: Android, iOS, iPad
Developer: Brainium Studios
Release Year: 2012
This Spider Solitaire app was developed in 2012, making it one of the oldest apps to play. It keeps up with the new technology by being updated regularly. It has exciting new adventures but lets players relax and enjoy the gameplay. With the custom options, you can design the background and decks to your preferences. On the other hand, more challenging levels are available once you finish the first part.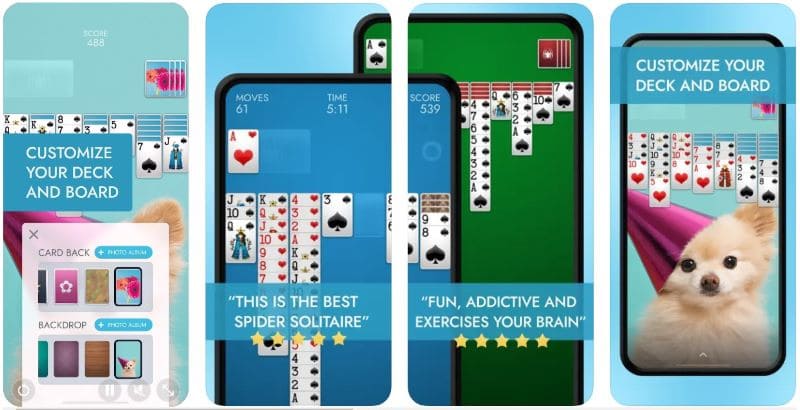 Pros

Support landscape, portrait, and left-handed modes.
Save the current game automatically, and the player can still resume it.
Global leaderboards for the top players around the world.
Cons

Some interface modes do not fit all the cards on the screen.
Obnoxious promotions even after purchasing the pro version.
Part 3. FAQs about Free Spider Solitaire
Where to find built-in Spider Solitaire on Windows?
Owning a Windows PC or laptop means you can play your favorite card games. Search Solitaire & Casual Games and hit Enter. Pick a game from the collections and choose the difficulty level. This built-in app is available for download on Android and iOS. Take note; you can only access the games if you are online.
Can Spider Solitaire be played with only one deck?
Yes. Change the gameplay to four stacks of five cards and two stacks of six cards. Scoring will also change as you build more King-to-Ace sequences.
Is Spider Solitaire multiplayer?
Originally, the game was made for one player. However, you can challenge a friend or a player around the globe to play with you. Some online games and apps allow you to meet other players by signing up or purchasing the premium version.
Conclusion
Many card games were made centuries ago, but they are still relevant today. One of the most addicting card games is Spider Solitaire free, which you can play online or with a downloadable app. This article gives you the recommended platforms to try on your phone or computer. Share this post with someone who is a big fan of card games.
Did you find this helpful?
432 Votes
YES

Thanks for letting us know!
No

Thanks for letting us know!
AnyMP4 Video Converter Ultimate
All-in-one video converter, editor, enhancer upscaled with AI.