Best-pick 20 Games similar GeoGuessr: Gameplay and Complete Informations
GeoGuessr is a popular educational game that debuted in 2013 and allowed users to put their geographical knowledge to the ultimate test. If you enjoy instructional games, you probably already know everything there. It was formerly provided free of charge. It became a premium service in 2019 due to Google's decision to raise the charges for its Maps API.
Following the price hike, numerous developers resorted to Google Maps alternatives, such as OpenStreetMap. GeoGuessr, on the other hand, has decided to continue using Google's mapping services. However, many GeoGuessr players are hunting for the finest free or much cheaper alternatives due to the high fee. If you are one of them, we have compiled a list of the top 20 GeoGuessr alternatives you can play now.

1. Top 20 Geoguessr Alternative
City Guesser
City Guesser is a website that allows users to explore films taken while walking, driving, or flying over various locations worldwide. It is a browser game centered on geography that attempts to provide players with a unique traveling and guessing experience worldwide. City Guesser's urban environs and moving clips provide you with far more information to work with than GeoGuessr, which frequently places you on a country road with only the surrounding vegetation and weather to guide you.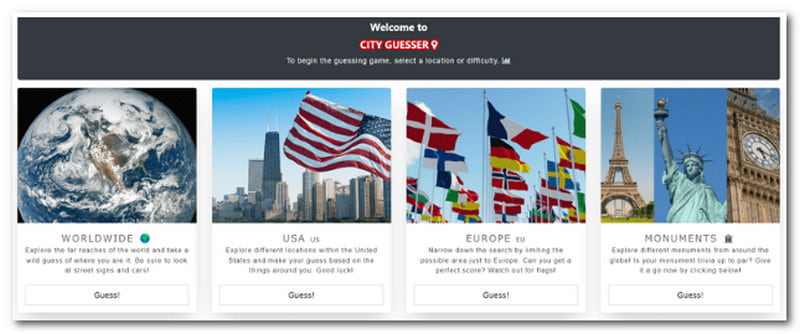 Geotactic
Geotastic, like GeoGuessr, is a free multiplayer game. The game is simple to play with family members and comes in various moods. It is well-known for its landmarks, street views, and one-of-a-kind flag-guessing mode. Furthermore, the game includes a country-guessing approach in which you must guess the country's name using all clues.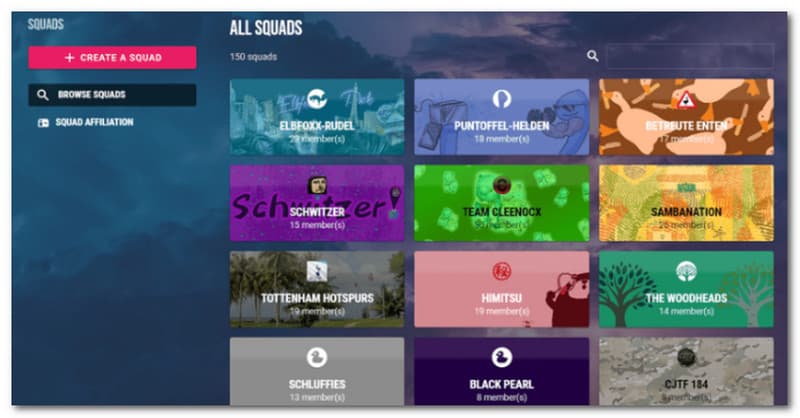 Get Lost
Get Lost is a geographical exploration game that uses randomly generated street maps. In contrast to the other options, you must first create an account to play this game. This is not a free-to-play game. Examine the images of the street corners for any tips that will assist you in determining your location. To make an educated guess, click the map where you believe it is. There will be five rounds.

Hide and Seek
Hide and Seek World (HaSW) provides a more exciting user experience than others because it pits you against other online players to get as close to the Street View image as possible. You may either create your own game for you and your friends to play or join an existing public game on Find Wolly. Wolly is HaSW's artificial intelligence mascot.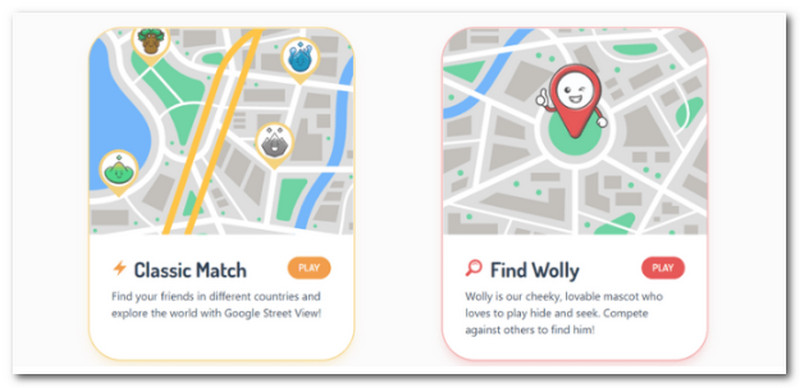 GuessWhere Challange
The GuessWhere Challenge is a great (geo challenge) quiz game in which you must guess random locations. It will whisk you away to an unknown destination anywhere on the planet. The game will offer you a panoramic view, which you must locate on a map. The more your guess is to the correct answer, the more points you will receive.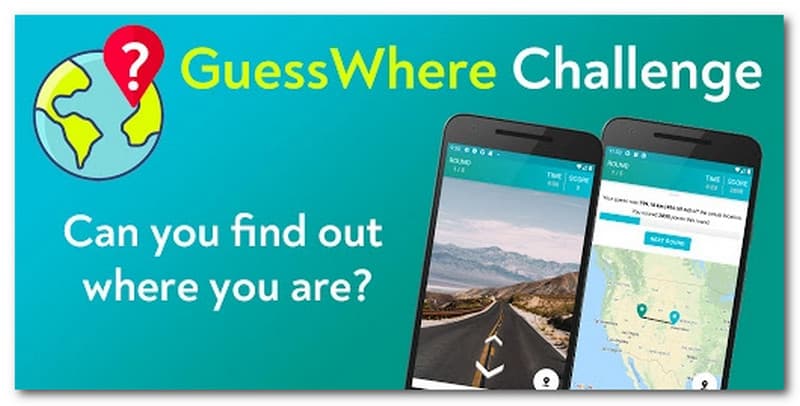 Where am I
Where Am I is another game in which you must guess where you are. The game begins in a completely random location anywhere on the planet, and it is a rather basic game overall. You only have a Google Street View photo to work with here, which you can change to establish where you are.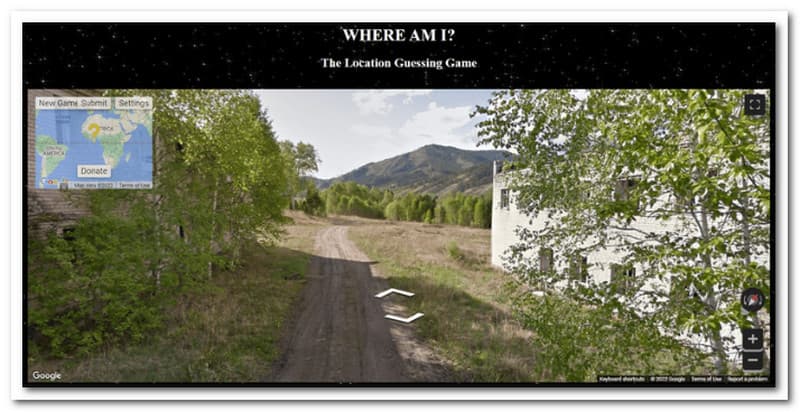 World Geography Games
World Geography Games provides a selection of entertaining and educational quizzes for youngsters to play. Students, adults, and even the elderly can use them to test and improve their geographical knowledge. Their online quizzes will put your cognitive powers to the test by asking questions about places all over the world.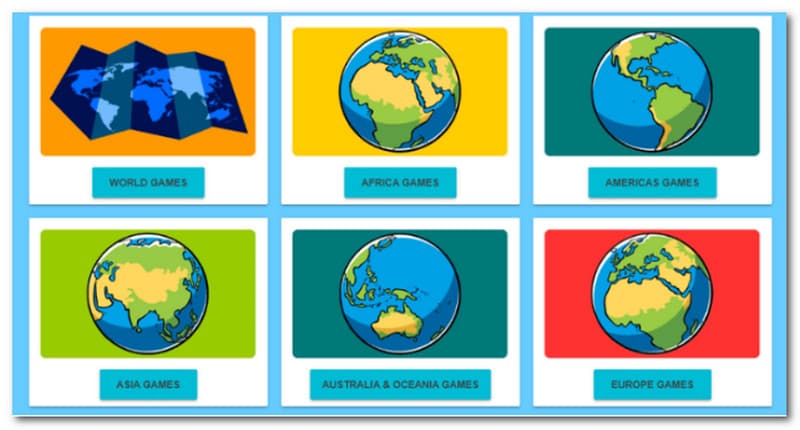 Sheppard Software
If you play Sheppard Software's geography games, you will construct a mental map of the world's continents, nations, towns, and scenery. This website has quizzes about a wide range of countries and continents worldwide. Europe, Africa, the United States of America, the many US regions, African major cities, Mexico, the Caribbean, the Middle East, Central and South America, and many other countries and continents are all included. Levels are frequently used in video games, and to go to the next level, you must first complete the current level.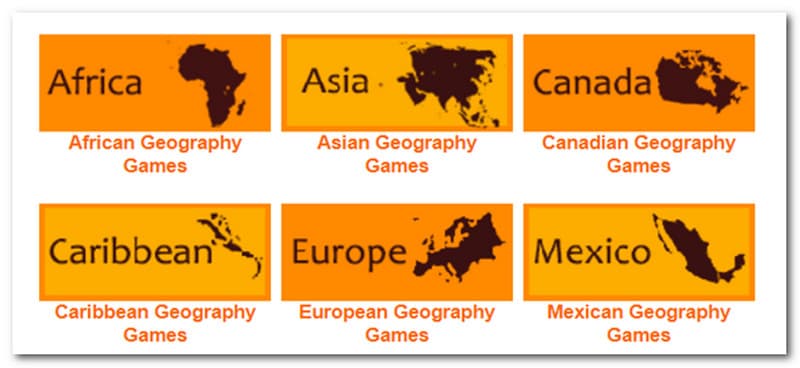 Seterra
You may learn about geography while having fun by using the Seterra app. Multiple-choice questions cover every nation and continent on the planet. Using this platform, you may learn about national capitals, cities, rivers, and lakes. In addition to quizzes, Seterra provides geography printables in PDF maps of various countries and cities.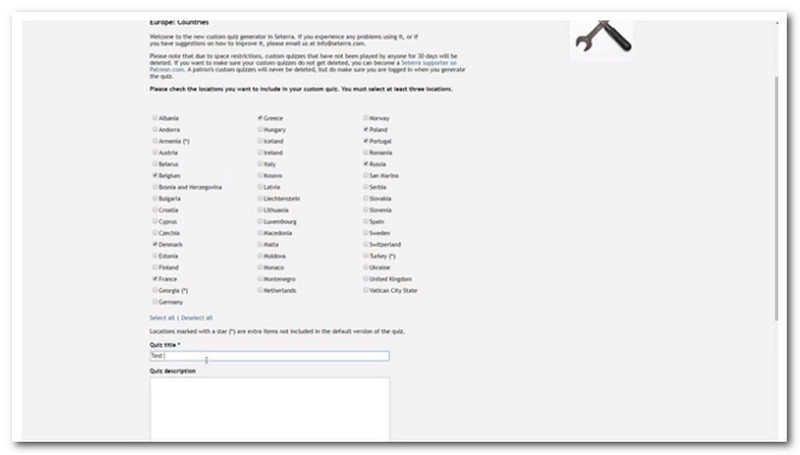 PlayGeography
PlayGeography includes various fascinating maps of the world's geography. TeachMe is the owner of the platform. TeachMe is a one-of-a-kind platform with millions of users that provides educational games and applications. playGeography provides up to 92 different geographical maps and over 12,000 different questions.
Ducksters
Ducksters is a geography-themed trivia and quiz game. It covers various locations worldwide, such as all of the continents, capitals, and national flags, among other things. It also covers every state in the United States, replete with maps, capitals, and flags for each. This website includes word searches, word searches with maps, crossword puzzles, and other activities.

GeoPuzzle
You can have fun while learning the names of countries and states, as well as the locations of those countries and states, by playing GeoPuzzle. After joining, you can access over 100,000 different areas to complete your puzzles. To begin, select an area from the map or list and inspect its flag, coat of arms, and possibly extra information to help you understand geography.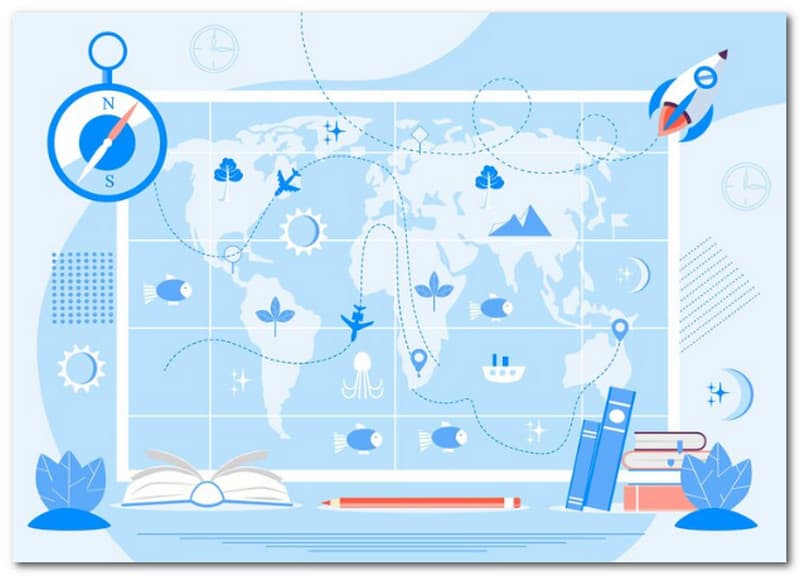 World Map Quiz
The World Map Quiz is available for download for Android and Windows platforms and has been translated into 16 languages. If you want a great educational resource or simply to glance at a map and know exactly where things are located, you should download this application immediately. Various game modes can help you understand the geography of nations, as well as their flags and capitals. As if that weren't enough, there's also a mode in which you can experiment with cities and oceans.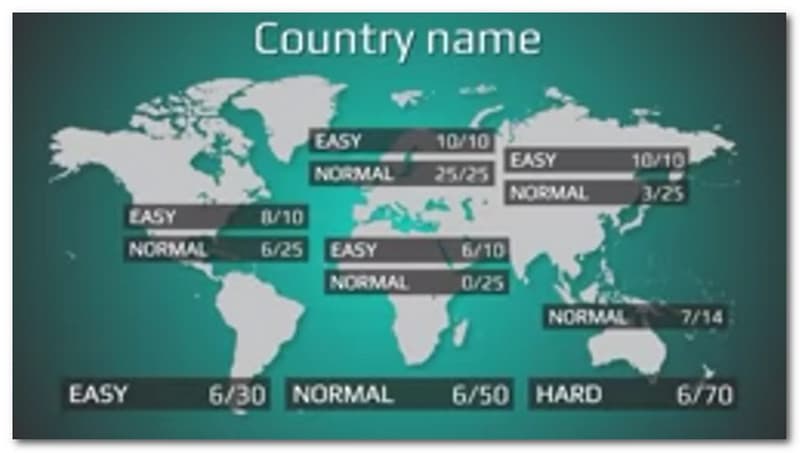 Map Box
Map Box is a vital geo-guessing website created by Mapbox, OpenStreetMap, Wikidata, and Svelte. When you visit this website, you will find a minimal user interface with one button that says, Let's get started. When you click on that, a map with four alternatives will appear on the right side. So it is a simple multiple-choice exam about geo-maps. Following your selection, it will indicate whether or not it is right. The information about the country after the results sets this website apart.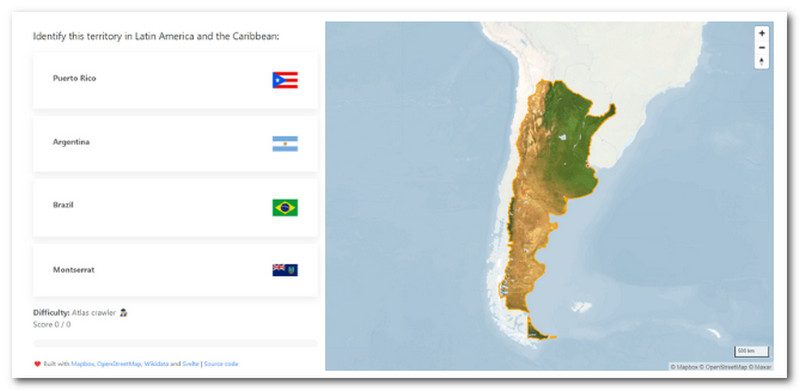 Zoomtastic
Zoomtastic is a simple but very informative alternative to GeoGuessr. It is not important to register or create an account to use it. At random, you are shown an image of a country. Then you have thirty seconds to figure out the name of the country. In contrast to GeoGuessr, which has four different game types, Zoomtastic only has one gaming choice.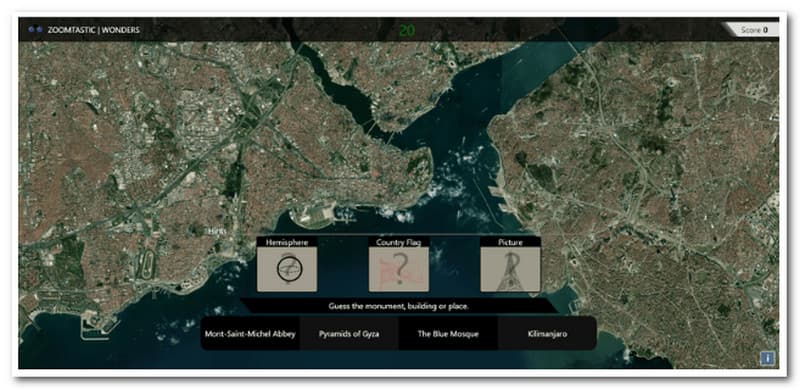 Lizarpoint
Lizardpoint's Geography quizzes are another excellent GeoGuessr alternative to consider. The website contains a plethora of geography-related quizzes that you may take to test your knowledge of the world's countries, continents, and geographical features. The home page recommends some of the most popular quizzes for you to try. It currently suggests European countries. However, additional questions are available, like one about the states of the United States (which may bring up memories of FRIENDS). There's also a useful study mode where you can, well, study. This mode provides additional information about countries and US states that can assist you with your courses.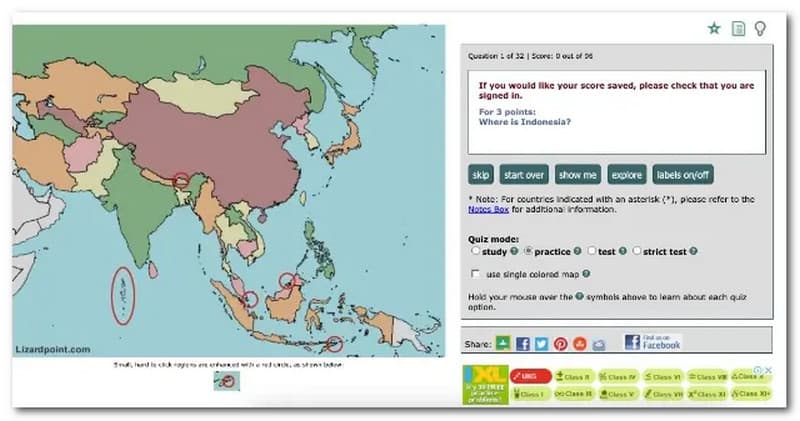 MapCrunch
MapCrunch is a free alternative to Geoguessr. MapCrunch was not designed to be a guessing game, but it can certainly be used as one; more on that later. MapCrunch is an exploring tool that makes use of Google Street View. You can either click on the green Go button to be taken to a random place or dig down and select a specific country.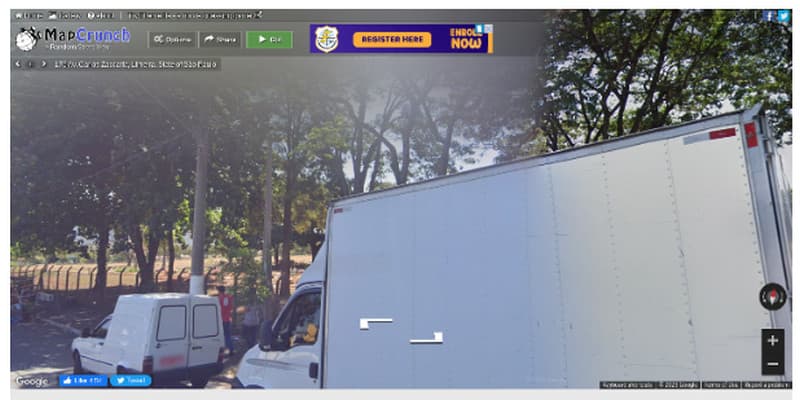 Geoguess Master
Geoguess Master is a free replacement for Geoguessr. Despite the fairly similar-sounding names, the two apps have no link. However, the makers of Geoguess Master may have been inspired by Geoguessr. Using the app in either scenario, you can play the game individually or with friends. If you select multiplayer mode, you can construct a room where your friends can participate.

Geoguess
If you have some technical knowledge, Geoguess is a suitable alternative to Geoguessr. Due to Google Streetview API constraints, you must deploy the game on your own server, although it includes detailed instructions on how to do so. However, if you have no technical knowledge, it may be a bit difficult.
Fantasy Ground
Fantasy Grounds supports your favorite RPG gaming systems. While you can play any kind of game on Fantasy Grounds, these systems allow you to purchase ready-to-play material. Less preparation time for the GM translates into greater gameplay for the players and a more enjoyable online experience overall. If you're a die-hard gamer, Fantasy Grounds can help you make your game easier to prepare, more immersive for your players, and faster to run. Remote employees who enjoy role-playing games might improve their gaming experience using Fantasy Grounds.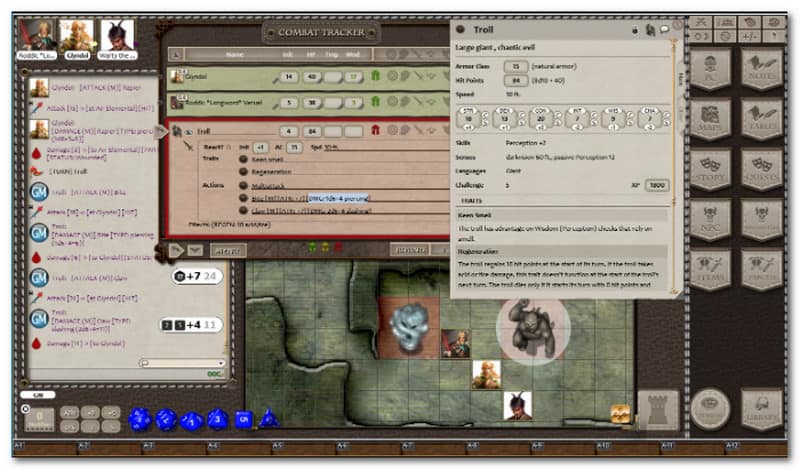 2. FAQs about Geoguessr Alternative
Why is GeoGuessr no longer available for free?
The answer is simple, maintaining the game is too expensive. For the record, Geoguessr is not the developers' primary focus. This is just a little side project. It began in 2013 as an experiment by a Swede.
Why is GeoGuessr so frugal?
The large rise in players since the game's debut in 2013 raises the cost of game maintenance. As a result, GeoGuessr was forced to limit the free experience in the expectation that users would upgrade to PRO to offset these costs.
How do I play GeoGuessr without running out of time?
You can access the round settings by clicking the switch next to 'Default settings.' If you want limitless round time, drag the round time slider to the left; else, set it to a fixed round duration.
Conclusion
All the games mentioned above are comparable to GeoGuessr, albeit some are slicker than others. They all, however, put your understanding of international geography to the test. This is the one thing these apps all have in common. So, go ahead and try out these finest free GeoGuessr alternatives.
Did you find this helpful?
414 Votes
YES

Thanks for letting us know!
No

Thanks for letting us know!
AnyMP4 Video Converter Ultimate
All-in-one video converter, editor, enhancer upscaled with AI.