Play Your Video on Slow Motion: iPhone and PCs
You can find yourself in a situation where you need to play a video in slow motion for several reasons. A method known as slow motion gives the impression that the action being shown is taking place at a much slower rate than it is. And if you want to view a film or specific scene slowed down, a slow-motion video player can be the ideal solution for you to do. Thanks to the abundance of slow-motion video players available on the internet, you can see videos in slow motion. If you are unsure which slow-motion video player you need to go with, we have provided several excellent options for you in this article.

Part 1. Best Slow Motion Video Players
1. VLC Media Player
Windows users can access VLC Media Player, a free and open-source alternative to Windows Movie Maker. It allows you to play a wide variety of videos, including streaming media from the internet. You may slow the movement of a particular object if you want to look better at the details inside a frame. You may also increase the playback speed to skip through uninteresting portions of the movie.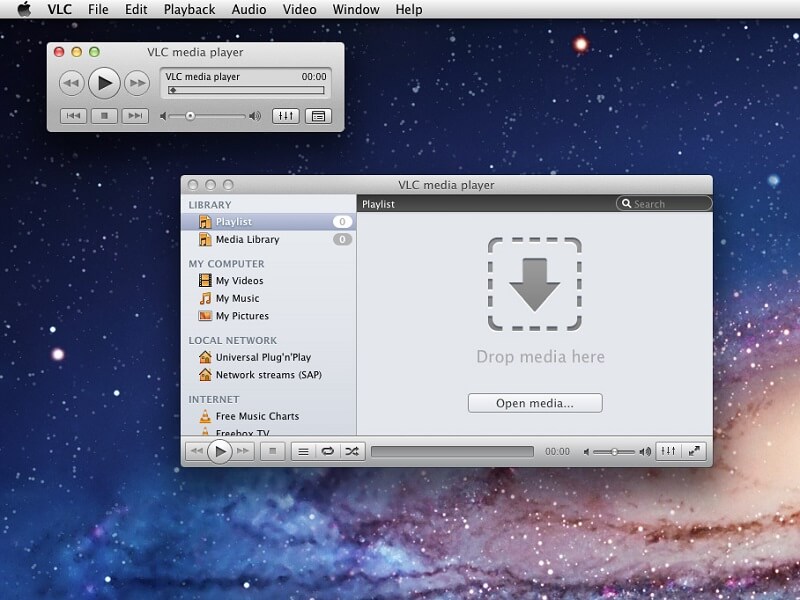 Pros

VLC Media Player is available without cost since it is an open-source project.
You may play the video in slow motion by adjusting the playback speed.
Able to play a variety of media file types.
Applicable for both Windows and Mac operating systems.
Get music and video files from optical discs using ripping software.
Cons

There is a possibility of crashing while playing 1080p or blu-ray material.
The configurations are a little bit difficult to understand, particularly for first-timers.
2. QuickTime
QuickTime, the default media player for Macs, can play back video in slow motion. Therefore, to enter the menu that allows you to adjust the pace of a movie on your MacBook, press and hold the play-pause button for around five seconds. It will allow you to play a video in slow motion. After that, you'll be able to choose a certain speed to play back your preferred films in slow motion. On the other hand, you can have problems with QuickTime Player not functioning at some point.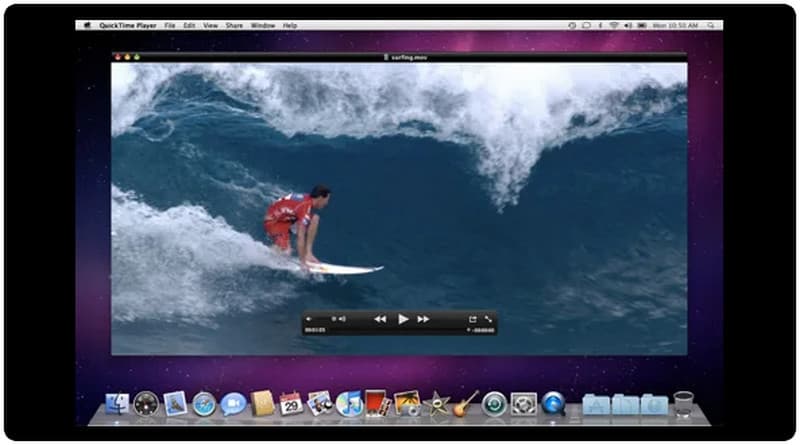 Pros

Mac computers are equipped with a built-in player for slow-motion videos called QuickTime.
Utilize shortcut keys to take control of the video playback.
Maintain stability throughout the whole Mac OS.
It costs nothing, and you may watch movies without downloading anything.
Keep a record of everything that takes on in front of your webcam and on your screen.
Seamlessly experience high-quality material.
Cons

You can only watch movies in QuickTime at half the average speed.
It is unable to play videos one frame at a time.
QuickTime only supports a limited number of different multimedia formats.
3. PlayerXtreme Media Player
The video player software PlayerXtreme Media player for iOS and iPad is loaded with various features. This app is compatible with almost any format in which you can watch video material. Therefore, you do not need to be concerned about the video format currently being played on your device. The app's user interface makes it simple to search through and play material saved on your smartphone. In addition, it enables you to adjust the pace at which your video is played back and even reset it to the speed at which it was recorded.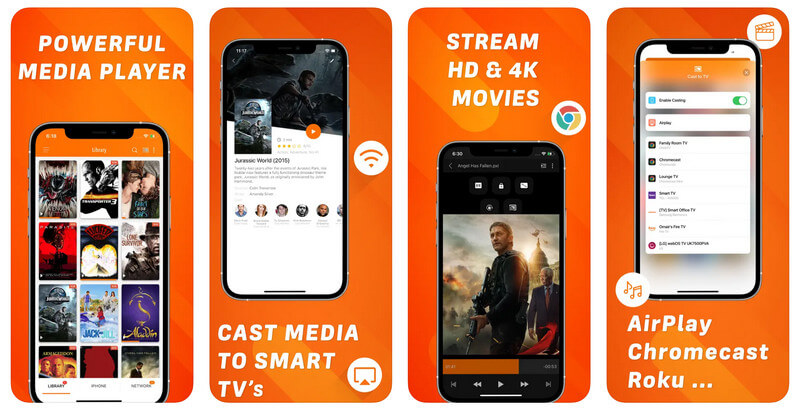 Pros

There are gesture controls for adjusting the volume up or down, as well as for seeking.
The app can also set a password for users who have upgraded to the app's premium edition.
Downloading of subtitles may take place in real-time.
Cons

You will need to upgrade to the Premium account to access the additional features.
Part 2. How to Change Video Speed as You Like
Do you have any video clips you want to slow down and make more dramatic? Vidmore Video Converter gives you a simple and fast solution to help you slow down your films. It gives you a variety of speed settings to choose from so that you may slow down the pace at which your videos playback. Vidmore Video Converter offers additional editing options that may be found in the toolbox, in contrast to video players, which only provide a limited number of editing tools. Modifying the quality and the duration of the replay is also available, in addition to changing the playback speed. The instruction
1.
Download the video speed controller program for free and install it on your Windows or Mac computer, depending on your operating system. After the installation, you may begin the procedure by launching the program.
To continue, choose the Video Speed Controller tool from the Toolbox menu, which you may find after navigating to that tab. Import the files from your PC by clicking the Plus sign.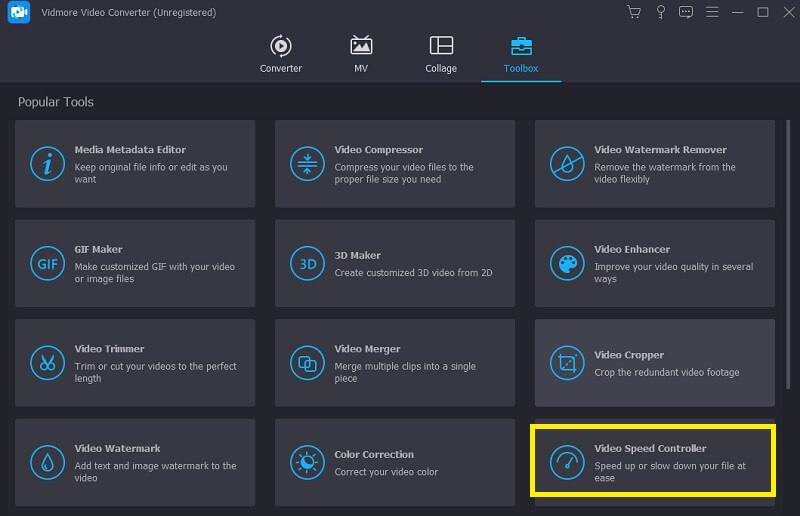 2.
You can choose from several settings to slow down your films. Import the files from your PC by clicking the Plus sign. You can choose from several settings to slow down your films. Choose the speed setting that best suits your needs.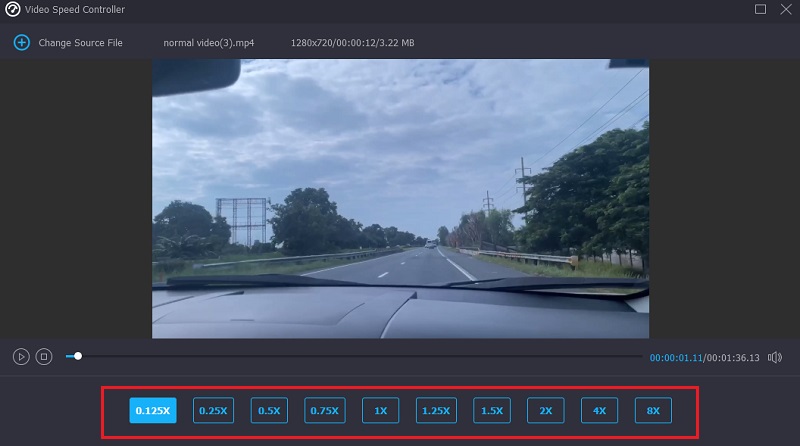 You may optimize the settings to improve the video's overall quality before you export the clip. It would help if you did it before you exported the video. After doing so, head to the options and adjust the video's quality and frame rate as desired. You may hit the OK button when everything is in its proper place.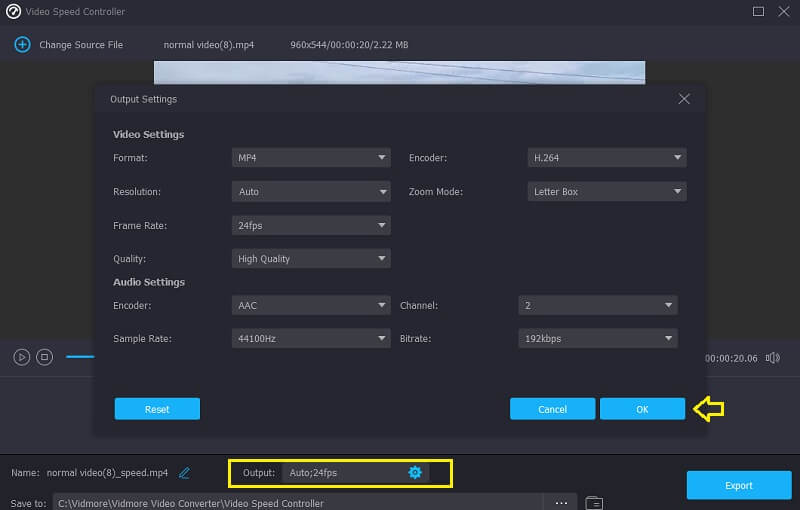 3.
Last but not least, choose the file you want to export and then click the Export option.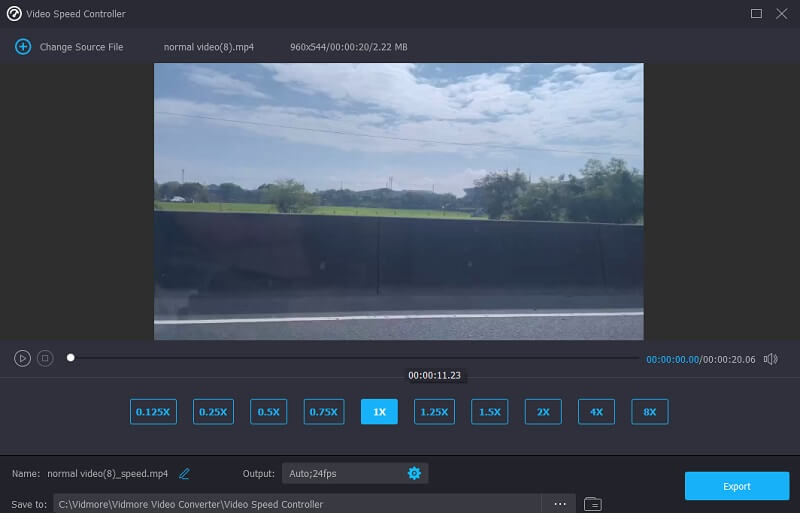 Part 3. FAQs About Slow Motion Video Players
Can I make a video in slow motion on the internet?
Suppose you are unhappy with the effects of the slow-motion players described above. In that case, you may easily create a slow-motion movie online using Clideo. It gives instantaneous control over the pace at which your video plays back.
How to play a YouTube clip frame by frame in slow motion?
You must access the video in question to play slow motion on YouTube. After clicking the Gear symbol, choose the Speed option from the menu. There are two distinct variations of slow motion, a 0.5 slow down and a 0.25 slow down a choice.
Does 60 fps work well for slow motion?
When capturing photos in slow motion, a very high frame rate (at least 120 fps and often more than 300 fps) is used. There are suggested slow-down rates for playing slow-motion video, such as 30 frames per second will be 80%, and 60 fps will be 40%.
Conclusions
The slow-motion video player is our primary topic in this post. We listed the three best slow-motion video players to play videos in slow motion on iPhone, Mac, and Windows. Every single one of them is successful. You may use the Vidmore Movie Converter, however, if you wish to adjust the pace of your video in slow motion in a permanent manner.
Did you find this helpful?
314 Votes
YES

Thanks for letting us know!
No

Thanks for letting us know!
Vidmore Converter
Your complete video toolbox to convert, edit and enhance video.