Vidmore Video Converter Review and Its Overall Rankings
Suppose you used various video and audio converter tools that did not give you the best quality output. You may search and try the most reliable converter program. For that reason, you may read this Vidmore Video Converter review. Henceforth, this review provides you with a comprehensive study of the Vidmore Video Converter that can transform your media files to a wide range of video and audio file formats, including MP4, AVI, MKV, MOV, WebM, FLV, M4V, DivX, and many more. Furthermore, this article review will present you its overall ratings, pros and cons, main features, price, offers, the input and output format it supports, speed conversion, the best alternative to it, and many more. In that way, you can evaluate the effectiveness of the tool and eventually utilize it.
Our Verdict
Pros

It offers a 50X faster speed video conversion.
It provides an intuitive interface.
It supports batch conversion.
It has easy-to-use video and audio editing tools.
It provides top-notch video and audio editing.
It has fast video processing methods.
Cons

The video converter software is not free.
The software lacks Android and iOS versions.
Overall Ratings:
Vidmore Video Converter allows you to modify your video and audio files to different file formats at a faster speed conversion because it supports 200+ formats. More interesting about this tool is that you can utilize it on over 100 presets for all major devices and gadgets, including the modern models of iPhone, iPad, Xiaomi, Google, Huawei, Samsung Galaxy, TV, Sony PlayStation, and many more. Most importantly, it is safe and effective to use in terms of converting your media files to another file format.
Functionality10
Effectivity9.5
Safety9.5
1. What is Vidmore Video Converter
Vidmore Video Converter
Price: $19.95 1-month license, $29.95 1-year license/1 PC, and $49.95 lifetime license/ 3 PCs
Platform: Windows and Mac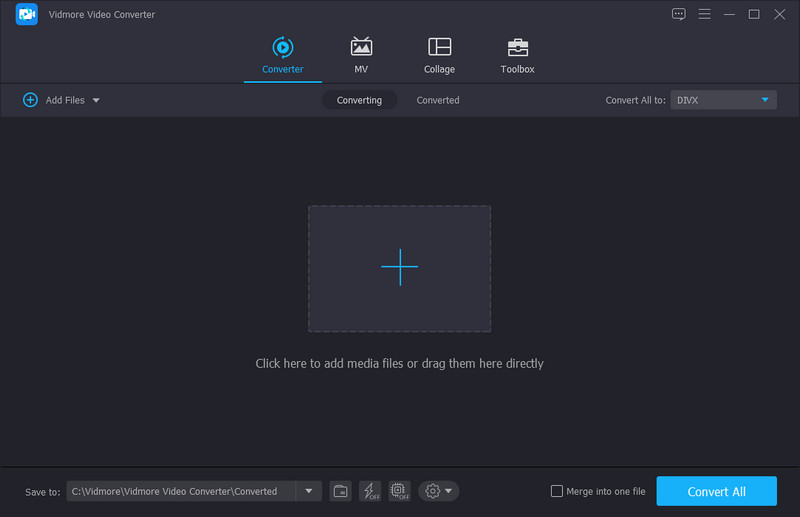 Vidmore Video Converter is one of the best video converter tools in the market today. Despite the fact that it offers a lower price, it provides excellent and reliable features. The reason why many users rely on this tool most of the time. Furthermore, we have rated this video converter software with a huge percent in terms of functionality, effectivity, and safety. Henceforth, Vidmore Video Converter possesses effective features and functions for your video and audio files. The good thing about this tool is that aside from video conversion, it also offers Media Metadata Editor, Video Compressor, GIF Maker, 3D Maker, Video Enhancer, Video Trimmer, Video Speed Controller, Video Reverser, Video Merger, Video Rotator, Volume Booster, and Audio Sync.
Main Features
◆ It can convert photos or footage into a professional-grade movie.
◆ It can create videos using various social media platforms.
◆ It can create video and photo collages.
◆ It can support and convert video and audio files to 200+ formats.
◆ It can preserve video quality including 1080p HD, 4K, and 8K Ultra HD.
◆ It can convert DVD file formats.
2. Vidmore Video Converter Review
Interface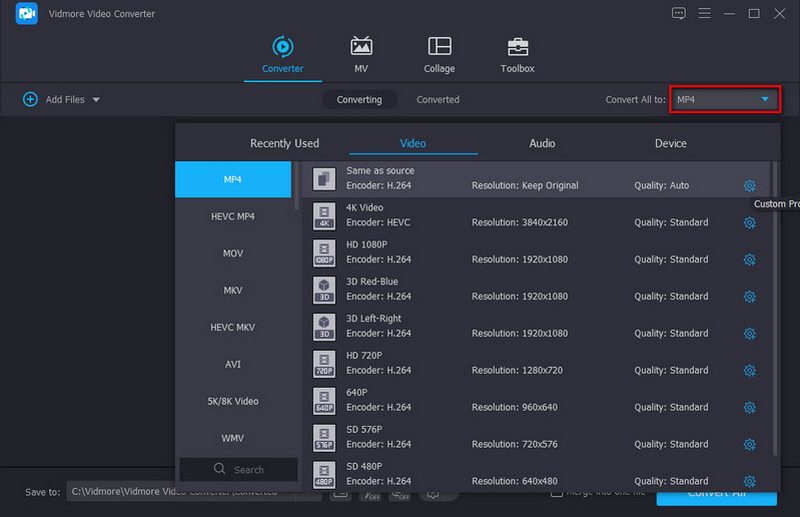 Vidmore Video Converter comes with a straightforward interface that lets you utilize it without any difficulty. This tool has a matte dark blue color palette that is very pleasing to the eyes. Upon launching the software, the video converter software will lead you to its interface and show you a plus symbol (+). With this, you can add media files that you want to convert. After doing so, you will see the convert all to that is located at the upper-left side of the interface. Here, you can select the file format you want for your media files.
Supported Input and Output Formats
Let us now discover what are the input and output file formats that Vidmore Video Converter can support. This video converter tool can support a wide range of popular file formats. So you do not have to worry about converting your media files to any file format you want. To give you specific information about this feature, you can refer to the tables below.
Supported Input Formats:
MP4, MOV, MKV, FLV, M4V, DIVX, M4R, M4A, M4B, MP3, WMA, WAV, etc,
Supported Output Formats:
MP4, WMV, MOV, AVI, M4V, MKV, WAV, M4A, M4B, MP3, AAC, M4R, and more
Conversion Speed
Vidmore Video Converter offers a 50X faster video conversion speed suitable for both Mac and Windows computers. It is known as the world's advanced acceleration technology because of its Intel CPU, AMD graphics, and NVIDIA. In some cases, if you have a lot of files to convert to a specific video file format. You do not need to worry about your time because Vidmore Video Converter can convert your videos in a short time.
Editing Features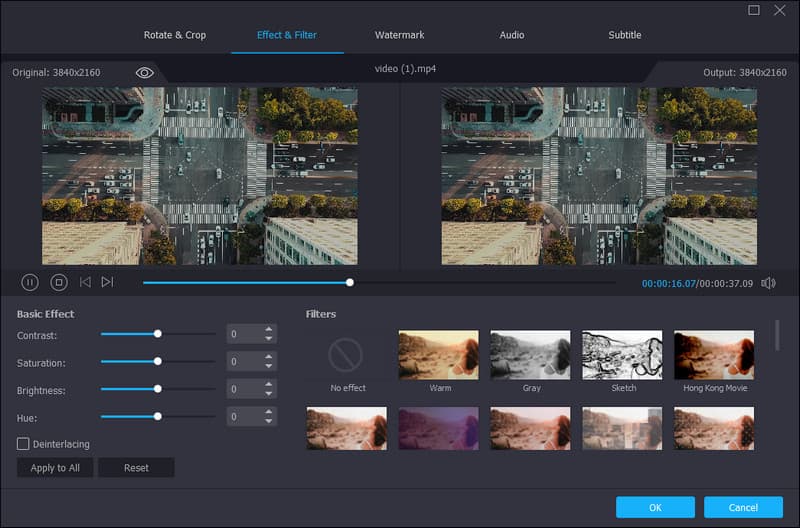 A more exciting feature about this tool is that it also provides editing features that let you enhance and modify your videos and audio. In line with that, you can click the star icon that you can find beside the media file then it will bring you to various editing functions. This editing tool will enable you to rotate and crop your videos. Also, you can add effects and change their filters, such as adjusting the contrast, saturation, brightness, and Hue. It also comes with various filters like warmth, gray, sketch, orange dots, purple, plain, coordinates, stars, modern, pixelate, aperture, cold colors, silk, blinks, and many more. In addition, you can also modify its audio by adjusting the volume and its speed. Lastly, if you want to watch foreign movies, this tool allows you to add subtitles to your videos and make them more creative.
Other Cool Features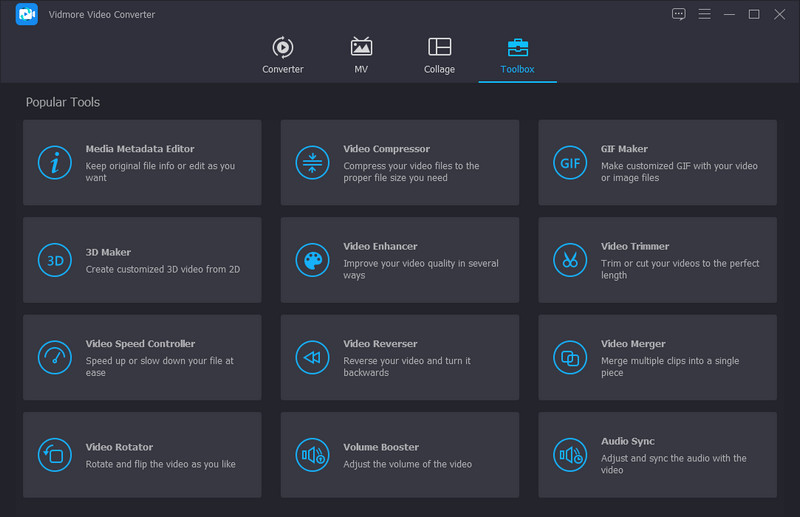 Vidmore Video Converter provides cool features such as multi-core processor optimization. This one will let you convert your videos with various cores that accelerate each file conversion. Another is the Toolbox, this cool feature comes with many options that enable you to enjoy the software at the highest level. Here you can find the Video Compressor, GIF maker, Metadata Editor, Video Enhancer, Video Trimmer, and many more. It also allows you to add music to a video collage. A video collage feature that provides dozens of collage layouts.
What is it Best for?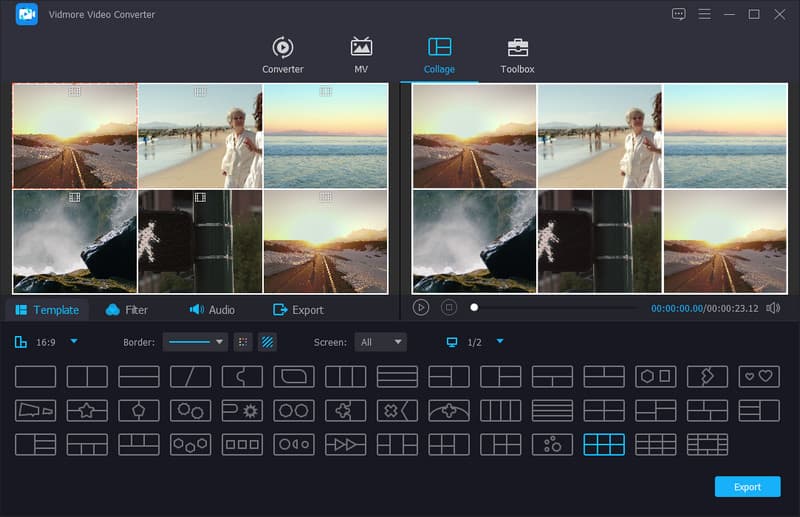 After using this video converter tool, it works great as a video maker for beginners, because it is equipped with all the basic features to convert and edit video files. Moreover, it is fantastic to utilize its collage feature because it enables me to add both image and video files simultaneously. It was astonishing that Vidmore Video Converter comes with this unique feature. Furthermore, you can add your chosen media files to the template you prefer. More so, you can also change or select a border design. As a result, you can create your own video clips according to your preference.
3. FAQ
How to cut a video in Vidmore Video Converter?
To do this, kindly select a video file. After that, you will see a scissors icon beside the video file. Kindly click it and it will lead you to the interface. Then, select the set start button or set end. After doing so, kindly click the save button.
How can I make a video collage in Vidmore Video Converter?
Kindly click the video collage feature and will show you its collage maker. You can add your video files by clicking the plus icon (+). If you want to enhance your videos before saving it, you can add filters to them. After that, you can now click the export button.
Can I compress videos in Vidmore Video Converter?
Definitely, yes. To do this, kindly click the toolbox feature of the software. Then click the video compressor. After that, add a video file, and adjust the compression size. Wait for a few seconds then you can click the compress button.
4. Best Alternative - Tipard Video Converter Ultimate
Suppose you are looking for another best video converter tool besides Vidmore Video Converter., we want to present to you Tipard Video Converter Ultimate. This video converter software lets you alter your audio and video files to different popular file formats. Moreover, this tool also has excellent features.
Tipard Video Converter Ultimate
Tipard Video Converter Ultimate offers a free download with upgraded versions. The best alternative converter tool.

Tipard Video Converter Ultimate
Tipard Video Converter Ultimate offers a free download with upgraded versions. The best alternative converter tool.
It can modify any video file.
It can rip DVD to video or audio files.
It can convert 8K/5K/4K/HD videos to any major format.
It is 100% clean and safe to use.
Conclusion
In conclusion, after evaluating the Tipard Video Converter Ultimate review. You have the chance to decide if you will use and purchase the tool. Furthermore, if you do not like it, we also recommend Tipard Video Converter Ultimate, which offers practical video converter functions and tools. Lastly, if this article review is beneficial, do not forget to send it to your loved ones and friends.
Did you find this helpful?
101 Votes
YES

Thanks for letting us know!
No

Thanks for letting us know!
Best Video Audio Converter Review
Vidmore Converter
Your complete video toolbox to convert, edit and enhance video.