Greatest Speech to Text Software for Instant Transcribing Experience
If you are writing too many emails, documents, or essays and your fingers get tired of writing! Because we all know, typing a lot of text with your files or documents can be tiring and can take too much time from you, sometimes.
Did you know there is a program that can help you create your file without typing? Yes, these are speech to text software. Through this program, you may now save time by creating so many documents that you need. In line with that, here are the 7 of the best transcription software that you use.

Part 1. What is Voice-to-Text?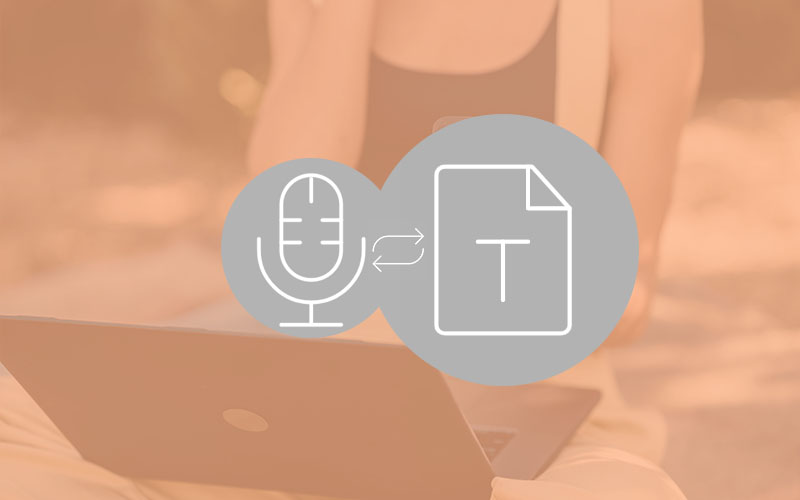 Voice-to-text is an incredible type of speech recognition program that can convert what you spoke to written language. It means that you do need to type using your keyboards, instead, just speak and let the program do the encoding of text for you. This type of program is beneficial for so many reasons. Some of these are: it is used for multi-tasking purposes or for practicing your pronunciation.
The best voice to text software makes it easy to convert your speech into text with more than 90% accuracy. These types of programs are available on desktop and mobile devices. However, this different transcription software has different levels of ability, complexity, and accuracy. This is because different software is using different kinds of machines, some programs use advanced learning machines to correct errors constantly, while others use just the standard one.
To help you in looking for the best software, here are the best in speech to text applications and software that will help you with different kinds of work.
Part 2. Top 7 Speech-to-Text Software
1. Google Voice Typing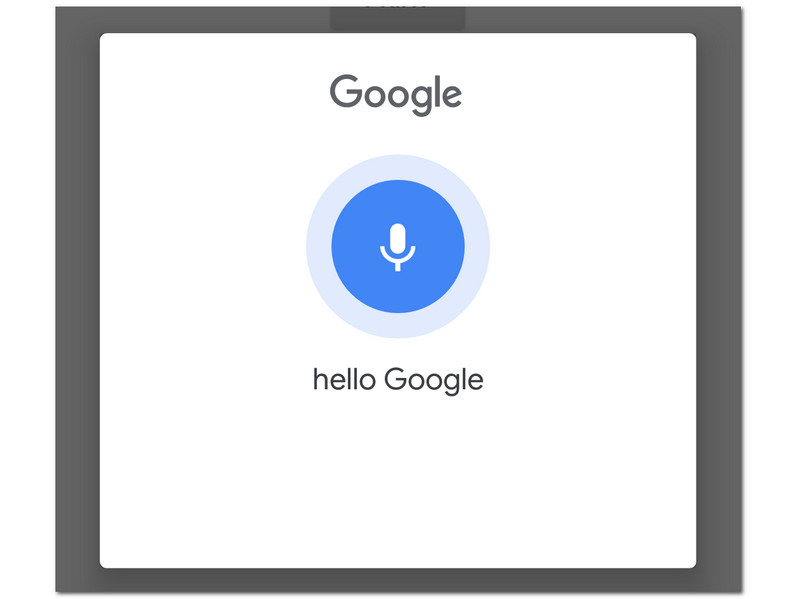 Overall Ratings: 4.3
Pricing: Free
Platforms: Desktop and Mobile Devices
Google Voice Typing is voice-to-text software that is commonly installed in Android devices. It can also be accessed in the Google Docs application. This will enable you to talk alternately to typing your information on Google Docs. Other than that, some of the things we noticed in using Google Voice Typing. The first one is, you need to speak slow and clear when transcribing audio to text for more accurate output. Thus, if you are the type of person who is used to speaking fast, you probably need to make it slow if you are planning to use this software. Overall, this is one of the best programs to use, and it is also trusted and proven for a long time now.
Other users tried using Google Voice Typing. To show you the result, just look at the image below.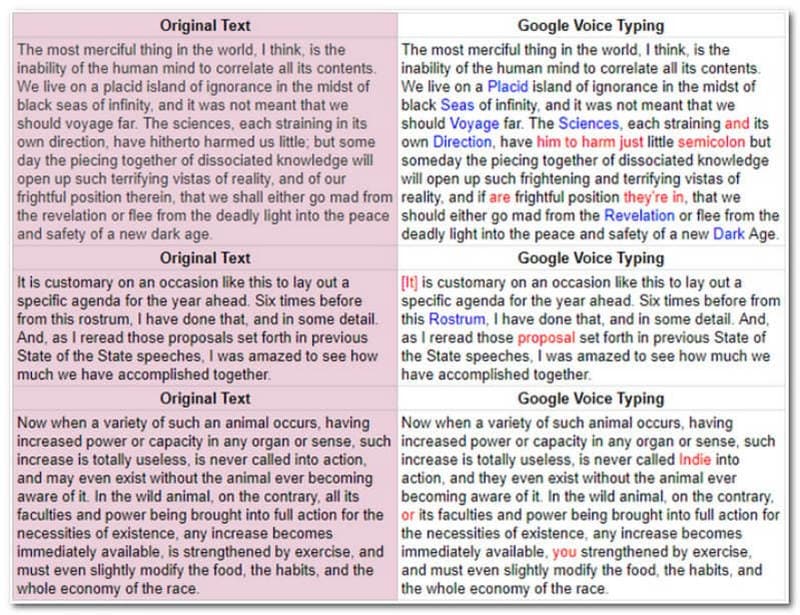 Pros

Free software.
It supports various languages.
User-friendly.
Cons

Cannot process recordings.
Does not work without an internet connection.
Speedy talk can result from the inaccurate output.
2. Speechnotes

Overall Ratings: 4.0
Pricing: Free
Platform: Desktop, Laptop, and Chromebook
Speechnotes will allow utilizing their functions without a need of creating an account or providing your email address. It was also powered by Google voice recognition tech. Furthermore, it recognizes punctuation marks via voice commands. It means you do not need to stop talking just to type question marks or periods manually on the text. In addition, this software truly cares about making things even easier by allowing you to add names, signatures, greetings, and other commonly used text through the use of custom keys on the built-in keyboard. However, it does not allow transcribing voice to text in iPhone or any Apple products.
Pros

It was built-in Google voice recognition technology.
Punctuation marks recognition.
Easy to use.
Cons

No iOS application.
Support limited platform.
3. Dragon Naturally Speaking Software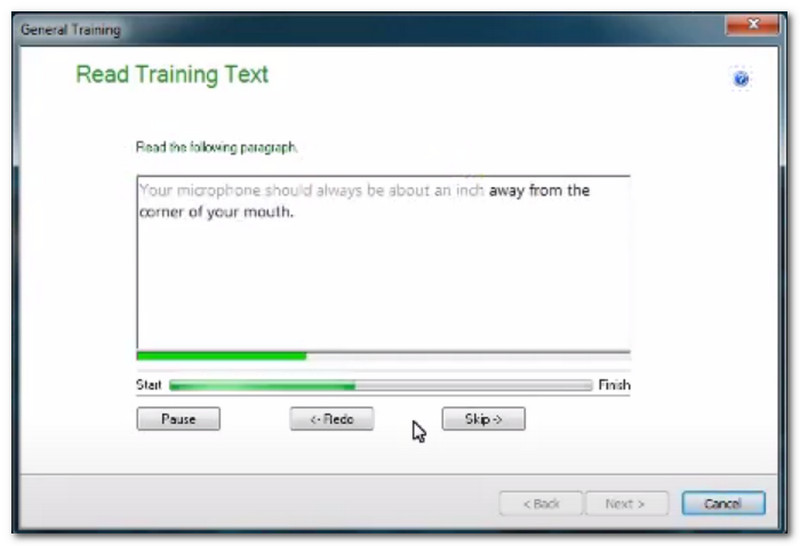 Overall Ratings: 4.1
Pricing: Free
Platforms: Desktop
Dragon Naturally Speaking Software's biggest flex is that it can score 100% on accuracy. In addition, it can understand complicated words and hifalutin words such as hitherto and therein. Furthermore, Dragon Naturally Speaking Software focuses on providing a user-friendly application for transcribing audio to text for a free and hassle-free experience. To support the statement above, this software utilizes extraordinary machine learning to recognize and understand your speech all the time. However, it may fail to capitalize the first letter at the start of the sentence. Overall, it is not perfect but can guarantee you the best quality experience in using it.
Pros

Recognizes punctuation marks.
Fast and accurate documentation.
Can understand diverse accents and intonations.
Cons

Fail in capitalizing the first letter.
Users reported a delay in transcribing.
4. Apple Dictation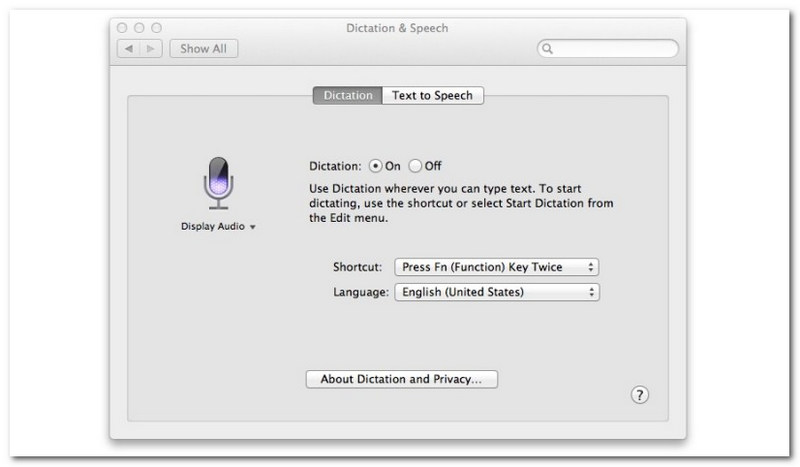 Overall Ratings: 4.2
Pricing: Free
Platforms: Mac, iPad, and iOS
Apple Dictation is another choice for dictation software that can make your work easy. Yes, Apple has its free dictation tool on Mac. The amazing thing about this is that it is free and you can use this even without an internet connection. In addition, this software works in Word processors, Messenger, and other applications that allow you to type. Just remember to turn on Enhanced Dictation for unlimited transcription, otherwise, it will just allow you to dictate 30 seconds or less. Just to clarify, this is different from Siri.
However, be aware because Apple Dictation requires 422 MB of disk space to download some additional tools before using it on your Mac. It works with different applications including Office applications. Lastly, this is only available with Apple products, particularly in Mac, iPad, and iPhone. Overall, iOS users are blessed with this software, because it is a big help for them especially in creating their documents.
Pros

Effective voice recognition.
Understand various languages.
Cons

For iOS users only.
5. Braina Pro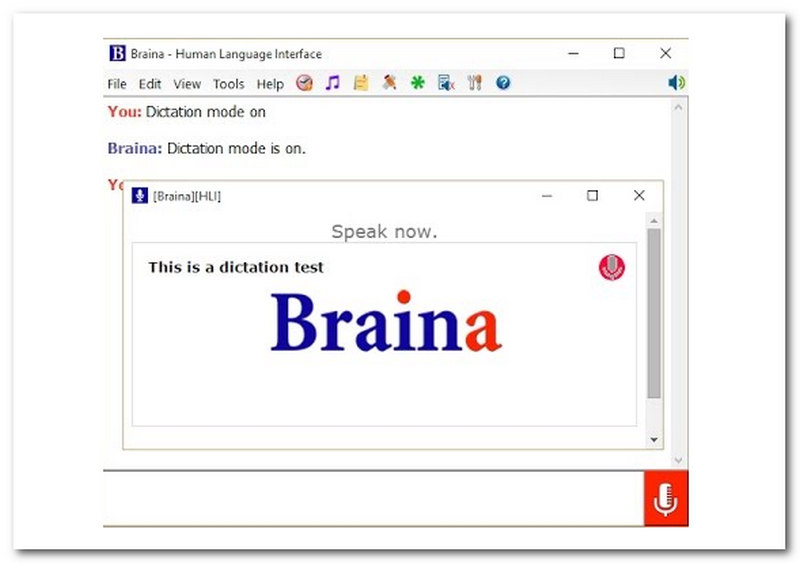 Overall Ratings: 4.1
Pricing: $49
Platforms: Desktop
Braina Pro Is defined as highly advanced virtual assistant software for Windows computers. It can automate tasks and convert your speech to text smoothly. It is very easy to use and can offer you amazing functions and features for a little cost money. It has a multi-language command mode, perfect for people around the world that speak English and Non-English language. Other than that, it offers trusted support that can help you when you experience an issue in using their application, and those are just a few of the key features of it. All in all, this is still a great choice for you, for it can offer the essential feature for you. Try it to discover more.
Pros

Accurate audio transcription.
Adaptable tool.
Can transcribe video to text.
Cons

Expensive tool.
Outdated in features.
For Windows users only.
6. E-Speaking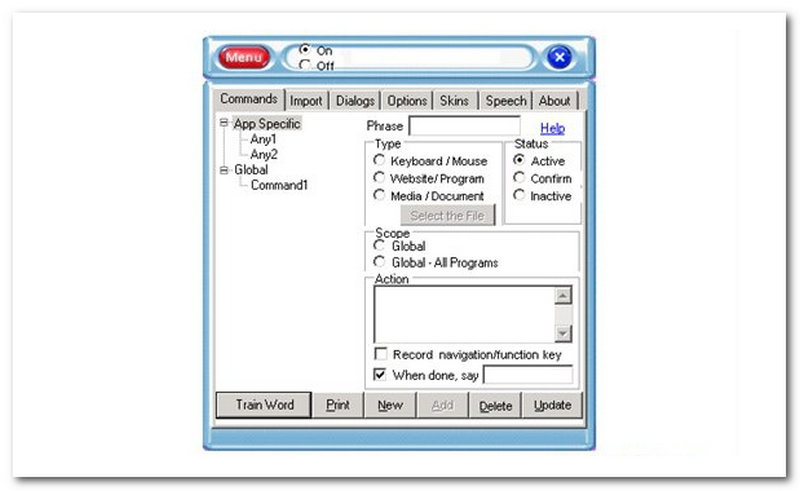 Overall Ratings: 3.9
Pricing: Free
Platform: Desktop and Mobile Phones
E-Speaking was created to give you the ability to command and control your computer with your voice. Microsoft's SAPI speech engine enables you to have access to dictation software. It was also based on .NET Framework Technologies. Other than that, this software has the ability to allow your computer to read your documents and emails for you. In addition, it has over 100 commands built-in. Moreover, while this software is still developing, we cannot disregard its potential to offer the best in the future.
Pros

Free software.
Easy to use.
Clear voice in dictation.
Cons

Still developing.
Confusing website.
Lack of information about it.
7. HappyScribe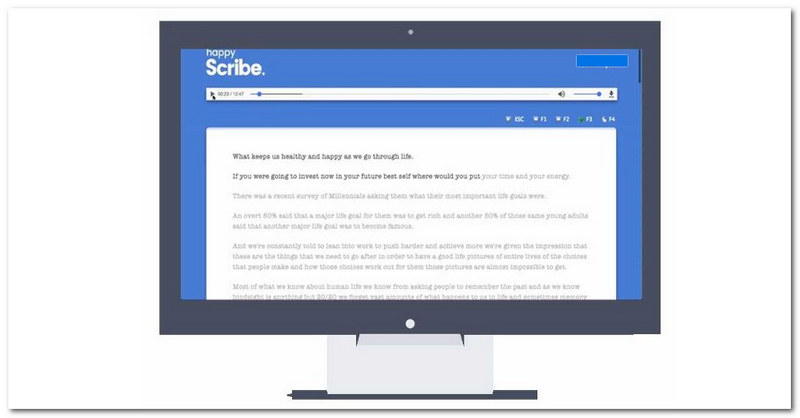 Overall Ratings: 4.4
Pricing: $0.20 per minute
Platforms: Desktop
HappyScribe already achieved an excellent performance and reputation amongst professionals like journalists, podcasters, and researchers. It allows you to transcribe video to text instantly. This software can guarantee you up to 99% accuracy. That is the reason why it is trusted by 100,000+ users including the most popular incorporations like BBC, Forbes, and Spotify.
Pros

High accuracy rate.
Numerous language selections.
Affordable.
Automatic punctuation.
Cons

Live transcription is missing.
Per hour usage.
The subscription plan is per minute.
Part 3. FAQs of Transcribing Audio to Text
May I use Google Voice Typing on Google Docs on Mac?
Yes. To activate Voice typing, go to Tools, then locate Voice typing. You will now see a window with a microphone icon, click it and start speaking.
Can I use Apple Dictate in Google Docs?
You are now allowed to use it in Google Docs because Google has its own voice recognition application.
Is there a voice to text software for Windows 10?
Windows 10 has built-in speech recognition. To set up, click the Start button, then select Settings. Locate Time and Language, find Speech. Under Microphone, select the Get started button. Then there you go.
Conclusion
To sum it all up, say bye to those tiring documents after utilizing these kinds of voice-to-text tools. You can now create tons of emails, essays or even any documents in a day without typing. All you need to do is to speak. You may now choose what is best for you. The software above can offer various and diverse functions for real, however, you only need one. That is why you need to be wise in choosing the suitable speech-to-text software for you. Do not forget to share this information with your colleagues so that you may help.
Did you find this helpful?
248 Votes
YES

Thanks for letting us know!
No

Thanks for letting us know!