Trusted and Tested MP4 to MP3 Converters: Online and Desktop Software
Background music is one of the most important elements in creating videos like films. Converting MP4 to MP3 is one of the important and crucial tasks for video editors out there. Most of the time, the background music they need is in the form of video, especially when the video comes to YouTube. Besides, you can get a free music library by extracting audio from a movie. If that is the case you may need an audio and video converter for that.
In line with that, tons of software can help you do it. We gathered different MP4 video to MP3 audio converters for you, take a look inside!

Part 1. MP4 vs. MP3
The numbers in MP4 and MP3 do not symbolize how more-or-less they are. There are big differences between the two. MP3 is the acronym for MPEG-1 Audio Layer 3 that became the MPEG audio standards in the early-1990s. While MP4 is an acronym for MPEG-4 Part 14. This was based on Apple's QuickTime MOV format that supports numerous features. It was released in 2001. To sum it up, MP3 is used for audio formats. It does not support visual contents in the file that is why it will be lost. While MP4 is used for video files format. It is commonly used to compress video and audio content at once.
In connection with that, we are going to talk about the 7 of the software that can convert MP4 to MP3 instantly. Buckle up, because we are about to explore.
Part 2. Top 7 MP4 to MP3 Converters
1. AnyMP4 Video Converter Ultimate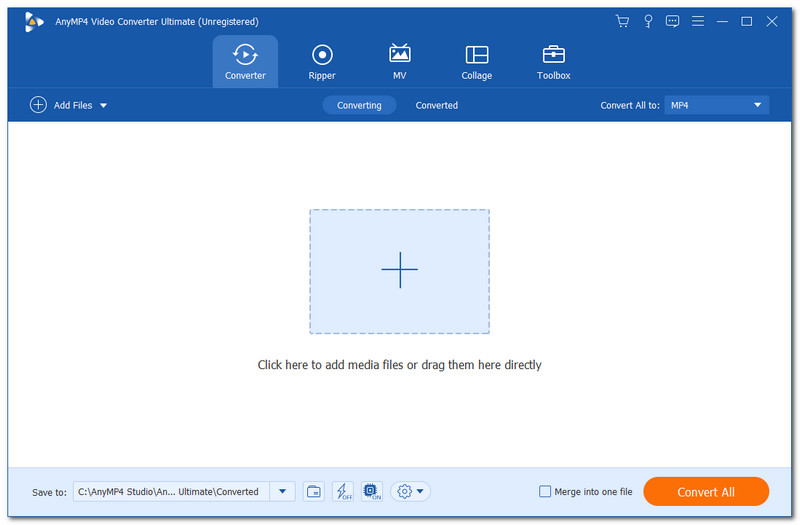 Through its amazing feature, AnyMP4 Video Converter Ultimate will surely provide almost everything you need. This will allow you to convert your MP4 to MP3 with ease, hassle-free, and up to 70x faster conversion speed. This converter will allow you to convert downloaded videos to audio from DVS, YouTube, and many more outlets. Besides, it supports various formats like MP4, MKV, MP3, MOV, MPEG, FLV, and more.
Furthermore, it has built-in editing tools that will allow you to modify your audio file. As common knowledge, we all know that sometimes there are unnecessary noises in the audio. But you do not have to worry, because AnyMP4 Video Converter Ultimate can fix that problem, it offers a tool where you can cut, trim, and split your audio file.
This amazing AnyMP4 Video Converter Ultimate is compatible with Windows and Mac. For only $41.25 one license a year, you may now enjoy its full features. Payment transactions can be done via VISA, MasterCard, American Express, and more.
Pros

powerful editing features.
User-friendly.
Make videos with templates.
Supports various formats.
Cons

Subscription-based.
Limited features on the free version.
2. Freemake MP4 to MP3 Converter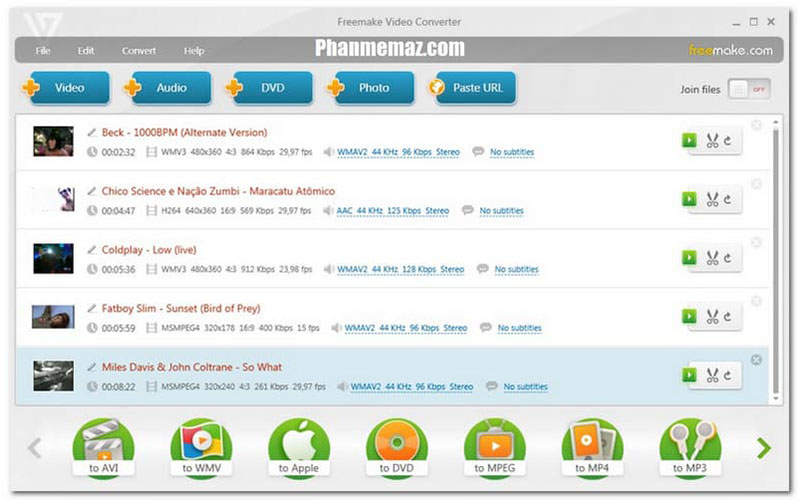 If you are planning to convert MP4 to MP3 on Windows 10, however, there are audio converters that are not compatible with Windows 10. We understand the frustration. That is why we introduce you to the Freemake MP4 to MP3 Converter, the MP4 to MP3 converting tool that might be the best Audio converter you are looking for. It can extract audio files in up to 320kps quality files. It means that this converter is doing its job excellently in providing a good sound of audio. Besides, despite its fantastic features, it is free and accessible for everyone. All you need to do is download it now. This is the only freeware converter of MP4 to MP3 files that can also convert fast while keeping the original and high audio quality of your file.
This converter also knows the importance of time, for it allows you to convert dozens of MP4 files simultaneously at once! In short, this is a great tool to use when you are in a hurry. Moreover, where can you see an MP4 to MP3 file converter that is free and yet can offer you so many features? It is just here, in Freemake MP4 to MP3 Converter.
Pros

Incredible features.
Batch conversion is offered.
Provide a high-quality output.
Cons

Constant and confusing ads.
3. VLC Media Player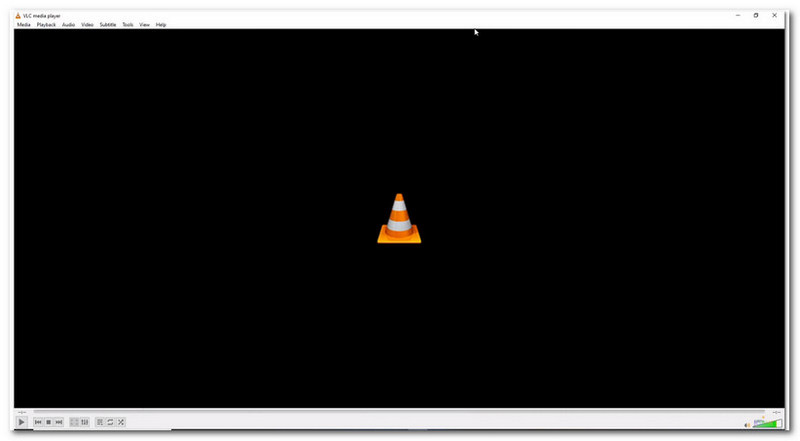 VLC Media Player is one of the most flexible software, nowadays. Other than it is a media player that allows you to play any file format on your computer, VLC can also be used in converting your MP4 to MP3 instantly. Although some people say that VLC is scummy, the company of VLC proved that those people are wrong, and VLC Media Player is a legit software that can convert files instantly and free. Furthermore, VLC is available with almost all media formats and devices. Indeed, that VLC Media player should be on your list. Overall, converting MP4 to MP3 in VLC is easy and super effective.
Pros

Free software.
Open-source cross-platform.
Compatible with any operating system.
Safe and clean.
Competent in playing codecs.
Cons

Sometimes, I have an issue with playing files.
Need an update.
4. Windows Media Player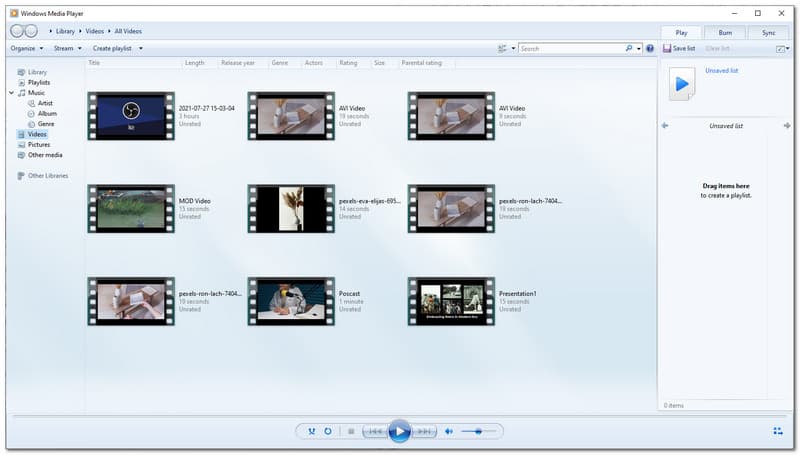 Windows Media Player is incorporated with Windows computers and laptops. This software aims to help you play your files without experiencing issues. More than that, this media player also can convert the format of the video into an audio file format. Yes, converting MP3 to MP4 or vice versa with Windows Media Player is possible.
This is a little bit similar to VLC Media Player, but Windows media player is more upgraded than VLC. However, we cannot deny the fact that these two audio converters are still great in giving us the important features in converting.
Pros

Free converter.
Easy to convert the file.
Fast converter.
Smooth interface.
Cons

Audio quality is compressed and reduced.
For Windows only.
Limited features are offered.
5. FVC Free Audio Converter

FVC Free Audio Converter is an MP4 to MP3 converter online. This converter is different from the other software mentioned above. This is the definition of the instant converter, for it just requires you a browser to convert. Although, it also allows you to convert video to MP3, however, it has fewer features compared to there. The good thing about this is that you do not need to download and install any file to convert. This is a little bit similar to FreeConvert.com and mp4tomp3pro.com, however, FVC Free Audio Converter has a lot to offer and can guarantee you substantial experience in converting your file.
Pros

Online free converter.
Accessible, anytime, anywhere.
No need to download it.
Less complicated process.
Cons

Conversion and uploading speed will depend on your internet.
No editing feature.
6. FreeConvert.com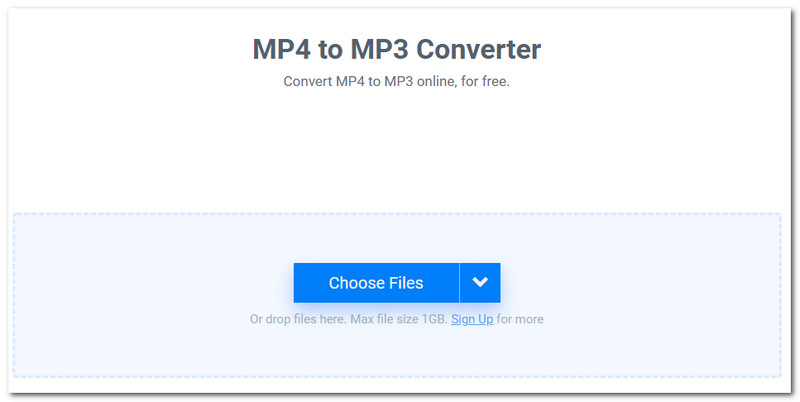 We all know, not everyone can afford to download or purchase a great software converter. That is why an online free converter is an answer to still convert our MP4 to Audio with ease. FreeConvert.com is also a converter for those people who are looking for an online MP4 to MP3 converter. It allows you to convert fast and hassle-free. In terms of its safeties, this converter is proven to be secured and safe to use. So you do not need to worry about your privacy. Furthermore, you can also utilize this converter with any device as long as you have a browser.
Pros

Free and safe MP4 to MP3 online converter.
Clean and simple interface.
Easy to use.
Clear function buttons.
Cons

Fewer features.
Limited file size should be converted.
Issues occurring depends on internet connection.
7. mp4tomp3pro.com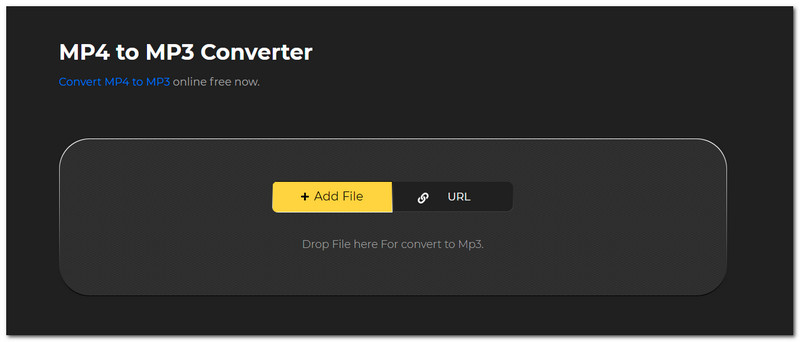 mp4tomp3pro.com is called one of the fastest online MP4 to MP3 converters, with 10 seconds of waiting. No wonder that this is 30x faster compared to other online converters. Talking about the characteristics of mp4tomp3pro.com as the time-efficient converter, it also can convert multiple files concurrently. Imagine saving a lot of time when you convert your file at the same time. Furthermore, its interface is clean and gives us an elegant vibe because of the color black and yellow palette.
Another ability of mp4tomp3pro.com is that you may convert video to audio directly using the URL or link of the video. Also, it is an online converter that allows you to drag and drop the process of converting. Indeed, that this online converter is amazing and it should have belonged on your list.
Pros

User friendly.
Fast online converter.
Not complicated to use.
Safe to use.
Cons

Limited features.
Ads can be seen on the website.
Part 3. FAQs of MP4 to MP3 Converter
Is it possible to convert YouTube videos to MP3?
Yes, there is a converter that allows you to convert YouTube videos to MP3. Just copy the link to the video and place it in the converter bar. One of the converters that have this feature is mp4tomp3pro.com.
How safe is it to use an online MP4 to MP3 converter?
Yes! It is safe to use an online converter for it assures that the uploaded file will be deleted right after the conversion process.
How important is Kilobits per second when converting MP4 to MP3?
It is essential to know the kbps when converting. It is the indicator of how good the quality of your file is. 320 kbps is the highest.
Conclusion
You can now proceed to edit and adding your background music to your videos! There are tons of MP4 to MP3 converters out there that are easy and fast to utilize. All you need to do is to choose wisely the best for you. Do not forget to share the information with those people who are also looking for the best audio converter out there.
Did you find this helpful?
158 Votes
YES

Thanks for letting us know!
No

Thanks for letting us know!
AnyMP4 Video Converter Ultimate
All-in-one video converter, editor, enhancer upscaled with AI.