The Great Alternatives to iTunes for Creating iPhone Ringtones: Free and Paid
As we all know, ringtones are part of our lives. Some studies show that ringtones somehow reflect our style and personality. Changing your iPhone ringtone using iTunes is pretty hard. You need to pay the iTunes fee before you can enjoy music, books, and even ringtones. That is why there is software that helps you make iPhone ringtones other than iTunes. In this article, we're going to talk about the best alternatives to iTunes as a ringtone maker app for iPhone. This can also teach you how to make ringtones for your iPhone or make your favorite song your ringtone.

Part 1. Best 4 iPhone Ringtone Software
1. Aiseesoft FoneTrans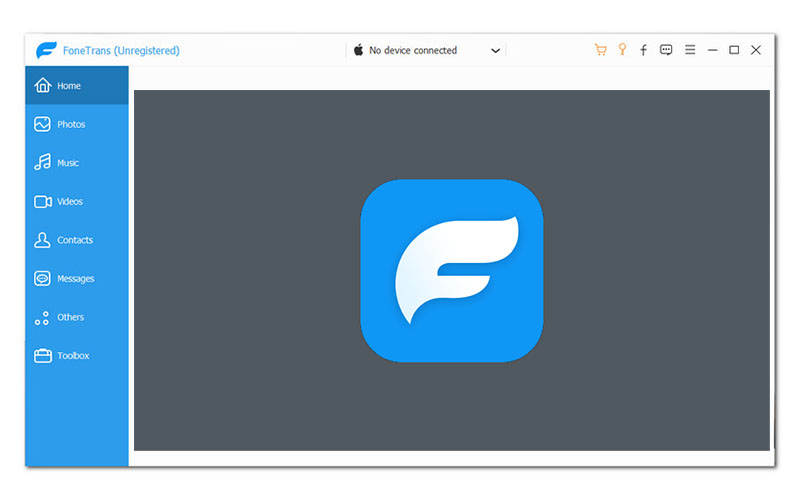 One of the great software out there is the Aiseesoft FoneTrans that helps you sync and manage files from iPhone/iPad/iPod. This software can sync and handle files in your iPhone such as ebooks, notes, bookmarks, photos, music, and a lot more.
One of the software's features is the iPhone Ringtone Maker. It is one of the best ringtone makers for the iPhone. This tool can help you make ringtones from your videos and audio to M4R. iPhone ringtone maker will help you create ringtones without any loss. It can also cut parts that you don't want to include which other software doesn't offer. It supports pre-fade listen which you will surely enjoy because it will allow you to control the fade-in and the fade-out of the chosen tone. This software will be beneficial to those iPhone users who are having a hard time changing their ringtones using iTunes. You can save a lot of time by using this software because it is directly exporting your created ringtone to your iPhone.
Pros

Easy to use.
Set the ringtone length.
Various features for iPhone.
Cons

Not free.
2. GarageBand

GarageBand is a software that will let you showcase your talent. It offers virtual instruments like guitar, drums, piano, and more. You can also have an amplifier here that lets you control the amplitude of the guitar or the bass. You can even add the recording of your voice. Even without real instruments, you can create and record your music and share it with the whole wide world. There is also a virtual session player where you can choose from EDM, Hip Hop, blues, Metal, Dubstep, and more. You even have your own synth here where you can adjust your recordings to create beautiful music.
One of GarageBand's features is a ringtone maker for iPhone. You can create your own ringtone by using the instruments that the software has or even the recording of your voice. You can also use an existing song on your iPhone as your ringtone. It offers customization of ringtones too which you will enjoy.
Pros

Open source or free software.
Perfect for beginners.
Supported by ICloud.
Cons

Only available to IOS users.
Exporting issues like file size are too large.
Audio Levels can't be controlled by the user.
3. Ringtones Maker – the ring app

Ringtones Maker – the ring app is a free ringtone maker software made by Sujuan Chen. Without connecting to the computer, you can make your own ringtone by just using your iPhone. You can choose your preferred ringtone because it offers many ringtones choices such as popular ringtones, funny ringtones, the latest or trending ringtones, charging warning tone, and lastly, the SMS ringtone.
There are also tutorials on how to use this software that will make it easy for you to use it. You can choose the video from the album and it will automatically extract the audio from that video. It also supports the fade-in fade-out setting. You can edit your audio here too before saving it as your ringtone.
This software allows you to share your ringtones with your friends which makes everything fun because you can enjoy the ringtones and match with each other.
Pros

Free software.
There is a free tutorial that explains how the app works.
Cover all iPhone models.
Cons

Only available for iOS users.
Only has a size of 10MB.
When problems occur, you can contact them without any charge.
4. Ringtone Maker

Ringtone Maker is an app made by Dmitriy Yudin that can help you make your own ringtone for phone ringtones, text tones, email alerts, voicemail, tweet tones, and reminder alerts. It offers fun sound effects, classic ringtones, and even for holidays and any event that you can think of.
It creates unlimited ringtones which is a good thing because it will not limit you for making ringtones. You can also create ringtones from your favorite songs. By using this app, you can also adjust the pitch and volume of your chosen ringtone.
It has a size of 51.1 MB which is not too much for a great app. It requires iOS 9.1 or later for iPhone/iPad/iPod touch and Mac.
Pros

Open source or free software.
Beginner-friendly.
Many options for you to enjoy.
Cons

Takes too long to load.
Only available for Apple users.
Many ads are popping up.
Part 2. How to Make Ringtone for iPhone
Let's show you how to make ringtones for iPhone with Aiseesoft FoneTrans here. This software supports all iPhone devices and also, all Windows 10, Windows 8, Windows 7, Windows Vista, and Windows XP (SP2 or later). You can avail of the premium version of this app for as low as $11.96. Here is the guide in using Aiseesoft FoneTrans iPhone Ringtone maker.
1.
By opening the software, the interface will show up on your screen.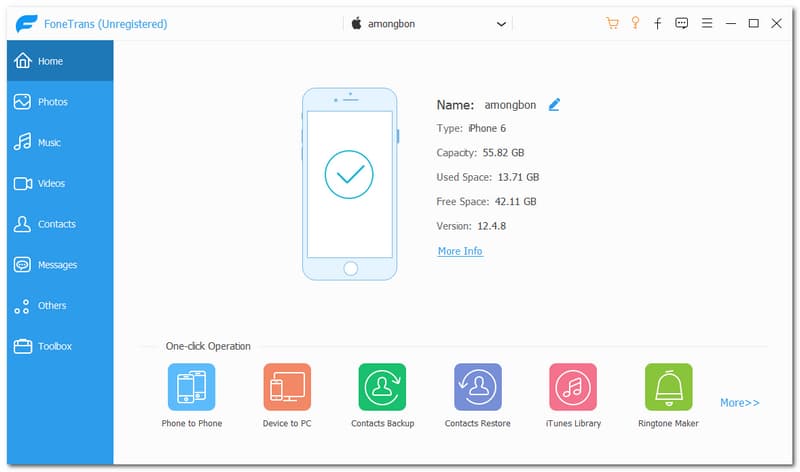 2.
After opening the app, you'll see a lot of various features that you can enjoy. Click the Toolbox which is on the left bottom part of the listed icons to see some features including the ringtone maker, then click.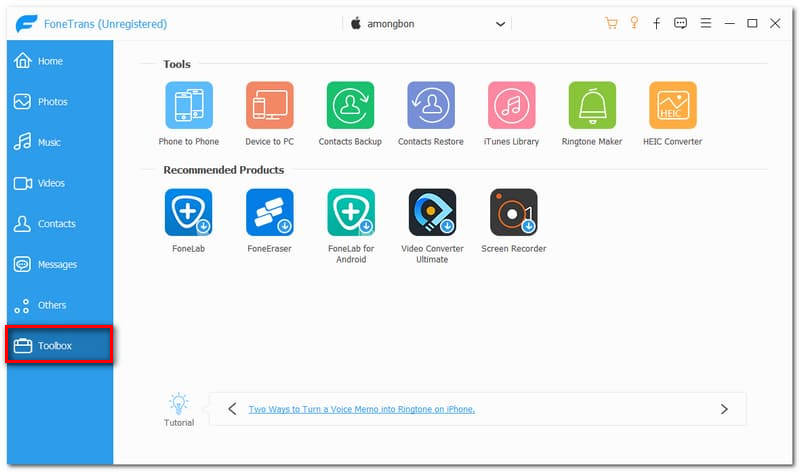 3.
After clicking, a new tab will show up.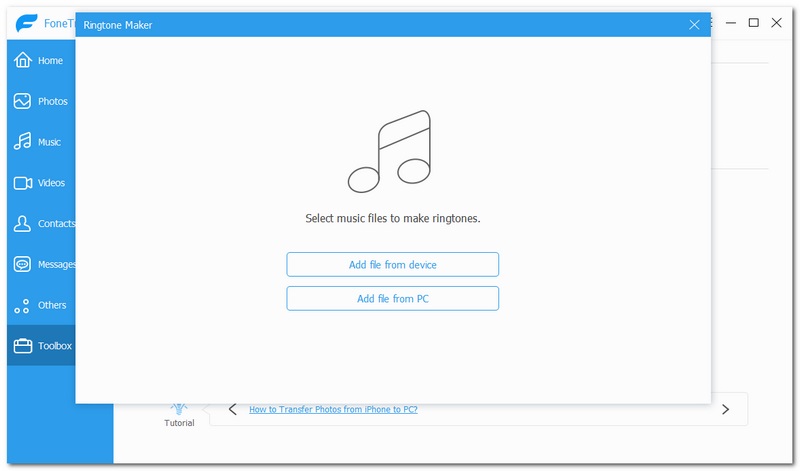 4.
Click Add File from Device to choose your music.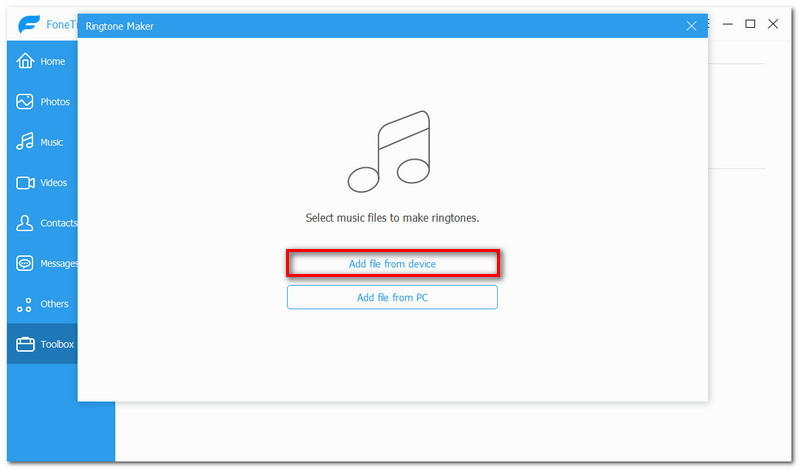 5.
A new tab will pop out that contains the songs in your iPhone. Choose your preferred song and click Select at the right bottom part of the tab.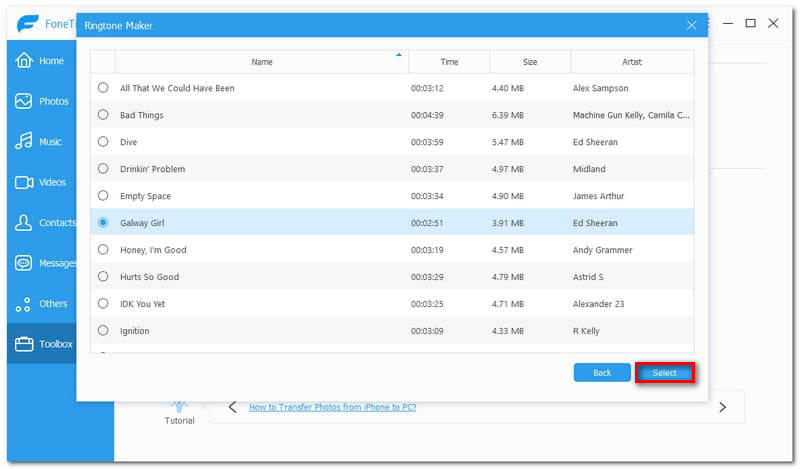 6.
After choosing your file, you can choose your preferred time length by dragging the process bar to the start and end times. You can also input the start and end times as another choice of choosing your preferred part. After choosing the part that you want, click Generate to finish the process and the source will be converted to an M4R ringtone right away.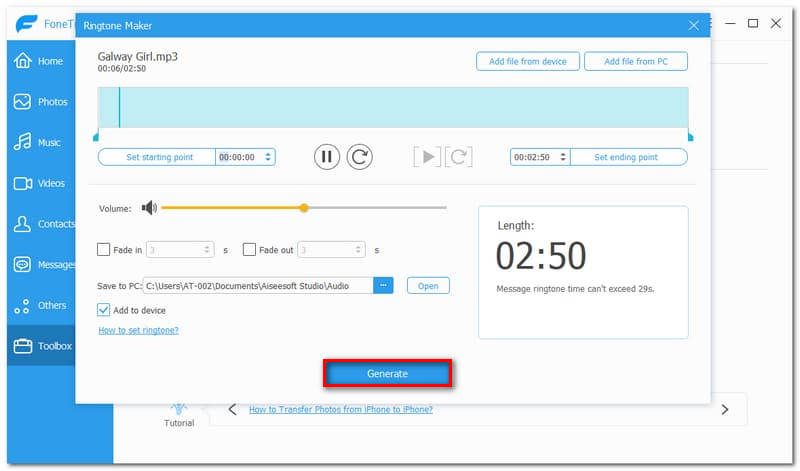 Overall, the Aiseesoft FoneTrans iPhone ringtone maker is worth a shot when you're looking for great software that will suit your needs.
Part 3. FAQs of iPhone Ringtone Maker
How do I set the downloaded song as my ringtone?
You can set downloaded songs as your ringtone by using iTunes but to make it easy, you can also use other software like GarageBand that makes everything much easier for you.
Can I make a TikTok sound my own personal ringtone on my iPhone?
iPhone Ringtone Maker allows you to get any clips from your videos and audio sources, edit them and make them your ringtones. So this software also allows you to get videos from TikTok and turn them into your ringtone.
Can I use music on my iPhone as a ringtone?
Yes! You can. Using iTunes for changing your ringtone might consume a lot of your time. That's why we have this software like GarageBand and Ringtone Maker that exports your chosen music directly.
Conclusion
To sum up everything, iTunes is not the only option you have when it comes to changing your iPhone ringtone. Some software offers a lot more features that you will enjoy. Remember that these apps are free to use which is a good thing for you. So what are you waiting for? Try now!
Did you find this helpful?
164 Votes
YES

Thanks for letting us know!
No

Thanks for letting us know!
Aiseesoft FoneTrans
Let iOS data sync be easier than before without iTunes.