The Incredible MP3 Converters for Android and PC: Key Features, Pros, and Cons
Recording your daily life or your thoughts to share with the public is one of the trends nowadays. Creators are now exerting efforts in creating content to attract more viewers because more viewers are equivalent to more income. YouTube is the leading site among the rest. However, Spotify also has a podcast portion where you can upload your pep talk in the format of MP3. In this case, you can hit two birds in just one stone by recording a video for YouTube and just convert it to a Spotify podcast! Isn't it amazing and time-efficient work to do?
Bottom line, you can make that thing possible by converting your videos to MP3. Converters like this are essential for work efficiently, compatibility purposes, or entertainment purposes. Fortunately, you can use any MP3 converter apps and software that you can include in your career! Buckle up, as we discover the incredible converter for you!
Part 1. What is MP3 & Why Do You Need an MP3 Converter?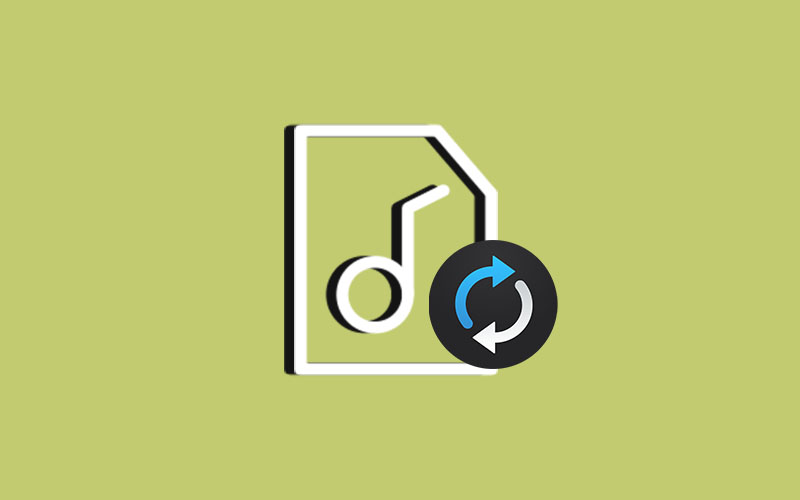 MP3 is the file format is an audio format created by the Moving Pictures Experts Group (MPEG). This is one of the most infamous file formats that are most commonly used to store music data and audiobooks. Owing to its popularity, several PC, phones, tablets, and vehicles have built-in MP3 players.
In connection with that, converting any format is very useful so that you can enjoy the music, pep talks, forums, or audiobooks anytime at anywhere without keeping your screen awake.
To show you the benefits of listening to MP3 rather than any other formats especially videos, we listed a few of them below:
1. Play Anywhere at Any time.
Since it was one of the most popular formats, it can be played on almost every device.
2. Save Battery Charge.
Listening, or should I say watching is more charge consuming rather than just listening to MP4. Therefore, staying your device asleep while listening to MP3 is allowed. That means the battery charge is saved.
3. Enhanced Load Speed.
Listening to MP3 can lessen or even prevent you from experiencing buffering. Thus, it will help you to absorb what is listening without any distractions.
Overall, there are many benefits when you listen to MP3. We hope by now, we have already embedded in you the importance of converting your file into MP3!
Part 2. MP3 Converter for Computer
Let us start by introducing you to different MP3 software that you can use with your computer.
1. Aiseesoft Video Converter Ultimate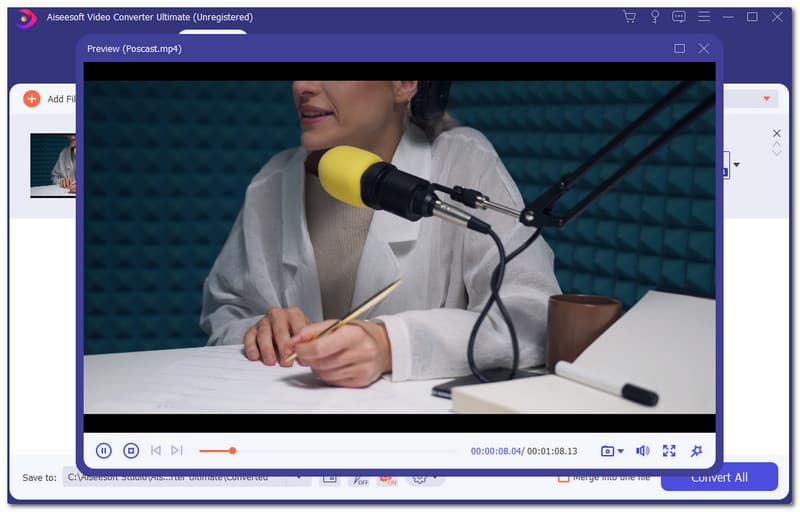 This fascinating Aiseesoft Video Converter Ultimate will give you the ability to transmute extensive numbers of file formats into MP3. It supports more than 1000 video/audio formats including, MP4, AVI, MOV, WMV, MP3, FLAC, WMA, and more. Talking about its speed, an outstanding Hardware Accelerating Technology will provide you the best and faster conversion speed experience. Imagine the conversion process without any buffering moments. In simple words, you may now convert your videos 30X faster than any other converter. This is the best choice in converting WAV or M4A to MP3. You can get this extraordinary converter now for only $25.00, one license for a month.
Key Features
● Extraordinary Hardware Accelerating Technology that allows you to convert faster than the ordinary speed.
● Other than converting your file into MP3 formats, it comes with built-in editing tools that you can use in adjusting your audio or for enhancement purposes.
● Support tons of file formats that are necessary to a converter.
Pros

User-friendly. Beginners can enjoy using this in their journey.
Clean and organized interface. It's the interface that makes the process of converting smooth and less complicated as much as possible.
Using this converter is easy as the work of a child.
Cost-efficient that anyone can afford. The price is justiciable with what it can offer.
Cons

Other people for free software, although this converter offers a free trial, where you can use it for a fleeting time. However, you still need to pay if you want to experience the full features of Aiseesoft Video Converter Ultimate. Moreover, this will be a great MP3 converter for your set denying the fact that it is a subscription-based converter.
2. Freemake Video Converter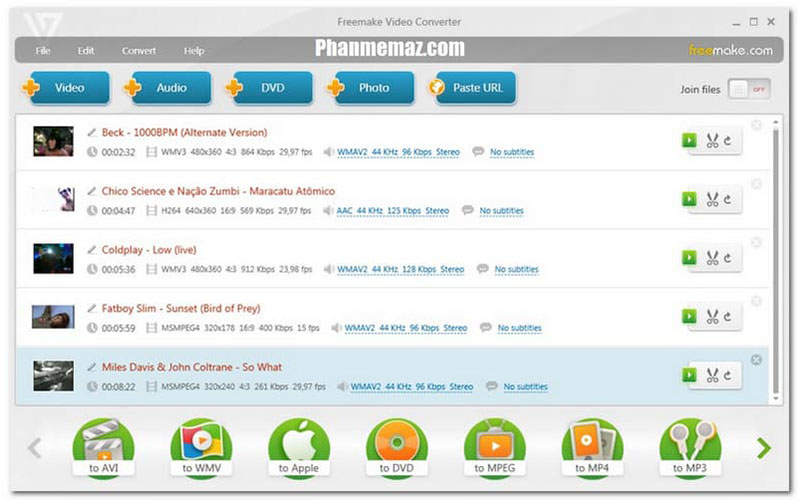 Freemake Video Converter has belonged to those people who are looking for a super affordable converter that will allow them to convert any files into MP3. Get this convert for as low as $19 for a lifetime license for one pc. However, it comes with a free version with several features. Besides, it does support a Web App and the perfect MP3 converter for windows. Unfortunately, Mac users and mobile platforms cannot benefit from this. Freemake Video Converter was awarded in Software Suggest 2021 and bagged the Best Value plaque for this year. This is proof of how great this converter is. A trusted converter where you can convert MP3 from any file format.
Key Features
● It supports more than 500 formats including MP3, MP4, AVI, WMV, MKV, FLV, DVD, 3GP, and MOV.
● After getting your MP3 files, through the use of Freemake Video Converter you now share it directly with your social media sites.
● Batch uploading is allowed to this converter that means this is also a time-efficient converter for you.
● It cares about your privacy. You need to worry a lot about your secrets and confidential information. Freemake Video Converter can guarantee you a secure service.
Pros

The definition of the acute interface. It gives us a vibe of simplicity that can make the process of converting smooth as much as possible.
Its features and functionality have almost perfect ratings from the users. The public as spoken. This is one of the best converters.
Much affordable compared to other converters
Cons

The free version comes with watermarks.
Its name literally said it was free, but it is not free. For you need to pay to get the full version of it.
3. FVC Free MP3 Converter
FVC Free MP3 Converter is another way to convert any file to MP3 format through the use of your browser. This is a free online MP3 converter, which is different from other converters mentioned above. Through FVC Free MP3 Converter, you may now convert FLAC to MP3 and other file audio formats including AAC, AC3, AIFF, AMP, APE CAF, DTS, OGG, MAV, and more. It is a feature that is rare with another online converter. For that being said, we can now call this converter flexible and adaptable. Truly, an online converter that is accessible anytime, anywhere. Furthermore, you can now convert to Windows and Mac and its only requirements are that you have a browser and an internet connection.
Key features
● A very adaptable converter. That will allow you to convert audio file formats to MP3.
● Ability to convert offline downloaded YouTube videos to MP3 with ease and hassle-free.
● Tool for adjusting your audio encoder, sample rate, bitrate, and channel.
● It comes with a built-in MP3 Player where you can pre-listen to your file.
Pros

You do not need an account or registration key to utilize this converter.
It is compatible with almost all popular browsers.
It supports a bulk of audio formats.
Cons

Limited feature, unlike those downloadable software converters.
The speed will depend on your internet connection speed.
4. Ytmp3.cc
Talking about instant MP3 Converter, it is common knowledge that Ytmp3.cc is the most popular when it comes to that topic. One of its special features is, it can convert any videos from YouTube to MP3 file format by just using the link/URL of the video. Easy conversion process as copy and paste process.
Key Feature:
● Convert YouTube videos to MP3 with easy steps.
Pros

The unique feature will allow you to convert video from YouTube without downloading the video itself.
Free MP3 converter and accessible for the mass.
Millions of users are consistently using this MP3 converter for a long time now.
No bugs and advertisements campaign has shown.
Cons

Limited in converting video from YouTube to MP3.
Limited features.
The conversion speed depends on your internet connection speed.
Part 3. MP3 Converter for Android & iOS
We talked about the different MP3 converters that you can utilize using your computers in the previous part of this article. In this article, we will talk about the same purpose but different mediums to use. We also gathered you the best MP3 converter for android and iOS.
To see their different functions and features, we simplified all the information using the organizational charts so that you will classify all the features without complications.
1. MP3 Converter - Audio Extractor (iOS)
2. Audio Converter (MP3, AAC, WMA, OPUS) - MP3 Cutter (Android)
3. MP3 Converter(Android)
Applications
Features
File Size
Easy-to-Use
Recommended
Rating(Via Apple store and Google Play Store)
MP3 Converter -Audio Extractor(iOS)

● Convert video to MP3.

● Supports almost all video/audio formats.

● Can easily share your file via numerous.

● Variety of audio clippers and splicers.

● Smart widgets for instant play audio.

71.5 MB
4.8/5
4.9/5
4.7/5
Audio Converter(MP3, AAC, WMA, OPUS)-MP3 Cutter(Android)

● Convert MP3.

● Audio cutter.

● Create ringtones.

● Support various MP3, AAC, M4A, OGG, AMR, and etc.

● Convert without losing the quality.

20 MB
20 MB
20 MB
20 MB
MP3 Video Converter

● Convert video files to audio files (MP3 and ACC)

● Uses ffmpeg and m mp3lame library.

● Supports editing meta information (Title, album, artist.)

8.9 MB
4.7/5
4.2/5
4.5/5
Part 4. FAQs of MP3 Converter
What is the best converter that can convert downloaded videos from social media into MP3?
We recommend utilizing Ytmp3.cc FVC Free MP3 Converter. The only thing you need is to convert. However, if you demand many tools you may utilize Aiseesoft Video Converter Ultimate for a better conversion experience.
Is there any way to convert Spotify songs to MP3?
Yes, there is plenty of software and applications that will allow you to convert Spotify songs to MP3 such as Deezify and AllToMP3.
Is there an existing Soundcloud to MP3 converter?
Absolutely yes, and ForHub.IO can make that possible. Convert your audio from Soundcloud to MP3 format with ease.
Conclusion
We talked about numerous software and applications that can be used in converting your video/audio format to MP3. We introduced you to four of the best MP3 software converters and three of the best application MP3 converters for Android and iOS. Now, it is your time, what do you prefer! Try them now, and make sure to copy and share the link with your friends who are also looking for the best MP3 converter!
Did you find this helpful?
200 Votes
YES

Thanks for letting us know!
No

Thanks for letting us know!
Aiseesoft Video Converter Ultimate
All-in-one video converter, editor, enhancer upscaled with AI.