DivX Converter Review: A Stunning Media Converter For Everyone - Ads Free
Did you also ask this question, why do we need a media converter? Well, Me too! There are many reasons why we need a media converter. One reason is that we want to compress our files into a smaller size with some codecs. What's more? We want our files to be compatible with different devices. Is that possible? Yes! Many people are searching for a reliable media converter over the internet. For that reason, do not go elsewhere because we are introducing you to the DivX Converter. It is a media converter that can convert your files efficiently, and it is a straightforward converter. In addition to this, it enables you to convert your files for free! Do you want to hear more? Seize the moment to read this article review.

1. Our Verdict
Pros

It is an easy-to-manage converter.
You can play the video with subtitles or add subtitles in many formats.
It offers a 15-days trial of cloud connect, Video Pack, and DTS-HD Plug-in.
It provides a 30-day free trial of DFX Audio Enhancer.
Cons

You must purchase the Pro version to use the full features.
It is built in other plug-in installations.
Overall Ratings
Easy to use:9.0
Conversion speed:8.5
User-friendly:8.8
2. What is a DivX Converter?
Price: Free
Platforms: Windows and Mac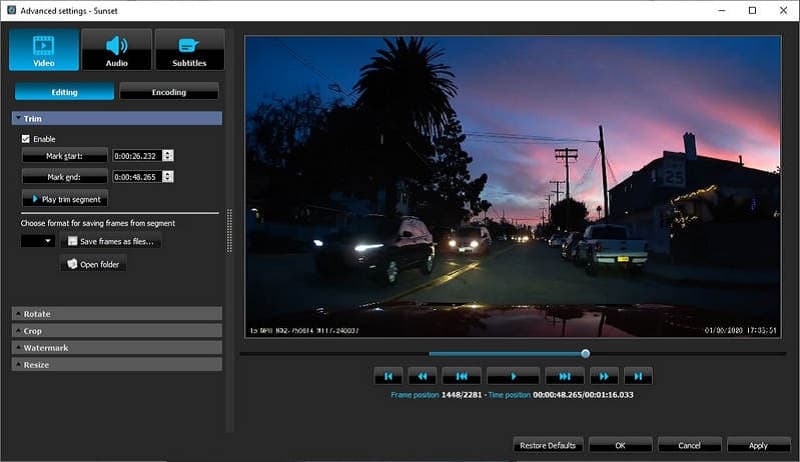 DivX Converter is converter software that is compatible with Windows and Mac. Additionally, this media converter is a user-friendly and easy to manage software. That is why everyone can use this without hesitation. Furthermore, DivX Converter can play almost all video formats such as DivX, MKV, and HEVC up to 4K quality. What's more? It is an Ad-free converter. Therefore, you can enjoy DivX Converter without any Ads in the converter, player, or installer.
Main Features
Here are some of the DivX Converter features. See features below:
◆ It can convert your videos so you can play them anywhere, anytime.
◆ You can transcode your video to your liking.
◆ It has an audio feature.
◆ You can customize your workflow.
◆ It can stream to DLNA compatible devices such as smart TVs and much more.
3. DivX Converter Review
Interface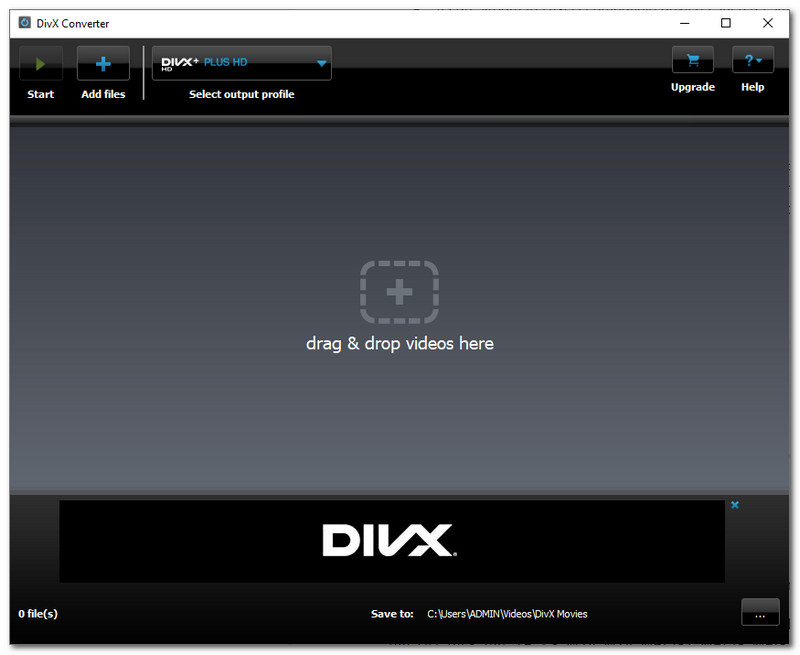 Who would not want a media converter that is simple, right? For that reason, we offer you this converter software. DivX Converter has a simple interface. It has gray and black that is so plain. In addition to this, it is simple to use. You can easily drag your file from your computer or click the Add files. Also, near the Add files, you can see the available formats to convert files.
Supported Input and Output Formats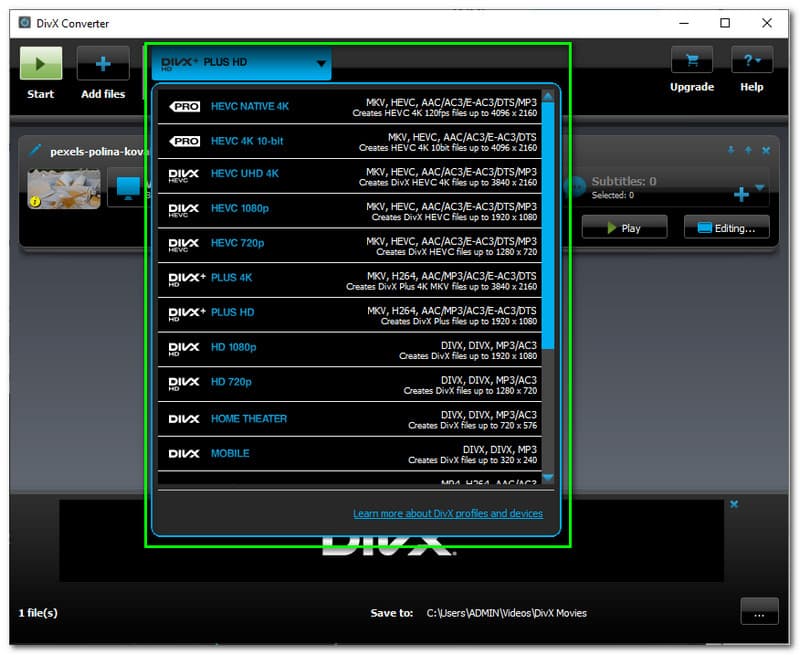 Once more, DivX Converter supports almost every popular format and allows us to share them with you. Please see below:Here are some of the input formats:
XVID, MJPEG, DivX, WMV, MP4, H264, MKV, MOV, MP4, AVCHD, AVS, AVI, TP, TS, M2V, M1V, MPEG2, MPEG, MPG, and much more.
Here are the output formats: MKV, HEVC, AAC, AC3, DTS, MP3, H264, DivX, MP4, AVI, and so much more.
Back-up Your DVDs
How to back up your DVDs? To do that, add a Video Pack with the MPEG-2 Plugin. The use of this is for you to convert any non-encrypted DVDs to have a better digital backup of your video collection. Do not worry because DivX Converter offers a 15-day free trial Video Pack. However, if the 15 days trial is not enough for you, and you want to continue using this, buy the Pro version.
Pro vs. Free
There is a big difference between DivX Converter and DivX Converter Pro. Why? Since the free version has limitations. Nonetheless, there are no limitations in a Pro version since you pay for it. You can freely use the feature forever. That is why there is a vast variance in the free and Pro version. Please see the difference in the table below:
Features

Cloud Connect

Video Pack

DFX Audio Enhancer

DTS-HD Plug-in

AC3 Edition

Ad-Free
| | |
| --- | --- |
| Free Version | Pro Version |
| 15 days trial | |
| 15 days trial | |
| 30 days trial | |
| 15 days trial | |
| | |
| | |
Is Premium Worth it?
While reviewing this converter software, purchasing the Premium of Divx Converter is worth it. Why? Because you can unlock all the incredible video and audio features. To repeat, you can connect to cloud storage. In addition to this, you can get all the advanced features, so expect the unexpected. And, you will get the best value since you paid for it. Another thing, you can enjoy using DivX Converter Pro without Ads!
4. FAQ
Is the DivX Converter safe?
Yes, DivX Converter is safe to use and install for Windows and Mac. This software converter assures you that it does not include third-party offers to detect your information. DivX Converter has no viruses after you downloaded the software.
How can I install DivX Converter on Windows for free?
First, you can download the DivX Converter free version on DivX.com. After installation, select your language. After that, accept the agreement that DivX Converter provides. After the installation process, you have an option to register and enter your email. After that, you are finished.
I want to import my files from my cloud storage to convert them. How can I do it in the DivX Converter?
After launching the software, click the Add files, then you will see the options like Import from Dropbox, Import from Google Drive. Then, choose with the choices. That's it.
5. Best Alternative- Vidmore Video Converter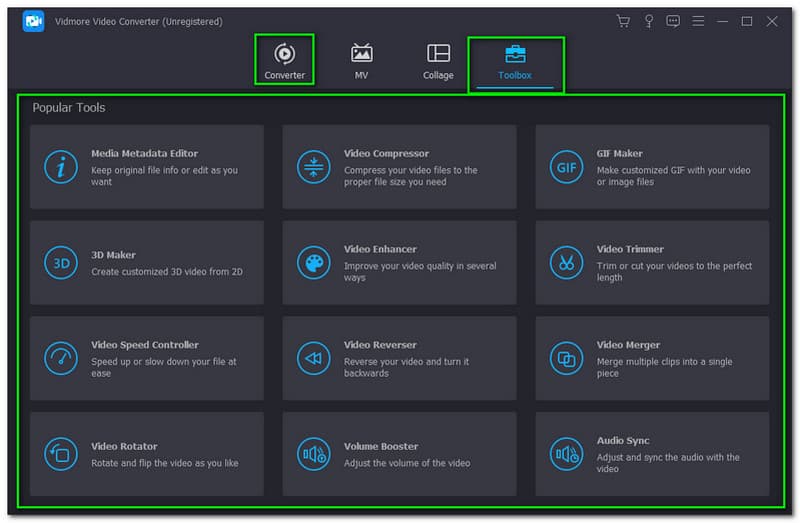 For the most part, we want to share that Vidmore Video Converter is the best alternative to DivX Video Converter. Because you can use Vidmore Video Converter without limitations, unlike the DivX Converter, in addition to this, Vidmore has a lot to offer since it has a complete toolbox. It includes Video Compressor, Video Enhancer, Volume Booster, GIF Maker, 3D Maker, and so much more. What's more? You can make a professional-grade movie video using its editing tools, and it is easy to use. Yet, you can create a video like a pro! Just in case the DivX Converter did not meet your needs in the converter, we offer you the best alternative for that, which is Vidmore Video Converter. All in all, we recommend the Vidmore Video Converter because it has features you can enjoy. However, you have an option to choose between the two converters. Choose wisely!
Conclusion
Finally, we are glad to review the DivX Converter. We learned that this software could convert your files easily. In addition to this, we also obtain an idea about its pros and cons. Not just that, we compare the free version and the pro version to see the difference between the two. All in all, we know that the Premium of DivX Converter is worth purchasing. To end, if this article review helped you so much, do not forget to give us a like and share it with others. Till our next article!
Did you find this helpful?
390 Votes
YES

Thanks for letting us know!
No

Thanks for letting us know!
Vidmore Converter
Your complete video toolbox to convert, edit and enhance video.