Lightworks Video Editor Review: Features, Pros, Cons, and Alternatives
Lightworks is a free video editor with multiple amazing features and useful tools. Thus it is used to edit Hollywood films like Pulp Fiction, and The Wolf of Wall Street. But now with the emergence of more and more video editors, is it still the best choice for you? Is it suitable for beginners? What is the price of the pro version? What are the differences between the free and the pro version? Is it worth buying? This review of Lightworks will introduce everything related to its features, pros, and cons, which will help you make the decision.

Part 1: 4 Main Features of Lightworks
1. Library of video footage and music.
In addition to the local files, it also provides other libraries of footage, including music tracks, network audio, and 4K videos from Pond5. You can directly search the desired footage and add them to the project. There are multiple free audio and video materials to help you make your videos more appealing.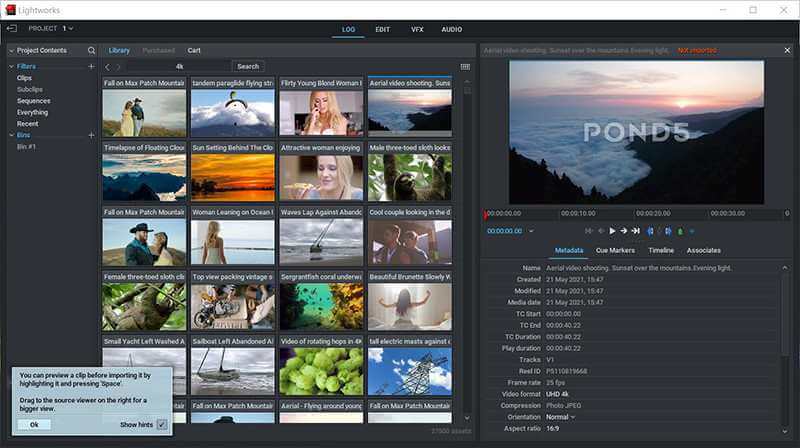 2. Edit videos with several video and audio tracks.
The main feature of Lightworks is the editing feature with many tools. You can simply drag and drop the footage in the different tracks and clip them freely. You can also adjust the aspect ratio, video speed, audio waveform, and all the basic adjustments.
3. Adjust the VFX(visual effects) without the preset filters.
Since Lightworks video editor doesn't have preset filters and effects, you can adjust the VFX to make your video more attractive. You can change the white balance, shadows, and highlights, and RGB curves to create a unique effect. And the toggle bypass function is convenient for you to compare the effect.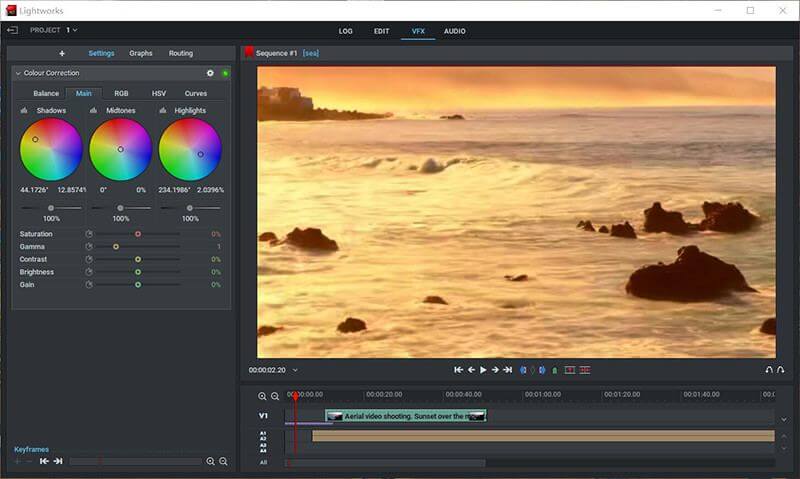 4. Multiple output formats with high quality. (for Pro version only)
For pro version users, the videos can be exported in almost all formats, including MTS for DVD, uncompressed formats, and the formats designed for certain devices. And the resolution can reach 4K with high quality. But as for free users, you can only export videos in common formats with less than 720P(included) resolution.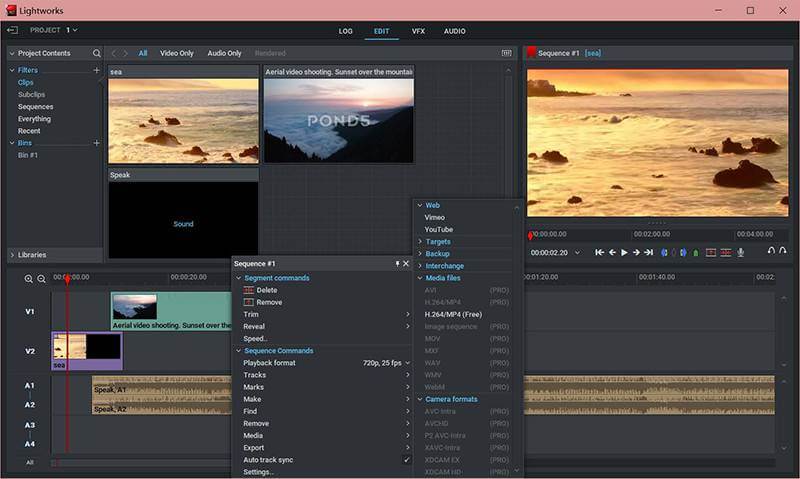 Part 2: Overall Reviews: Pros and Cons of Lightworks
Pros

Free trial with all the basic features.
Automatically save your project.
Detailed tutorial that is friendly to beginners.
Multiplatforms: Windows, Mac, and Linux.
Occupy less space of your storage. (80MB)
Cons

Limited transitions and font settings.
Always has audio sync issue when importing.
No subtitle option.
1080P or 4K is only available to the pro version.
Ease of use8.2
Editing features8.6
Effects7.8
Summary: Lightworks is a professional video editor with almost all the needed features for creating a movie, but it is also suitable for beginners because of its friendly and concise UI. However, Lightworks video editor doesn't have preset effects to choose from, so it's not a good editor for those who just want to make easy editing.
Part 3: Differences between the Free and Pro Version: Is It Worth Buying
As mentioned before, Lightworks video editor has a free version with all the basic editing features. And the main differences between the free and pro version are the export format and resolution. The supported format and resolution are listed in the following table:
Free Version
Pro Version
Price
Free
$24.99/Month
$174.99/Year
$437.99 Outright
Supported Format
Web-compatible format:
– MPEG4
– H.264
MP4, WebM, AVI, MOV, MXF, MPG, DVD, Blu-ray, AVCHD, etc.
For devices: Sony, Quicktime movie, DVCPRO
Supported Resolution
1280x720p and less
720p HD, 1080p, 2K, 4K
Bonus Function
None
Boris Graffiti plugin package included (not available to the month paid) Boris FX plugin package included (only for the outright paid)
If you only want to create videos for tasks or upload videos on YouTube, which don't need such high quality, the free version is enough for you. To be honest, the pro version is a bit expensive, and the additional function is not worth buying. You can try the following alternatives.
Part 4. How to Download Lightworks Video Editor
To download Lightworks Video Editor, you should log in, and then it will give you the option to download Lightworks Video Editor on Windows, Mac, Linux PRM, or Linux DEB for your operating system.
Part 5: 3 Best Alternatives to Lightworks
1. Aiseesoft Free Video Editor
If you are finding an easy-to-use video editor with preset effects and high quality, Aiseesoft Free Video Editor will be the best choice. It is not professional to edit movies, but it's convenient for you to do simple editing. To complete your tasks or upload videos on YouTube, it will be the perfect video editor. Moreover, it provides multiple formats and high quality to choose from.
2. Windows Movie Maker
If you don't want to download any other software because of not enough storage space, you can try using Windows Movie Maker. This default software is a user-friendly video editor for simple and quick editing. But it's not for professionals.
3. VSDC Free Video Editor
To export videos without limitation, you can try VSDC Free Video Editor. It supports exporting videos with 1080p and 4K resolution in any common format. It also provides the 120fps frame rate to create videos of high quality. But the complex UI is also unfriendly to beginners.
Part 6: FAQs of Lightworks Video Editor
1. Is Lightworks safe to use?
Yes. There hasn't been any hacking incident with Lightworks Video Editor. If you download it from the official website, your computer will be completely safe.
2. How to add video effects through Lightworks?
Since there are no preset video effects, you should click the VFX menu and adjust the parameters to add filters and effects on your own.
3. Does Lightworks editor lag a lot?
No. When you using Lightworks Video Editor, it won't occupy too much CPU. Thus the processing speed is relatively fast, and the lag rarely occurs.
4. Is Lightworks Video Editor Free?
No. Lightworks is not a free video editing software. Though it offers you the 90 days' free license to use, you have to purchase a license ($9.99/month or $99.99/year) to use its features.
5. Is Lightworks Video Editor a good video editor?
It is a good video editor for professionals to edit a Hollywood video. But it may be a little hard to use for a video beginner.
Conclusion
This review of Lightworks Video Editor has introduced everything about it. Lightworks is a versatile and professional video and movie editor with powerful editing features. But the complex interface and manually adjusted video effects make it difficult for beginners. And the pro version just cancels the limitation of exporting format and resolution, which is not worth buying.
Did you find this helpful?
188 Votes
YES

Thanks for letting us know!
No

Thanks for letting us know!
Aiseesoft Free Video Editor
Best free video editor to refine your video shots.