Review and Alternatives to Nero Wave Editor
Nero Wave Editor is a professional audio recording and editing tool for free. You can use its versatile features to optimize your audio files. It's an ideal tool for both professional musicians and beginners who only want to edit some audio and music files. This review provides you details about Nero Wave Editor so you can have a comprehensive understanding of it.
Overall7.5
Design7.0
Usability8.0
Content8.0
Creativity7.0
Part 1. Features of Nero Wave Editor
The various basic and advanced features of Nero Wave Editor allow you to edit and upgrade your audio files. It supports various third-party devices to input audio. You can even record music from tapes or vinyl records with it.
1. The basic function including trimming, copying, pasting, mixing, cropping, and undoing. You can use these functions by clicking the buttons to edit audio files easily on the interface.
2. Supports adding plugins to expand the features and improve the audio files. There are many plugins you can download on the Internet. Load them in Nero Wave Editor and then you can run them perfectly.
3. Advanced editing features like sample format conversion, anti-aliasing filters, dithering, and noise shaping to improve your audio files in detail. You can export audio files in different formats. The anti-aliasing feature makes the sound smoother and more comfortable. And noise shaping feature can reduce the noises of audio.
4. Multi-track editing features can help you to upload and manage many audio tracks. You can also use Nero Wave Editor to split audio tracks and view them in spectrogram through this feature. Spectrogram can show you the waves of audios files so that you can easily adjust parameters like volume and frequency.
5. With the filter toolbox of Nero Wave Editor, you can make your own filters on audio tracks. You can also use limiters to adjust the frequency of the filters. These filters can add special sound effects to your audio files.
6. Support creating crossfade between two audio files by overlapping them on the timeline.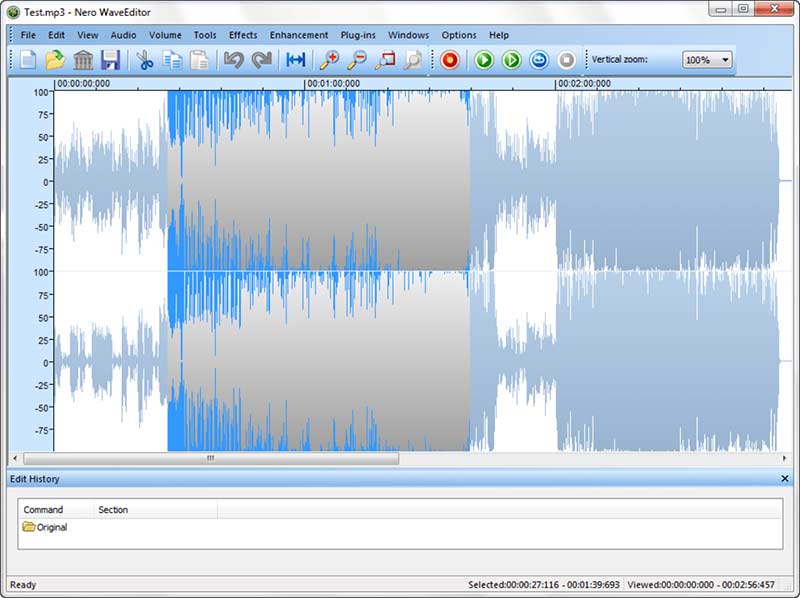 Part 2. Pros of Nero Wave Editor
1. Non-destructive editing allows you to preview and undo at high speed without changing audio files.
2. Compatible with various audio files including WAV, MP3, AIF, AIFF, OGG, etc.
3. Well-organized interface to edit audio files efficiently.
4. High performance during the process to avoid crash and freeze issues.
5. All functions are free.
Part 3. Cons of Nero Wave Editor
1. The features of Nero Wave Editor are limited compared with other audio editors.
2. It lacks official supports and guidance on the developer's website.
Part 4. Alternatives to Nero Wave Editor
1. Ocenaudio
Ocenaudio is an ideal audio editor for all kinds of users including podcasters and home musicians. It has a clear and well-designed interface and multiple advanced functions. You can optimize your audio files with these features. This software also provides you high performance when processing audio files so you can use it without crash issues.
Pros

Upload audio files without limitation of sizes and numbers. It can also open audio files in the background without occupying memory.
Supports adding VST plugins. You can access more advanced features like a real-time preview to check your audio.
It's compatible with Windows and Mac systems and supports all mainstream audio formats.
Spectrogram allows you to check audio files through spectral content.
Cons

It doesn't have a multi-track editing feature.
Effect stacking is not supported.
2. Waveshop
Waveshop is another alternative to Nero Wave Editor. It's an open-source audio editing tool compatible with Windows XP/Vista/7. You can use it to edit multiple audio tracks and mix them. Also, you can trim and crop audio files without damaging the content. Its basic features like peaking and RMS analysis, normalizing, fading, audio generation, and undoing allow you to upgrade your audio files easily.
Pros

Support various audio formats including AAC/MP4, MP3, FLAC, and Ogg/Vorbis.
Acceleration process to get high performance without a crash.
Extra features including rate conversion, real-time spectrum analyzer, and LADSPA plugins enable you to control details of audio files.
Cons

The development of Waveshop is stopped and there is only limited support on the website.
It doesn't have pitch and tempo change features.
Part 5. FAQs about Nero Wave Editor
1. Where can I find Nero Wave Editor offline installer?
To get the installer of Nero Wave Editor, you should visit the official website of it. Then you can click the download button to download the installer.
2. How can I remove vocals from a song with Nero Wave Editor?
Select the part you want to remove the vocals on the audio. Then go to the Tools menu and find the Karaoke filter. You can adjust the vocal pan, gain compensation, and frequency pass to remove the vocals. It needs time to change these parameters to get the best effect.
3. How do I split tracks with Nero Wave Editor?
Go to the Edit menu and click the Pause Detection in it. Then change the dB value to -30. You can adjust other parameters if you are not satisfied with the result.
Conclusion
This review of Nero Wave Editor introduces you to details of this software. You can learn more about its features, pros and cons, and alternatives. Nero Wave Editor enables you to capture and edit audio files flexibly. As a free editor, it meets all the demands of audio editing. Also, you can use Ocenaudio and Waveshop as alternatives.
Did you find this helpful?
128 Votes
YES

Thanks for letting us know!
No

Thanks for letting us know!