Shotcut Review - A Free and Basic Video Editor
Shotcut is a free open-source video editor with basic editing features, and preset filters and effects. It is supported by Windows, Mac, and Linux. Moreover, it is totally free without paid version, which means you can use all the features for free. However, it also results in not having advanced effects for professional editing.
The features of Shotcut are designed for beginners, but is it easy to use? What are the basic features it has? What are the professional alternatives of Shotcut? Keep reading this article and learn more about Shotcut Video Editor.
Part 1: Is Shotcut Professional? Key Features of Shotcut
1. Multiple tracks for editing
By dragging and dropping videos, you can simply add files into Shotcut. And then you can add multiple video and audio tracks in the timeline to start editing. The multiple tracks enable you to do any basic clips and collages. By zooming in the timeline, you can clip the segments more precisely. Or you can simply adjust the Current Position to locate to the desired position.
Shotcut also has the Undo function to withdraw the changes, which helps a lot. Moreover, the undo operation is not limited, and it means that you can revert to a very early version if you always change your mind.
2. Effects and Filters
Shotcut Video Editor provides many effects including rotation, color correction, sharpness, saturation, white balance, mirroring, and others. And the preset effects and filters are friendly to beginners. You can easily adjust the brightness, add contrast, and change the video color. Moreover, Shotcut Video Editor offers some interesting effects, such as blur, opacity, and old film filters. But you should know the filters are applied to each clip individually, and it will be a little annoying.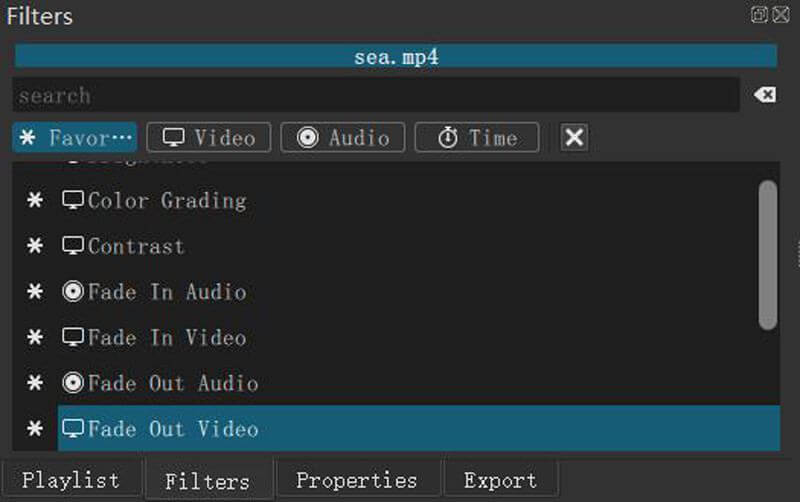 3. Powerful exporting: wide formatting support and high resolutions
The best feature of Shotcut Video Editor is the multiple exporting formats and other adjustments. It includes almost all the common video, audio, and picture formats, and it also supports specialized formats for camcorders, and devices, including DV, HDV, XDCAM, DVD, and so on. Moreover, you can transcode your videos in lossless mode by choosing the lossless formats.
In addition to the formats, Shotcut can also adjust the exporting resolution, aspect ratio, and frame rate freely. You can even choose the 4K resolution and set the frame rate to 240fps, which will keep the high quality of your videos.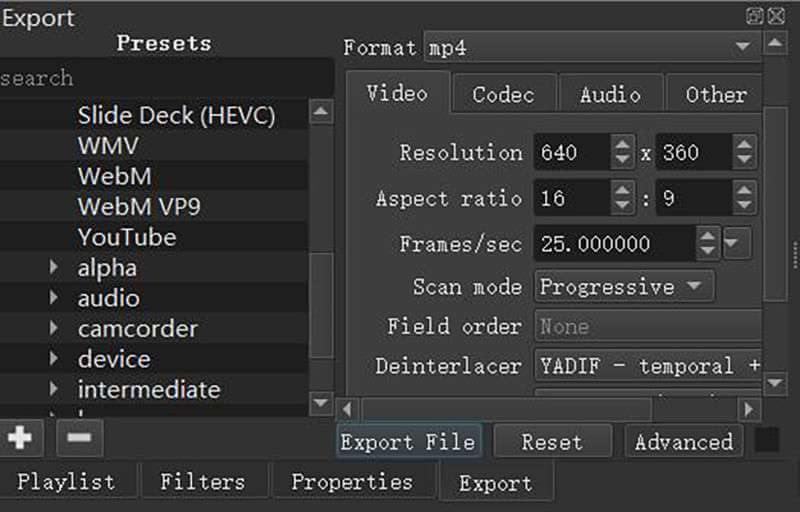 Part 2: Pros, Cons, and Overall Reviews of Shotcut
Pros

Completely free
Cross-platform: Window, Mac, Linux
No watermark or advertisement
Support numerous output formats and codecs
Preset filters and effects
Able to monitor and display videos
Cons

Complex interface for beginners
No detailed tutorial
No advanced editing effects (3D or 360° editing)
Large videos will cause lags
Ease of use7.9
Features8.2
Video quality8.8
Summary: Shotcut is a very good video editor for video editing beginners because it's free and it doesn't have complex features. Although there's no official tutorial in the software, you can find many teaching videos on YouTube. You can use it to practice at first, and then go for other professional video editors to create better videos.
Part 3: 3 Best Professional Alternatives of Shotcut Video Editor
1. Aiseesoft Free Video Editor
If you are finding a video editor both for beginners and professionals, Aiseesoft Free Video Editor must be the best choice. The intuitive and user-friendly interface makes you easily master various functions. You can clip videos, edit effects, add specific watermark to your videos. It also provides multiple preset video export settings, such as YouTube, Vimeo, etc.
2. Lightworks Video Editor
To make professional videos and movies, you can choose Lightworks Video Editor that is especially for professionals. It doesn't have any preset effects and filters, and you should adjust the RGB curve, white balance, and other parameters on your own. However, the free version of Lightworks only supports 720P resolution in H.264 codec.
3. Windows Movie Maker
Windows Movie Maker is a very simple video editor for quick editing. The interface is very friendly for beginners, but it can only do some easy operations. And you should note that it is only available to Windows 7, 8, and XP.
Part 4: FAQs of Shotcut Video Editor
1. Is Shotcut Video Editor easy to use?
Not very easy. Although the features are very basic without complex operations, the interface is not clear for usage. With multiple functions mixing together, it's difficult to find the desired one.
2. How do I add subtitles to videos through Shotcut?
You can add subtitles or other words by choosing the Text filter. But as mentioned before, the filters are applied separately on each segment. Thus, if you want to make subtitles, you should first cut the videos into numerous clips, which is very troublesome.
3. Does Shotcut have keyboard shortcuts?
Yes, it has. Keyboard shortcuts are very important and convenient for video editing, and most video editors have the function. You can find keyboard shortcuts in the Help menu of Shotcut. But you can only learn about those shortcuts, you can't change them to the frequently-used ones.
Conclusion
Shotcut is a free video editor with all the basic editing features. Its simple operation and preset filters are very suitable for beginners. But it's a bit difficult to learn how to use because of the complex interface, so you can rely on the tutorials on YouTube. Since it only has basic editing functions, it's suitable to deal with simple video effects. As for professional editing, you can try using the above alternatives.
Did you find this helpful?
178 Votes
YES

Thanks for letting us know!
No

Thanks for letting us know!
Aiseesoft Free Video Editor
Best free video editor to refine your video shots.