Reliable PPT to DVD Converters to Use When In Need
PowerPoint Presentations are usually used in presenting a topic that was given to you. This is usually used in Business Presentations, School Presentations, Forums, and more. However, storing them on your laptop may consume a lot of space. It is also not impossible that a virus can corrupt your file. One of the solutions is to turn our PPT files into DVDs. In line with that, we are going to talk about software that offers PPT to DVD conversion in this article.

Top 1. Moyea PPT to DVD Burner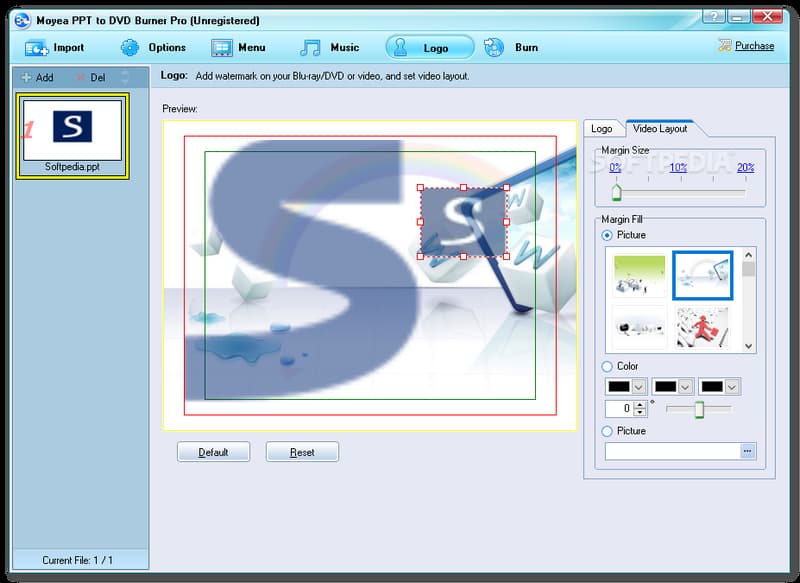 Moyea PPT to DVD Burner Converter can help you convert PPT to DVD, Blu-ray Disc, and PPT to video that makes sure to retain the original music, animation, movie clips, and transitions. This software has a lot of features. It can record narrations and instructions that make the PowerPoint easier to understand. It also lets you put some background images and music such as human voice, audio track, or any kind of sound that you can think of.
It is capable of keeping all your original PPT files. You can also add your own logo using the software's Logo feature to help you protect your DVD or video from being stolen. This software allows you to share your presentations with Blu-ray/DVD players on TV for your audience to see them clearly.
This software can be downloaded in your Windows NT, Windows 2000, Windows XP, Windows Vista, Windows 7, and Windows 8.
Pros

Free software.
Beginner-friendly.
Virus-free.
Cons

It is not available with Mac.
The software sometimes crashes.
You need to avail the software to use some of the tools.
Top 2. Tipard PPT to DVD Converter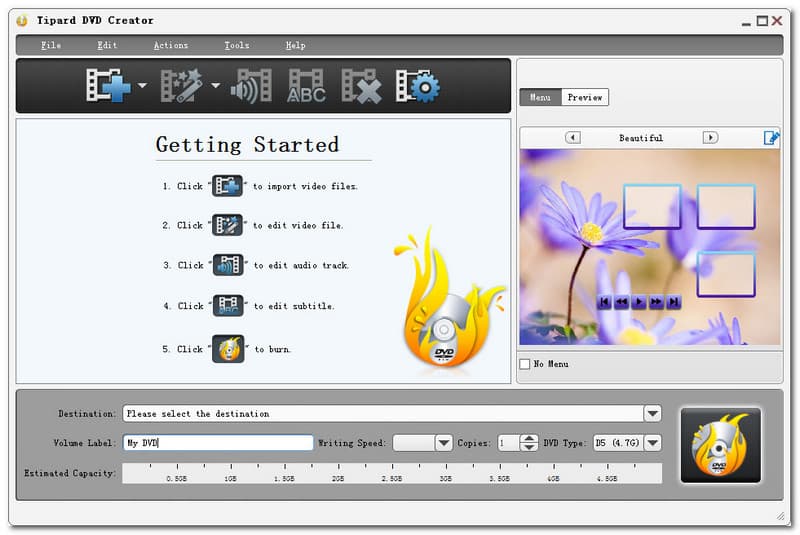 This software converts PPT files to video or DVD format. It makes sure to give you a high-quality video. It has features that are easy to use that make the software beginner-friendly. You can personalize your files by adding some background music, choose your choice of burning engine, control the volume level, and it also has auto mode and advanced mode.
This software also lets you convert PPT files in PowerPoint 2003, PowerPoint 2007, PowerPoint 2010, PowerPoint 2013, and PowerPoint 2016. It also offers SD and HD conversion from PowerPoint when it comes to resolution. You can also choose the video format such as MP4, WMV, FLV, AVI, and MOV. In addition, it offers batch conversion that lets you convert files all at once. You can also view the result before totally converting it. It also assures you that your files are safe from anything. Lastly and one of the most amazing features is it's fast when it comes to converting because it supports AMD and CUDA acceleration technology.
Tipard PPT to Video Converter works well on Windows 7, Windows 8, and Windows 10.
Pros

It's easy to use.
Great software.
Smooth performance.
Cons

Software is not available for Mac.
Low-quality conversion.
The software sometimes doesn't open.
Top 3. PowerDVDPoint Lite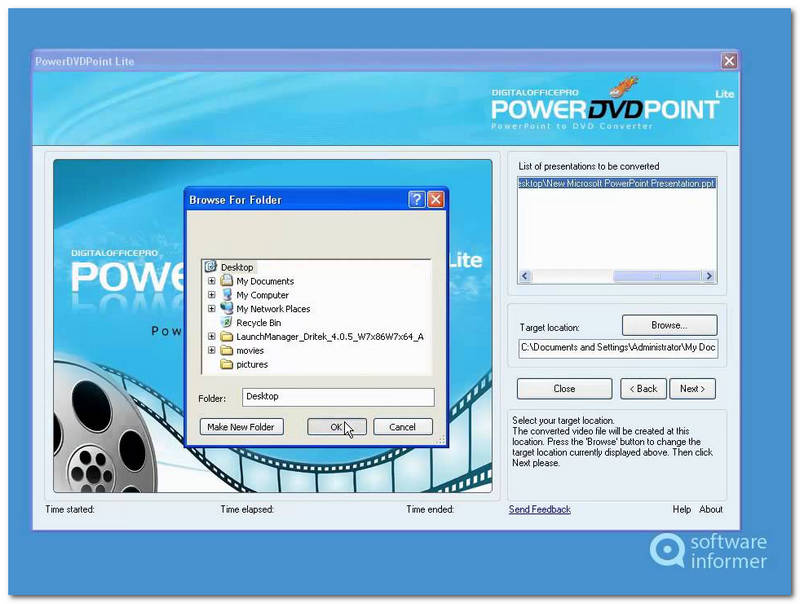 This free program allows you to convert PowerPoint, PPTX, PPSX, and PPS presentations to DVD. It also allows you to do multiple conversions. It has an easy-to-understand surface which is good for beginners. It also lets you set the audio and video bitrate. You can also control the frame rate, quality, and more before finishing the converting process. It also supports video output formats such as MOV, ASF, WMV, and MKV.
In addition, you can also upload the converted files to websites like YouTube and more. You can also play it with any device after the conversion. Lastly, this software is compatible with Windows XP, Windows Vista, Windows 7, Windows 8, and Windows 10.
Pros

It is totally free.
It is very useful.
Good choice of software.
Cons

It eliminates some of the text and photos when you convert the file.
Software is sometimes automatically crashed.
Only captures or records half of the screen.
You can't use other apps until the conversion is finished.
Top 4. RZ PowerPoint Converter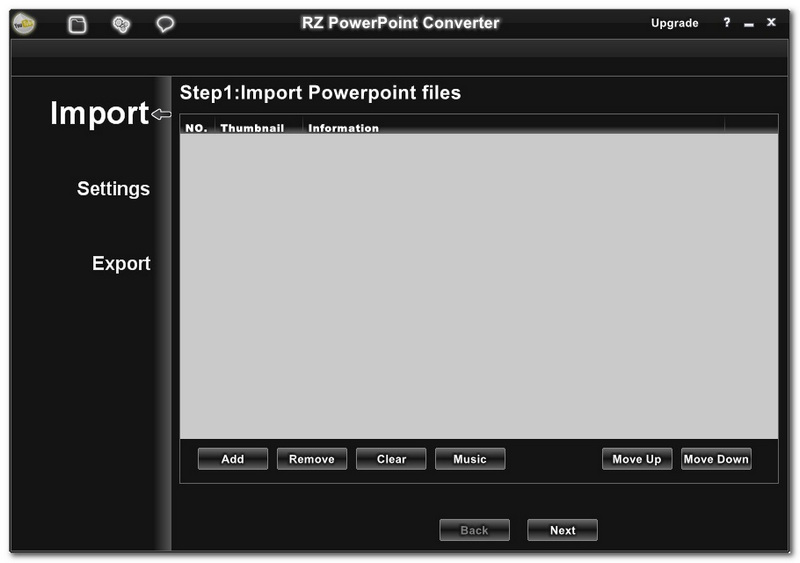 RZ PowerPoint Converter can convert PowerPoint presentations quickly and smoothly. The software supports all MS PowerPoint files and it allows you to transfer, or burn your converted videos to a DVD so you can view them using a TV and a DVD player. It also allows you to edit your files before converting. You can try this software with any version of Windows such as Windows 8/Vista/7/XP.
Pros

It supports all types of MS PowerPoint.
It is very easy to use.
Supports high-quality videos.
It keeps the original presentation settings.
Cons

Making DVD discs is slow so it may take a lot of your time.
It doesn't export to flash discs.
Linked items are not usually exported
A lot of resources are used when in operation.
Top 5. Wondershare PPT2Video Pro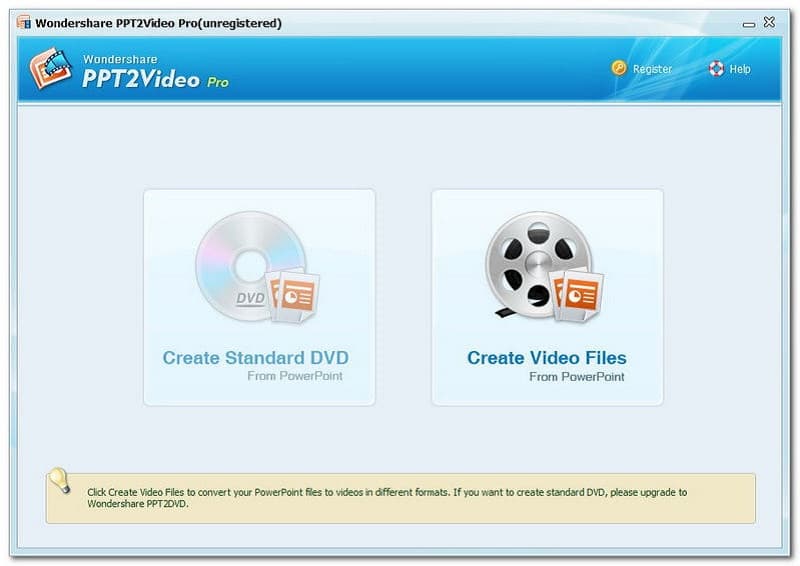 Wondershare PPT2Video Pro is a PowerPoint to video converter. It can convert your files to 130 formats including AVI, MOV, WMV, MPEG, FLV, 3GP, and more. It makes sure to give a high-quality result with all the edits retained. This software works with Windows 10, Windows XP, Windows Vista, Windows 7, and Windows 8.
Pros

It has a lot of features.
Easy resources.
Edit comes out high-quality.
Once you figure all out the tools, it is fun to use.
Cons

You need to log in to export your files.
It doesn't support Windows 32-bit versions and Mac OS X 10. 10.
Top 6. Leawo PowerPoint to DVD Pro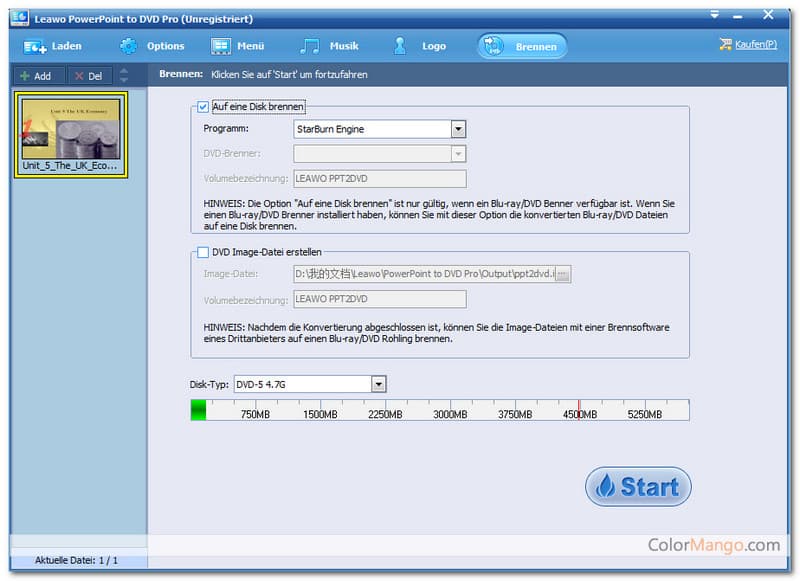 Leawo PowerPoint to DVD Pro is a beginner-friendly software that you can use in converting PPT files to DVD or video. It has basic, pro, ultimate editions that you can choose from. It offers tools that allow you to crop, adjust the content, and flip your file. You can also preview before finishing up. It converts to more than 180 file formats including audio formats like MP2, MP3, MP4, AAC, AC3, OGG, and many more. It supports Windows 7, Windows 8, Windows 8.1, and Windows 10.
Pros

Fast conversion.
It supports a lot of file formats.
It is easy to operate.
Cons

Recording from YouTube is a bit of a struggle.
Some of the results are blurry and hazy.
Inexact output size.
It doesn't support SWF and FLV.
Top 7. 4Media PowerPoint to DVD Converter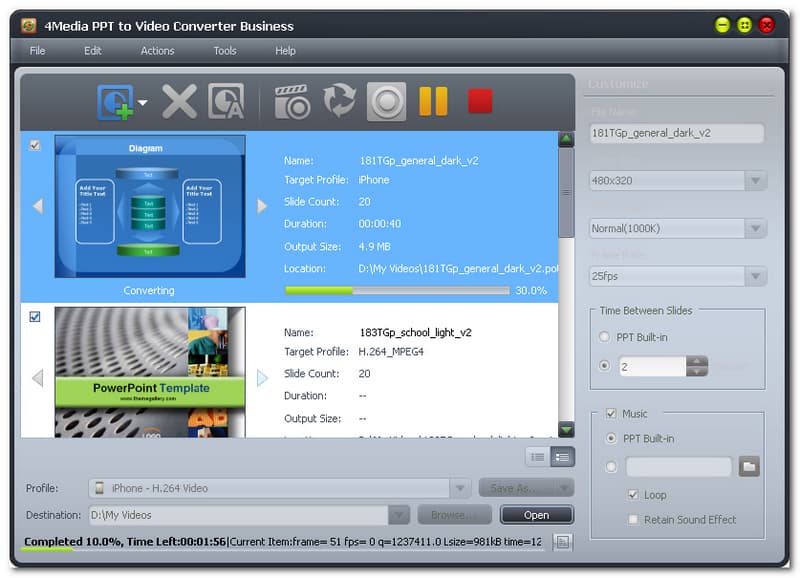 This software allows everyone to view their PowerPoint Presentations to any kind of device by converting it to a different file format. It can convert PPT to AVI, H. 264/MPEG-4 AVC, MPG WMV, MOV, and FLV. You can also customize your PPT files by using this software. It lets you record, add commentaries, retain, add custom background music, adjusts the time intervals between slides, adds watermarks to avoid illegal use, and many more. It is compatible with Windows XP ( SP2 or later), Windows Vista, Windows 7, Windows 8, and Windows 10.
Pros

Easy to install.
A free trial is available.
There is a user guide to help you.
Cons

It is only available for windows.
You need to avail the software to use the full features.
The software is not that easy to use.
FAQs about Moyea PPT to DVD Converter
Will a PowerPoint slideshow play on a DVD player?
Yes! Converting your PowePoint Presentations to videos/DVD files ables you to play it on a DVD Player.
Can you play a DVD on a laptop?
You can play a DVD with a DVD player. Also, make sure that it has a DVD drive or else you'll need a DVD Player.
Where can I download PowerPoint templates for free?
There are a lot of websites that offer a lot of free templates. You can find them on the internet. Some of the websites are PowerPointify and Powershow.
Conclusion
To summarize everything, PPT to DVD converters are really helpful because they can save your files from possible problems and save a lot of space on your laptop. We definitely encourage you to try this software out and we guarantee you that you will not regret it!
Did you find this helpful?
150 Votes
YES

Thanks for letting us know!
No

Thanks for letting us know!