Converting PPT to Video with Ease: Top Alternatives to Microsoft Office
Educators and business persons are using PowerPoint presentations more often. They are using PowerPoint to make their presentation or business proposal comprehensible. Through the use of PPT, you can discriminate and discuss the important points of your topic. This can also be a guide for a smooth outline discourse with the students or colleagues. However, sometimes PowerPoint requires many mediums before it will be presented, like a laptop, projector or Television, and speaker if necessary.
Don't you know, there is also another way to present your PowerPoint without the use of your computer or laptop? All you need to do is convert the PPT to Video, save it to your flash drive and play it with your screen. That way, you may lessen the things you need to pack before your presentation.
In line with that, here is the software you can use in converting your PPT into a video presentation.

Part 1. How to Convert PPT to Video with Microsoft Office
We all know Microsoft Office is one of the most powerful sets of office applications for professionals including Educators, Business persons, Content writers, and secretariats. However, we will focus on converting your PowerPoint presentation to video so that you do not need your laptop in your presentation.
Powerpoint is one of the great and useful tools created by Microsoft. It allows you to create visuals for your dialogue or discourse anywhere. Other than that, this tool will also allow you to convert your file into the video right after you created it. In line with that, we made a list of instructions to convert your PPT to video with ease. There is no doubt why Microsoft is the more popular and most used tool.
1.
Finalize your PowerPoint Presentation file before saving it or converting it to a video format.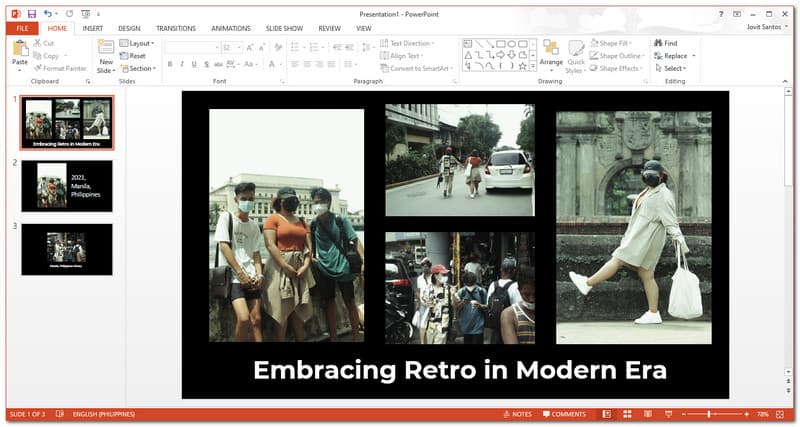 2.
Then, click Ctrl+S to save your file. A new window will appear on your screen where you can see different options in saving your PPT. Locate Save as, and select your preferred File location.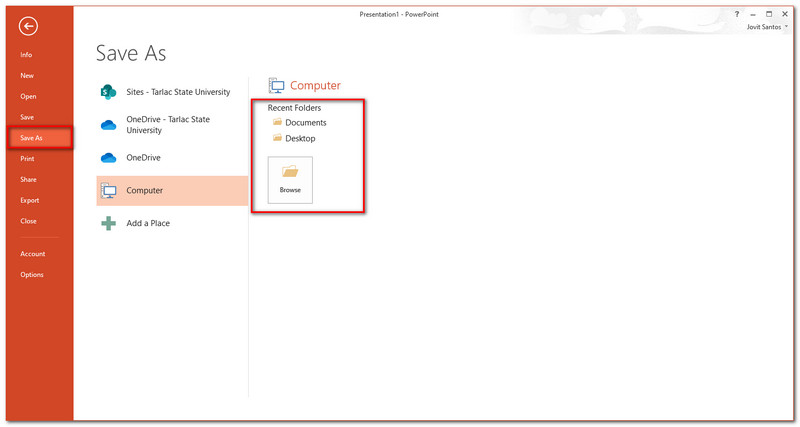 3.
Modify the format of your file. Select the tab at the bottom middle portion of the window, then a set of options will be given to you. Select MPEG-4 Video. Then click the Save button.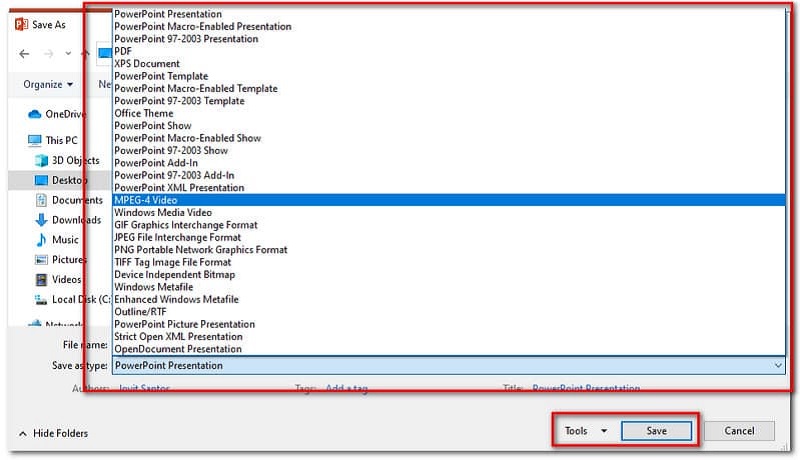 4.
Check your converted PPT file by going to the folder you have chosen a while ago.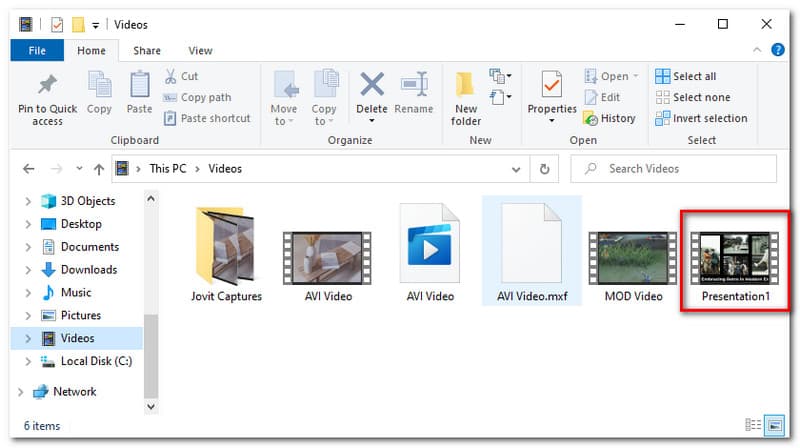 However, even though Microsoft PowerPoint looks perfect, we can avoid having flaws in everything. To show the advantages and disadvantages of the tool, here is the list that we researched.
Pros

It is common knowledge that Microsoft can offer almost everything we need while doing our work.
Easy-to-use with many tools and elements.
The software that can make your presentation looks professional.
Cons

Because of the high demand for software for creating files, Microsoft Office is now subscription-based.
Its tools are overwhelming for the beginner, especially some tools that are complicated to use.
It requires a long period for you to master the software.
One wrong click can lead you to a very chaotic output or worse can ruin your presentation.
Part 2. Best PPT to Video Converter Tools
We talked about how to convert PowerPoint to MP4 Video and we saw how amazing it is in utilizing its tools. However, as cliché, it may sound, there is no definite definition of being perfect. Admit it, it is very confusing and overwhelming when you use Microsoft Office for the first time, but do not worry, we've got you covered! We listed the top 3 PowerPoint converters that will allow you to convert your PowerPoint into video without complication.
1. Apeaksoft PPT to Video Converter (Desktop)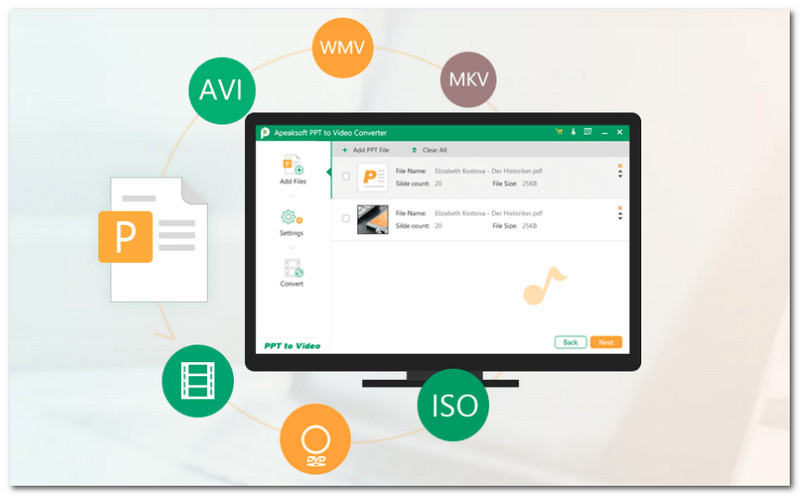 Apeaksoft PPT to Video Converter is the first PowerPoint converter that should be on the list. This is one of the king converts that allow you to transform your file into a video file format. This is compatible with almost every version of PowerPoint including 2000, 200, 2003/2007/2010/2013, and PowerPoint Viewer 2007/2010.
Besides, it also supports all the PowerPoint input files like ppt; .pptx; .pptm, and more. However, .odp is not supported. Also, the best thing about it is that you are allowed to choose any video format you want. Remember to select the best video format that is compatible with your devices so that you will not experience any problems in your presentation.
Pros

Convert all PPT-type formats into numerous video formats.
Less complicated to use in just a few steps just like a drag and drop process.
It does not require too many system requirements.
Supported various devices: Apple, Android, and Game hardware.
Cons

Subscription-based and this PowerPoint File converter is very expensive.
2. Moyea Powerpoint to Video Converter (Desktop)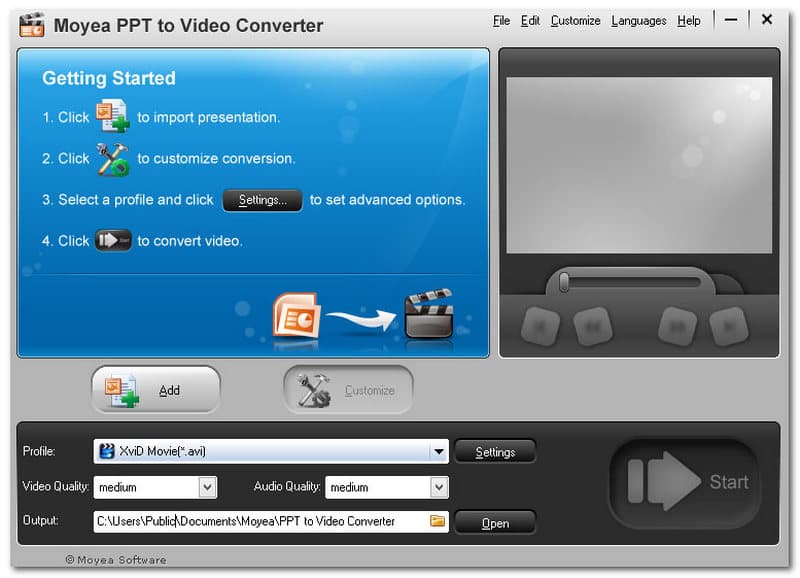 Moyea Powerpoint to Video Converter is a very flexible and adaptable PowerPoint Converter that is compatible with your Windows, Mac, and the great thing about it is that most tablets, computers, and even mobiles are very compatible with this converter. Other than that, a multilingual feature is the greatest thing about it. It supports up to 8 languages. However, if you visit their website, you may find it a little bit disorganized and overwhelming. Overall, in fairness, we can never underestimate what Moyea can offer to the public.
Pros

Convert PowerPoint to videos rapidly.
Export different and current file formats.
You do not need to worry about the quality, for it provides you the best quality of your converted file.
Cons

The free version is limited and does not support HD and external drives.
3. Converter 365 (Online)
Let us now review an online converting tool that you can use as long as you have browsers. Yes, we are talking about Converter 365. This converter is perfect for those people who do not want to download the converter on their computer. Just go with their official website and do your job! Furthermore, talking about its interface. This is something that you can enjoy while converting your PowerPoint. The black and grey color with a touch of orange gives an elegant feeling to the users. In addition, you may also convert in just using the URL of your file. Overall, this is the best definition of easy-to-use PowerPoint convert that you should try!
Pros

Free and online PPT converter.
Super easy to use.
Cons

Very limited feature.
Part 3. FAQs about PPT to Video Converter
Are my files safe after I upload them using the Converter 365 (Online)?
Yes, Converter 365 respects privacy. The file will be automatically deleted after you finish the process.
What is the best video format to convert PPT Files?
We highly suggest converting it into MP4. This is the best video file that is perfect for your PPT file.
How to convert PPT to video on mobile?
Microsoft Office or Office 365 can be downloaded with your mobile phone, where you can utilize almost every tool on your computer. You can use the PowerPoint application to convert your PPT file to video using your mobile phone.
Conclusion
We can now conclude that converting your PPT to Video format is essential especially with some other presentations out there. Therefore, the PowerPoint to video converters is a must to make these possible. However, Microsoft Office can be overwhelming most of the time and you need an alternative to make the conversion as easy as possible! Try them now and finish the grind!
Did you find this helpful?
72 Votes
YES

Thanks for letting us know!
No

Thanks for letting us know!