How to Retrieve Deleted Messages on Android with Enormous Processes for 2023
Accidents are a part of life. You may have mistakenly erased important text messages due to a wrong tap or discovered all of your texts were lost after a system crash, Android upgrade, rooting, etc. Luckily, we can have a solution for that. The good thing is that you can still retrieve deleted SMS from your Android device if new data does not overwrite them. And this essay will answer all your queries on how to get back deleted text messages on Android.

1. Can I Recover Deleted Text Messages Android?
Yes. Although except for select models such as the Samsung Galaxy, there is no recycle bin for Android phones, nor is there an undo button to recover text messages on Android, messages can be restored after they have been deleted from Android. When you erase a text message from an Android phone, it is not immediately wiped from the phone's memory space. Instead, it marks the space used by the deleted messages as unused. As a result, if you keep using the phone and creating new data, the new data will overwrite the deleted messages and take up space. This enables you to recover deleted texts before their rewriting. While retrieving erased text messages on Android is possible, doing so is tricky.
Another thing is the location of the deleted texts is concealed in the phone's storage. Even with the best file manager software, there is no standard way to access the folder containing the deleted messages. Only SMS recovery software can recover deleted Android messages. Another issue is that if you continue to use the Android phone after deleting the texts, the deleted messages may have been overwritten by new data and become unreadable, particularly if the messages have been erased for days or even months.
2. How to Recover Deleted Messages on Android without Backup
Having no backup for our files is a scary and risky thing to experience. Especially if we accidentally deleted our data or files like SMS text messages. However, we should stop worrying because even without a backup, we can retrieve it easily with the help of the most fantastic recovery software. We introduce you to AnyMP4 Android Data Recovery. It is the best app to recover deleted text messages on Android. Please look at what it can offer and see how we can utilize it without complications.
Recommendation
◆ Retrieving Android data files like SMS, videos, contacts, and more.
◆ It can fix any broken or frozen Android device.
◆ Backing up your Android data on your computer.
1.
Get the fantastic AnyMP4 Android Data Recovery and install it on your computer.
2.
To begin, launch the application and select the Android Data Recovery function from the main panel.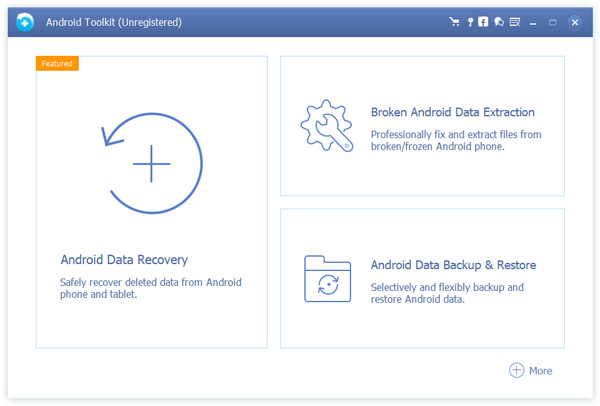 3.
Then, connect your Android device to your computer. Have the USB driver loaded if your phone is not linked to your computer.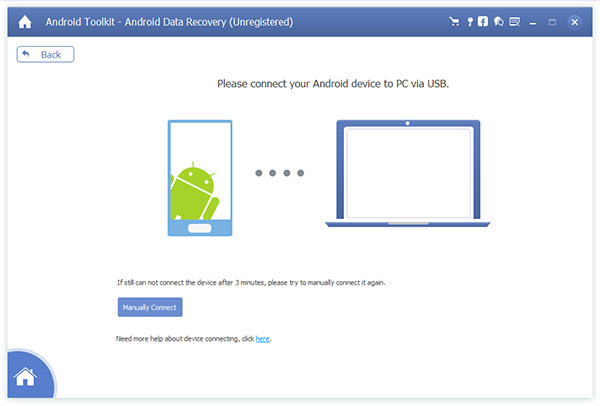 4.
The app requires your authorization during the connection process. Furthermore, the app will automatically determine the version of your Android smartphone and instruct you on how to use USB debugging on your phone. After completing the procedures on your phone, hit the program's OK button.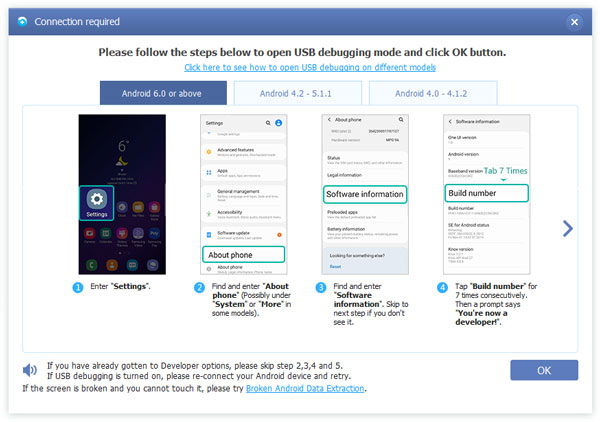 5.
When the Allow USB debugging window displays on your device, you must click OK to allow the software to continue connecting to your device.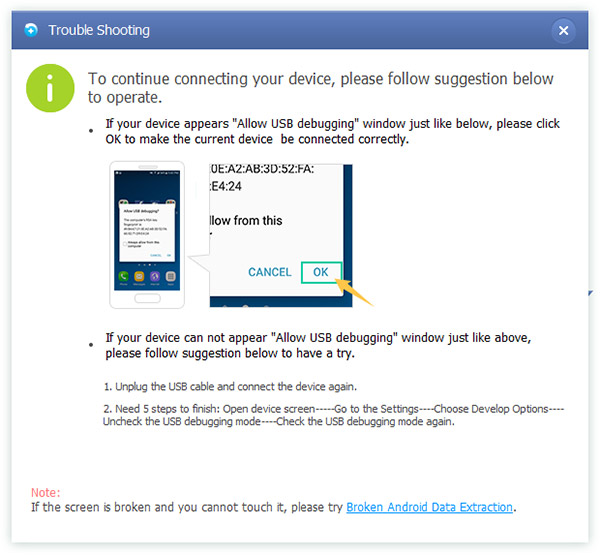 6.
After connecting, the main interface will display all file kinds, and you can choose the file you want to recover and click Next.
7.
After your phone has been scanned, all items will be listed in detail. You may see a preview of each item. If you can't find the data you're looking for, click the Deep Scan button to recover more deleted data. When you find the deleted files, select the ones you want to recover and click the Recover option to save them to your computer.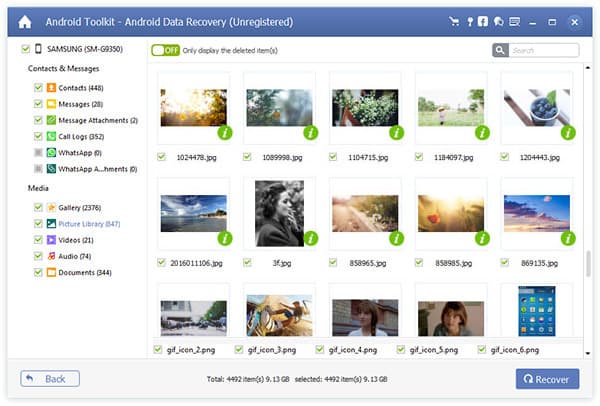 Enjoy your retrieved messages after following these steps using AnyMP4 Android Data Recovery. We can see how amazing and practical the tool solves our problem. Indeed, it is a great tool that we can use if we ever delete our files. You can get it now and use it with ease.
If you lost your iPhone data, then you will definitely need the iPhone data recovery software.
3. How to Recover Deleted Messages on Android from Backup
Backing up your data is the most excellent way to ensure you never lose your text messages again. Even if you accidentally delete your text messages, you may quickly recover them via backups. This approach will show you how to recover deleted messages from backup on Android using the free SMS Backup & Restore app. Before utilizing this method, you must ensure that you have backed up your text messages. If not, you must attempt another method. But there is still time to learn how to back up your emails. Let's get started.
Method 1: Back-up Messages
1.
Install SMS Backup & Restore on your Android phone from the Google Play Store. Then, please launch the app and select the Backup option.
2.
Mark the text messages for backup; include MMS and emoji/special characters if desired. From there, please select Local Backup Only or Local Backup and Upload.
3.
Install the Add-on for SMS Backup & Restore first if you want to upload the backup to Google Drive, Dropbox, or Email. Click the OK button.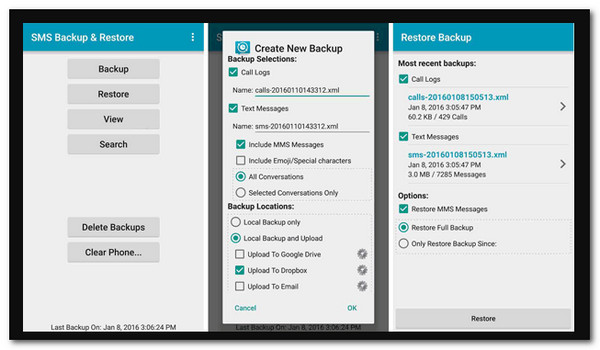 Method 2: Restoring SMS
With the SMS Backup & Restore app, you may retrieve deleted Android messages from the backup.
1.
Launch this app and select the Restore option. Then, check the Text Messages box to restore on Android as you select the Restore option.
2.
You will then be informed that to restore your messages, you must temporarily designate SMS Backup & Restore as your default messaging app. Press the OK button.
3.
Tap Yes once more to confirm your choice, and your messages will be restored to your Android phone. When the restore procedure is complete, click the Close button.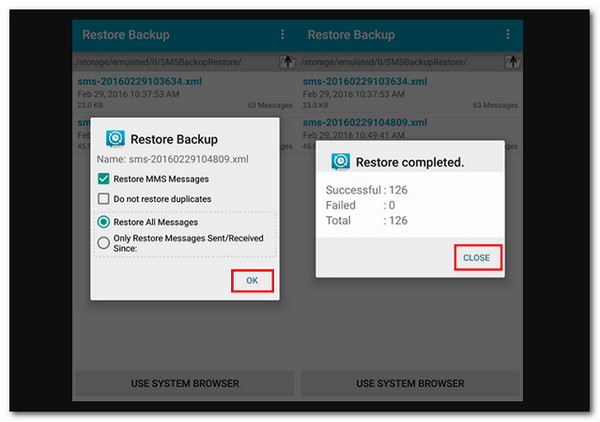 4. FAQs about How to Recover Deleted Messages on Android
Can I retrieve deleted text messages without a computer?
Yes. First, download, install, and launch the GT Recovery app on your Android smartphone or tablet. After that, please scan for Deleted Messages on the next screen that opens, you must perform a scan to locate the deleted or lost SMS. From there, please Root Your Phone as we are about to Retrieve Messages. Those are the simple steps we can follow to get your deleted messages with ease.
Is it possible to recover deleted messages on Android without root?
No, we must highlight that deleted text messages are kept in a hidden section of your phone's memory that is unreachable via conventional file explorer. Only after rooting your phone can an Android data recovery program view deleted SMS. As a result, while some programs claim to be able to get back deleted text messages from Android without rooting, recovering deleted text messages without rooting is difficult.
How to save SMS Messages to Google Drive?
As we all know, Google Drive is a dependable service that may even assist you in recovering mistakenly deleted text messages. However, one critical concept should be that you must continually back up data on your Android phone using Google Drive. And it's pretty simple. First, open the Google Drive app, go to Settings and see the Google backup. Next, please see the SMS messages, and check the SMS backup box. There you have it, straightforward ways to save your SMS messages on Google Drive.
Conclusion
That is the most fantastic solution we can follow in getting back our messages on Android. We can see that many processes may occur. We must only choose what applies to us. On the other hand, we have AnyMP4 Android Data Recovery, which offers the most excellent features we have. Everyone may use it because of its user-friendly features. Get it now and fix your problem instantly.
Did you find this helpful?
321 Votes
YES

Thanks for letting us know!
No

Thanks for letting us know!