Useful Methods to Screen Share Android Screen with Different Devices in 2023
A common feature on Android devices is screen mirroring, which enables users to mirror Android devices on PCs and Macs. You can start wirelessly sharing the screen of your Android device on the computer screen by utilizing some apps. In this article, you will learn different ways to mirror Android to Mac, TV, PC, and other devices nowadays. You can browse photos, stream video, and watch movies on your phone, but enjoy it on a larger screen by projecting it onto gadgets like MacBook Air or even an HDTV using Smart TV. For that, let us now unveil the useful methods on how to screen share on Android with different devices.

1. Share Android Screen to PC
Mirroring our Android screen through the PC is possible as long as we have Aiseesoft Phone Mirror. This tool poses an outstanding and smooth process of casting our screen from Android to any device, especially with a PC. What is excellent about this casting tool is its ability to give us an immersive casting experience. Not only that but also extra features that we can use with whole screen casting. For more details about it, please see the recommendation below and learn how to use it.
Recommendations
◆ Screen casting among Android, iOS, macOS, PC, and more devices.
◆ Record and snapshot your casting moment with this tool.
◆ Change the screenshot, video, and audio output location settings, format, and quality.
1.
On your computer, download, install, and run Aiseesoft Phone Mirror.
2.
To mirror the Android phone's screen, select the Android Mirror button.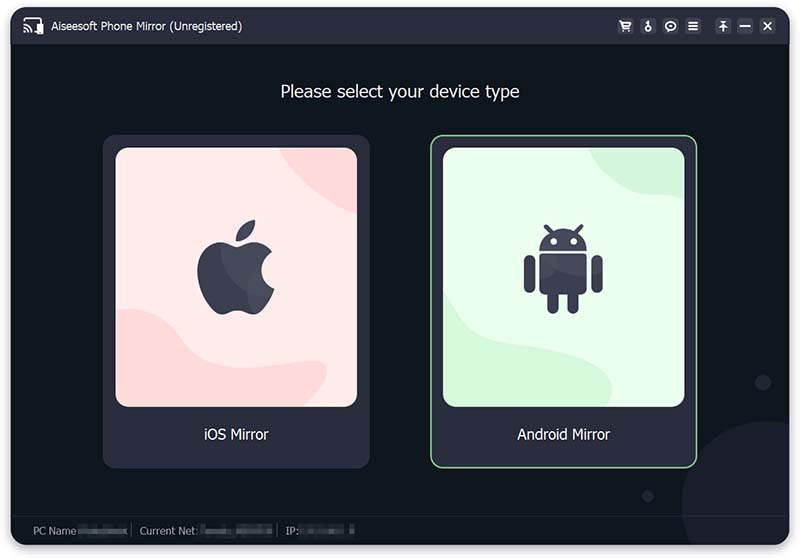 3.
WiFi connection and USB connection are the two options offered by Aiseesoft Phone Mirror for connecting your Android device to the computer. On your Android phone, download and install Aiseesoft Phone Mirror before connecting.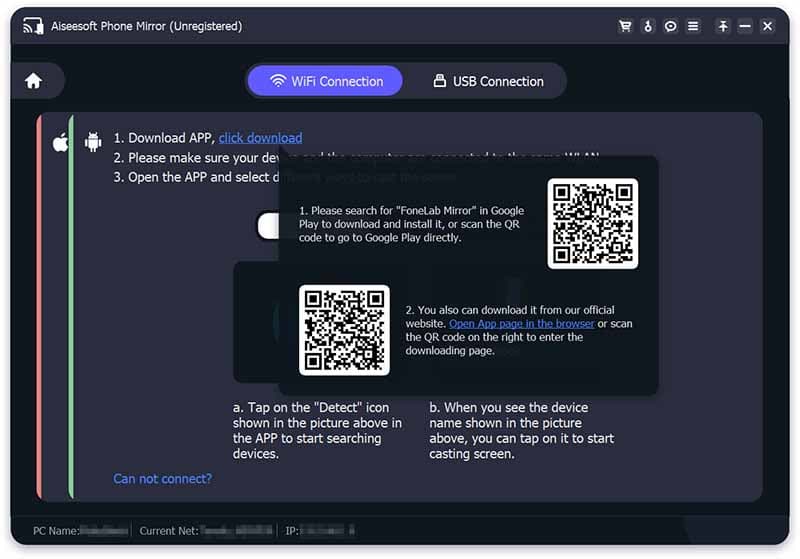 4.
Let's say you want a wireless casting experience. Please check if your computer and Android phone are linked to the same Wireless LAN or WiFi.
◆ On your Android phone, open Aiseesoft Phone Mirror, and you'll see the WiFi screen. Additionally, there are three ways to WiFi-connect your Android device to a computer.
◆ In the Aiseesoft Phone Mirror app, you can use the Detect icon to look for the computer. Wait a moment, and your Android phone will automatically connect to the computer.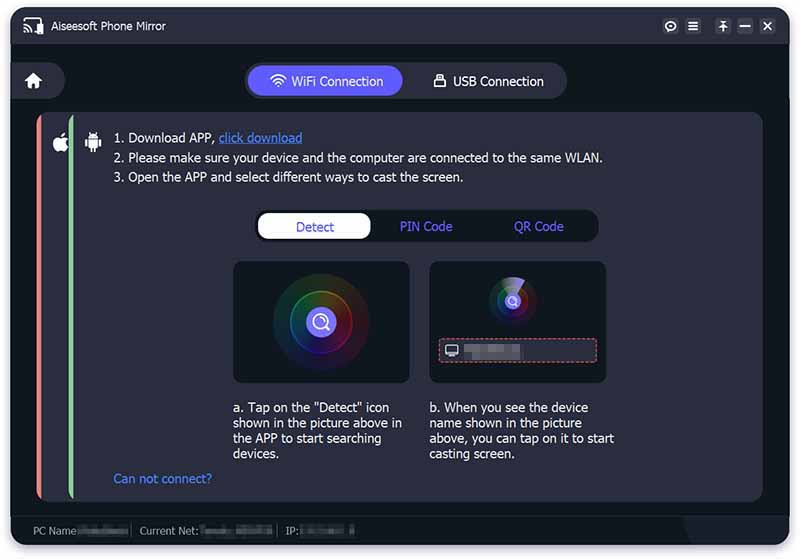 5.
The phone mirroring will then begin automatically.
2. Share Android Screen on Mac
Screen mirroring iOS to macOS is easy to do. However, there might be a simple problem that we can encounter if we want to screen share Android to MacBook devices. If that is the situation, then we need an excellent casting tool.
A fantastic app with cutting-edge mirroring screen features is AirDroid Cast. The ability to remotely screen, mirror, and control the devices is the best feature of this app. Users can wirelessly screen share Android on MacBook using a local or remote network. As we witness how it is possible, proceed with the steps below.
1.
First, you must install the AirDroid Cast application on your Android phone and Mac.
2.
Now launch the AirDroid Cast app on both Android and Mac devices. On a Mac, you will see the Wireless option. Click on it. You will have two options, casting with a QR code or a nine-digit casting code. To connect two devices, scan the QR code with an Android phone AirDroid Casting scanner or note a nine-digit code and add this to an Android phone.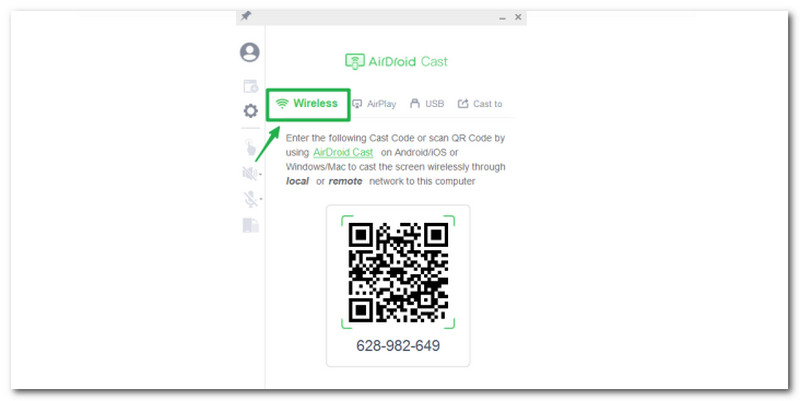 3.
You can now watch the mobile screen on your Mac after the Android-to-Mac mirroring process has been finished. To start controlling your Android device on a Mac, tap the hand icon on the box's left side.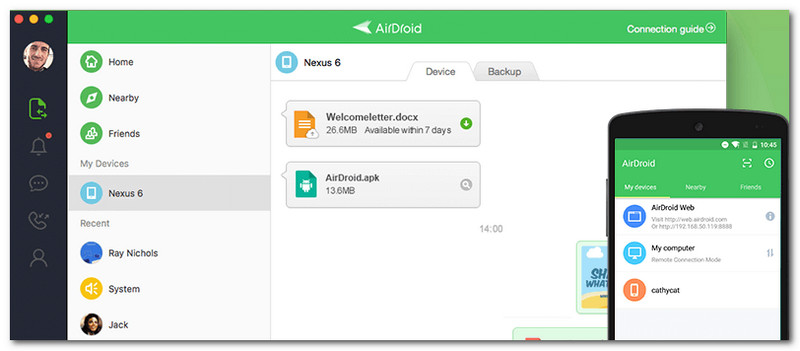 That is one of the great possessions we can consider following once we want to cast our Android screen on our Mac. We only need to remember that we need the help of a screencasting tool to make the process successful.
3. Share Android Screen to TV
One of the most infamous methods of casting an Android screen is on our Smart TVs. Many users use this method to see their screens in a more prominent visual. Most commonly, they do this for movie marathons and presentations.
In connection with that, as you are aware, every new Android phone has a built-in screen casting or mirroring feature. With the help of this built-in feature, you can quickly mirror your Android device to a smart TV. However, depending on the smartphone manufacturer, the terminology and procedures to activate the feature may change. To cast your Android screen to a TV, follow these simple instructions.
1.
To access the settings panel, select your phone and swipe down from the top. Choose the cast option from the many that are available.
2.
Now join the same Wi-Fi network with your Android and smart TV. After you tap cast, it will display a list of your available intelligent devices.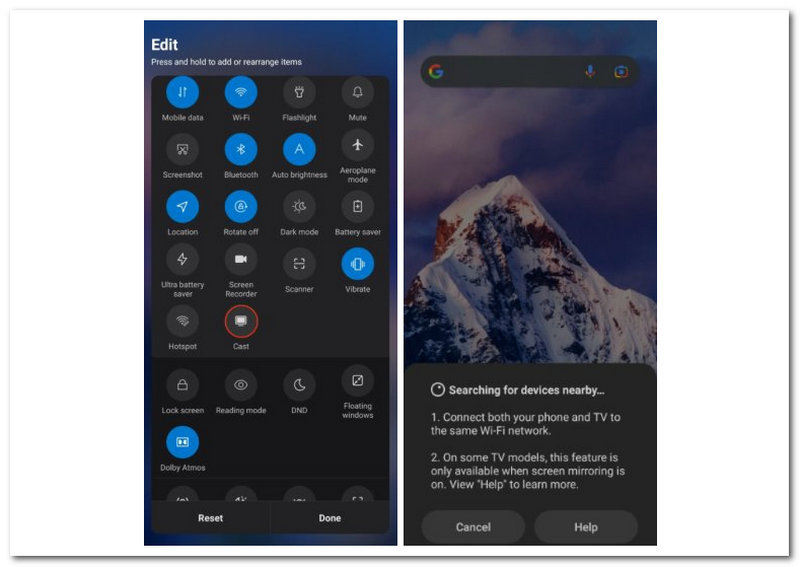 3.
Connect to your smart TV device of choice. Your small Android screen is now visible on a smart TV.
Casting out the Android screen on our Smart TV is easy. This method will immediately be applied to Samsung, LG, and Smart TVs. Please take note that this may not work for Apple TV. Overall, that is the best way to screen share Android screens to TV with TV cast apps.
4. How to Share Screen From Android to iPad
An updated version of the professional screen mirroring program ApowerMirror now enables Android users to mirror their Android screen to an iPad device. Even novice users can easily use it thanks to its straightforward interface. You can play Android games and apps on your iPhone or iPad however you want by using this app. Make sure all of your devices are logged into the same WiFi network before you start using it. To mirror the Android screen to an iPad or iPhone, simply follow the short instructions below.
1.
Install ApowerMirror on your iOS and Android devices.
3.
From the list of discovered devices, tap on the name of your iOS device. To mirror your Android device to an iOS device, tap Start Now one more time.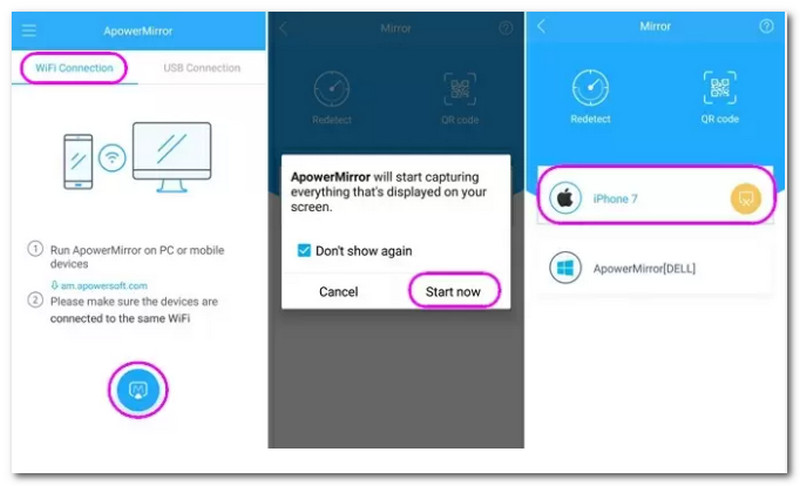 Once connected, your iOS device will receive a direct cast of your Android screen. You can decide to view it in full-screen mode by rotating it to a vertical screen.
5. FAQs Screen Share Android
Are Android screen casting features applicable to LG TVs?
Yes. We only need to visit the settings on your device. Search for Screen Sharing (Cast or Mirror) in the device settings on your Android device, then tap on it to open it. A list of wireless devices will now appear, from which you must choose your LG. If everything goes according to plan, you should soon be able to cast from your Android device to LG.
Does Samsung TV offer cast support?
Yes. With Video & TV Cast, you can use your iPhone, iPad, or Android device to browse the web and channel any web video to your Samsung Smart TV. That is possible with the fantastic screencasting feature of our Android devices. We only need to ensure that both our devices are connected with the same WiFi connection to allow the process possible.
How do I connect my iPhone to my Smart TV?
You can display anything that appears on your iPhone on Apple TV or a smart TV. On your iPhone, launch the Control Center. Then select your Apple TV or a Smart TV with AirPlay 2 as the playback destination. Enter the passcode on your iPhone if an AirPlay passcode is displayed on the TV screen.
Conclusion
There you have it, the different methods in screen mirroring our Android screen with different devices. We can see how effectively Android is casting our screen with great visuals. However, that will not be possible if we do not follow each step correctly. For that, please ensure every procedure and detail as we want to avoid any problem in screen casting our Android device.
Did you find this helpful?
368 Votes
YES

Thanks for letting us know!
No

Thanks for letting us know!
Aiseesoft Phone Mirror
Cast and share iPhone and Android screen to computer.