Win Keyfinder Review: The Product Key Finder with OutStanding Interface
There are many product key software that have a difficult-to-use interface. In this review, we aim to look for a product key software that can satisfy the features and its interface. Now, we want you to be aware of Win Keyfinder, and it has the best interface I have ever seen with almost all product key software that I used. In addition, it will not also fail you with its functions, features, and more. Please make time to read this review, and we promise you that you will obtain learning from it. Let us start reading now.

1. Our Verdict
Pros

It works on 32 Bit and x64 systems.
It has better code optimization.
It will automatically find and show your product key.
It has an excellent interface.
It is simple to use.
Cons

It sometimes crashes on Windows 7.
It has minor changes to the code.
Overall Rating
Interface:9.0
Features:8.5
Safety:8.5
2. What is Win Keyfinder
Best for:your lost product, license, and serial keys because Win Keyfinder will find it for you!
Price: Free
Platform: Windows
Main Features
Win Keyfinder is a free product key finder software that can detect your product keys and ID from a Registry. In addition, it works on all versions of Windows, and it can also support Microsoft Office. Moreover, let us know all the features that WinKeyfinder offers below:
◆ It has the power to detect and show you your product ID and product key.
◆ It can save your product key by way of encrypting it.
◆ It allows you to make a new password by inputting a combination of key codes.
◆ It also supports Microsoft Office 2016, 2010, and earlier.
◆ It lets you delete backup activation and restore and restore it.
3. Win Keyfinder Review
Interface
Win Keyfinder has a unique and beautiful interface. You will see the Home, Options, and Help buttons on the upper part. Then, you will see the Windows Info, MS Office, System Info, and Donate on the left side. Then, on the other side of the panel, you will see the details of your Windows operating system. As well as the Product Key, OS Platform, Product ID, and Other Info such as Version, Registered Owner, Registered Organization, and Domain Name. Then on the latter part, you will see the Save Above Info and Encrypt and Save.
Finding Windows and Microsoft Office CD Key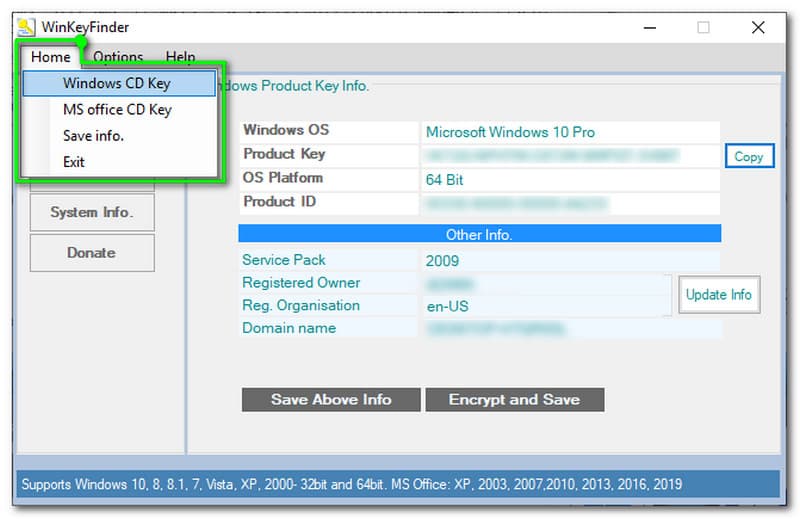 It is super easy finding your CD Key on Windows and Microsoft Office CD Key using Win Keyfinder. In addition, you can download Win Keyfinder for free, and if you want to help somehow, you can donate to them by clicking the Donate button in their interface. Going back to finding CD Key, all you have to do is click Home on the menu list. Then, you will see four options such as Windows CD Key, Microsoft Office CD, Save Info, and Exit. If you want to check your Windows CD Key, click the first option, same with Microsoft Office. Also, Win Keyfinder can show your System Info by clicking it on the left side of the panel. Easy and straightforward, right? Try it now!
Decrypt Windows Info and Microsoft Office Info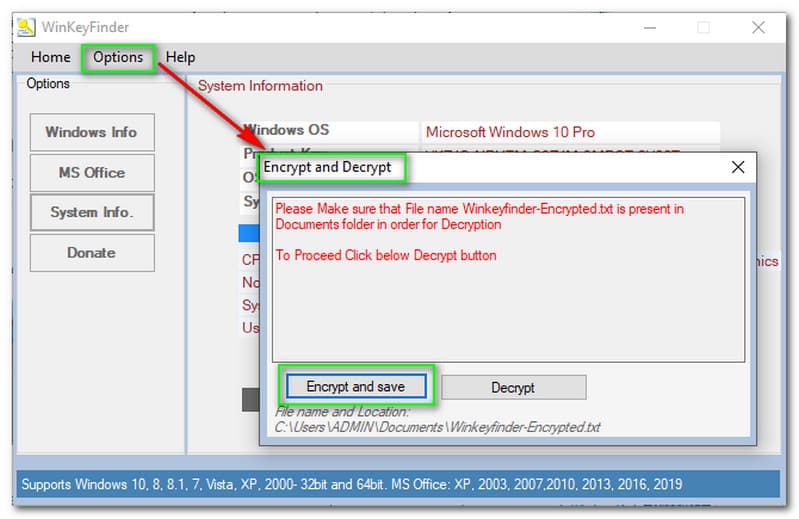 To decrypt both your Windows info and Microsoft Info, you need to click the Options on the menu list at the upper part of your interface. Then, if you want to decrypt Windows info, click the first option. After that, a dialog box will appear. Win Keyfinder will show you some tips before decrypting your Windows info. Then, if you want to proceed, click the Decrypt button. After you tap the Decrypt button, a small box will pop up, and you need to Enter the Password. After typing the password, click the OK button on the right side.
4. FAQs of Win Keyfinder
Is Win Keyfinder safe?
Even though Win Keyfinder is free, it is safe to use. They do not send your information for campaigns or advertising campaigns. In addition, the information they collect from the users is for the software needs only, and they will not expose it to anyone.
How can I change my product key in Win Keyfinder Windows 7?
It is very simple, and you have to click the Start Menu, tap Control Panel, and choose System. Then, you will see the Product ID and click the Change Product Key on the lower part. Then, you can now start changing your Product Key.
How can I donate on Win Keyfinder?
Launch Win Keyfinder. On the left side of the panel, you will see the four options, and the last one is the Donate button click. Then, you will proceed to the new window and start donating by logging in, and you can use PayPal to donate.
5. Win Keyfinder VS NirSoft ProduKey
My favorite part of Win Keyfinder is its interface. It has a straightforward interface, and you will see all the options immediately without wasting your time searching for every option. Upon launching it, you will see all the things you need to know and are very useful. Now, allow us to share the difference between Win Keyfinder and NirSoft ProduKey. Are you curious about who stands out? Me too! Let us know now upon looking at the comparison table below:
| | | |
| --- | --- | --- |
| Win Keyfinder | VS | NirSoft ProduKey |
| Free | Price | Free |
| Windows | Operating Systems | Windows |
| 9.0 | Safety | 8.0 |
| 9.0 | Interface | 9.0 |
| 9.0 | Convenient | 8.5 |
| 8.5 | Reliable | 8.5 |
| | It can recover DPAPI-encrypted passwords created under the Microsoft account from your external drive. | |
| | It provides a command-line version. | |
| | It allows you to make a new password by inputting a combination of key codes. | |
There are many parts that Win Keyfinder stand out, and there is no doubt about it. We can safely say that Win Keyfinder is more comfortable to use than NirSoft ProduKey. Therefore, we much more recommend Win Keyfinder because of its simplicity. Yes, both software is free, but we think Win Keyfinder will satisfy you more according to your needs.
Conclusion:
We thoroughly review Win Keyfinder. We discover so much about it, like its main features, functions, etc. In the latter part, we also provide a comparison table between Win Keyfinder and NirSoft ProduKey. We hope that will help you a lot in terms of choosing software. To end, do not forget to leave positive feedback! See you next time!
Did you find this helpful?
164 Votes
YES

Thanks for letting us know!
No

Thanks for letting us know!