Belarc Advisor Review: The Most Unique and Comprehensive Product Key Finder
There is so much to take care of, not only for passwords but also your product's keys that you are to your registry. Supposing that you lost your product key and think that there is no solution, you might be wrong. In this article review, we will show you the answer to your problem, and we will present to you the Belarc Advisor. It is free, and it is advisable for personal use only. Moreover, it is effective in helping you find your product key, and it can show you your Computer Profile Summary. Are you excited to read now? That is great! We are also happy to share this review with you. Read now!

1. Our Verdict
Pros

It has fast deployment and is free to try.
It has no toolbars, spyware, and adware upon installation.
It has a quick computer analysis for data gathering.
The outcome is displayed in the default browser.
It can copy your data from the result pages.
It has customer support.
I kept your computer's profile private and secure.
Cons

It does not provide a summary page.
It has to do a portable version.
You need to sign in to try the trial version.
It consumes too much time to show the computer profile.
Overall Ratings
Interface:8.5
Features:8.5
Customer Support:9.0
2. What is Belarc Advisor?
Best for: Users looking for licensed software that they can personally use.
Price: Free
Platform: Windows, Mac, Linux, and Solaris.
Main Features
Belarc has a lot of products, and one of them is Belarc Advisor. This software aims to use for personal or business use. Nevertheless, it would help if you communicated with Belarc first before using it for business purposes. Moreover, it lets every user use it for free for personal use. Therefore, you cannot use it for corporate, educational, military, or government installations. Below, you will see the features of Belarc Advisor.
1. It builds a detailed profile of your installed software, hardware, network inventory, anti-viruses, etc.
2. It has motherboard make, serial number, model, and BIOS data.
3. It shows you the essential details such as languages, names, computer makers, and models.
4. It provides mapped network drives.
5. It also includes storage controllers.
6. It has installed printers.
7. It also has a video card, monitor maker, serial number data, and model.
8. It shows you the processor, drives, local driver volumes, etc.
9. It provides NIST SCAP security configuration.
10. It can show you every software license, software version, and usage.
3. Belarc Advisor Review
Interface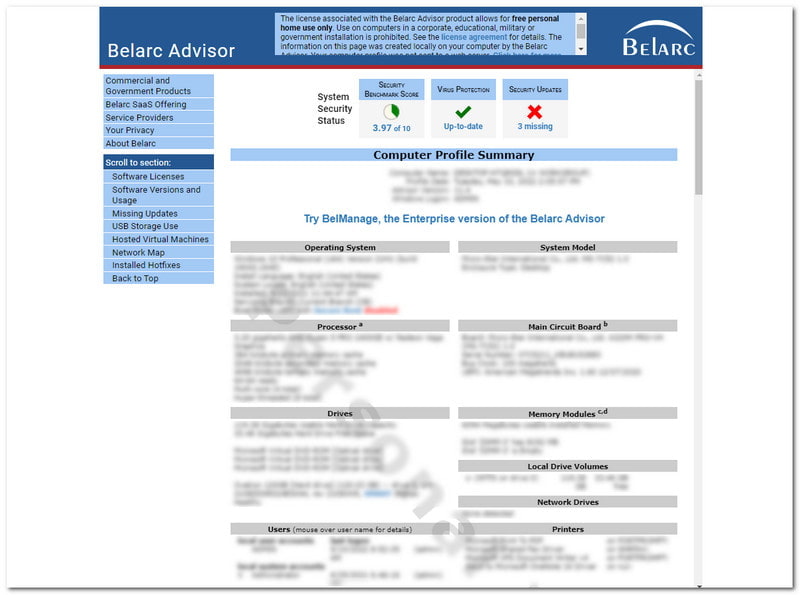 As you notice, Belarc Advisor has a unique interface that you can see on the Web. It can show you so much from your Computer Profile Summary. You will see your Computer Name, Profile Date, Advisor Version, and Windows Logon. The good thing about Belarc Advisor is that it will show you your computer's entire summary. As you can see in the photo, you can see the Operating System, System Model, Processor, Main Circuit Board, Drives, Memory Modules, Local Drives Volumes, Network Drives, Users, Printers, and so much more!
Downloading Belarc Advisor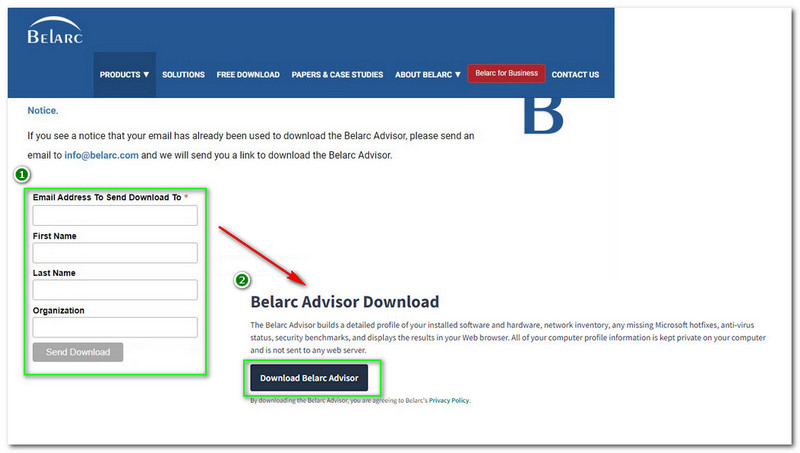 Downloading Belarc Advisor is easy. However, you need to fill up the form first before proceeding to the downloading part. To do that, input your Email Address, First Name, Last Name, and Organization. Then, click the Send Download. After that, you will now see Download Belarc Advisor and click it. Install the software and agree with its terms and conditions. Wait for a while, and then you will now have your Computer Profile Summary.
Software Licenses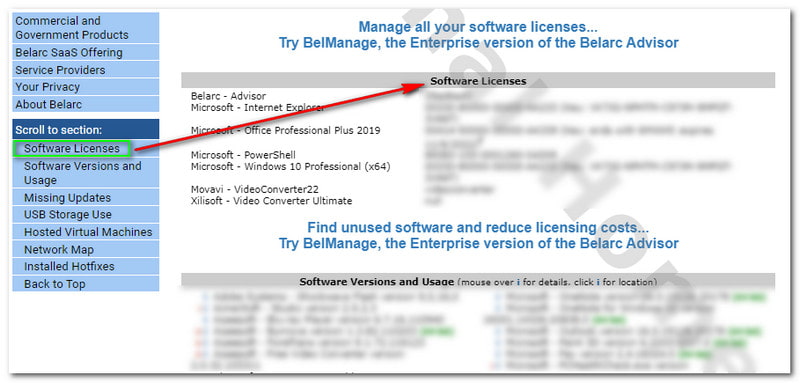 Belarc Advisor can show so much to you. On the left side of the panel, you can see all the options you want to visit from your computer. These are Software Licenses, Software Versions and Usage, Missing Updates, USB Storage Use, Hosted Virtual Machines, Network maps, and Installed Hotfixes. Nevertheless, in this part, we will talk about the Software Licenses of the computer we used. As you can see, we have Microsoft - Internet Explorer, Microsoft - Office Professional Plus 2019, Microsoft PowerShell, Microsoft - Windows 10 Professional (x64), Movavi - Video Converter22, and Xilisoft - Video Converter Ultimate. Now, you will notice that we blur every license of the software.
4. FAQs of Belarc Advisor
Is Belarc Advisor safe to use?
Yes, this software is safe to use. It only uses your information to help monitor, prevent and detect fraud. In addition to this, Belarc Advisor enhances the security, monitor and verify identity and access, and protects you from combat spam and any malware or security risks.
Why is there an error upon checking the new security definitions of Belarc Advisor?
Sometimes, it is because of the software firewall installed on your computer. To fix that, check the settings of your firewall. Then, look at the options blocking the application from connecting with your internet. If, in some cases, you need to enable a specific program to access your Internet, allowing the Belarc Advisor program will work.
Is there a possibility that Belarc Advisor will send my Computer Summary Profile to a Web server?
Belarc Advisor will never do that. It creates a local Web page that keeps your Computer Summary Profile safe, and they do not send it to any Web server, including Belarc's server. If there is an instance that you feel like they send your Computer Summary Profile, contact Belarc Advisor immediately.
I do not see any results after installing Belarc Advisor and completing the discovery of my computer's software and hardware. What happened?
It always happens, especially when the Windows files association and the HTML file extension are misconfigured in your computer. Most frequently, this happens while trying out a new browser and installing it from your computer after that.
Is it possible to purchase a license and run Belarc Advisor on my corporate network and my customer's network?
Unfortunately, Belarc Advisor does not authorize its functions or features for any commercial purposes. Nonetheless, they offer a number of charitable organizations a license allowing the use of Belarc Advisor without paying any amount of money but with specific conditions.
5. Belarc Advisor VS Win Keyfinder
We have shown you the features of Belarc Advisor, and we got the idea that it has a unique interface and can offer you complete information about your PC. In this part, we would like to share one more software, Win Keyfinder. Let us know who is better between the two since this part compares software.
We cannot deny that Belarc Advisor is a superb tool for finding product keys. However, it does not seem advisable for beginner users. Therefore, even if you can try it for free, there is still a limitation. So, what about WinKeyfinder? Win Keyfinder has a friendly interface, and it is much more convenient to use. If you are a professional user, Belarc Advisor is perfect for you. But if you are a beginner, professional, or average person, you can freely use Win Keyfinder. To conclude, Win Keyfinder is enjoyable to use, right? So, let us know more about this tool below:
1. It can view the product key of all Windows versions.
2. It can find the product key of Microsoft Office and Net Product Key
3. It can save your product key by encrypting it.
4. It can create a new password upon entering the combination Key Code.
5. It has Better Code Optimization.
6. It allows you to remove backup activation and restore it, and more.
Win Keyfinder has so many features that we cannot discuss in this review. Nevertheless, do not frown because we will have a review about it soon, and we are hoping to see you again there!
Conclusion
Wow! Belarc Advisor is a fantastic tool that can share with you all the summary profiles of your PC. However, on the comparison part, Win Keyfinder stands out. But that does not mean that Belarc Advisor is not efficient, no. Win Keyfinder excels because of its interface and other terms, but both software is excellent! To end, as we talked about the pros, cons, main features, etc., of Belarc Advisor, we hope that you acquire so much knowledge about it and you can share this review with many. See you again in the following article that we will post soon!
Did you find this helpful?
112 Votes
YES

Thanks for letting us know!
No

Thanks for letting us know!