Informative AVAide Free Video Converter Review: Leading Free Media Converter
Using a media converter desktop version may be outstanding at some aspects of our work. However, utilizing such software might take some time and bring hassles, especially downloading and installing. That is why, if you need an immediate converting process, users highly suggest using an online media converter. In connection with that, we will review one of the extraordinary online media converters that we can use freely and instantly to convert our files, such as video and audio. Welcome to the AVAide Free Video Converter Review as we dig deeper and try to be knowledgeable about this fantastic converting software: features, functions, price, platforms, pros, cons, and other important information we cannot afford to miss.

Our Verdict
Pros

A well-performing free media converter.
It provides a smooth process.
It has an intuitive user interface.
Its features are straightforward to use.
There is now a watermark added.
It does not limit you with your grind.
It offers high-quality outputs.
Cons

This converter offers no extra feature for this version.
Overall Ratings
Despite being an online toll, AVAide Free Video Online Converter will not fail us giving tremendous support with our file formats. This converter also possesses excellent performance in conversion speed while maintaining our privacy and security. Overall, users say that this conversion deserves to be known.
File Formats Support:9.4
Conversion Speed:9.3
Safety:9.5
2. What is an AVAide Free Video Converter
AVAide Free Video Converter
Price: Free
Platform: Online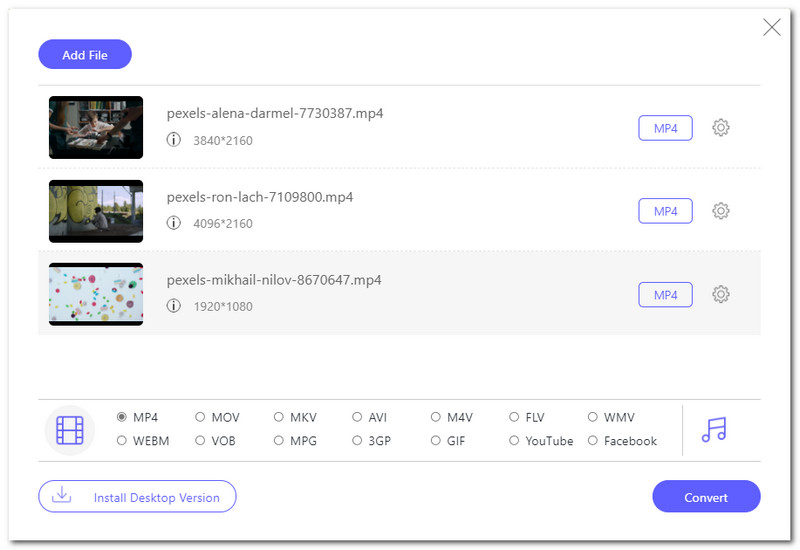 AVAide Free Video Converter is a fantastic online media converter tool that can help you convert your multiple files smoothly and instantly. This tremendous online tool is something we should not underestimate. Even though it is limited with extra features like editing tools, it does not hinder this converter from giving a fantastic performance in converting media files. Take note, without a watermark included in the outputs. There are many features we should discuss in the latter part. Stay tuned, and let us discover more about AVAide Free Video Converter as we continue this review.
Main Features
AVAide Free Video Converter is an online converting tool that offers outstanding features and functions beneficial to our different files. The following elements may help you with your grind, especially regarding converting your additional media files. To prove that, in this portion, we will look at the features and functions it provides for the users.
◆ It can convert any media file format.
◆ It is a converter that possesses unique technology for conversion speed.
◆ There is no watermark added to the output files.
◆ You can convert all you want.
◆ Easy production of high-quality output.
◆ Numerous browsers compatibility.
◆ It does not require an account or sign-up.
◆ No advertisements were available.
◆ It offers batch conversion features.
◆ It secures your privacy and files.
3. AVAide Free Video Converter Review
Supported Various Formats
We already know that AVAide Free Video Converter can support multiple media file formats. Especially almost prevalent media file formats. Other than that, it supports high-resolution files like 240p to 1080p. Therefore, converting any media you have will no longer be a problem here. To elaborate, here is the list of the input and output formats that are compatible with AVAide Free Video Converter.
Supported Formats: MP4, MOV, MKV, AVI, M4V, FLV, WMV, WEBM, VOB, MPG, 3GP, GIF, and more.
Conversion Speed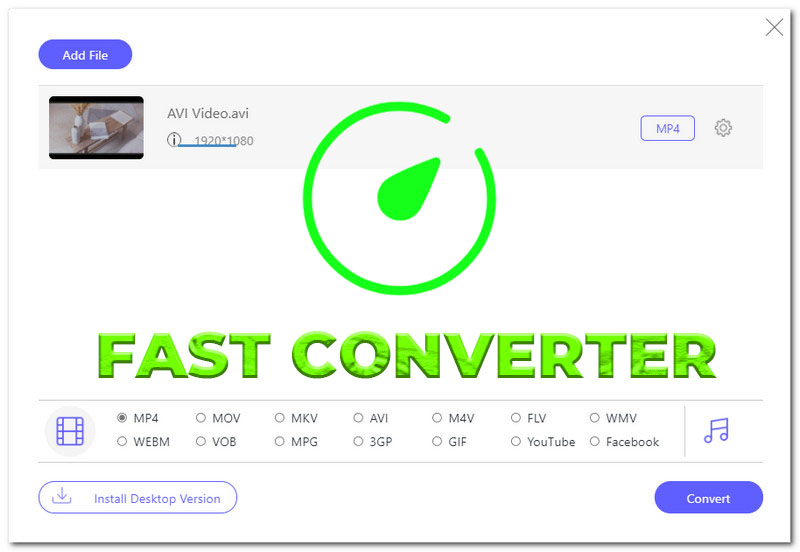 As we proceed with its speed in converting your files, an online converting tool can also provide fantastic performance. AVAide Free Video Converter is capable of giving you a smooth process of conversion. Thus, it is an excellent software for beginners and professionals for the instant converting process. However, the speed of the internet connection is the deciding factor of this. Therefore, you need to make sure you do not have a problematic connection speed for an ultra-fast conversion speed. Overall, this converting tool is an excellent solution for a productive and effective grind.
Safety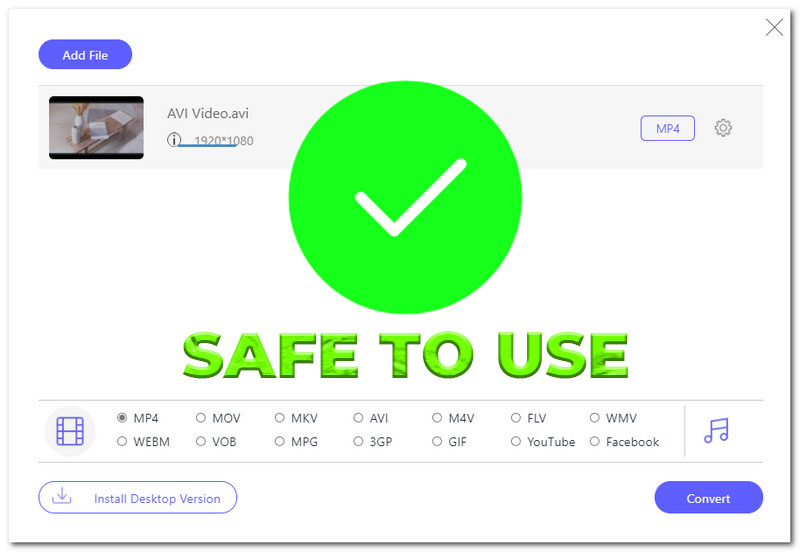 We all know, an online tool is an easy process of conversion. The process can be feasible in just a few clicks. Even though users consider it an online tool, it does not give a safe and secured method of converting our files. As we know, different media files may carry information that can be controversial. It is common knowledge how huge a responsibility it is to protect our privacy and data. Therefore, a converting software must make sure of this element. On the other hand, AVAide Free Video Converter can guarantee the safety of your media files.
Other Cool Features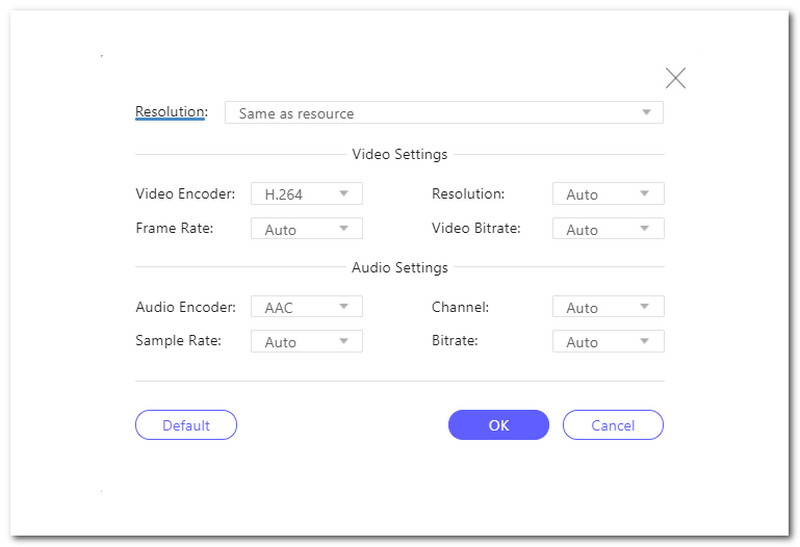 An online converting tool such as AVAide Free Video Converter may not possess extra features like an essential editing tool, MV maker, Toolbox, and more. However, it offers another capability, and it is the simple parameter setting that we can easily use in modifying the grounds of our output files. This feature includes the Resolution, video encoder, frame rate, video bitrate, audio encoder, sample rate, channel, and more. Easy access to the default setting is also available if you do not like the modified one.
What is Best For?
AVAide Free Video Converter is best for many things. First and foremost, users say that it is the best for the new user. That means you do not need skills to utilize converting tools. On the other hand, it is also the best in modifying the settings of your output media files. Therefore, as a matter of consequence. This online free video converting tool is best for an instant and immediate conversion process.
Furthermore, we may say that AVAide Free Video Converter may not have the ability to offer extra features like editing tools and a toolbox. However, it can give you an essential ability to make your grind productive, effective, and efficient. For that, many users trust this converter.
4. FAQ
May I convert video files into an audio format using an online converting tool?
It is easy as a piece of cake. An online converter can convert your video files into audio files. Let us say you want to convert MP4 to MP3. The thing you need to do is, go to the official website of the online converting software like AVAide Free Video Converter. Select Add Files. Then, now select the video that you want to convert into audio. After that, choose the format you prefer. Next, you may directly click the Convert button to start the process.
Does AVAide Free Video Converter offer a version that possesses extra features?
Yes. AVAide Video Converter exists. This converter is a desktop version and can also convert multiple media files with ultra-fast speed. This version is more massive than the online tool, for it supports a broader range of media files. In addition, it possesses extra features such as a built-in MV maker and a tools box that offers essential editing tools. These fantastic features are suitable for modifying or improving your media files.
Is AVAide Free Video Converter free to use?
The good news is it is a yes. AVAide Free Video Converter is a completely free video converter for a lifetime. In addition, even though it is free, it does not limit you from converting all of the media files you can modify.
5. Best Alternative- Aiseesoft Free Online Video Converter
Aiseesoft Free Online Video Converter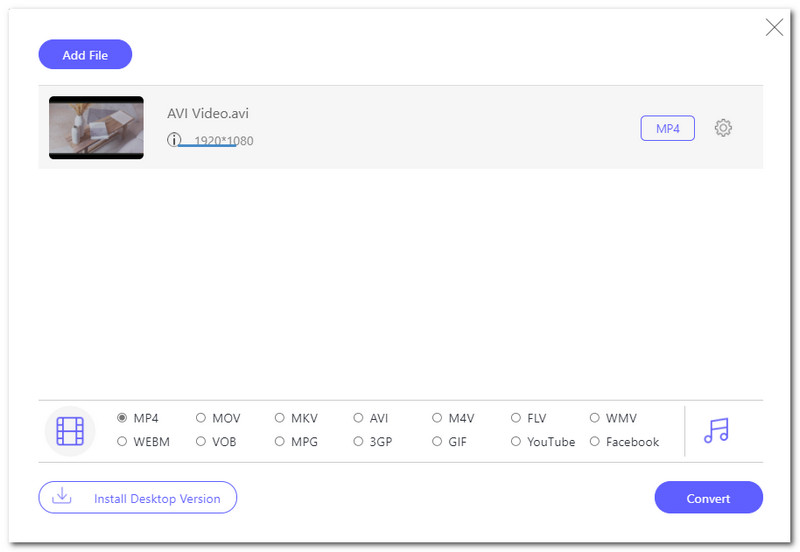 Platform: Online
Price: Free
Are you looking for more choices? Well, this post can also give you another online converting tool. This software may be the best alternative to AVAide Free Video Converter. For that, let us introduce you, the Aiseesoft Free Online Video Converter. This converter is also a great online tool to convert different files, such as video and audio. In terms of its features, this converter is almost the same as the AVAide Free Converter in terms of compatibility, conversion speed, and easy-to-customize parameter settings. Other than that, it is also a lifetime free tool for everyone. Overall, we can now see why it is one of the great alternatives to AVAide Free Video Converter.
Pros

Experience a less hassle conversion process.
It is an entirely free converter.
Safe and secured converting tool.
This software is user-friendly.
Cons

It does not offer extra features.
Conclusion
As a review of an online converting tool, the AVAide Free Video Converter, to be specific. We can also see how beneficial an online converting tool is. AVAIde Free Video Converter can offer the incredible and immense experience of converting your media files for free. Therefore, if you think this post helps you with your grind, you can also share this with other people who might need help.
Did you find this helpful?
251 Votes
YES

Thanks for letting us know!
No

Thanks for letting us know!
Top Online Video Converter