Adobe Media Encoder Review: A Converter That is Perfect for Professionals
We are all familiar with Adobe Media Encoder since it is a well-known converter. Many people are using this, especially those who are efficient in converting, exporting, editing, and even further. For this reason, we have an opportunity to introduce and discuss the Adobe Media Encoder. To give you a glimpse of this article review, it has the power to convert your files to many kinds of formats. Furthermore, this article will provide you with a more detailed review. Like, how much it costs, its system requirements, the advantages of using it, and the disadvantages at the same time. If you are more interested in its primary and extended features, take an opportunity to read this article now.

1. What is Adobe Media Encoder?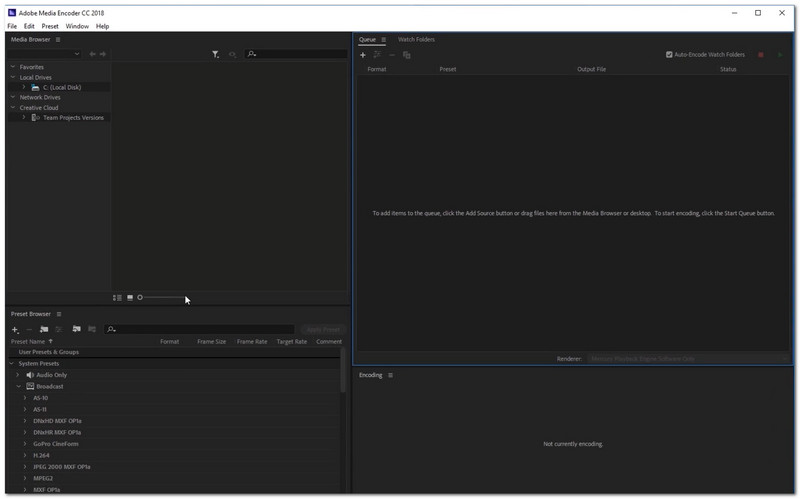 Price: $33.99
Platform: Windows, Mac
Many people use Adobe Media Encoder media converter software because it provides media content for the web and many resources. Furthermore, it allows you to convert your media files to other file formats. It also can compress your media files and reduce the size of your files. To help you understand more, here are the advantages and disadvantages that you deserve to know:
Pros

It is perfect for professionals.
It has a comprehensive interface.
It supports a broad range of formats.
It compresses files.
It can queue projects from both after-effects and Premiere Pro.
Cons

It required signing up upon installing.
It is hard to use for beginners.
It requires a third party to install.
Slow installation process.
2. Adobe Media Encoder Review
Overall Ratings
Easy to use:8.0
Conversion Speed:8.5
User friendly:8.0
Interface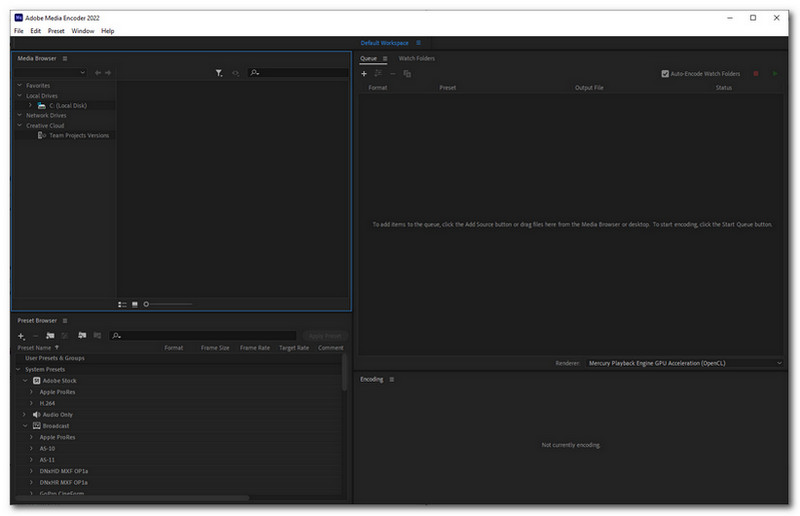 Adobe Media Encoder has an excellent interface that professionals will appreciate. It has four individual panels: the media browser, queue, preset browser, and encoding. On the top left, we can see the Media Browser and choose from your browser on your computer. On the lower left, you will notice the Preset Browser. This panel includes the system presets available. In addition to this, you can add your own presets, allowing you to import and export presets. On the top right, this is where you can drag your files and convert them to the file format you like. Lastly, on the lower left is the encoding process.
Supported Input and Output Formats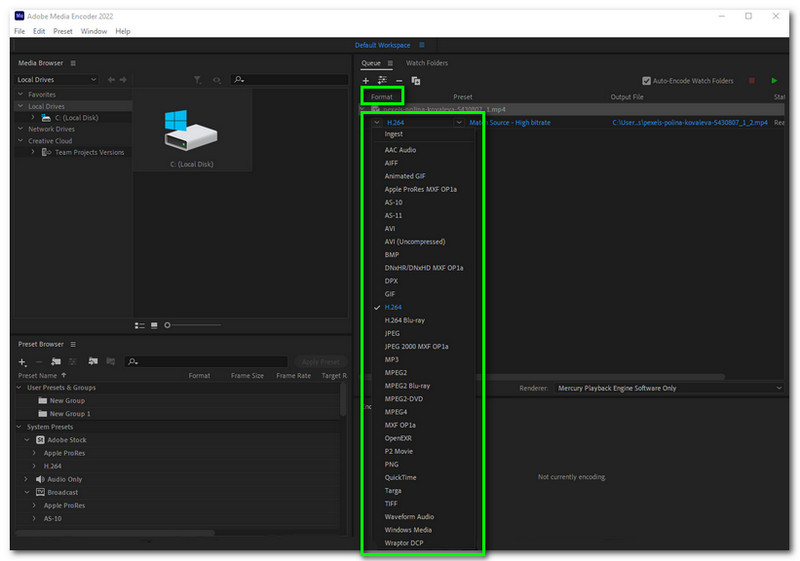 Adobe Media Encoder is a flexible media software converter that supports a wide range of video formats such as 3GP, AAF, RMF, FLV, F4V, MOV, HEVC, MPEG, MPG, MPE, M2V, MPA, MP2, M2A, MPV, M2T, MTS, MP4, M4V, VOB, AVC, H.264 and more. In addition to this, Adobe Media Encoder also supports animation formats like ARCUTX, Animated GIF, ARI, AVC-Intra, Cinema DNG, DV Stream, DNxHD Opla, CINE, SonyRAW, and a lot more.
Not just that, this converter software supports audio formats such as AAC, M4A, AIF, AIFF, AVI, WAV, Adobe Audition tracks, MP3, MPEG, MPG, MPA, MPE, MPEG-2, WAV, and much more.Do you want to hear more? Adobe Media Encoder supports still-image formats, particularly AI, EPS, ARI, BMP, DIB, RLE, CIN, DPX, GIF, HEIF, JPE, JPE, JPEG JFIF, PSD, PNG, OpenEXR, TIF, TIFF, and many more.
Batch Processing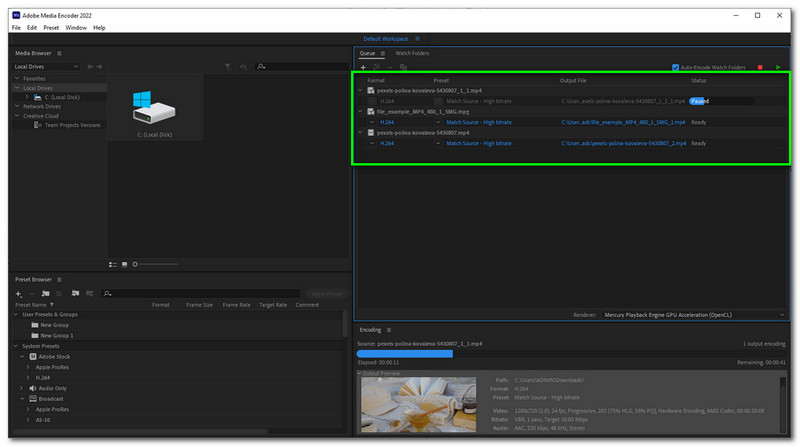 Adobe Media Encoder supports a batch conversion process. It means you can convert your files all together simultaneously. You have to drag your files, and they are now ready to convert. What is good about this media converter software is that you can expect better quality with the output result since Adobe Media Encoder provides a converter and a better output quality.
Continue Working While Rendering
Suppose you are a video blogger and want to edit your videos to share them with your social media accounts, especially on YouTube. In that case, Adobe Media Encoder is perfect for you because it enables the user to multitask. How? Even if you are editing or converting your videos, it allows you to play your videos. What is more? Adobe Media Converter enables you to use the software continuously, even if you are saving files. Cool, right?
What is Best for?
Adobe Media Encoder is best for professional users. In addition to this, you can effectively use this software for your premiere project. Moreover, this media converter software is so powerful, and it is effective by editing and converting your files faster. Furthermore, it is also perfect for exporting your files. Take a look at this:
It would be best to remember that Adobe Media Converter is best for converting your media files. To explain it well, it has a built-in converter that is safe and flexible. The good thing about this is you are no longer open after effects or premiere pro. You need to drag your file to the Queue panel, change it to the format you like, and export it.
Also, Adobe Media Encoder is best for live preview, and we can see our video rendering. To do that, just go to File, then Export, and Media, and then a new window will pop up where you can see the export settings and more.
Another thing is Adobe Media Encoder is also best for multiple exports. What does it mean? You do not need to wait for a long time without seeing your files. In short, you can see your files working and see what is going on. You can do that by clicking right-clicking on your video, and you can see the duplicate option, to be exact. To finish that, tap the green start button to see the process in the encoding panel.
3. FAQ
Is Adobe Media Encoder converting fast?
Yes. Adobe Media Encoder recently added the GPU rendering technology into Premiere Pro and After Effects. It utilizes the hardware encoding for formats like H.264 and H.265. Now the good news is you can render your video for up to four to five minutes more than before.
What does Adobe Media Encoder do?
Adobe Media Encoder lets you encode audio and video in various formats. You can use this converter software as a standalone tool and a perfect companion for Adobe After Effects, Adobe Premiere Pro, Adobe Audition, Adobe Character Animator, etc.
How does Adobe Media Encoder work?
After launching the software, you can drag your files from the Media Browser to the Queue panel. After that, you are now capable of choosing your preset. Then, click your output file on the queue if you want to change the output name of your file, and you can also change the location. Following this, click the green start button above your file, and the Encoding panel will get to work. Now, the encoding tab will be played. After that, you can now click your output file, and it will take you directly to the file folder.
Best Alternative - Aiseesoft Video Converter Ultimate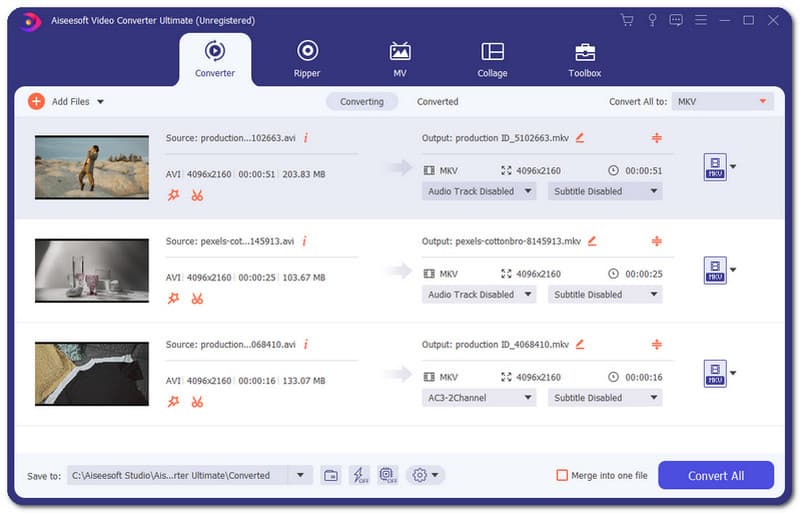 As we reviewed the Adobe Media Encoder, we know now that this software is hard to use and not user-friendly. It is perfect for professionals. However, it is not for beginners who quickly convert their files to other file formats. For that reason, if you are not satisfied Adobe Media Encoder does not meet your standard, there is a solution for that since we will provide you with an alternative for Adobe Media Encoder, Aiseesoft Video Converter Ultimate. We all know that both software are famous and well-known media software converters. However, one software that stands out the most: Aiseesoft Video Converter Ultimate. Why? Because this media converter software is easy to use. In other words, even if you are a beginner in converting files, you can use this software freely and convert your files as much as you want. What I love more about Aiseesoft Video Converter Ultimate is user-friendly when it comes to editing videos. It is so essential to convert files, unlike the Adobe Media Encoder. So much with that, if you are a professional media converter, you can choose Adobe Media Converter. Nevertheless, suppose you are looking for a simple, easy-to-use, user-friendly media converter. In that case, we highly recommend Aiseesoft Video Converter Ultimate. It is not just an easy-to-use software, but it can meet all your needs with your media files. So, choose wisely!
Conclusion
In summary, we make sure that this article review will benefit everyone seeking an article review about media converter software. For that reason, we broadly review the Adobe Media Encoder. We explain each part well and ensure that this is an honest review of its advantages, disadvantages, main features, and more. Thank you for grabbing the opportunity to read this article. Kindly leave us a comment, and do not forget to share this article review with your friends. It might help them. See you with our next article!
Did you find this helpful?
352 Votes
YES

Thanks for letting us know!
No

Thanks for letting us know!
Top Online Video Converter
Aiseesoft Video Converter Ultimate
All-in-one video converter, editor, enhancer upscaled with AI.