Fascinating Speed and Quality Conversion with these 7 Best HD Converters
Converting your video files can sometimes lessen the original quality of your media file. Imagine when you convert a low-quality video, it is frustrating right? That is why having an HD video converter is essential, for it will depend on how your video will be converted. In line with that, we prepared seven of the best HD converters nowadays in the market. These converters are AnyMP4 Video Converter Ultimate, Aiseesoft Free Video Converter, Freemake Video Converter, Any Video Converter, Miro Video Converter, VLC Video Converter, and WinX HD Video Converter Deluxe. All of these converters can offer diverse features and functions. In line with that, we reviewed them one by one to differentiate them. Without further ado, let us start reviewing.
Part 1. Best 7 HD Converter
AnyMP4 Video Converter Ultimate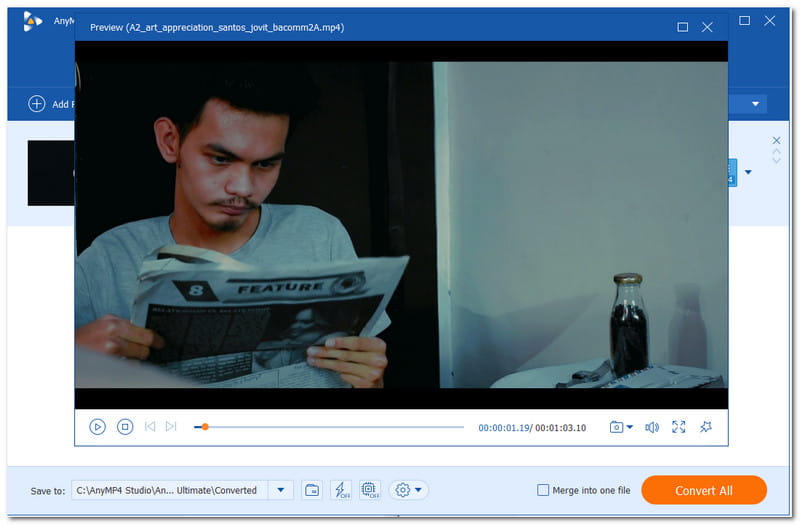 Platforms: Windows 7, 8, 10, Vista, and Mac
Price: Free/ $41.25/ $66.75
AnyMP4 Video Converter Ultimate is an elegant multipurpose software that can also be an HD converter for you. This will enable you to convert tons of input video file formats and turn them into numerous output video file formats. In fact, it can actually convert 4K up to 8K video quality resolutions. These will actually allow users to stream their videos with easy playback on any mainstream devices such as iOS and Android devices.
In addition, as the biggest flex with AnyMP4 Video Converter Ultimate, it also supports super-fast conversion speed. It is 70x faster than any other video converters out there. Do you think that is possible? Well, yes, it is, with the help of the most advanced hardware-accelerated 4K video processor in the world. Therefore, you do not need to worry about wasting your time because AnyMP4 offers a feature where you can convert more than one video file concurrently. Overall, for the few features presented we can now see why AnyMP4 Video Converter Ultimate is number one on the list. Try it to explore more.
Pros

Super cost-efficient HD converter.
Ultra-fast converting speed.
Powerful features and functions.
All in one software.
Cons

Requires to purchase its full-featured version.
Aiseesoft Free Video Converter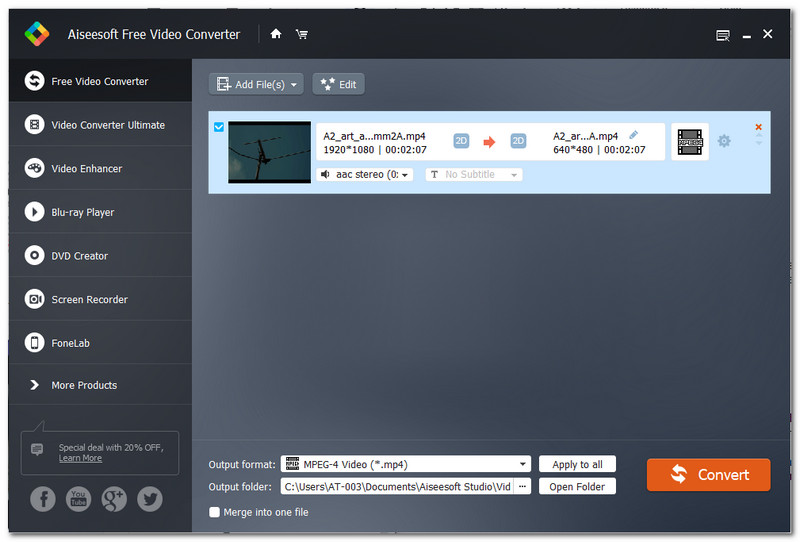 Platforms: Windows 11, 10, 8, 7, and Mac OS X
Price: Free/ $25.00 and $55.20
The perfect companion in converting your video all for free is here. Aiseesoft Free Video Converter is an upgraded software that is capable of numerous features and functions. It also has the ability to convert HD videos without losing high quality. It offers super-fast speed because of its advanced technology.
More than that, this HD converter is also compatible with mobile devices such as iOS and Androids. Furthermore, editing features are also offered such as adding an opening and ending to the video. Extended features are also available like Enhancing video quality (for Pro version). All of these features and functions are just a few steps to use. There is actually more to offer, but this post is not enough to talk about it all. You may try the software to discover and explore more.
Pros

Equipped with powerful tools in converting.
Update regularly.
Minimalist design or interface.
Multiple purposes.
Compatible with tons of platforms.
Cons

The free version is limited.
Freemake Video Converter
Platforms: Windows 7, 8, 9, 10, Vista, iOS, and Android
Price: Free/ $9
The next on the line that is capable of converting video to HD 1080p is the Freemake Video Converter. This converter possesses numerous fascinating features and functions. Despite its simplicity, it is still capable of converting your videos with ultra-definition resolution output. In short, Freemake Video Converter offers a variety of features to give wonderful results in converting your videos with ease and hassle-free. As an overview, this converter has pretty wide support with different video file formats both input and output files. In addition, it is also compatible with any gadgets, which means this software is really a great choice.
Aside from all of that, it also has extended features such as the rip, burn, cut, join, rotated clips, and even converting movies that have embedded subtitles on them. Overall, with its affordable price and fantastic features offered we can now say that Freemake is not a regret.
Pros

Affordable converting software.
Secured for a decade.
Fastest video converter.
Cons

The interface is overwhelming because of its big icons.
Any Video Converter
Platforms: Windows 7, 8, 10, Vista, and Mac OS
Price: $49.95
Fourth on the list is the professional Any Video Converter. This is a suitable converter for those people who are looking for a great software converter that is tested by millions of users around the world. The amazing thing about this converter is its ability to convert HD MP4 video with 30x faster speed than those standard speed converters. Through this software, you may also enjoy High-efficiency video encoding such as H.265. Imagine getting the latest and highly compressed high visual quality video with Any Video Converter. For that being said, there is now a possible way to remove Any Video Converter from the list of being the best HD converter in the digital market.
Pros

Trusted by infamous websites and users.
Integrated professional converting tools.
Cons

Subscription-based converters.
The full-featured version is expensive.
Miro Video Converter
Platforms: Windows, 7, 8, 10, Mac OS, Linux Source, iOS, Android Devices
Price: Free
If you are looking for a converter that is easy to use, Miro Video Converter might be the converter you are looking for. This amazing converter is very easy to use in converting even the most high-quality resolution video files. It offers basic features that are also essential in the conversion process, like the batch conversion where you simultaneously convert your video files into groups. Furthermore, customizing and sizing of the parameter settings is also allowed for instant use of this feature.
Pros

Multiplatforms converter.
Basic features are offered.
Free to utilize.
Cons

Limited in features and functions.
VLC Video Converter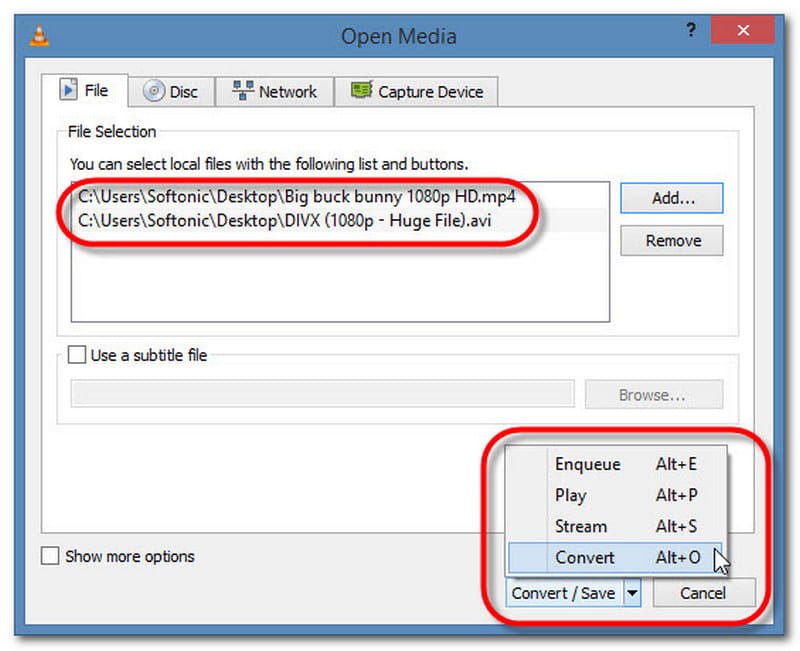 Platforms: Windows, 7, 8, 10, and Mac OS
Price: Free
VLC Video Converter has been known to be the best media player for a long time now. However, little did we know that this amazing media player is also capable of converting HD videos with fast conversion speed and high-quality output. For that being said, VLC Video Converter is multipurpose software that you can utilize with different media processes. In addition, the fact that it has been trusted and proven by tons of users for a long time now, there is no room for doubt why VLC is one of the most used converters nowadays.
Pros

Intuitive interface.
Easy to master.
Free, yet rich in features.
Smooth playback and converting process.
Cons

Features prioritize as a media player.
WinX HD Video Converter Deluxe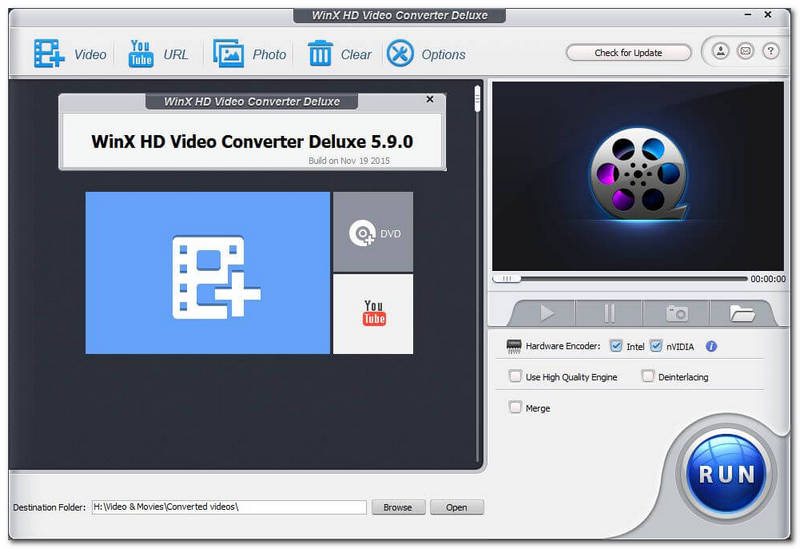 Platforms: Windows, 7, 8, 10, and Mac OS
Price: $29.95/ $39.95
Another infamous HD converter is the WinX HD Video Converter Deluxe. This converting software has recorded 50 million video conversions per year. That means, tons of users are also using and trusting this converter. It has the ability to give you a super speed converting process for you to save time. It will also allow you to edit your converted 4K video files efficiently without hassle-free. The best thing about it is that this is recommended even with the new users
Pros

Professional features.
Fascinating interface.
Offers extra features like editing tools.
Cons

The website is a bit messy.
Need to purchase the full features.
Part 2. How to Pick up a HD Converter?
Since it is an important topic for the best HD converter, we prepare a few of the things you need to consider when you choose.
Cost Efficient: If you will purchase software make sure that your payment is justifiable by its features and offers. This way you can prevent wasting your money.
Functionality: This includes its features or the things it can offer or do with your HD videos.
Compatible with your device: it will prevent you from having a lag conversion process.
Part 3. FAQs of HD Converter?
What do HD converters require with my system?
In terms of system requirements, different converters require different system requirements. However, as common system requirements, you will be needing Windows 7, 8, 10 operating systems. 1 GHz Intel/AMD CPU or more. Then 1 GB of RAM. Other software may require graphics and other essential hardware parts.
Isn't there a lag in converting HD videos using my mobile devices?
No, there are mobile phones existing like iOS and Android that are equipped with ADVANCED technology. As long as your RAM is more than 2 GB Memory and more than 16 GB storage, you will never experience a lag in converting Hd videos using your mobile devices.
Is there an online free video converter to HD 1080p without a watermark?
There is actually an HD MP4 converter that you can utilize with online use. A few of these are AnyMP4 Free Online Video Converter and Aiseesoft Free Online Video Converter. These two web converter tools will really give you an amazing converting process and experience.
Conclusion
As we conclude, we explored seven of the most fascinating HD converters in the market nowadays. We found out their differences and similarities. For that, you may now have the impression of what converter among the seven software is at the top of the line. May this post help you choose what you will utilize. You can also help another user who is looking for the best converters too by sharing this post. Help them now!
Did you find this helpful?
345 Votes
YES

Thanks for letting us know!
No

Thanks for letting us know!
AnyMP4 Video Converter Ultimate
All-in-one video converter, editor, enhancer upscaled with AI.