Pay No More with these Free Video Converters: A Thorough Review of Information
Users nowadays surely choose a more convenient and more affordable software rather than the expensive and complicated one. Mostly, people will choose free software yet capable of offering powerful tools. That is why we will help you look for the free video converter. In that case, you will not need to pay but still can get the tools you will be needing. In this post, we will review seven tools which are; Aiseesoft Free Video Converter, Freemake Video Converter, Any Video Converter, Hamster Free Video Converter, Handbrake Video Converter, DivX Converter, and Format Factory. We explore their features, functions, and other important information about it.

Part 1. Best 7 Free Video Converter
Aiseesoft Free Video Converter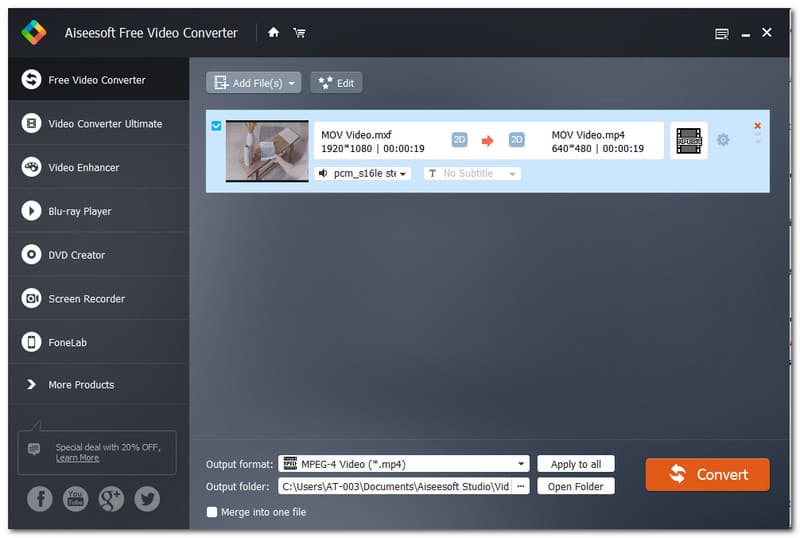 Platforms: Windows 11, 10, 8, 7, and Mac OS X
Price: Free/ $25.00 and $55.20
Do you believe that there is software that is equipped with powerful tools for free? Well, that Aiseesoft Free Video Converter is all about. This fantastic software is a multi-purpose tool that will enable you to convert, enhance, or enhance your video instantly. In terms of its ability to convert, it has an excellent tool for a converter that will offer you a great process in converting your video. All of these are free and accessible for everyone! In addition, it is also used as a player, therefore, playing your file before and after you convert a file will be possible. See, who would have thought that there is this perfect definition of an all-in-one software for free! Overall, there is no reason to doubt why Aiseesot Free Video Converter is considered one of the best free video converters on the market! Try Aiseesoft Free Video Converter now!
Pros

Multi-purpose converting tools.
Smooth loading process.
Professional software.
Organized functions.
Equipped with advanced technology.
Recommended for all the new users.
Cons

Overwhelming to use at first.
Freemake Video Converter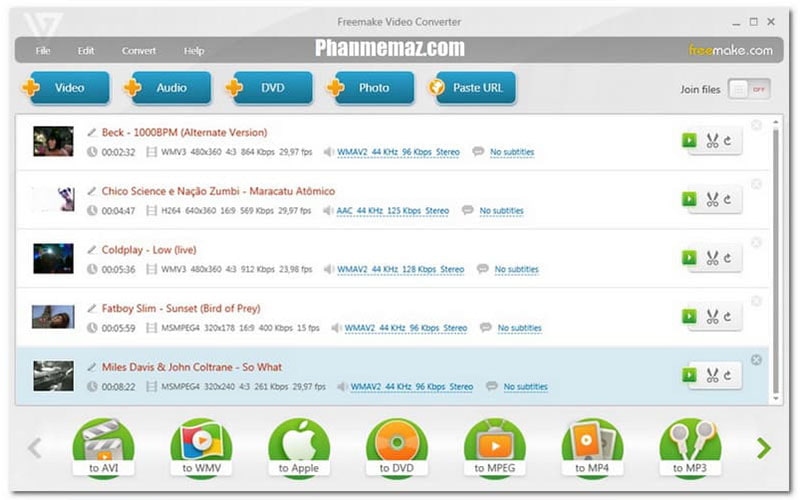 Platforms: Windows 11, 10, 8, 7, and Vista.
Price: Free
If you are planning to convert videos into new file formats with your Windows computer, Freemake Video Converter might be the software you are looking for. This is a go-to solution for those people who are looking for a great converter that has the ability to convert almost every file format (Input and output). In addition, this converter is able to convert your media file in batch mode. Therefore, saving time in converting a lot of files will now be done instantly. Aside from its capability in offering fantastic features and functions, it is also a great converter because it is all free. That means all of its features can be utilized without even paying a single cent. Now, we know why Freemake Video Converter belongs to the best free MP4 video converter.
Pros

Amazing features provided.
Batch conversion is available.
Offers a high-quality output.
Cons

A bit limited with features.
Any Video Converter
Platforms: Windows 7, 8, 10, and Vista
Price: Free to download/ $49.95
As the next best video converter, we introduce you to Any Video Converter. This incredible video converter has the ability to convert your videos into new or any formats 30x faster than any other software. It is best because it can convert videos into any video file format. These include DVD DIsc, DVD Folder, DVD ISO, H265, 4K UHD, and more. Furthermore, it also supports NVIDIA, NVENC, AMD, AMF, and Intel QSV. Basically, all of the hardware acceleration and optimization of outputs with your device. It can also be called the best free video to mp3 converter. In addition, Any Video Converter also offers editing features and tools for personalizing your video file with just a few clicks. For that being said, we discovered what are the reasons why you need to choose Any Video Converter in converting your videos.
Pros

Amazing software functionality.
Offers extended features and functions.
Cons

The Ultimate version is a bit expensive.
Hamster Free Video Converter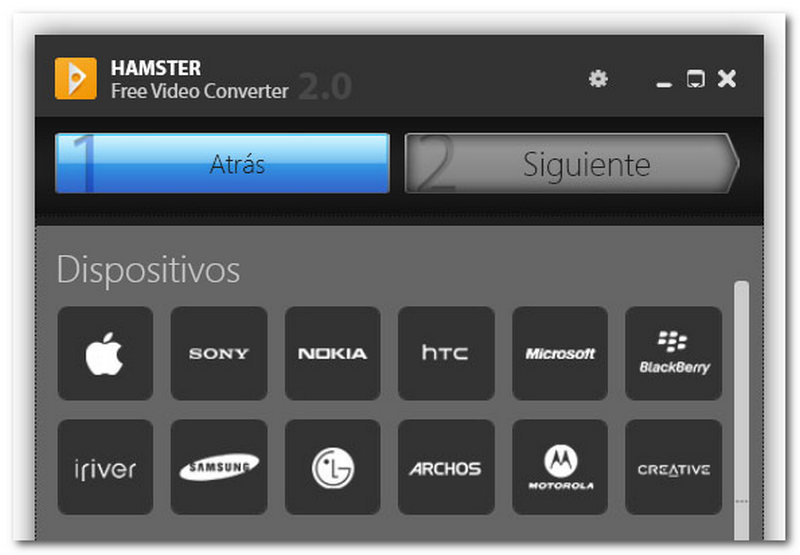 Platforms: Windows 7, 8, 10, and Vista
Price: Free
Hamster Video Converter is a free video file converter that is very simple and easy to use. This will allow you to convert any video file format without experiencing an issue with the process. Well, this converter is not called the best for no reason. It is because of its capability in supporting almost every video file format nowadays. When it comes to the process of converting, the process can be done easily and instantly because the drop and drag process is allowed here with a second of conversion speed. Furthermore, the best thing about it is its interface that is very intuitive and easy to understand. Therefore, we can say that Hamster Video Converter is a great converter to use with converting your video.
Pros

Powerful converting tools.
Full features are free to use.
Easy to use functions.
Cons

Do not frequently undergo updates.
Handbrake Video Converter
Platforms: Windows, 7, 8, 10, Vista, Mac, and Linux
Price: Free
Handbrake Video Converter is most known to be an open-source video transcoder. This software is also able to convert your files in any format. Something unique about this converter is its built-in device presets.In addition, Batch conversion, scan, and queuing of encoded files is allowed here.
Pros

Super easy to use.
Less complicated to use parameter settings.
Freeware and open source.
Cons

Features are limited.
DivX Converter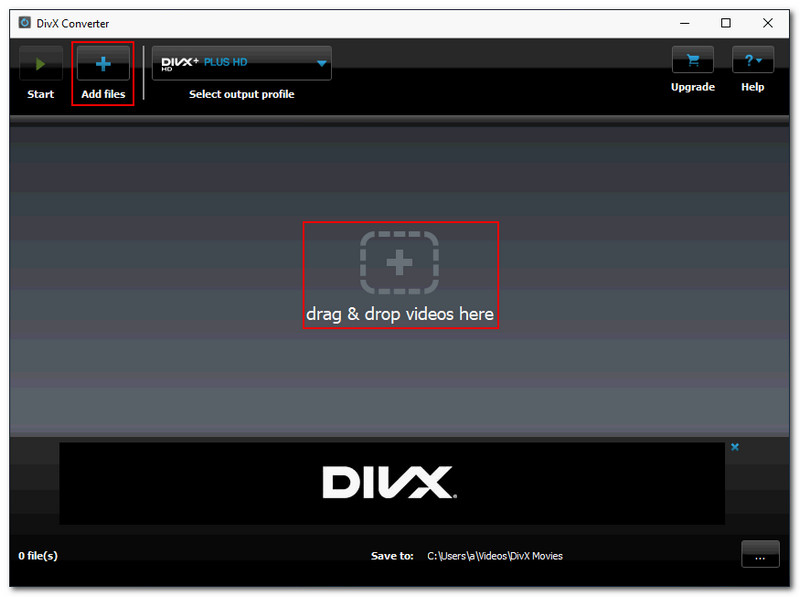 Platforms: Windows 7, 8, 10, Vista, and Mac
Price: Free
DivX Converter is one of the most professional free video converter software that you can utilize with converting your video with appealing output resolutions. This is possible with DivX Converter because it possesses technology with advanced performance speed. The most unique function about this, it supports Cloud Connect where you can import your video files from your Google Drive and Dropbox. Although DivX Software is most infamous as a player, we cannot disregard its amazing functions for converting video for free. In addition, this converter is award-winning video software that is capable of playing, creating, and casting your most loved video files. Well, that is just an extra function. Overall, DivX Converter is a great choice for converting video, yet it is a multi-software that can offer almost everything you need with your files.
Pros

Professional multimedia software.
Offer a smooth process of converting.
A free trial is offered.
Clean interface.
Cons

● Overwhelming to use at first.
Format Factory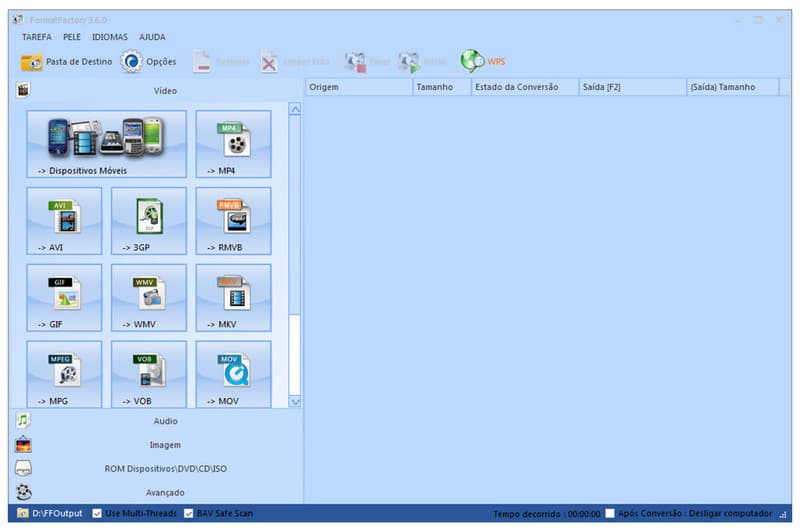 Platforms: Windows 7, 8, 10, and Vista
Price: Free
Format Factory is another multifunctional, multimedia media file processing tool that is excellent for converting your video files. It actually offers numerous tools, even an editing feature perfect to use in modifying your converted videos. Moreover, this converter supports pictures that are commonly used by users. The most amazing thing about Format Factor is its Easy backup features that can save your media file so that you will not lose it. Overall, Format Factory is actually limited in features but these functions are powerful enough to be called the best video converter for you.
Pros

No complication in using it.
User-friendly tools.
Clean interface.
Offers extra functions.
Cons

Features and functions are limited compared to others.
Bugs occur sometimes.
Part 2. Comparison of Top 7 Free Video Converter
Top 7 Free Video Converter
Aiseesoft Free Video Converter
Freemake Video Converter
Any Video Converter
Hamster Free Video Converter
Handbrake Video Converter
DivX Converter
Format Factory
| | | | |
| --- | --- | --- | --- |
| Rating of Functionality | Rating of Feature | Conversion Speed | Batch Converter |
| 9.8 | 9.7 | Super-Fast | |
| 9.2 | 9.3 | Fast | |
| 9.5 | 9.5 | Super-Fast | |
| 9.0 | 8.9 | Moderate | |
| 9.0 | 9.1 | Moderate | |
| 9.4 | 9.4 | Fast | |
| Fast | Fast | Fast | |
Part 3. FAQs of Best Free Video Converter
Is there another free video converter I can use instantly?
Aside from free video converter desktop versions, you can also use video converters online. This software can be accessed anytime at anywhere with any device, as long as your device has a Web Browser.
How can I convert my video to a new file format?
Converting your video to a new file format is as easy as a drag and drop process. You need to open the converter, then click add files. After you have chosen your video, it will now be shown to the converter's interface. Next, click the convert button to start converting. Lastly, save your converted files to your preferred file location.
May I convert videos with my Mobile phones like iOS and Androids?
Yes, you can. There are various video converters you can utilize in converting your video using your phones. You can try these applications, Video Converter Android, VidCon, and Video Converter Free. That offers an amazing function for converting your video files.
Conclusion
In the end, we found out that these seven free video converters are effective ways to convert our video files. They have different offers, features, functions, but as a common ground, you can utilize them all for free. It is now the time for you to choose. Also, if you know other people who need a converter, you may share this post with them so that you can help!
Did you find this helpful?
355 Votes
YESThanks for letting us know!
NoThanks for letting us know!
Aiseesoft Free Video Converter
A 100% free video and audio converter without ads.