Comprehensive Review of Freemake Video Converter and Its Features
Do you use a regular media converter that does not meet your concern? If that is the case, it is now your time to use another converter tool to give you the most satisfying output. For that reason, we offer you a broad review of Freemake Video Converter. The good thing about this software is that it provides a free version known as an all-in-one video converter that can alter and convert media files into other formats. Though free, it can also burn and rip Blu-ray and DVDs and extract audio data from video clips. This article review also presents the pros and cons, ratings, offers, price, main features, interface, what species it supports, what file formats it supports, other nifty features, the best alternative to it, and many more.

1. Our Verdict
Pros

It has a comprehensive set of tools.
It is user-friendly software.
It provides plenty of presets.
It has essential editing functions.
It does not need a piece of special knowledge.
It provides output profiles for different devices.
It has no advertisements.
Cons

The payment structure is confusing.
The software needs an update.
It is only compatible with Windows.
Overall Ratings
Freemake Video Converter offers a 100% free version. Even though it is free, the software will let you use its essential features. For that reason, you can convert any media file to a specific file format that you prefer. That is to say, and you can transform your video, audio, DVD, and image files. Most importantly, Freemake Video Converter guarantees you a safe and effective video and audio conversion process.
Functionality:9.5
Effectivity:9.5
Safety:9.5
2. What is a Freemake Video Converter?
Freemake Video Converter
Price: $39.95 monthly/premium version, $59.95 lifetime/license
Platform: Windows, Web App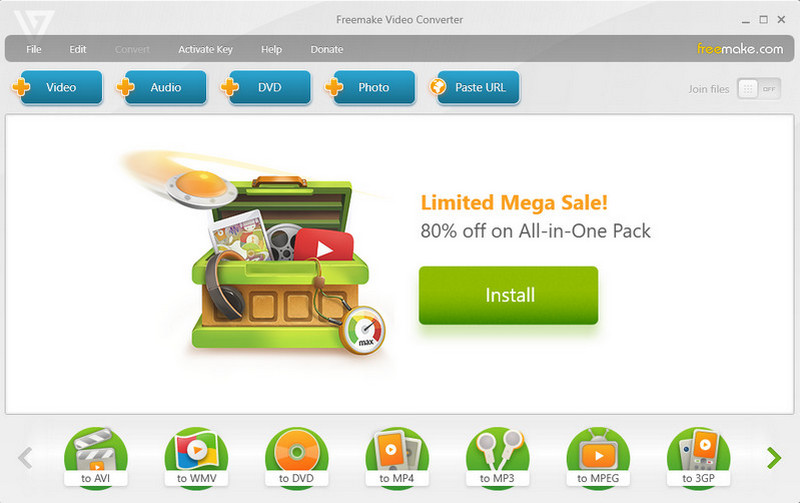 Freemake Video Converter enables you to change your media files to other file formats, including videos, audio, image files, and DVDs as well. Furthermore, you can also support Before converting your media files to another format. The software has editing options that enable you to change your media files. Thus, you can cut or join some parts of the video and rotate the clips, whether 90 or 180 degrees. If you desire to create a music video, Freemake Video Converter will let you add audio to your videos. You can also add subtitles to your favorite movies. But, you have to first subscribe to the lifetime license at an affordable price with a 50% discount.
Main Features
◆ It supports social sharing.
◆ It has privacy settings.
◆ It has language support.
◆ It supports the bulk uploading of media files.
◆ It can rip Blu-ray and DVDs.
◆ It can burn Blu-ray and DVDs.
◆ It can convert image format to a video slideshow.
◆ It supports a large number of file types.
◆ It has modest editing tools.
◆ It has multimedia support.
◆ It supports brand overlay.
◆ It is fast to convert.
◆ It can convert movies with subtitles.
◆ It can upload clips to YouTube.
3. Freemake Video Converter Review
User Experience
Upon using Freemake Video Converter, I must say that this is good for converting various files to another file format without affecting the quality of my videos. And the good thing about it is that it can change batch files without waiting too long. Also, I loved it because I had the chance to add audio to my videos. I could use it without any confusion because of its straightforward interface. That is to say, the features and functions are placed in the proper position.
Supported Input and Output Formats
We know that Freemake Video Converter can support various file formats, including audio, video, image, and DVD files. And now, let us discover the input and output formats this software supports. Refer to the table below.
| | |
| --- | --- |
| Video Formats | 3GP, FLV, SWF, TOD, MTS, MOV, M4V, RM, QT, TS, NUT, NUV, OGM, OGV, PVA, R3D, RAX, RMS, RMX, RPL, RTSP, SDP, SMK, THP, VC1, VFW, VRO, AMV, AVCHD, AVS, BIK, BNK, CAVS, CDG, DPG, DV 1394, DXA, EA, FFM, FILM, FILM_CPK, FLC, FLH, FLI, FLM, FLT, FLX, GXF, H261, H263, H264, MJ2, MJPG, AVI, MP4, WMV, MKV, DVD, MPG, MKM, MTV, MXF, NC. |
| Audio Formats | MP3, DTS, GSD, GSM, MKA, MLP, AAC, OGG, WMA, ALAW, APC, CAF, MMF, WAV, FLAC, M4A, AMR, APE, M4R, AU, AIF, AIFF, AIFC, AC3, ADTS, M4R, MP1, MP2, MPEG3, OMA, QCP, RA, RMJ, SHN, TTA, VOC, W64, WV, XA, MPC, MP+, M2A, NUT. |
| Image Formats | BMP, PBM, PCX, PGM, PPM, SGI, PAM, SR, RAS, TGA, TXD, JPG, GIF, PNG, TIF, ANM, DPX. |
DVD and Blu-ray Ripping and Burning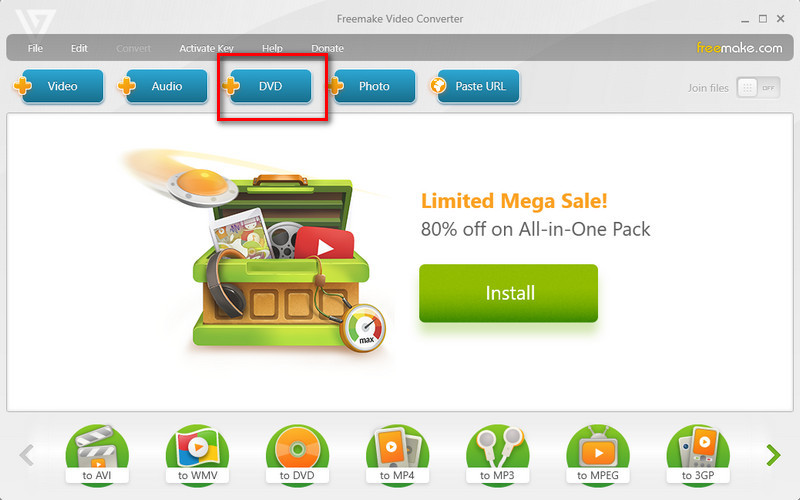 Suppose you are looking for an effective DVD burner, we would like to know that Freemake Free Video Converter can also rip and burn DVDs and Blu-ray discs aside from converting media files. But, before you can use this feature, you need to upgrade to the King level. That is to say, you must buy a 1-week trial for only $0.95, or monthly, you can also subscribe per month for only $39.95, or if you want a lifetime license, you can buy for only $59.95. With that, you can use this feature without limitations.
Editing Features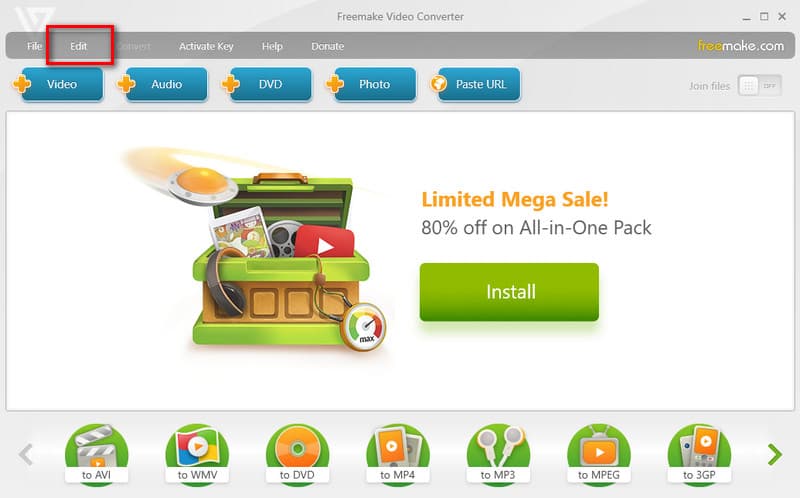 Freemake Video Converter has a built-in video editing tool. For that reason, this video converter software enables you to cut, join, and rotate video files. But then again, to get the whole experience of it, you need to pay for Mega Pack that has premium features such as automatic cropping and removal of watermarks.
Other Cool Features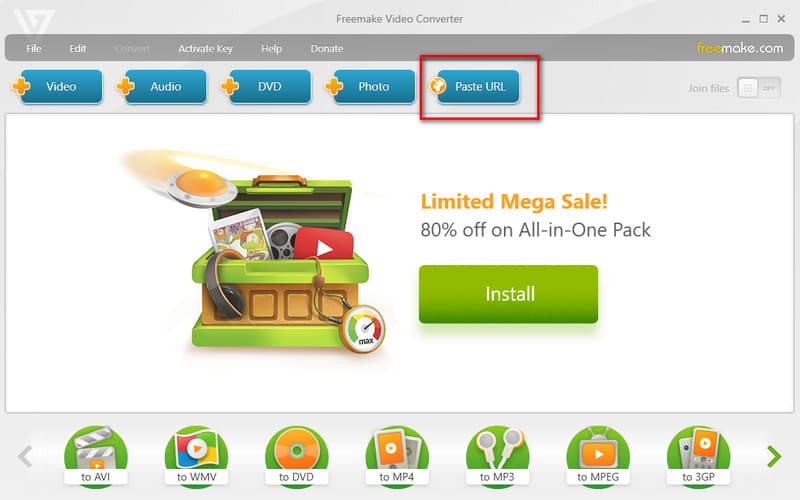 The free version of Freemake Video Converter possesses various features such as DVD ripping, DVD burning, converting image formats to make the video clips. Besides, this video converter software has a Paste URL button that enables you to copy the video URL from the address line then paste it on that button. After that, a new window will appear with a list of formats that you can choose, then save them. Each file format provides an estimated file size and audio quality to adjust according to your preference.
What is Best for?
As we all know, this software is best for converting not just video and audio files but also image and DVD files. In line with that, you can also use this video converter software to rip your DVD files. Moreover, if you want to create a video and save it to a DVD, click the DVD button, and it will show you how you can burn DVDs. This software is best for both new users and professionals because it has a straightforward interface. You do not need background knowledge of the tool before using it. Moreover, professionals will enjoy it because of its unique DVD ripping and DVD burning features. Please take note; it has a free version that enables you to use it without purchasing the premium version.
4. FAQ
Does Freemake Video Converter have a watermark?
Yes. When you use the accessible version of this software, the watermark logo of Freemake Video Converter exists for converting video files. But, you can remove the watermark if you pay extra for the premium Freemake Gold Pack.
How to speed up Freemake Video Converter?
To do this, you need to download the latest version of the program. Then start installing it on your Windows computer. After that, add visuals that you need to modify. Then click the Go to files - options - acceleration. After that, enable all the available to your accelerations and choose an output option. Then save the file with the new setting.
Does Freemake Video Converter convert HD films with subtitles into any other format?
Yes, it can convert HD files into AVI or MPG formats without compromising their quality. Also, it can convert movies and add subtitles to them or edit them before the converting process takes place. With that, you can change the subtitles' size, font, and style.
5. Best Alternative - AnyMP4 Video Converter Ultimate
This article review also offers you the best alternative to Freemake Video Converter. Suppose that you are not happy with its features and functions. We present to you AnyMP4 Video Converter Ultimate that can meet your concerns, especially in the video conversion process. This software can convert various file formats to another file format with a free trial.

AnyMP4 Video Converter Ultimate
It is the best alternative video converter tool to Freemake Video converter.
It can convert 8K/5k/4K/1080p HD videos.
It can rip DVD to video files.
It has many editing features.
It provides a split screen with videos and pictures.
Conclusion
In conclusion, after studying the broad Freemake Video Converter review, we hope that you can now decide to buy this video converter tool. But if you do not want to, you can use or buy AnyMP4 Video Converter Ultimate that provides excellent features. Thus, it can solve your problems. More so, do not forget to send this information to your family and friends to help them.
Did you find this helpful?
362 Votes
YES

Thanks for letting us know!
No

Thanks for letting us know!
Best Free Video Converter Windows
AnyMP4 Video Converter Ultimate
All-in-one video converter, editor, enhancer upscaled with AI.