Review of Best 7 Image Hosting Services (Free and Paid)
The most painful you will experience is when you accidentally delete your images without having a copy of them. Worse, you cannot take another photo the same as before. That is why we are proposing to you the best 7 image hosting services. These websites will let you store, share, and browse photos as much as you want. Store your photos now after you read this article review.

Part 1: Review of Best 7 Image Hosting Services
Dropbox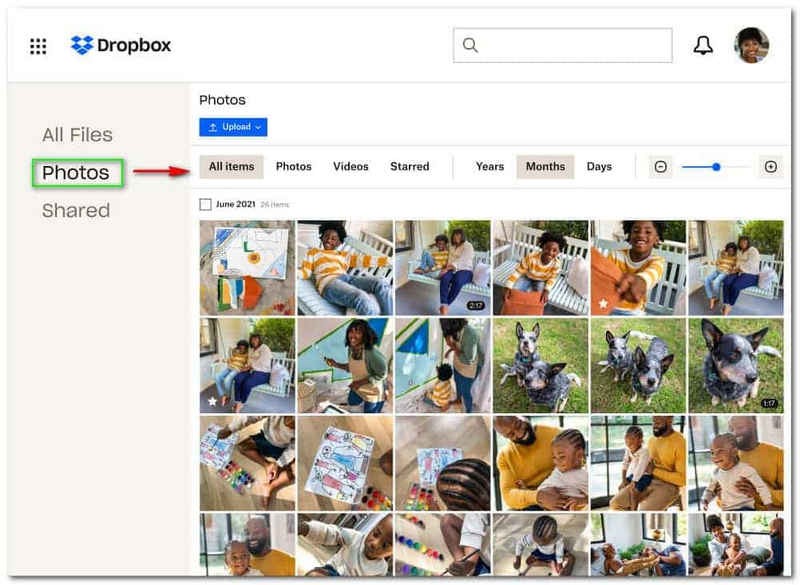 Price: Plus Plan costs $11.99 per month, Family Plan costs $19.99 per month, Professional Plan costs $19.99 per month, Standard Plan costs $18.00 per month, and Advanced Plan costs $30.00 per month.
Pros

It offers various plans.
It also provides a free 2 GB space.
It can automatically back up pictures.
It lets you organize files, especially photos.
It is easy to access.
Cons

You need to add a payment method to use the free version.
It has no end-to-end encryption.
Dropbox is usually used to back-up pictures, organize files, or as an extra space for your files. However, do you know that Dropbox is considered picture hosting? What do you mean by that? Dropbox is not just about giving extra space for your files. It can also make your images accessible online.
Also, Dropbox is an image hosting that provides up to 2 GB of free space. You can buy one of their plans to upgrade your space, which starts at $11.99 a month. Moreover, you can use the Web-based version or install the Dropbox app on your device to access your files quickly.
Google Photos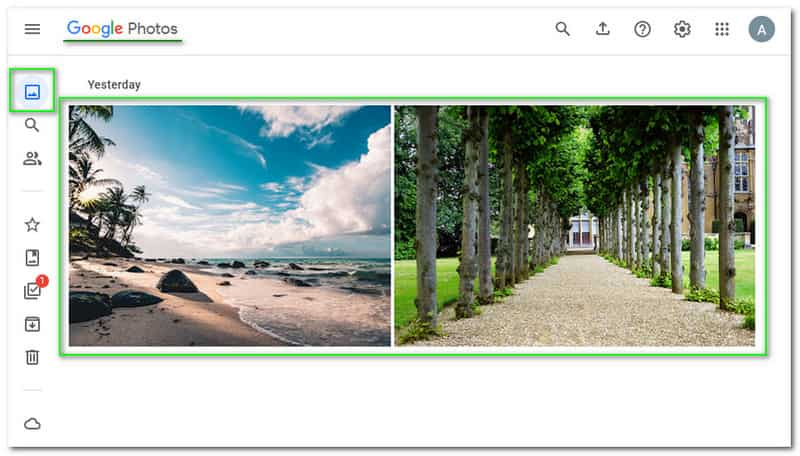 Price: Free
Pros

It lets you upload images from your computer and Google Drive.
It also allows you enable Automatic Backup.
It can upload a large file of photos.
It can edit, organize, and visually search the uploaded pictures.
It offers free space of up to 15 GB.
Cons

It can reduce the quality when you select the Storage Saver option.
Google Photos belongs to the free image hosting sites that is suitable for Mac, Windows, Web-based, Android, and iOS devices. It is not just about sharing images; Google Photos lets you share your pictures and make them accessible to broad viewers. Also, since you have a Gmail account, it is easy for you to access Google Photos because it is one of its features of Google.
In addition, it has an option that allows you to Explore photos with different categories such as Saved Creations, Animations, Collages, Screenshots, Selfies, etc. Furthermore, if the 15 GB free space is not enough for you, you can avail of its 100 GB storage space which costs $1.53 a month.
Imgur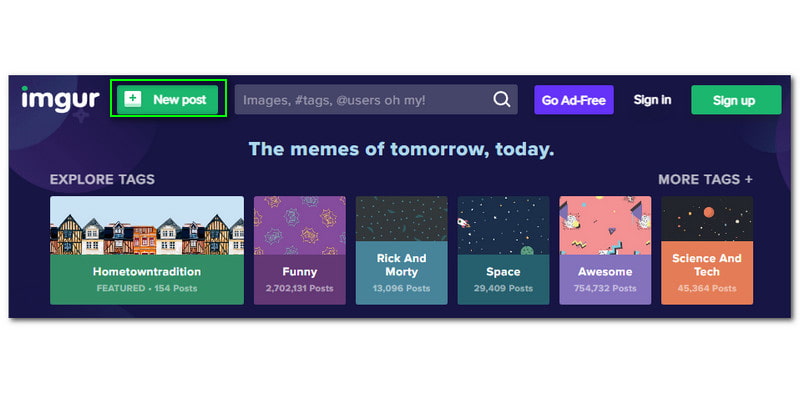 Price: Free
Pros

It can upload images and animated GIFs from videos without compromising the quality.
It can share your post anywhere, online.
Cons

Its free space is not enough.
It is not easy to sign up.
Many Ads support it.
Here is another free image hoster known as Imgur, and it is GIF hosting. It is almost similar to social media platforms, letting you upload a New Post visible to many. Therefore, you are sharing your photos publicly. After adding your files, you can insert a Title, Link, and Tags. In addition, it also has a Public Feed in which you can explore other posts. To enjoy exploring the Public Feed without Ads, start signing up to them for free using your social media, iCloud, and email accounts. For that reason, you can upload images from the signed-in account.
Furthermore, you can leave a comment on the other posts, and other people can also comment on your public post. Imgur is not yet popular because of other famous social media platforms. However, many people also use this, especially since they can explore several photos and GIFs.
Flickr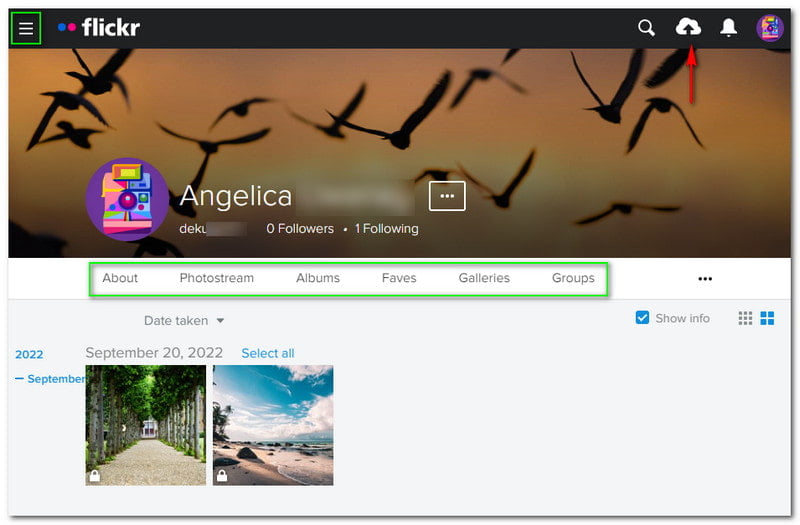 Price: Monthly Plan costs $8.49, the Two-Year Plan costs $5.99, and the Annual Plan costs $6.67 a month.
Pros

It provides limitless storage to those who bought the Pro version.
It also provides a neat editing tool.
It can make an album and share it on other social networks.
Cons

The free version only has a limitation of up to 1,000 photos.
It is Ad-supported.
Another site you can use to host images is Flickr. It is a picture hosting that provides a neat editing tool. In addition, Flickr lets you store pictures of up to one thousand if you use a free version. Nevertheless, you will have an unlimited upload if you use the Flickr Pro version. The aim of this image hoster is not just about storing images but sharing images with everyone.
For that reason, you are giving the audience the authority to access your photos uploaded to Flickr publicly. Once you sign up to Flickr, you can upload images into the Camera Roll. Also, you can search for different people or groups and see their uploads. You can leave a comment if you want to.
Imgbb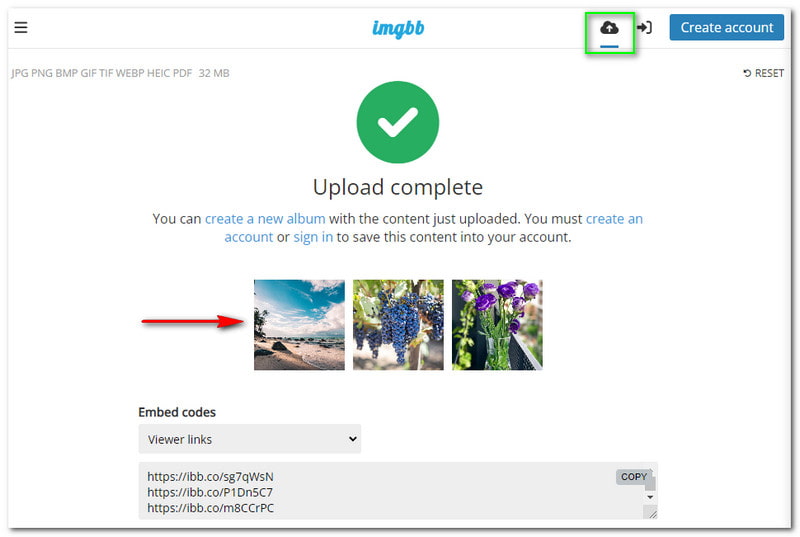 Price: Imgbb 3-Year Pro costs $3.99, Monthly Plan costs $12.99, and the annual Plan costs $7.99.
Pros

It offers a free version.
It supports numerous image formats.
It is a code-free solution.
It has a user-friendly user interface.
Cons

It has limited features.
It does not support video uploads.
The uploading process will slow down when you upload images simultaneously.
Imgbb is an image hosting site that lets you upload and share your photos. It is more likely an anonymous image hosting because it can upload images even if you are not creating an account. After uploading images, it will provide you with the Embed Codes and the URL of the images and lets you copy them and search them on your browser to view the image.
Moreover, the benefit you can get when you purchase one of the Pro Plans, you will no longer see the disturbing Ads. Also, you will have unlimited space, which lets you replace the image features.
Photobucket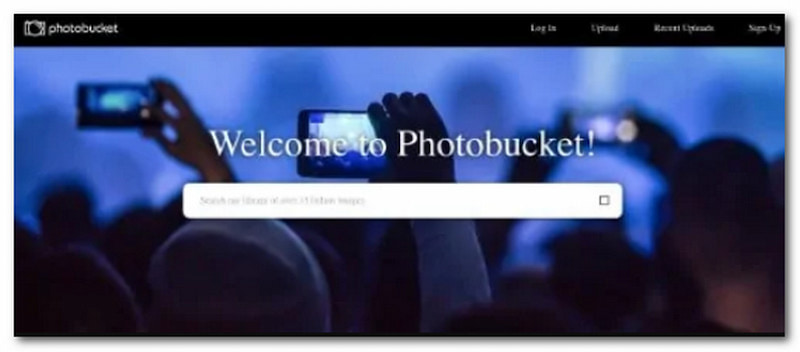 Price: Photobucket Lite costs $3.00, Photobucket Plus costs $4.00, and Photobucket Unlimited costs $13.00.
Pros

Social media platforms support it.
It can share images and albums.
It provides signature account recovery services.
Cons

It is difficult to sign up and use the free version.
It is not advisable for amateur users.
Store your photos with a professional hosting image called Photobucket. When you purchase Photobucket, you can store images and make a printed copy of the photograph in their broad libraries. Aside from that, after uploading your photos, Photobucket allows you to convert them into canvas posters, frame prints, home decoration items, etc.
Furthermore, you can also try this for free and get up to 10 GB bandwidth good for a month and provides you a 2 GB storage capacity. Nonetheless, supposing you want to organize, store, and share unlimited images, you must purchase Photobucket Unlimited.
SmugMug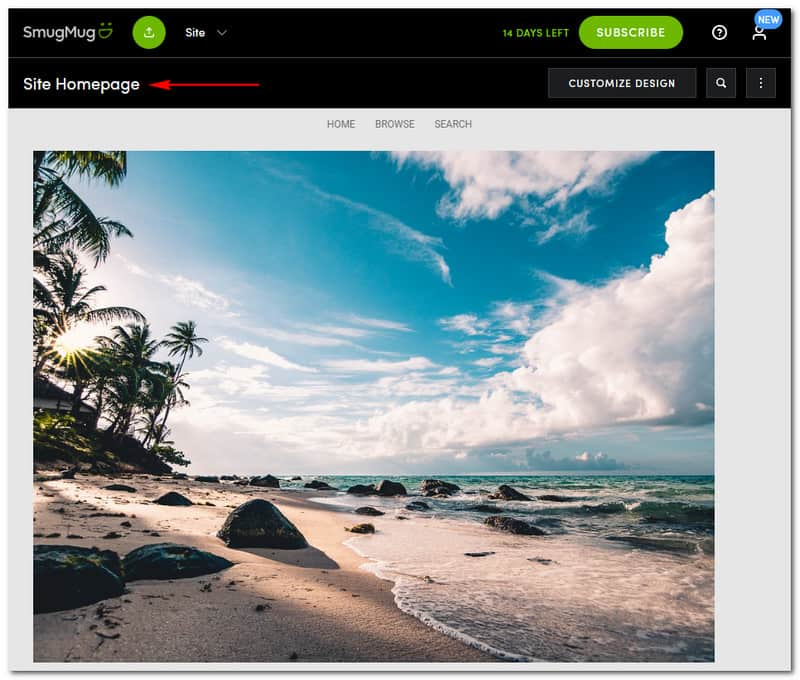 Price: SmugMug Power costs $13.00 per month, SmugMug Portfolio costs $28.00 per month, and SmugMug Pro costs $42.00 per month.
Pros

It offers a 14-day trial version.
It provides a high-image quality.
Cons

It has no built-in invoicing.
It charges a 15% fee for transactions.
It is not user-friendly.
SmugMug has the best photo album hosting that you can share with everyone. It is also another professional tool, but if you are a new user, you need a tutorial before using it. But if you are a professional user, you will appreciate this website.
Aside from that, it lets you customize the image with many professional editing tools. Overall, you can do much with SmugMug, which lets you browse free image previews and more.
Part 2: Which is the Best 7 Image Hosting Services
| | | | | | | | | |
| --- | --- | --- | --- | --- | --- | --- | --- | --- |
| Price | Free Space | Money Back Guarantee | Customer Support | Easy-to-use | Interface | Uploading Speed | Safety | Best For |
| Starts at $11.99 | 2GB | | | 8.9 | 8.8 | 8.9 | 8.8 | New users |
| Free | 15GB | Free | | 8.8 | 8.7 | 8.8 | 8.7 | New users |
| Free | 220MB | Free | | 8.7 | 8.7 | 8.5 | 8.6 | New users |
| Starts at $8.49 | 1,000 photos | | | 8.9 | 8.8 | 8.6 | 8.7 | New users |
| Starts at $3.99 | 32MB | | | 8.8 | 8.6 | 8.6 | 8.7 | New users |
| Starts at $3.00 | 10GB | | | 8.5 | 8.7 | 8.7 | 8.8 | Professional users |
| Starts at $13.00 | 10GB | | | 8.5 | 8.8 | 8.6 | 8.7 | Professional users |
Part 3: FAQs of Best 7 Image Hosting Services
Image Hosting VS. Photo Sharing, do they have a difference?
Yes, and allow us to share the difference with you. In Image Hosting, you are storing images by yourself. For that reason, you can access them anytime and decide when they can be accessed upon giving an authority.
On the other hand, in Photo Sharing, anyone can download your shared photos without control over them. However, you can share photos easily with just a simple click.
What advantages can I get in image hosting?
With image hosting, data loss will not become your problem. In addition, you can authorize the audience, and only the authorized audience can download and customize the images. Apart from that, you can also save time and share your photos on social media platforms easily. Plus, you can store your files effectively.
Can I host an image on Reddit?
Unfortunately, Reddit does not yet have a feature for uploading images. Moreover, it is not an image hosting service. Therefore, you cannot upload pictures from your computer, and you cannot store files also. Reddit is more focused on the news, videos, etc.
Conclusion:
We expect these best 7 image hosting services will help you store, share, and browse like what you do on other social media platforms. Also, you can refer to the question and answer to know the difference between Image Hosting and Photo Sharing. To end, we will see you again soon!
Did you find this helpful?
482 Votes
YES

Thanks for letting us know!
No

Thanks for letting us know!
AnyMP4 Video Converter Ultimate
All-in-one video converter, editor, enhancer upscaled with AI.