How to Transfer Android Photos to Android
When you buy a new Android phone, one of the important tasks is to transfer your data from the old Android phone to another, especially photos, videos, contacts, messages, etc. If you like to take pictures and store a lot of them, you need a tool to help you transfer multiple files quickly and in bulk. To transfer photos from Android to Android more easily and quickly, we have listed 3 ways via a third-party app, Bluetooth, and Google account in this article. Read more and follow the steps.

Pros
Cons
Connection method
1. Transfer photos without losing quality.
2. Backup phone data with one click.
3. Support batch backup of files.
1. Only limited photos in its free trial version.
USB
1. Sending data is simple and intuitive.
2. Without computer.
1. The backup process is very slow.
2. A maximum transfer rate of 50Mbps.
Radio waves
1. Easily share files with others, like photos and videos.
2. Accessed online.
1. Lack of password protection folder
2. No more unlimited storage.
Wi-Fi
Part 1. How to Transfer Photos from One Android to Another Android with MobieTrans via USB
You can easily transfer a few photos from one Android to another by Bluetooth. However, when copying bulk photos, you may feel a little complex. Considering that, we highly recommend the easy-to-use Apeaksoft MobieTrans to sync and backup various phone files at a time, including photos, videos, music, messages, contact, reminders, etc., between two Android devices. In addition, this transfer can send photos without quality loss.
◆ Transfer photos, contacts, music, videos, etc., from Android to Android easily.
◆ Backup important date on your phone and computer at the same time.
◆ Manage various phone files to make your phone well organized.
◆ Compatible with various devices like iPhone, Samsung, HTC, etc.
1.
Open MobieTrans and connect your 2 Android devices to the PC via USB at the same time. Choose the old Android phone from the top, and then set it as your source device.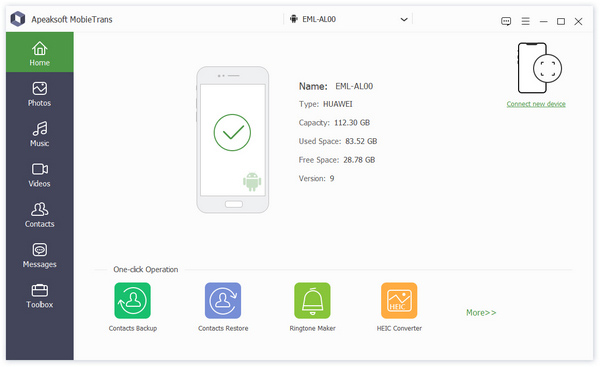 2.
Click the Photo tab on the left bar. Choose the photos you need to transfer from your different folders. You can select them one by one or tick Check All.
3.
Navigate to the top toolbar and choose the Export to Device icon. Now, your new Android phone will receive the photos as the target Android device.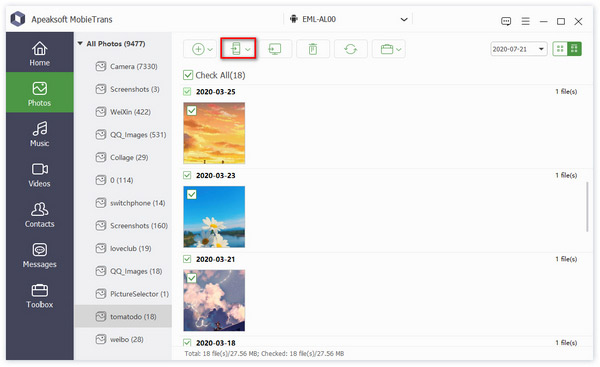 4.
Wait for a few seconds, you will see the successful window appearing. Now you can view these photos on your new Android phone.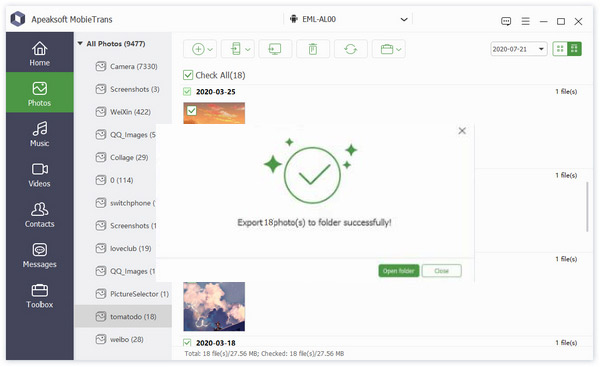 Tips
Besides transferring photos, Apeaksoft MobieTrans also lets you quickly share videos, contacts, music, messages, etc. And it also works as best iPhone transfer tool. You can also back up the iPhone files to make your date more safety!
Part 2. How to Backup Photos from Android to Android by Bluetooth
Another straightforward way to backup photos from Android to Android is through Bluetooth. This is one of the common ways how to transfer photos between two Android devices. If you need to transfer just a few photos or other small files from Android to Android, Bluetooth is a great option. Read and follow these steps.
1.
You can find Bluetooth and turn it on both Android devices by going to the Settings app. Then pair Bluetooth with these two devices and start the photo sharing.
2.
When two android phones have been successfully paired and connected, you can open the Android File Manager option on the phone desktop. And then, choose the pictures that you want to transfer from the Album and set a connection between two devices to share with another one via Bluetooth.
3.
Tap the Accept button for the photos to be transferred to the destination phone. Now, you complete the process of copying photos via Bluetooth.
Tips
The speed of Bluetooth transfer is very slow. Therefore, it is not suitable to send multiple photos at one time.
Part 3. How to Move Photos from Old Android to New Using Google Photos
If you already have registered a Google account on your phone, it will help you. You can switch images from one Android to another Android phone without computer through the account easily. Here are some detailed steps for you to send pictures using Google Photos app.
1.
Open the Google Photos app on your old Android device. Now, you should sign in with your Google account.
2.
At the top of the program, find and tap the Settings option. And select Back up & sync and turn it on. You need wait for a few seconds until your old Android phone uploaded all the images to cloud storage.
3.
Open the Google Photos app on your new Android phone. Sign in with your Google account and turn on the Back up & sync from Settings as step 1.
4.
Your new Android device will now download the images you uploaded to the cloud service from your old Android phone.
5.
Wait for a moment, and you will view your photos on your new Android phone.
Tips
Backing up photos with a Google account may overwrite the photos in the cloud. And if you have lost but want to know how to get Google account recovery, you should note some important information.
Part 4. FAQs about Copying Photos from Android to Android
1. Do photos stay on Google Photos if deleted from phone?
If you delete the photos on your Android device, you can still rediscover and see the ones you just removed in the Google Photos app.
2. Can I transfer photos from one Android phone to another without losing the timestamp?
Yes. If you want to save the images' timestamp, you can use Bluetooth, Google account, or a third-party tool like Apeaksoft MobieTrans to backup images. Note that you will lose the timestamp if you use a social apps like WeChat and Instagram.
3. Where do Android photos get saved?
By default, photos taken with a build-in camera will be stored in a customized file folder for managing files easily. If you need, you can further edit the pictures by learn how to edit picture background or adjust visual effects.
Conclusion
In this article, you already learn 3 methods to transfer photos from Android to Android. However, the quickest method to backup images is using the third-party software, MobieTrans. The copying process is easy and time-saving. You can transfer photos easily if everything is in place. Any questions? Please leave your comments below.
Apeaksoft MobieTrans
Transfer Data between iOS, Android and Computer.