How to Hide Pictures on iPhone: 5 Incredible Applications to Make it Easily
Our iPhone devices possess great features that are useful in different aspects of our life. One of these is capturing and saving moments through the camera and file folders. We use these features to save photos and videos that we can reminisce about in the future. However, there are times when these files possess confidentiality and privacy that we need to keep.
Let us say you should have some personal photos on your iPhone, including lewd pictures, awful selfies, old baby pictures, and other images. In connection with that, this article is indeed helpful to the situation. Therefore, if you have an iPhone device, then you may utilize it. In particular, many iOS users ask how to hide photos on their iPhone 14/13/12/11/XR and more. Here are the seven different applications to conceal private photos on your iPhone. We will see their main features, pros, cons, and how we can efficiently utilize them. As an overview, these seven applications are excellent, iPhone Photos App, iPhone Notes App, Private Photo Vault, KeepSafe, and WidsMob MediaVault. For more information, read the article and select the iPhone photo hiding option that best suits your needs.

Part 1. How to Hide Photos on iPhone
iPhone Photos App
If you need to know the best way to hide photos on an iPhone, try using the Photos App's default setting if you need to hide photos without using a third-party application. The solution is only applicable to a few unimportant photos. Anyone can still find the allegedly hidden photos after searching through all of your photos. Initially, the Photos app of the iPhone existed to give you access to the media files you have, especially pictures and videos. It is built-in with any device. In line with that, here is a step-by-step guide on using the Photos App to hide photos on an iPhone.
1.
Launch the Photos app on your iPhone's home screen, and then choose the Album option.
2.
Within the photo album, you can tap and choose the pictures you want to conceal on your iPhone. Following selecting the images, tap the Share icon and then the Hide option.
3.
The selected photos will stay hidden from Moments, Collections, and Years after you tap the Hide Photos option on the iPhone, but they will still be viewable in Albums.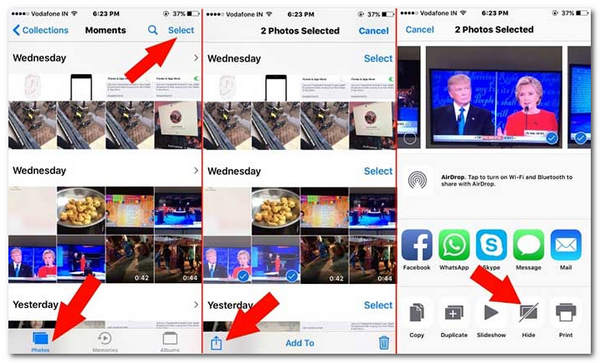 For that, we can now keep our pictures' privacy without installing any application. That is possible because; of the built-in features of our iPhone. You try to access it now with ease.
Note: Before iOS 14, the album was listed in Photos as the Hidden Album next to your other albums. Which means it was a noticeable workaround. However, you can now disable the Photos app's ability to show your hidden album by going into the Settings app. Also, if you accidentally deleted your photos, you can recover the deleted photos on iPhone through its Recently Deleted album.
iPhone Notes App
As mentioned, your family or friends can still access photos you have hidden on your iPhone using the Photos App. It is advised to use the Notes App to lock away your photos on your iPhone if you are craving for a way to hide and authenticate them from prying eyes. One of the best things about this app is its ability to confuse users and make them think it is only a note. In connection with that, here is how to lock images in the Notes app, as shown below.
1.
Find the images in your iPhone 13/12/11's Photos app. To save the slected photo to the Notes app, proceed as we tap the Share icon. Tap the Share icon after opening the note with the photo in the app, then lock the note.
2.
The creation of a password with a hint will be required of you. Choose Touch ID or enter a password, and then select Done. Go back to the Photos App and remove the picture on your iPhone.
3.
Remember to access your Recently Deleted folder in Photos and delete any photos you want to hide on your iPhone.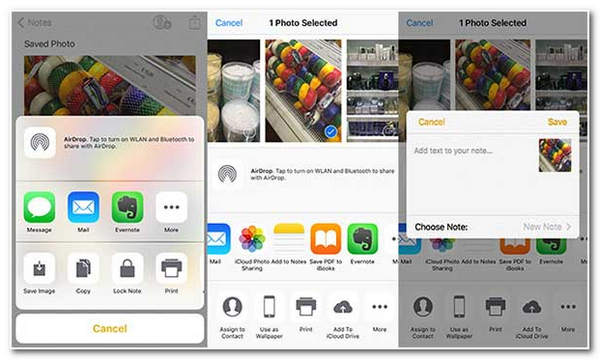 No one can access the photos you hide in the Notes app on your iPhone without your password or touch ID. Adding a password won't wholly secure your Notes app, so be aware of that. Each note containing photos must be individually protected. That is the reason it has become one of the best apps to hide your files on the iPhone.
Private Photo Vault
You can install some applications to hide photos on your iPhone in addition to the Apple mentioned above solutions. You can get the app and use it to conceal photos. As an illustration, the section uses Private Photo Vault, which enables you to import pictures into albums and conceal them behind a Pin code. Here is how to hide a photo album on an iPhone using a downloaded application from Play Store.
1.
After downloading the photo hider from the App Store, run the application as directed. Select the desired album by going to the Albums option. By tapping the Plus button, a new album can also be made.
2.
Select the Import option and then the desired source, your Camera Roll. Decide wherever you want to import your files. The app now allows you to conceal photos on your iPhone.
3.
After importing the images, remove the originals from your Camera Roll. Otherwise, keeping it in a personal collection is pointless.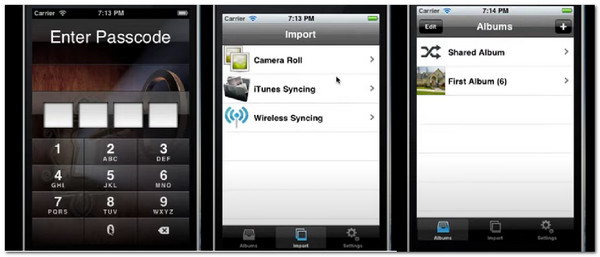 That is the first application from a digital store that can conceal your Photos on your iPhone. We can see how it performs well in making the process successful. However, this application is only recommended for older iPhones and iOS. For the latest version, you may choose another application.
KeepSafe
With KeepSafe, you can add a pin code to each photo album and hide the images. This tool provides multiple layers of security to ensure that no one can access your photos after breaching your first line of defense. Here's how to lock a specific album or folder in Keepsafe for your photo storage:
In the album's lower right corner, we must select the photos or album we want to conceal. After that, tap the three blue dots to continue. Choosing Lock This Album For this album, enter a specific password to finish the process.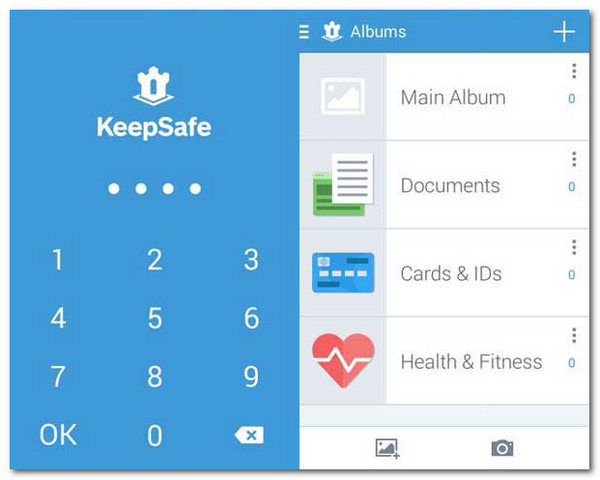 WidsMob MediaVault
One significant restriction is that it uses up much storage space on your iPhone, whether you hide the photos using the Photos app or the Private Photo Vault. One of the best options for hiding iPhone pictures, including the original HEIC files and videos, is WidsMob MediaVault. It offers a cutting-edge combined encryption technique to encrypt and hide photos and videos automatically. Additionally, you can sort the desired file quickly, view media files in various modes, and edit them using simple tools.
1.
After installing the program, you can run it on your computer. Ensure the photos from your iPhone have already been transferred to your computer. You must create a Password if this is your first time using the program.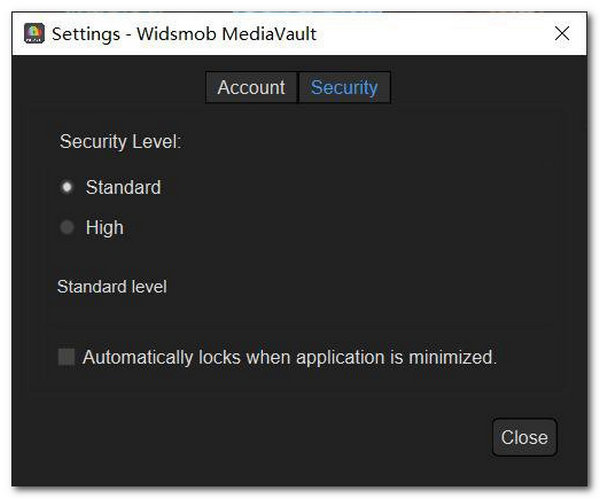 2.
To manage iPhone photos from various folders, right-click the images and select the Add to Favorites or Add to Album options to transfer the images to the desired folder. Additionally, you can delete them.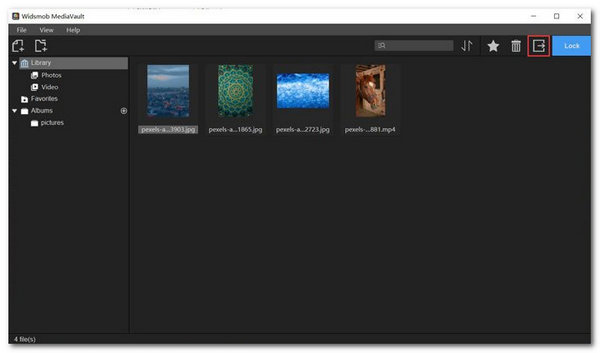 3.
It enables full-screen and thumbnail viewing of private photos. To play any media file in full-screen mode, double-click it. Additionally, you can manage the files between different folders, export them to different devices, and sort the desired file using various parameters.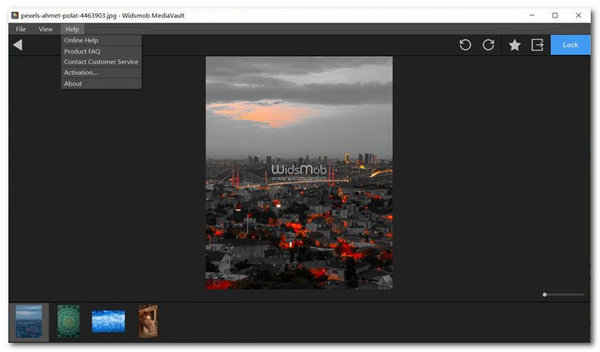 That is the best way to secretly place your photos on an iPhone with the help of a Desktop tool. We can see that it can also give helpful features. You can get your PC and do the process you want.
Part 2. Comparison of Applications that Hides Photos on iPhone
Hide iPhone Photo

iPhone Photos App

iPhone Notes App

Private Photo Vault

Keepsafe

WidsMob MediaVault
Platform
Price
Customer Support
Ease-to-use
Interface
Features
Safety
Effectivity
iOS
Free
4.5
4.5
4.5
Save photos and videos
Edit media files, filters, and more.
Hide photos and videos.
Super safe
95%
iOS
Free
4.5
4.0
4.5
Save notes and reminders.
Keep your photos and recording audio safely.
Safe
90%
iOS and Android
$4.99
3.5
3.5
3.5
Hide and keep your photos and album with PIN code.
Safe
90%
iOS and Android
$4.99
4.5
4.0
4.0
PIN locker
Authenticating using fingerprint.
Super safe
90%
Windows and macOS
$19,99
3.5
3.5
3.5
Hide photo albums
Create favorite albums.
Safe
95%
Part 3. FAQs about How to Hide Photos on iPhone
Is there a method of covering iPhone photos with text?
Yes. Merely text yourself the photo or note via a message or email when you need to conceal the photos somewhere that isn't saving them, and then delete them from your photos. He can't find the secret photos unless he reads through your texts.
How can I use a cloud service to lock and hide photos on my iPhone?
Google Photos and other Cloud services are suggested choices to automatically post and replace your photos and videos from your iPhone when you want to safeguard and hide photos on an iPhone. Additionally, you can browse the files on any device to access them.
How to unhide photos on iPhone Photos App?
We need to launch Photos, then select the Albums tab. After that, scroll down and select Utilities, then tap Hidden. From there, you can unlock your Hidden album using Face ID or Touch ID. To reveal a photo or video, tap on it, and after selecting More, select Unhide. Those are the simple steps we need to unhide your hidden pictures on the Photos app.
Conclusion
In conclusion, it is now proven that claiming the privacy of our photos on an iPhone is now easy as long as we have a great application that can guide us in hiding these pictures. In line with that, we prepared five great apps. At this moment, you only need to choose among the choices. Tips, it is essential that you choose the best for you so that we will not encounter any issues within the process.
Did you find this helpful?
478 Votes
YES

Thanks for letting us know!
No

Thanks for letting us know!