8 Best Screen Recording Software on Windows
Although your PC has screenshot tools built-in, they are usually very basic and can only make still images. A screen recorder, on the other hand, is dedicated to the art of capturing everything on your desktop and making it animated videos. We have tested the popular screen recording software on market and share the top list today. In this article, you will learn the best screen recorders for Windows, their features, benefits and shortcomings, and more information.
Part 1: Who Need a Screen Recorder?
A good screen recorder should meet some criteria, like easy to use, record any region or full screen, capture face-cam and microphone, and more. However, who need a screen recorder or what it can do?
1. Game players. A proper screen recorder can help game players to capture their gameplay for watching later or sharing on social media.
2. Teachers. Video material will make your face-to-face or online classes impressive. A screen recorder is able to record your screen and your voice at the same time.
3. App developers. The video tutorial is always the necessary part when developers release a new app. A screen recorder can capture every feature and operation.
4. Small business. SMB can use a screen recorder to capture the use of their products or service and share it to customers.
5. Vloggers. Almost every vlogger has a screen recorder, which can help them to make tutorial, produce small video posts and more.
6. Other people who need to record screen, webcam, online videos, etc.
Part 2: Top 8 Screen Recorders
Top 1: Aiseesoft Screen Recorder
Platform: Windows 10/8/7, Mac OS X 10.10 or above
Price: $31.2‬0 for one year per computer, $55.2‬0 for lifetime for up to 3 computers
Pros

1. Record multiple sources at the same time.
2. Support a wide range of output formats.
3. Produce high quality video recordings automatically.
Cons

1. If you take a schedule, you have to keep it running.
If you're looking for the quickest and easiest screen recorder to capture your PC screen and share the recording with someone else, this is it. Aiseesoft Screen Recorder lets you to do the job with a single click. Therefore, even beginners and people without technical skills can master it in a few seconds. For advanced users, there are tons of custom options, such as hotkeys, video quality, output format and more, to simplify the job and create desired effects. While recording your screen along with audio, you can also add your face, reactions, and voice to the recording in real time through webcam and microphone.
During the process, you can also find useful features on the toolbar, like take screenshot at important moment, add text, painting, and more to the image, or skip some footage. Briefly, as a flexible screen recorder for PC, it can meet everyone's need on screen recording.
Top 2: Snagit
Platform: Windows 10/8.1/Windows Server 2016/2012 R2, macOS Big Sur (11), Catalina (10.15), or Mojave (10.14)
Price: $49.99 one-time fee for single license, $62.48 for Snagit + Maintenance $62.48
Pros

1. Work for most apps on Windows.
2. Take scroll screenshots for websites and software.
3. Edit screen recording easily.
Cons

1. The output formats are limited.
2. It is hard to master all features for beginners.
Snagit released by TechSmith is a screen recording application for you to produce short recordings. It can record your action on the desktop along with audio in MP4 files or turn the video into animated GIF images for sharing on social media.
When recording screen, you can switch between webcam and screen. However, it cannot capture your face and screen at the same time. Fortunately, it is able to capture both your voice and system audio. If you like all-in-one project, Snagit is a good choice since it provides a basic video editor too.
Top 3: OBS
Platform: Windows 10/8.1/8, Mac OS X 10.13 or later, Linux/Unix
Price: Free
Pros

1. Totally free of charge.
2. Stream screen to social platforms directly.
3. Offer plentiful of custom options.
Cons

1. The configuration and setup are complicated.
2. It can only save recordings in FLV and MP4.
OBS, also known as Open Broadcaster Software, is an open-source and free screen recorder for Windows. It offers both recording and streaming capacities in high definition, so many game players use it to stream gameplay to Twitch or YouTube directly.
Though it is free, you won't be limited in any aspect. It won't add watermark or time limit to your recordings. You do not need to view ads or sign up in the screen recorder. The full version is free to download in OBS official website.
This free screen recorder for Windows uses scene and source to capture screen. It means that you can decide the recording sources. Of course, it offers several preset scene to capture full screen, a window, or webcam.
Top 4: CamStudio
Platform: Windows XP 32
Price: Free
Pros

1. Download for free.
2. Easy to understand and use.
3. No watermark or time limit.
Cons

1. The recording files are large in size.
2. There is extra software while installing.
CamStudio is another open-source screen recorder free to download on Windows. As a freeware program, it offers you a lot of features without asking you to pay a penny. It lets you control screen recording with hotkeys and you can change them based on your preference. Although the interface looks simple, you will find the custom options related to hotkeys, video and audio in the menu list. For instance, you can decide whether to capture your mouse and click while recording screen.
By default, it will save screen recordings in HD AVI files, but you are allowed to compress them to SWF flash files. Though it does not provide powerful video editing tools, you can add annotation to your recording video.
When download this free screen recorder on Windows and install it, you should be carefully, since the installer contains OpenCandy and other software.
Top 5: Bandicam
Platform: Windows 10/8/7/Vista, Windows Server 2016/2008
Price: $39 for one PC and $59 for two machines
Pros

1. Record screen, video, game, etc.
2. Produce HD gameplay videos.
3. Optimize GPU and CPU use.
Cons

1. There are too many options.
1. There are too many options. 2. The HD recording is only available to game.
Bandicam is a professional screen recorder for Windows users to capture gameplay, screen and videos on desktop. It includes three modes:
Screen record mode. You can capture entire screen, an activate window or a certain area, and save it as a video file. The screen recorder enables you to save the recording as screenshot images or animated videos.
Game record mode. Bandicam is popular among game players partly because it provides a specific game mode. When switch to this mode, you can record your video game up to 60FPS and overlay your reactions to gameplay. It supports many 2D/3D games including Minecraft, Roblox, World of Warcraft, etc.
HDMI record mode. Sometimes, you just want to record high quality videos from external devices on computer, like iPhone, Xbox, Play Station, and more. Bandicam can meet your need too.
Top 6: Camtasia
Platform: Windows 10(64bit)/8.1/7 SP1
Price: $249.99 for single license, $299.74 for Camtasia + Maintenance
Pros

1. Stable and reliable.
2. Edit screen recordings.
3. Built in a large items library.
Cons

1. This screen recorder for Windows is pretty expensive.
2. The upgrade and update require extra payment.
Camtasia is a one-stop screen recorder and video editor for Windows. Therefore, you can edit your video on the timeline after recording. Many small business use it to create video tutorial for products and video stories for marketing.
For screen recording, it is able to capture mouse movements, clicks, add webcam, and more. It supports multiple recording inputs, including screen, webcam, microphone and system audio.
When recording is done, the video will be put on the timeline in the video editor directly. Here you can apply annotations with a variety of tools. The video editor also provides tons of effects related to video, audio, mouse, transition, and animation to make the recording professional.
Top 7: Screencast-O-Matic
Platform: Windows 10/8/8.1/7/Vista, Mac OS X 10.9 to 10.14
Price: $1.65 per user per month
Pros

1. Record screen along with audio.
2. Offer online storage and publishing.
3. Provide both free and subscription versions.
Cons

1. The video editor is pretty simple.
2. The web app will add watermark to recordings.
Screencast-O-Matic offers both a free online app and a desktop program with full features. The web app lets you to record screen or/and webcam up to 15 minutes, and save the clip in MP4 format. If you want to produce longer screen recording without watermark, you need to subscribe to the desktop software.
Compared to Camtasia, this screen recorder for Windows is more cost-effective. It makes you easy to create video tutorials, training materials, and more. After screen recording, you can add animations, annotations and effects to drive your content more appealing and easier to follow within the same program. Another useful feature is the companion apps for Android and iOS. With it, you can sync your recordings between mobile and computer.
Top 8 : FlexClip Free Online Screen Recorder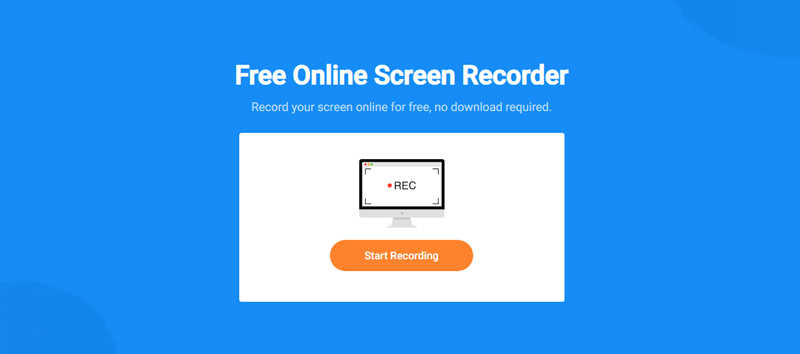 Platform: Web-based
Price: Free
Pros

Free to use, no registration needed.
Supports recording system audio, or microphone.
It allows you to record the entire screen, a certain window, or a chrome tab.
Works with any popular browser.
Cons

Not able to preview and edit the recordings.
Only save output file as WebM.
No options to set the video quality, resolution, or other settings.
No webcam recording available.
FlexClip Free Online Screen Recorder is a free online screen recording web application that enables you to capture the content of your screen. It is fully compatible with all browsers and lets you record the entire screen, window, and chrome tab with one click. Once the recording is over, it will be downloaded to your computer automatically and saved as WebM file format.
Part 3: Comparison of Best Screen Recorders
| | | | | | | | | | | |
| --- | --- | --- | --- | --- | --- | --- | --- | --- | --- | --- |
| Output formats | Record video along audio | Face-cam record | Record your voice | Take screenshots while recording | Video Analytics | Video Editing Tools | Preview recordings | Record time | Take schedules | Support OS |
| GIF, MP4, WMV, MOV, AVI, TS, F4V, M4V, MP3, WMA, AAC, M4A, FLAC, Ogg, Opus, PNG, JPG, JPEG, BMP, GIF, TIFF | | | | | | Trim recording, add text, Graffiti, comment and more | | Unlimited | | Windows, Mac |
| GIF, MP4 | | Yes, but cannot record screen and face-cam at the same time | | | | Trim video clips | | Unlimited | | Windows, Mac |
| FLV, MP4 | | | | | | | | Unlimited | | Windows, Mac, Linux |
| AVI, Flash | | | | | | | | Unlimited | | Windows |
| AVI, MP4 | | | | | | | | Unlimited | | Windows |
| AVI, WMV, MPEG-1, MP3, WAV, WMA, M4A, BMP, JPG, PNG, GIF, PPT, PPTX | | | | | | | | Unlimited | | Windows |
| AVI, FLV, MP4 | | | | | | Only available in paid version | Only available in paid version | Up to 15 minutes for free and unlimited for paid version | | Windows, Mac |
| WebM | | | | | | Only available in paid version | | Unlimited | | Windows, Mac, Linux |
Conclusion
Now, you should learn top 8 best screen recording applications for Windows 10/8/7/Vista/XP or earlier. Some of them are free to use the full features, like OBS and Camstudio. Some offers a free version with some limit, like Screencast-O-Matic. Others are professional screen recording software. You can pick the most appropriate recoding software to capture your screen. If you have better suggestions, please write down below the review.
Did you find this helpful?
136 Votes
YES

Thanks for letting us know!
No

Thanks for letting us know!
Aiseesoft Screen Recorder
Capture every moment in desktop, browsers, programs and webcam.