iOrgsoft Video Converter Review: An Attractive Converter Software for Windows and Mac Users
Some people think that media converters are hard to use and converters are exclusively for professionals. However, they are mistaken because what we will introduce to you now is a media converter that is user-friendly and simple to use, presenting to you the iOrgsoft Video Converter. Let us give you a little idea before proceeding with this article review. iOrgsoft Video Converter has the power to convert all your files to all famous file formats without quality loss! If you want to know more about this media converter, continue and finish reading this article review.

1. Our Verdict
Pros

It converts audio and video up to more than 200 file formats.
It has essential editing tools.
It has a unique interface.
Cons

It includes a watermark on the trial version.
It compromises the quality when your file is converted to devices.
Overall Ratings
Easy to use:8.5
Conversion Speed:8.5
User friendly:8.5
2. What is an iOrgsoft Video Converter?
Price: $35.00
Platform: Windows 8, Windows 7, Windows XP, Windows Vista, Mac OS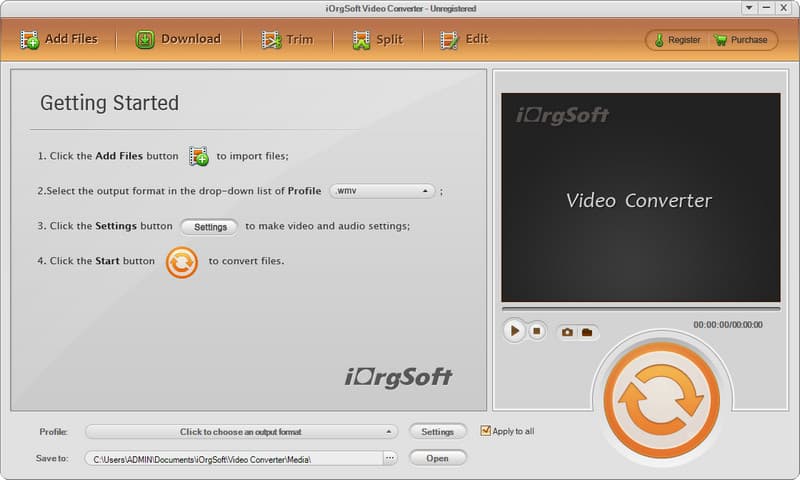 iOrgsoft Video Converter is an all-inclusive video converter. Also, it is one of the robust video converters with a high fast conversion speed. Furthermore, this is not just a video converter but also editing software. In other words, you can edit your video before conversion with iOrgsoft Video Converter.
Here are the features of iOrgsoft Video Converter offers for you; please see below:
◆ It can convert your files up to 200 formats.
◆ It supports different devices.
◆ It can extract audio from your video.
Continue to read this article to know more information.
3. iOrgsoft Video Converter Review
Interface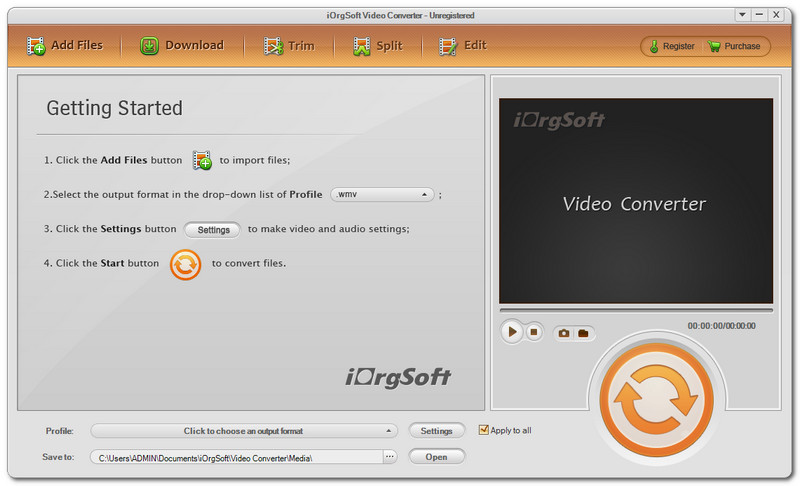 iOrgsoft Video Converter has a friendly interface. The color of the software is incredible and outstanding. In addition to this, you can quickly convert your files since you can effortlessly find all the options you need to convert your files.
Supported Input and Output Formats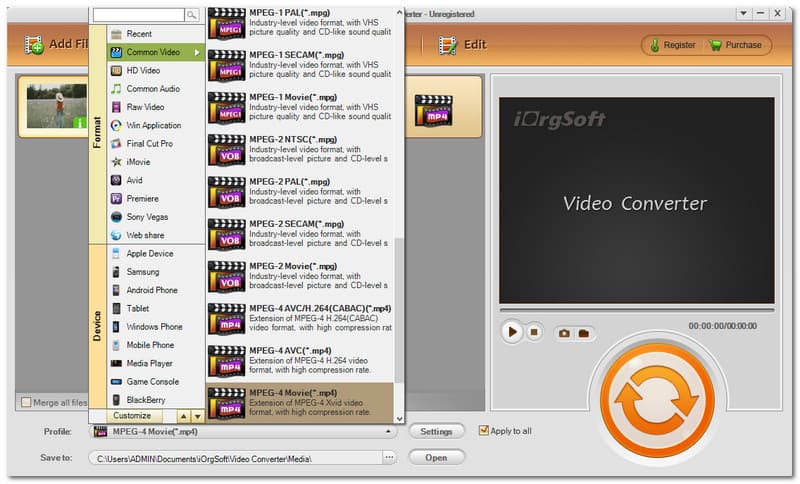 iOrgsoft Video Converter can convert every kind of Video and Audio to over 200 formats such as FLV, WMV, RM, RMVB, 3GP, MKV, MP4, AVI, and so on. It also supports SD, SH camcorder AVCHD, MOD, MXF, XAVC, plus 4K UHD video. Furthermore, it allows you to extract audio from a video in the format of APE, AIFF, AAC, MP3, WAV, M4A, and even more. What's more? It has a lot of preset formats available so that you can access it on devices such as Windows Phone 8, iPhone, iPad, iPod, Android, video games consoles, and even further. To add, you can also transcode your videos to QuickTime, Windows Movie Maker, Sony Vegas, Premiere, and more.
Fetch and Add Video Metadata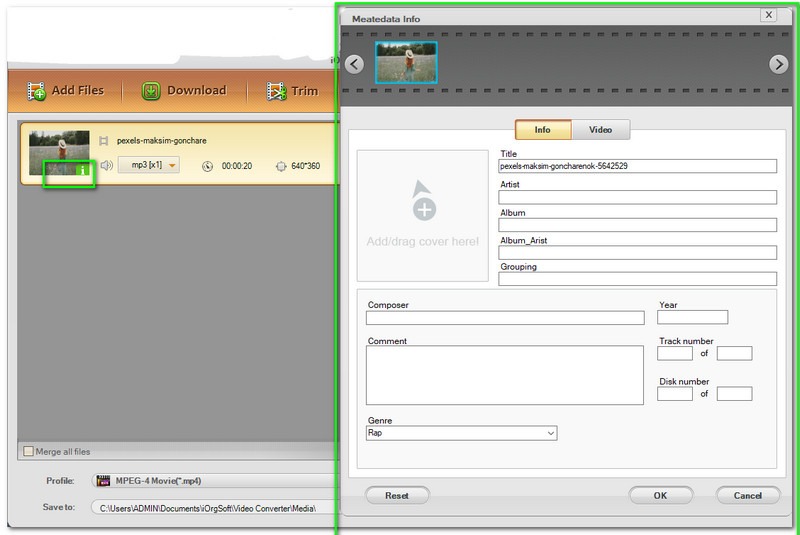 This feature can fetch and add metadata to your TV shows, movies, videos, music, and even MTV. It aims to make your video library even greater. To do it; Launch the software. After that, click the Add Files, or you can drag your file from your computer. Next, click the options button on your file, and a new window panel will pop up. What you can see in the panel is the Info. Next with it is the Video. Finally, you can customize the title, artist, album, album artist. Plus, input the composer and the year. Also, you can add a comment below. If you are already satisfied, tap the OK button.
Personalize Your Videos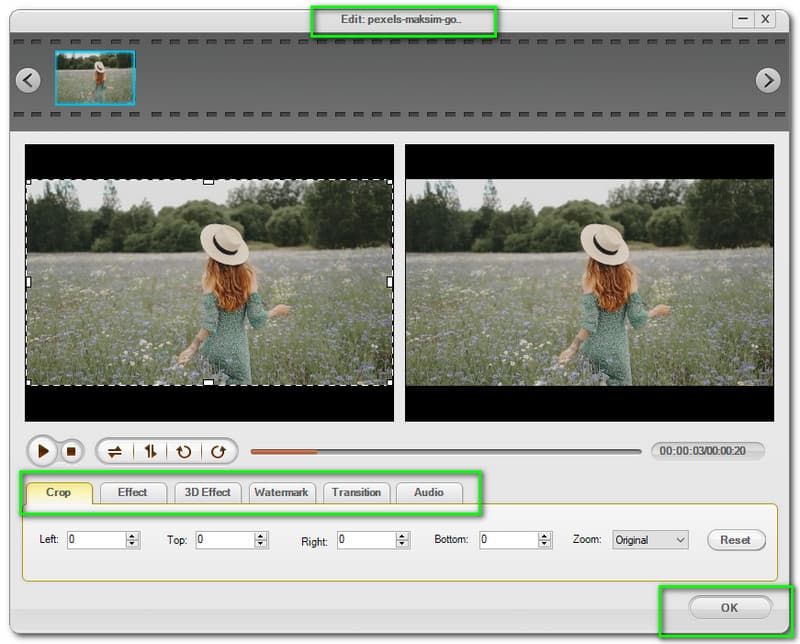 Do you want to make your Video more elegant? Do not worry; iOrgsoft Video Converter allows you to personalize your videos using its editing tools. Just add your files. Then, select the Edit above your video file, and a new window box will appear. The panel includes player control and editing tools. Under the player control, you can see the editing features like crop, Effect, 3D Effect, Watermark, Transition, and Audio.
Also, you can adjust the brightness, contrast, saturation or choose the No Effect in Effect. Its 3D Effect has three options; Red Blue, Green Red, and Yellow Blue. Plus, you can also adjust the depth of your 3D Effect from low to high. When it comes to the Watermark, you can choose Image Type and add your image from your computer. Or the Text Type where you need to type your Watermark. In addition to this, you can adjust the watermark transparency from 0% to 100%. Next is the Transition; about this, you can Fade In and Fade Out from 0 seconds to 8 seconds. Finally, personalize your Audio by adjusting its Volume from 0% to 200%. Also, you can Fade In and Fade Out from 0 seconds to 10 seconds. So, if you are satisfied with your Edit, you can now click the Apply to All and then OK.
Fast, Lossless Conversion
This feature means iOrgsoft Video Converter provides you with the ultimate and extraordinary ultrafast conversion speed you can ever experience. The good thing about this is the output will remain high-quality. So, the iOrgsoft Video Converter produces output without losing its quality upon converting many formats like MTS, M2TS, M4V, MOV, MP4, H.264, H.265, and even more. This media converter improves its technology, and the iOrgsoft Video Converter aims to convert all the user's files with super fast conversion speed. Furthermore, the benefit you will get from it is that you no longer have to wait or waste your time converting your files because this media converter already provides you with improved technology.
What is Best for?
iOrgsoft Video Converter is best for converting your files into any popular format without compromising the quality. Also, this media converter is perfect and best for those who are new to the converting process. For example, beginner users, students, etc. A user-friendly software converter is a big help to anyone who is a beginner user of converters. Others might think that media converters are hard to use, but iOrgsoft Video Converter is not.
4. FAQ
Is iOrgsoft Video Converter safe to use?
Yes, iOrgsoft Video Converter assures every user of the software covers the collection and any other information that users provide. Furthermore, iOrgsoft Video Converter communicates with iOrgsoft Video Convert employees, and they will strictly protect the privacy within their company.
Does iOrgsoft Video Converter convert MP4 to MP3?
Yes. For you to be able to convert your file from MP4 to MP3, launch the software. Click the Add Files and add your MP4 format. Then, you can use the Profile below the file and find the MP3 format. After that, your file is ready to Convert.
Does iOrgsoft Video Converter offer a money back guarantee?
Since iOrgsoft Video Converter has 100% secured shopping, they guarantee satisfaction within 30 days.
5. Best Alternative - Tipard Video Converter Ultimate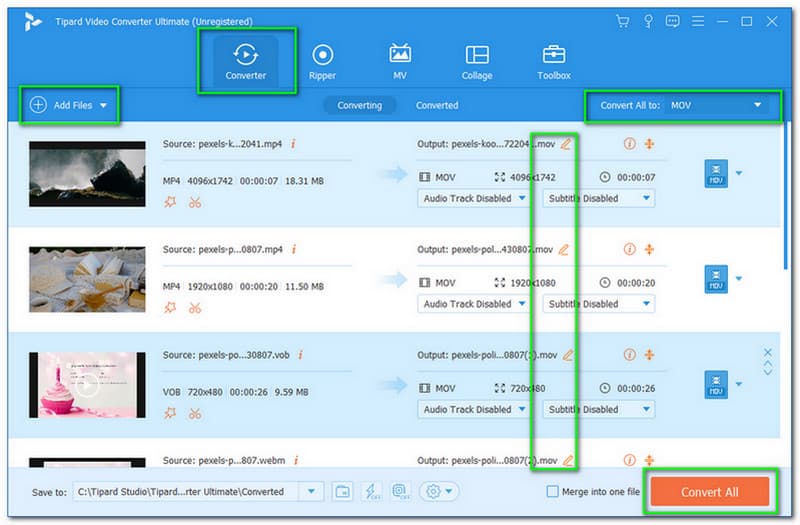 Suppose that iOrgsoft Video Converter does not meet your standards; we provide the best alternative for that: Tipard Video Converter Ultimate. Let me explain why we chose this converter as an alternative to the iOrgsoft Video Converter. The main reason is that it is Ultimate, which means it can meet almost all your needs in conversion. Not just that, but it also has excellent editing features that will make your videos more unique and beautiful. So, if you have your time, kindly visit Tipard Video Converter Ultimate for a good experience.
Conclusion
To end, we are glad to present each function of the iOrgsoft Video Converter. As we complete this article review, we obtain an idea about the complete review of this software. We hope that we meet your needs and give us great feedback. See you in our next article!
Did you find this helpful?
359 Votes
YES

Thanks for letting us know!
No

Thanks for letting us know!
Best Video Audio Converter Review
Tipard Video Converter Ultimate
Multifunctional video converter, editor, and enhancement tool.